Kempinski Hotels Appoints New VP of Food and Beverage
March 27, 2023—International luxury hotel group, Kempinski Hotels, on Monday announced Jean-Marc Dizerens has been appointed as the brand's new vice president of food and beverage. With over 25 years of experience as a hotelier, Dizerens was formerly vice president of hospitality, food and beverage of SJM Resorts in Macau where he played a pivotal role in the launch of the Grand Lisboa Palace that includes two fashion luxury-branded hotels, The Karl Lagerfeld and The Palazzo Versace, according to a press release.
Hawaiian Airlines Enters into Sustainable Aviation Fuel Agreement
March 24, 2023—Hawaiian Airlines reached an agreement with biofuel company Gevo Inc., purchasing 50 million gallons of sustainable aviation fuel (SAF) over five years. Gevo expects to begin delivering the fuel to Hawaiian starting in 2029, from a facility in the United States' Midwest region.
Gevo will produce SAF with residual starch made from inedible field corn. "This offtake agreement gets us one step closer to achieving our goal of net-zero carbon emissions by 2050," said Peter Ingram, Hawaiian's president and CEO. "We intend to continue to invest in SAF, which will be pivotal in reducing our impact on the environment."
Viceroy Partners with Out & Equal
March 23, 2023—Viceroy Hotels & Resorts announced its official partnership with Out & Equal Workplace Advocates (O&E), a nonprofit organization working exclusively on LGBTQ+ workplace equality. O&E will provide Viceroy with LGBTQ+ executive leadership development, comprehensive Diversity, Equity & Inclusion (DEI) training and consultation, and opportunities for professional networking that create and sustain inclusive and welcoming work environments. This partnership builds upon Viceroy for Everyone which is Viceroy's ongoing pledge of diversity, equity, inclusion, and belonging for its colleagues and guests, and cements their long-term commitment to meaningful workplace equality.
360 Destination Group Expands Into Nashville Market
March 23, 2023—360 Destination Group (360DG) announced today that it is expanding into Music City with the launch of their local Nashville office to cater to corporate groups in Tennessee. All of 360DG 18 locations are operated by local destination experts well-versed in the city's venues, vendors, and experiences. Opening an office in Nashville included hiring and onboarding a local DMC team of knowledgeable and experienced event professionals.
Ashley Dye, account executive for 360DG's Nashville office, said, "Nashville's energy is absolutely incredible, and sharing it with corporate groups is the best part of my job! When clients come here, I make sure they get the true Nashville experience; that means showing off not just Broadway, but also all of the other hidden gems around town."
FAA Addresses Safety Concerns
March 22, 2023—Following several recent incidents risking flight safety, the Federal Aviation Administration (FAA) held a Safety Summit last week. A safety alert for operators has been issued today with detailed requirements for airlines, pilots and all others in the industry to follow. Issues such as runway collision risk, landing safety and air traffic control issues were addressed in the press release.
Visit Ventura Donates Surfboards After Smart Meetings Experience
March 20, 2023—During a Smart Meetings National 3-Day Extraordinary Experience held at Mandalay Beach Zachari Dunes, destination representatives and meeting planners gathered for a Surfboard Team Building Experience sponsored by Visit Ventura and Walden Surfboards. Participants decorated the surfboards with visuals and messages inspired to inspire. Recipients of the surfboards were encouraged to make use of their surfboards however it would fit their needs. The 10 organizations that received a donated surfboard include Westside Community Development Corporation (WCDC), STEMbassadors, the Ventura YMCA, Channel Islands Marine and Wildlife Institution (CIMWI), Surfrider Foundation, FoodShare, A Walk on Water, Ventura Land Trust, Canine Adoption and Rescue League (C.A.R.L.), and DATA Middle School's Makerspace Program in partnership with Merito Foundation.
"We [are] planning on raffling off our surfboard, and using the funds to support our newest Westside Mural," said Kendra Gonzalez, WCDC Executive Director. "Our funding is currently super limited, and we plan on using the money to help disenfranchised teens develop our future mural. The proposed site is Doc's Market, and the process can be quite expensive. With your help, we will be able to make this dream come true."
Like WCDC, many of the recipients plan to put their donated surfboard up as a raffle item during a fundraising event. Ventura YMCA, Ventura Land Trust, C.A.R.L., Surfrider Foundation, and FoodShare will use their donated surfboards for their fundraising efforts. Other organizations will put their surfboard to use in the water. Students from DATA Middle School will use the surfboard during their surfing lessons made possible from the Merito Foundation partnership. A Walk on Water will also use the surfboard during their Ventura surf therapy event for children with special needs this May. A recap of the event can be seen here.
Caesars Entertainment's Atlantic City Donates $100,000 to Hope Exists Foundation
March 20, 2023—Leadership from Caesars Entertainment's Atlantic City resorts, including Caesars, Tropicana, and Harrah's Resort, presented the Hope Exists Foundation with a $100,000 donation on behalf of the Caesars Foundation to support crisis treatment and services.
"We are humbled to have the opportunity to support the Hope Exists Foundation and its goal to help those suffering from substance use disorders and mental health," said John Koster, eastern regional president of Caesars Entertainment. The donation will help fund the organization's Hope Exists mobile response that will be dedicated to meeting individuals where they are and connecting them to critical support and treatment in Atlantic City.
Atlas Air Worldwide Acquired by Investor Group
March 20, 2023—Atlas Air Worldwide, a leading global provider of outsourced aircraft and aviation operating services, announced an investor group including Apollo, along with affiliates of J.F. Lehman & Company and Hill City Capital, has finalized its acquisition of the company previously announced in August, according to a press release.
"Today marks the start of an exciting new chapter for Atlas, and we are eager to begin our partnership with Apollo, J.F. Lehman and Hill City," Atlas Air Worldwide President and Chief Executive Officer John Dietrich said. "With the support and resources of our investor partners, we are well-positioned to achieve our growth objectives while continuing to serve the increasingly complex global supply chain. I want to thank the entire Atlas team, whose customer focus and dedication made this milestone possible. I look forward to the opportunities this next phase provides for our Company and our employees."
Atlas Air Worldwide will continue to maintain its global presence and operate under the same name under Dietrich's direction.
The Hutton Group Announces New Vice President of Sales and Marketing
March 16, 2023—Pittsburgh-based The Hutton Group—Inspired Meetings and Events, announced Andrea Milrad Heilweil as the company's new vice president of sales and marketing. Milrad Heilweil will manage and organize the site selection process and hotel contracting needs of the woman-owned and operated boutique company's clients, according to a press release.
"I am thrilled with Andrea's addition to The Hutton Group as she brings a myriad of hospitality and business experience," said President/Owner and Chief Inspiration Officer Jill Garcia. "Her vast knowledge and understanding of diverse global clients in the association, corporate and nonprofit spaces fits perfectly into our wheelhouse."
Milrad Heilweil previously worked as senior director of global accounts at HelmsBricoe over the last 20 years and was a consistent recipient of the President's Club sales award. Garcia and Milrad Heilweil also formally worked together for 14 years. "I am excited to collaborate again with Jill to assist clients with important meetings and conventions," said Milrad Heilweil. "We have a special rapport that brings an unmatched level of service, value and benefits to all our clients, large or small."
Sensei Announces Dr. Vishal Patel and Alexandra Waterspiel as Co-Presidents
March 14, 2023—The luxury wellbeing brand Sensei announced the promotion of Alexandra Walterspiel and Dr. Vishal Patel as co-presidents of the rapidly growing company, according to a press release.
Walterspiel, who also serves as the chief operating officer, will focus on the operations, human resources, accounting and business development. Patel, who is also chief medical officer, will focus on wellness and technology. In their joint efforts, they will focus on Sensei's goal of helping people live healthier lives.
"Alex and Vishal have both been critical in Sensei's success and growth to date. The company not only deftly navigated the challenges of the pandemic, but also thrived, as evidenced by the fact that a second, and fully managed, retreat—Sensei Porcupine Creek—opened just three years after Sensei Lanai, A Four Seasons Resort," according to Sensei co-founder and world-renowned physician, Dr. David Agus. "Their unique backgrounds and extensive experience give Sensei a leadership perspective that we believe will offer a unique strategic direction and will serve the company's ambitious growth goals."
Prior to joining Sensei, Walterspiel owned and operated IMPRINT Hospitality and Patel worked with various healthcare systems such as Geisinger and Parkland Hospital.
Culinary and Bartenders Unions Land New Contract, Avoid Strike at Las Vegas Convention Center
March 14, 2023—Culinary and Bartenders Unions announced a new four-year tentative contract with Sodexo LIVE! and Centerplate at the Las Vegas Convention Center, providing a historic wage increase for the 400 workers covered by the new agreement, providing temporary workers with union wages and benefits, technology language that protects workers and their jobs and proving workers with union health care and pensions. according to a press release.
"The Culinary Union has fought hard to protect workers over the last 88 years and we are proud that this new agreement is the best contract with the highest wage increases that Sodexo LIVE!/Centerplate workers have ever had while continuing to protect health care and pension benefits for 400 hospitality workers who work so hard every day to keep the Las Vegas Convention Center running," according to Ted Pappageorge, secretary-treasurer for the Culinary Union. "This new contract mirrors the Culinary Union technology standard language in contracts on the Strip and Downtown by setting clear goals regarding worker retention, job training, advance notice of technology implementation, automation and a severance package."
The previous contract with The Sodexo LIVE!/Centerplate expired on Sept. 1, 2022, with banquet servers, bartenders, concession cashiers, cooks, dishwashers, and other Sodexo LIVE!/Centerplate workers agreeing unanimously in December to authorize a strike. The latest agreement was reached before reaching the strike deadline slated for March.
Director of 'Everything Everywhere All at Once' Arrives at Oscars in Suit from Unclaimed Luggage
March 13, 2023—Director of "Everything Everywhere All at Once," Daniel Scheinert, arrived on the champagne-colored carpet of the 2023 Oscars sporting a tuxedo from Scottsboro, Alabama-based Unclaimed Luggage—the only retailer of unclaimed luggage in the U.S., according to a press release.
"We were thrilled to see one of our very own items on the Oscar stage," said Vice President of Retail and Company Culture for Unclaimed Luggage, Jennifer Kritner. "Each item we find and sell at Unclaimed Baggage has a unique story and leaves the store with a bright new future. Who knew this item would find its way to the one of biggest nights in entertainment."
The Oscar-winning director and Alabama native's film, "Everything Everywhere All at Once," won seven Oscars Sunday evening including the Oscar for best picture, best actor, best actress, best director, among others.
Everline Resort & Spa Announced as Culturally Sensitive Name for Olympic Valley, California Property
March 10, 2023—Resort at Squaw Creek, in Olympic Valley, California, announced yesterday its new name and logo would be Everline Resort & Spa.
"Our resort is dedicated to fostering spaces where everyone feels welcome. This name change was a top priority for the resort and community and a decision that has been made in collaboration with the Washoe Tribe, who have lived in this area for thousands of years," said Manfred Steuerwald, general manager of Everline Resort & Spa.
The name Everline encompasses the resort's evergreen mountain escape that guests can visit year-round. The name further reflects the resort's on-site experience that caters to every Lake Tahoe state of mind, through experiences that inspire adventure, exploration and togetherness.
The new name also focuses on connection–to nature, to self, and to exhilarating shared experiences that help to forge bonds between family, friends, colleagues and other travelers.
The design of the logo and artwork evokes the resort as a Gateway to Natural Wonder and celebrates the natural surroundings through a bold durable mark, nature-inspired colors, and texture-forward touch points, making Everline an extension of the environmental experience that stands out by blending in to its natural surroundings.
Several D.C. Restaurants Added to 2023 Michelin Guide
March 9, 2023—Eight DC-based restaurants will be added 2023 Michelin Guide Washington, DC.
The newly starred restaurants include:
Bar Spero in Capital Crossing
Opal in Chevy Chase
Causa in Blagden Alley
Mandu I Mount Vernon Square
New Heights in Woodley Park
James on 14th Street
Tigerella in Foggy Bottom
Le Tejana in Mount Pleasant
"Adding eight more of Washington, DC's impressive restaurants to the 2023 Michelin Guide highlights the city's innovative and diverse dining scene," says Elliott L. Ferguson, II, president and CEO of Destination DC, the official destination marketing organization for the nation's capital.
The current Greater Washington Michelin guide contains 129 restaurants, including 24 Michelin star rated restaurants.
Destinations International Forms Strategic Partnership with Groups360
March 8, 2023—Destinations International and Groups360 today announced a strategic partnership aimed at providing a more efficient group process by using best-in-class booking technology, powered by transparent data insights, to align destinations with their planner customers and meeting attendees, according to a press release.
"Streamlined solutions for destination organizations are here to stay," said Don Welsh, president and CEO of Destinations International. "This new partnership provides our destination organization members with unparalleled, streamlined solutions to meet the evolving needs of their stakeholders. We are excited to offer our members access to the GroupSync™ platform with advanced data insights and technology."
Destinations International will bring its 650 member organizations spanning 23 countries to the partnership to research, develop and deploy technology to create a more efficient process for bringing groups to destinations while improving the distribution of hotel room blocks and meeting spaces to better fulfill the needs of event attendees.
JetBlue's Proposed Acquisition of Spirit Airlines Blocked by Justice Dept.
March 7, 2023—The Justice Department on Tuesday filed a civil lawsuit to block JetBlue's proposed $3.8 billion acquisition of Spirit Airlines. The complaint alleges that the acquisition of JetBlue's fiercest, low-cost rival, which provides hundreds of routes and serves millions of travelers, would reduce the options available within the U.S. and would ultimately lead to higher fares and fewer seats, according to a press release.
"As our complaint alleges, the merger of JetBlue and Spirit would result in higher fares and fewer choices for tens of millions of travelers, with the greatest impact felt by those who rely on what are known as ultra-low-cost carriers in order to fly," said Attorney General Merrick B. Garland. "Companies in every industry should understand by now that this Justice Department will not hesitate to enforce our antitrust laws and protect American consumers."
Additional details of the complaint include the extensive expansion of Spirit's network, doubling in size over the last 10 years, with the merger expected to curb this continued growth and future competition before it starts.
PRA Acquired by EagleTree Capital
March 7, 2023—EagleTree acquired PRA through CI Capital Partners that had invested in PRA in 2017. PRA announced today that while their management team will continue to lead the company, the business events and programs company will be enhanced by the EagleTree acquisition.
"Since its founding over 40 years ago, PRA has become a leading business event management firm in the United States," said Mike Fiber, CEO of PRA. "We are excited to build this momentum and thrilled to have the support and partnership of EagleTree Capital."
FAA Calls Emergency Meeting for Passenger Safety
March 7, 2023—According to MSNBC News, the FAA is calling an emergency meeting to address several incidents that are endangering the lives of passengers. Between engine fires, airplanes colliding with birds and increased degrees of turbulence, FAA chief Billy Nolen enacted a nationwide safety summit schedule for next week.
"I want to hear from the participants what they are seeing in their own operations," says Nolen. "And more important, I want specific ideas on how to enhance our already robust safety net with concrete actions."
USDOT Delivers Blow to Airline Family Seating Junk Fees
March 6, 2023—The U.S. Dept. of Transportation on Monday unveiled a new family seating dashboard that highlights airlines that guarantee fee-free family seating, along with those that don't, helping travelers avoid paying junk fees as the Biden Administration continues to press airlines to improve customer service, according to a press release.
"Parents traveling with young kids should be able to sit together without an airline forcing them to pay junk fees," said U.S. Transportation Secretary Pete Buttigieg. "We have been pressing airlines to guarantee family seating without tacking on extra charges, and now we're seeing some airlines start to make this common-sense change. All airlines should do this promptly, even as we move forward to develop a rule establishing this as a requirement across the board."
Secretary Buttigieg last summer pushed for U.S. airlines to do better for travelers who face canceled or delayed flights due to the carrier. Now, all 10 of the largest U.S. airlines guarantee meals and rebooking, and nine of those now guarantee hotels when an airline issue results in a cancellation or delay.
ACVB Executive Vice President Set to Retire End of Year
March 2, 2023—Atlanta Convention & Visitors Bureau (ACVB) has announced Executive Vice President and chief sales officer Mark Vaughan will be retiring at the end of this year. The announcement was made during the ACVB's board of directors meeting.
"Much of Atlanta's growth and success as a destination has occurred under Mark's leadership," said William Pate, president, and CEO, ACVB. "His efforts during the last two decades have generated tremendous economic impact and job growth for our industry and our city."
During his time with ACVB, Vaughan oversaw trade show and in-house sales, convention services and international sales. ACVB saw a spike in both convention bookings and visitation during the pandemic under his leadership.
ExCel London Partners with Isla to offer Trace Carbon Measurement
March 2, 2023—Carbon neutral event venue ExCeL London has announced a new collaboration with sustainability consultants isla to offer the TRACE platform to event organizers, the first UK venue to do so. TRACE was designed to help reduce and report the environmental impact of an event's life cycle–from the early planning stages to the moment an exhibitor heads for home. The platform will now be an additional service available to any event hosted at ExCeL, with the venue also holding its own license to aid data capture and measurement as part of its wider roadmap to becoming Net Zero.
Concord Hospitality Announces Record Growth for 2022
March 1, 2023—Concord Hospitality on Wednesday reported record growth for 2022 with hotel and development revenue topping $1.6 billion. Concord also announced the highest food and beverage revenue in the company's history, increasing by 40% over 2021 with Concord's overall portfolio surpassing its 2022 budget by 8.1%, according to a press release.
"Our performance in 2022 was outstanding, delivering record-breaking growth and a full recovery from the biggest economic downturn to ever impact the hospitality industry. We provided excellent topline and bottom-line performance and did it through excellence in service execution. We owe much of this success to the relentless pursuit of innovation and excellence by our talented teams making strides in technology, food & beverage, operations and revenue management/digital marketing to keep Concord a best-in-class operator. Our trajectory for 2023 shows a healthy pipeline of development and new business as Concord Hospitality continues to be a preferred developer and operator amongst the leading hotel ownership groups in North America," said Mark Laport, CEO and president, Concord Hospitality.
Marine Highway Program to Provide Millions for Maritime Improvements
March 1, 2023—The U.S. Department of Transportation Maritime Administration today announced that $12, 423,000 will be made available throughout the 2023 fiscal year. The funds are provided by the United States Marine Highway Program (USMHP), which seeks to improve the efficiency and sustainability of water-based transport, create additional maritime jobs and strengthen the nation's supply chains, according to a press release.
"America's waterways serve as critical links in our nation's supply chains," said U.S. Transportation Secretary Pete Buttigieg. "These investments in our marine highways will help to strengthen our supply chains, reduce emissions, and create jobs across the country."
Recipients of the grant money will first be evaluated by the department with criteria including any impact on the shipment of goods, the consideration of equity, environmental justice, use of domestic preference, level of non-federal funding investment as well as considering geographic diversity.
Sensei Porcupine Creek Announces Exclusive Tennis Program Featuring Former Tennis Pro
Feb. 28, 2023—Sensei Porcupine Creek on Tuesday announced a special, one-time-only exclusive tennis program featuring former tennis pro Tommy Haas. The event is slated to take place April 25-28 and is in partnership with Indian Wells Tennis Garden, home to the BNP Paribas Open tennis tournament, according to a press release.
"For the first time ever, Sensei Porcupine Creek's formerly private professional-grade tennis facilities are now open to guests, offering unique tennis experiences for all levels of play," said Julie Oliff, general manager at Sensei Porcupine Creek. "We're thrilled to offer this once-in-a-lifetime program that goes far beyond a typical tennis clinic, to help guests refine their skills through the help of best-in-class professionals, such as Tommy Haas and our own, Caroline Vis."
The Tommy Haas Tennis Program includes the following experiences:
Luxury accommodations for three nights
Welcome reception with Tommy Haas and group orientation session that focuses on goals and intentions
Behind-the-scenes experience and tour at Indian Wells Tennis Garden and Stadium 1 play time
Guided warm-up with Tommy Haas and Team
5 hours of drill practices and rotating doubles matches with Tommy Haas and team
Personalized wellness consultations with a Sensei Guide, focused on fitness, mindfulness, meditation, yoga, or nutrition
Group classes including open sky meditation and wall yoga
Select dining experiences including daily breakfast, welcome reception, farewell Omakase-style dinner, and lunch at the Indian Wells Tennis Garden
MeetingPulse Launches Platform Templates
Feb. 27, 2023—San Francisco-based event solutions company MeetingPulse launched a line of interactive employee engagement and audience response tools called Platform Templates. Browser-based modules are designed to improve engagement in live Q&A, polling, surveys and quizzes for in-person, virtual and hybrid events.
Platform Templates are have been designed by experts to equip sales and executive teams, event professionals, administrators, recruiters, marketers and human resource departments with tools to promote interaction between leaders and their team, according to the press release. Template features include: pre-event surveys, lead-generation marketing, speaker evaluations, all-hands meetings, sales kickoffs and voting.
Nearly $1B Awarded to U.S. Airports to Meet Surging Demand
Feb. 27, 2023—The Federal Aviation Administration (FAA) on Monday announced that nearly $1 billion in funds will be awarded to 99 airports across the U.S. to meet surging air travel demand by investing in improvements including new baggage systems, larger security checkpoints and improved ground transportation, among others, according to a press release.
"Americans deserve the best airports in the world, and with demand for air travel surging back, this funding to improve the passenger experience couldn't come at a more urgent time," said U.S. Transportation Secretary Pete Buttigieg. "These grants will make it faster and easier to check your bags, get through security and find your gate, all while creating jobs and supporting local economies."
The funds will be allocated to 47 states and two territories and will also include improvements to aging air traffic control towers.
Los Angeles Travel & Adventure Show Takes Spot as Largest West Coast Consumer Show
Feb. 24, 2023—The Travel & Adventure Show series hosted its fifth show at Los Angeles Convention Center Feb. 18th and 19th. The show welcomed more than 17,000 travel enthusiasts, a 50% increase compared to 2022. It also included more than 250 exhibitors, 591 travel advisors and 2,300 travel media members.
Keynote speakers included the likes of Rick Steves, host of "Rick Steves' Europe and Travel with Rick Steves"; Pauline Frommer, editorial director of the Frommer's Guides and publisher of frommers.com; and Peter Greenberg, Emmy Award-winning investigative reporter and CBS News travel editor.
"The 2023 Los Angeles Travel & Adventure Show marked our 18th year in the City of Angels and it's no secret that this one was the most important. We are excited to see its revival back to a pre-pandemic audience, both from an attendance perspective and number of exhibitors and what they bring to the show floor," said John Golicz, CEO of Unicomm LLC, producer of Travel & Adventure Shows.
Hospitality Agencies Adopt School District, Donate Goods and Services
Feb. 23, 2023—Local business are participating in an adopt-a-school program and are donating a variety of supplies and services to the Volusia County School District, Dayton Beach News-Journal reports. The program aims to support schools mainly in West Volusia area.
"(It's important) from elementary, and especially elementary and middle school, that we show the kids that we care, that the business community is aware and that we can guide them," said Bob Davis, president of the Lodging & Hospitality Association of Volusia County, during an interview.
The program includes 250 members, 100 hotels and 150 hospitality allies. Hotels, such as The Hampton Inn & Suites in Deland have partnered with various area schools including Edith I. Starke Elementary, providing upgrades to campuses such as new carpets, landscaping and newly painted parking lot lines.
Other donations include laptops and miniature jet engines. Agencies involved in this program helping to boost the learning experience of students while also opening the door of curiosity of the next generation of hospitality leaders.
Hubilo Acquires fielddrive in Latest Event Tech Merger
Feb. 23, 2023—Hubilo Technologies acquired fielddrive BVBA after raising $150 million in venture capital funding from Lightspeed Venture Partners, Akeon Capital and Balderton Capital.
"The two companies combined really pools our products, expertise, and talent, ensuring that we can cover digital, hybrid, and in-person anywhere in the world. This acquisition cements Hubilo as the leading event tech player," stated Vaibhav Jain, founder and CEO of Hubilo. Jain added, "fielddrive will run as an independent entity and will continue to be platform agnostic. fielddrive's dedication to customers aligns with our customer-first approach, and our aim is to continue to meet and exceed our customers' needs by providing technology that enables exceptional event experiences regardless of location, budget or format."
As Hubilo looks to grow further within the in-person space, Sophie Ahmed becomes the GM of Hubilo Onsite, leading fielddrive, which includes features to manage visitor queues, facial recognition for onsite check-in, sustainable badging, lead retrieval and analytics, new monetization opportunities and an expert customer experience team.
New Plans for Raleigh Convention Center Expansion Would Double Capacity
Feb. 22, 2023—Expansion plans for a $425-million Raleigh Convention and Performing Arts Complex (RCC) revealed for the first time at Wake County Board of Commissioners this week sketched out a design that would add 500,000 sq. ft. of meeting space, including 30 additional breakout rooms and an additional capacity for 20,000 people, doubling the current RCC capacity.
Kerry Painter, general manager and director of RCC pointed out that the convention center is the force behind the most hotel room nights booked in the county. "Last year, we set an all-time record for the number of hotel room nights booked in downtown Raleigh thanks to a packed schedule of conventions, shows and other events. This is a marker of success but also an indication that we can do even more. The truth is, we turned away business because we simply didn't have room, not to mention the potential clients who weren't even able to consider us due to our limited capacity," she said.
The next step for the planned two-square-block destination for meetings, events and entertainment is a funding vote at The Board of Commissioners and the Raleigh City Council on June 20.
Wizz Air Strikes Deal for Supply of Sustainable Aviation Fuel
Feb. 22, 2023—Wizz Air, Europe's fastest growing sustainable airline, according to the Centre for Aviation Awards for Excellence 2022 (CAPA), on Wednesday announced a deal with Neste for the purchase of 36,000 tons of sustainable aviation fuel starting in 2025, according to a press release.
The deal, based on a signed Memorandum of Understanding (MoU), will allow Wizz Air to supply the airline's route network across Europe and the UK with the goal of reducing the airlines CO2 emissions by 2030 by 25%. The plan is focused on reducing CO2 intensity per passenger kilometer and reach net-zero by 2050. Wizz Air in 2022 reached its lowest ever carbon intensity, which amounted to 55.2 grams per passenger/kilometer.
"Wizz Air continues to invest in innovative technology and believes that SAF is a key part of the solution for the decarbonisation of the aviation industry. This partnership with Neste, the world's leading producer of SAF, reaffirms our commitment to reducing our carbon emissions intensity, which is already one of the lowest among airlines in the world. Working together with Neste, we will drive the adoption of SAF throughout our network, paving the way to a more sustainable future for aviation," said Ian Malin, Executive Vice President and Group Chief Financial Officer at Wizz Air.
United Announces Plans for More Family Friendly Skies
Feb. 21, 2023 — United is launching a new utility on its seat map feature that allows for children under the age of 12 to be seated in an adjacent seat to the adults in their party for free. In a press release yesterday, Linda Jojo, Chief Customer Officer for United, explained why this update to family travel is so important.
"In an era where more families are working in a hybrid environment, they're traveling more often – and they're flying United," said Jojo. "We're focused on delivering a great experience for our younger passengers and their parents and know it often starts with the right seat. We look forward to rolling out more family-friendly features this year."
SITE Celebrates Crystal Awards Winners
Feb. 20, 2023–Eight SITE Crystal Award recipients were celebrated on the final night of the largest-ever SITE Global Conference in New York City. "This year's winners strongly reflected an ability to deliver the many impacts and benefits of incentive travel, while also leading the way in embracing new and emerging trends," read the press release, which highlighted the range of destinations and companies represented and the growth of incentive travel as a key reward and motivational strategy for top firms looking to retain and attract talent.
Carina Bauer, CEO of IMEX Group, which sponsored this year's awards praised the international reach of the programs honored. "The Crystal Awards bring our community together and spotlight the innovation and excellence powering these teams and their standout incentive programs," she said in a press release.
This year's complete list of Crystal Award recipients includes:
Access Holidays & Events, for Excellence in Incentive Travel: Africa and the Middle East
Amstar DMC (Costa Rica), for Best Destination-Based Experiential Incentive Travel Program
Amstar DMC (Mexico), for Best Destination-Based Experiential Incentive Travel Program
Arabian Adventures Meetings, Incentives & Events, for Excellence in Incentive Travel: Africa and the Middle East
Augeo, for Best Virtual Motivational Experience
AV Business & Communication, for Excellence in Incentive Travel: Latin America & Caribbean
Creative Travel India & FMC Solutions South Africa, for Excellence in Incentive Travel: Asia Pacific
Motivation Excellence, for Excellence in Incentive Travel: Europe
Two Airlines Team Up to Provide Supplies to Earthquake Victims in Syria and Turkey
Feb. 17, 2023–Atlas Air Inc. and Turkish Airlines announced an Atlas Air 747-8F departed Washington Dulles International Airport (IAD), carrying relief supplies for the earthquake victims in Syria and Turkey.
The two companies are working with the Turkish Embassy to support the thousands impacted, with Atlas Air providing the crew and aircraft, and Turkish Airlines providing clothing, medical supplies and other essential items.
"Through our partnership with Turkish Airlines, we are honored to contribute air freight capacity to deliver critical supplies to this region where they are needed the most," said John Dietrich, president and CEO of Atlas Air Worldwide. "We are moved by the heroic work of first responders and humanitarian organizations to provide relief to the communities impacted by this natural disaster."
Cape Cod Hotels and Restaurant Win Forbes Five Star Hospitality Award
Feb. 16, 2023—Two hotels and a restaurant based in Cape Cod have been honored with Forbes Five Star hospitality awards. The award-winning hotels and restaurant include Twenty-Eight Atlantic, the signature dining room at Wequassett Resort and Golf Club in Harwich, Chatham Bars Inn, and Chatham Inn in Chatham.
This marks the second year for Twenty-Eight Atlantic to win the award and the second year for Chatham Inn.
The winners of the 65th annual Star Awards were selected following anonymous visits to hotels, cruise ships, spas and restaurants by Forbes Travel Guide's incognito inspectors. The criteria consist of 900 rigorous standards, measuring every element from modern-day luxury to more traditional standards of hospitality.
Biden-Harris Administration Announce Next Steps to Deliver Electric Vehicle Chargers Nationwide
Feb. 15, 2023—The Biden-Harris administration today announced its latest action for delivering on the President's goal of building a nationwide network of 500,000 EV chargers by 2030, consisting of reliable and Made-in-America electric vehicle (EV) chargers, according to a press release.
The latest steps include the publication of minimum standards for federally funded EV infrastructure, finalizing the Build America, Buy America implementation plan for EV charging equipment, and announcing that states, cities, towns and Tribes can soon apply for the first round of $2.5 billion in competitive grants to build EV charging stations in locations across the U.S.
"This is a major step toward a world where every EV user will be able to find safe, reliable charging stations anywhere in the country," U.S. Transportation Secretary Pete Buttigieg said. "We're establishing common, universal standards for EV charging stations just like the ones for gas stations, so that recharging an EV away from home will be as predictable and accessible as filling up a gas tank."
DI and Tourism Cares Partner for Social Good
Feb. 15, 2023—Destinations International, the association for destination organizations and convention and visitors bureaus (CVBs), announced a partnership with Tourism Cares, a non-profit organization dedicated to the long-term survival of the travel and tourism industry that inspires travel leaders to make travel a force for good.
The partnership will establish cross-promoted special programs benefitting destination organizations globally including: The collaboration of inclusions to the Meaningful Travel Map to drive awareness of and highlight social and environmental impact experiences and opportunities and a jointly produced volunteerism project in conjunction with a Destinations International event in 2023–2024. Additionally, the two organizations will development a disaster relief program focusing on long-term recovery, supported by Destinations International and destination organization stakeholders.
SEARCH Foundation Exceeds $1 Million Giving Milestone
Feb. 15, 2023 —SEARCH (Special Event Assistance Relief & Crisis Help) Foundation chairwoman Kate Patay announced  that the philanthropic organization for the meetings and hospitality industry has exceeded the $1,000,000 mark in funds distributed to industry individuals in crisis in its 25 years of supporting the industry. "We're pleased to report that since inception, 100% of qualified cases have been funded, and industry professionals in crisis were profundly affected by the efforts of the board, committees and supporters," she said.
The SEARCH Foundation Annual Signature Event is scheduled for March 29 at Canvas Event Venue in Orlando, Florida.
Caesars Entertainment Atlantic City Resorts Add AI Concierge
Feb. 15, 2023 —Caesars Entertainment properties in Atlantic City are using technology to enhance the guest experience with Ivy, a 24-hour virtual concierge service. Created by Go Moment and powered by IBM Watson, the automated guest engagement platform for hotels will launch at Caesars Atlantic City followed by Harrah's Resort and Tropicana, respectively. Ivy allows guests to request the services they need to enhance their stay from their devices. Ivy can book dining, entertainment and spa experiences and facilitate housekeeping and maintenance requests. Ivy also surveys guests during their stay, which allows for quick recovery of unhappy guests in real time. Users may opt out of receiving messages from Ivy at any time.
Ivy initially launched at the boutique Nobu Hotel at Caesars Palace and The Cromwell in December 2016. Caesars Entertainment rolled out to its remaining Las Vegas resorts in 2018, becoming the first major gaming company in the market to offer a widespread guest text messaging program with built-in artificial intelligence. The platform is now used at other Caesars-owned properties across the country to enhance the customer service experience.
American Airlines Awarded for Sustainability Efforts
Feb. 14, 2023 — American Airlines is named 2023 Eco-Airline of the year by Air Transport World (ATW)! In a press release from ATW, the organization attributes the recognition to the continual effort to the sustainability and fuel-efficiency efforts from American Airlines. Robert Isom, CEO of American Airlines, acknowledges the award and promises to continue these eco-conscious efforts.
"American is actively incorporating sustainability at every level of our business, from the fuel we buy to the food we serve our customers," says Isom. "And our all-the-above approach is just getting started. As Eco-Airline of the Year, we will continue to lead the industry as an innovator in this space and affirm our unyielding commitment to build an American Airlines that will thrive forever."
Little Rock CVB Launches Video Series Celebrating Black History Month
Feb. 13, 2023—The Little Rock Convention and Visitors Bureau (LRCVB) on Monday announced the "Experience Little Rock in Color" interactive video series featuring local Black community influencers discussing the Black experience in Arkansas's capital city, according to a press release.
The series premiered before an audience of business and community leaders, as well as tourism industry partners, on February 7 at the Mosaic Templars Cultural Center.
"We are thrilled to celebrate Black History Month with the launch of our new video series," said President and CEO of the LRCVB, Gina Gemberling. "Little Rock is a dynamic and diverse community that pairs different cultures with world-class attractions, restaurants and experiences. We are proud to spotlight our city's rich Black history and culture and look forward to expanding our video series to connect with more diverse communities that make our city a unique, must-see destination for visitors and locals alike."
The video is narrated by local radio personality Mia Banks and includes more than 30 Black business leaders, community influencers and residents as they discuss various area restaurants, attractions, and experiences.
Fort Worth Eateries Named as James Beard Award Semifinalists
Feb. 13, 2023—Two restaurants in Fort Worth, Texas, have been recognized as James Beard Award semifinalists, highlighting the city's vibrant culinary scene, according to a press release.
Don Artemio, a traditional Mexican restaurant and Goldee's BBQ, will be considered for the prestigious award that will be presented during a ceremony in Chicago slated for June 3-5. Led by Chef Juan Ramon Decardenas, Don Artemio serves traditional Mexican dishes with a commitment to use only the freshest ingredients and opened its Fort Worth location in March 2022. The restaurant originated in Saltillo, Mexico, over a decade ago. Don Artemio is up for Best New Restaurant.
Started by five friends, who all happened to be pitmasters, Goldee's BBQ is known for being ranked the number one BBQ pick in Texas Monthly and was named after an old golden Ford F250 that was once used to haul a smoker. Three of Goldee's chefs, Lane Milne, Jalen Heard, and Jonny White are up for Best Chef.
ALHI and Hosts Global Partner to Offer Global Experiences
Feb. 13, 2023—Associated Luxury Hotels International (ALHI) and Hosts Global announced a strategic partnership to offer tailored event experiences at ALHI's 250 luxury properties, resorts, and cruise lines across the globe.
"There was just such a natural symmetry within our two organizations in approach, culture and focus on the client journey," Michael Dominguez, president and CEO of ALHI said. "We are excited to leverage the reach and strength of Hosts Global with current and new ALHI clients."
"We believe in the power of face-to-face events," said Kurt Paben, CEO of Hosts Global. The strategic partnership will provide an integrated expertise merging best-in-class locations with boots-on-the-ground comprehensive DMC services.
Adelaide Named Host of Australia's Dreamtime 2023
Feb. 12, 2023—Business Events Australia has announced Adelaide will be the host city for Dreamtime 2023, its signature incentive showcase designed to increase awareness of and interest in Australia as an outstanding business events destination. The Showcase will be the first Dreamtime held since 2019 due to the global Covid pandemic. The event will welcome and business events planners and media from Greater China, Singapore, Malaysia, Indonesia, India, Japan, South Korea, New Zealand, North America and the United Kingdom.
"Even with the disruption of the global Covid pandemic, Dreamtime 2019 delivered solid results for Australia, generating 36 business leads in three months, worth $97 million," reported Tourism Australia's Executive General Manager of Commercial & Business Events Australia, Robin Mack in a written statement. Prior to the pandemic, the business events sector was a key contributor to the visitor economy, attracting 1.04 million arrivals, spending A$4.5 billion for the year ending 31 December 2019. In terms of relative size, this makes the international business events visitor the second largest yielding market for Australia, after China.
DI's Event Impact Calculator Launched in Mexico
Feb. 10, 2023—Destinations International announced that its Event Impact Calculator developed in partnership with Tourism Economics has launched in Mexico, marking more than 300 destinations with the tool in place in 12 countries. For meeting professionals working with destination partners, this tool is an easy way to quantify the impact of an event for reporting purposes.
"In 2022, more than 137,000 events were analyzed, with 80% business events and the remaining encompassing sports, festivals, and consumer shows," said Don Welsh, president and CEO of Destinations International. "Hotel room nights are just one piece of the pie and the EIC tool allows our destination members around the world to convey the total value of an event to community stakeholders in a very understandable way."
Reno Tahoe Reported Highest Tax Collections Ever
Feb. 9, 2023—Reno Tahoe released transient lodging and room tax statistics showing 2022's total of $467,849,408 as the most taxable room revenue ever recorded for a calendar year. Four of the top five all-time revenue-producing months came in 2022, when nine additional records were set for monthly room tax collections. In 2022, Taxable Room Revenue in Washoe County was up 11.2%, from $420,530,005 to $467,849,408, compared to 2021, which previously held the record for room tax revenue in a calendar year. Cash Occupied Rooms were up 3.2%, from 3,092,164 to 3,189,970, over that same time period, and Average Daily Rates (ADR) increased 7.8%, from $136.00 to $146.66, breaking 2021's record for highest ADR in a calendar year.
"Reno Tahoe lodging revenue continues to show some of the strongest gains anywhere in the U.S.," said Reno Tahoe President and CEO Charles Harris. "The outdoor, gaming and special event offerings of Northern Nevada coincide with the diverse experiences travelers are seeking, and we are thrilled to be able to deliver on that promise of excitement, relaxation and adventure."
MPI and NCBMP Expand Partnership
Feb. 9, 2023—Meeting Professionals International (MPI) announced a formal three-year extension and expanded community offerings with the National Coalition of Black Meeting Professionals (NCBMP). In October 2020, the partnership was focused primarily on a joint membership offering that has resulted in 53 members across both organizations having taken advantage. The updated partnership will extend through 2026 with ongoing renewals available for the two organizations to continue their collaboration. The two associations will seek to collaborate on industry education efforts through shared virtual learning and in-person sessions at each of their annual signature events, including MPI's World Education Congress, Global Meetings Industry Day and NCBMP's Annual Conference.
Visit Anaheim Booked $1.4 Billion Worth of Events for 2023
Feb. 9, 2023—Visit Anaheim announced it has confirmed 150 conventions, meetings, and events for 2023, which are projected to bring more than $1.4 billion in economic impact to the local community. Combined, these 43 conventions at the Anaheim Convention Center, 89 meetings and 18 events will generate an estimated $793 million in tourism occupancy tax (TOT) revenue for the city, exceeding 2022 tourism occupancy tax revenue numbers. These meetings, conventions and events will bring 800,263 attendees and 584,970 room nights to local hotels in comparison to the 618,118 attendees and 447,355 room nights booked in 2022. As a result, 2023 will garner an additional $285 million in economic impact compared to 2022, demonstrating a strong recovery to the community because of attendees dining, shopping and entertaining while in town, according to a press release.
Frontier Airlines Releases Fourth Quarter Revenue Report
Feb. 8, 2023—Frontier Airlines Holdings, Inc. on Wednesday released its fourth-quarter report for 2022 showing strong revenue performance, including a record ancillary revenue per passenger. The parent company of Frontier Airlines reported that operating revenue for the fourth quarter totaled $906 million—a 38% increase when compared to 2019, according to a press release.
"Fourth quarter results were strong, underpinned by record ancillary revenue and meaningful improvements in CASM and utilization," said President and CEO Barry Biffle. "Moving into 2023, we intend to bolster our competitive edge by driving further improvement in ancillary revenue per passenger and unit costs. Today, our total cost advantage over the industry average is wider than it was in 2019, and I expect it will widen further this year. With these contributing factors, I'm confident we're on track to return the airline to the pre-pandemic profit levels per plane on a run-rate basis in the second half of 2023."
In addition, total operating revenue per passenger was $133, a 24% increase over the quarter in 2019, and ancillary revenue per passenger hit a record $82, 41% higher than the 2019 quarter.
United Nations Approves Global Tourism Resilience Day
Feb. 7, 2023—With the support of more than 90 countries, Jamaica has been successful in spearheading the declaration of Feb. 17 as Global Tourism Resilience Day.
"This announcement will in fact signal to the world to put aside one day, February 17, every year to not just observe but to create a greater level of consciousness around resilience, says Jamaica's Minister of Tourism the Hon. Edmund Bartlett. "The pandemic has shown us that global disruptions will continue, so there will be more epidemics, pandemics and earthquakes like the one in Turkey. The importance of this day is therefore to encourage capacity building for the world to be better able to respond to these global disruptions and recover quickly."
The Global Tourism Resilience Conference will be held at the University of the West Indies' Regional Headquarters in Kingston, Jamaica Feb. 15-17.
ExCeL London & Levy UK+1 Partner for Sustainability
Feb. 7, 2023—Carbon neutral event venue ExCeL London and sport and entertainment caterer Levy UK + Ireland,  announced a new long-term partnership with an emphasis on sustainability, technology and innovation as part of the pair's roadmap to net zero, with Levy UK+I targeting an early adoption of 2027.
Future initiatives will see the introduction of consumer-facing carbon labelling, a minimum of 50% of menus to be plant-based, sourcing of 100% recyclable or reusable packing, to get food waste under 25% by 2024, and a new technological advanced store designed to improve the visitor experience and speed up service times, according to a press release.
Boeing Announces Plans to Cut 2,000 Finance, HR Positions in 2023
Feb. 7, 2023—Boeing on Monday announced staffing cuts to the company's human resources and finance departments throughout 2023, with a total staffing reduction of roughly 2,000 jobs, AP reports.
"We expect about 2,000 reductions primarily in Finance and HR through a combination of attrition and layoffs," Boeing said in a statement. "While no one has been notified of job loss, we will continue to share information transparently to allow people to plan." Boeing's overall workforce included 156,000 employees as of Dec. 31, 2022.
However, Boeing also said the company has plans to "significantly grow" its overall staffing levels over the course of the year. "We grew Boeing's workforce by 15,000 last year and plan to hire another 10,000 employees this year with a focus on engineering and manufacturing," the statement read. Boeing recently relocated its headquarters from Seattle, Washington to Arlington, Virginia.
IATA Claims Continued Air Travel Recovery
Feb. 7, 2023—The International Air Transport Association (IATA) has announced that the recovery in air travel continued in December 2022 and for the full year.
The agency reported that total traffic in 2022 (measured in revenue passenger kilometers or RPKs) rose 64.4% compared to 2021. Globally, full-year 2022 traffic was at 68.5% of pre-pandemic (2019) levels. December 2022 total traffic rose 39.7% compared to December 2021 and reached 76.9% of the December 2019 level.
International traffic in 2022 climbed 152.7% versus 2021 and reached 62.2% of 2019 levels. December 2022 international traffic climbed 80.2% over December 2021, reaching 75.1% of the level in December 2019.
Domestic traffic for 2022 rose 10.9% compared to the prior year. 2022 domestic traffic was at 79.6% of the full-year 2019 level. December 2022 domestic traffic was up 2.6% over the year earlier period and was at 79.9% of December 2019 traffic.
"The industry left 2022 in far stronger shape than it entered, as most governments lifted Covid-19 travel restrictions during the year and people took advantage of the restoration of their freedom to travel. This momentum is expected to continue in the New Year, despite some governments' over-reactions to China's re-opening," said Willie Walsh, IATA's Director General.
Visit Greater Palm Springs Announced Partnership to Support Local Entrepreneurs
Feb. 6, 2023—Visit Greater Palm Springs (VGPS) today announced it has partnered with Caravanserai Project to support a group of up to 30 Coachella Valley small business entrepreneurs with micro-grants up to $7,500 as well as business readiness training.
This micro-grant and training opportunity is available to Spanish-speaking entrepreneurs with businesses that are a part of the hospitality and tourism ecosystem in the Coachella Valley. These businesses can include restaurants, retail, housecleaning, daycare, transportation and more.
"As part of our commitment to the values of diversity, equity and inclusion, Visit Greater Palm Springs is thrilled to partner with Caravanserai Project to support our Spanish-speaking entrepreneurs in the Coachella Valley," said Scott White, president & CEO of Visit Greater Palm Springs. "Our commitment widens the circle of opportunity to the community while providing skills, knowledge and an investment in small businesses so they can take part and grow in the hospitality and tourism industry."
The next business-readiness training program begins on March 13. Caravanserai Project will be hosting a virtual information session on Feb. 8, 9-10:30 a.m. Entrepreneurs interested in learning more can register for this session at caravanseraiproject.org/seed-2.
Uncertainty Authors Announced as Keynotes for PCMA European Conference
Feb. 6, 2023—PCMA opened registration today for Convening EMEA conference for global business event professionals taking place in Copenhagen Sept. 20-22. The omnichannel event will feature opening keynote speakers Nathan Furr and Susannah Harmon Furr, authors of "The Upside of Uncertainty: A Guide to Finding Possibility in the Unknown."
In-person registration will include an all-access pass to the educational conference at Bella Center Copenhagen and exploration tours.
Israel Railways Purchases A.I.-Based Obstacle Detection Technology Systems for $1.4 Million
Feb. 6, 2023—Israel Railways Ltd., Israel's state-owned principal railway company, has signed an agreement to purchase 10 obstacle detection systems and related services from Rail Vision Ltd. The Main Line System is a cutting-edge, artificial intelligence-based, technology for the detection and identification of objects and obstacles in the proximity of, or on the railway, according to a press release.
"After more than a year of evaluating a variety of advanced driver assistance systems (ADAS), Israel Railways chose Rail Vision's Main Line System as the solution for its fleet, marking the first major commercial deployment of AI-based vision technology for main line rail industry operations," said Rail Vision CEO Shahar Hania. "Our Main Line System outperformed in all aspects of testing during the proof-of-concept with Israel Railways. We believe this is a strong validation of our solution and bodes extremely well for other pilot programs underway, such as our long-term pilot in Australia with Rio Tinto, a leading global mining group, as well as other opportunities around the globe."
Roughly 700 trains operate within Israel Railway's lines of service across 1,138 kilometers (over 707 miles) of track daily, connecting major cities, towns and rural areas throughout the country.
"Using advanced, long-range A.I. detection systems, our game-changing technology provides unparalleled obstacle identification on and near tracks, making it an ideal solution for major rail operators like Israel Railways, and a key driver behind strategic partnerships, such as our relationship with Knorr-Bremse, the global leader in braking systems for the rail industry that has invested $24 million into Rail Vision since our inception," Hania added.
City of Paris Wins 2023 Sustainable Transport Award
Feb. 6, 2023—Paris, France has been named the recipient of the 2023 Sustainable Transport Award (STA) by the Institute for Transportation and Development Policy (ITDP) and Sustainable Transport Committee in recognition of the city's recent progress in improving its public transport and urban spaces with policies that promote sustainability, accessibility, and inclusion, according to a press release.
"The work that the 2023 STA Nominees have put into building more resilient and accessible cities is outstanding, especially as the pandemic challenged our urban systems," said ITDP CEO Heather Thompson. "It is an honor to have a historic city like Paris as the winner this year—their efforts to promote sustainability, care, and active mobility were some of the boldest seen during the pandemic."
Paris had targeted improved efforts toward more sustainable forms of public transportation and accessible public spaces for all types of communities to improve the quality of life of Parisians. The city tested several policies during the pandemic to lower emissions and noise pollution and improve public health. STA's honorable mentions in 2023 include Jalisco, Mexico and Bhubaneswar, India.
"We are living in a historical inflection point. Paris, like most major cities, is shifting towards becoming a more walkable and cyclable city, and we want to accelerate this revolution," said Paris Deputy Mayor David Belliard. "It is a public health issue and a response to climate change. This paradigm shift concerns all of us: whether you are a driver, a cyclist, a pedestrian, or a public transport user."
New Jobs Report Showed 128,000 New Hospitality Employees
Feb. 3, 2023—The new U.S. Bureau of Labor Statistics January Employment Report showed that out of 517,000 jobs added last month overall, the leisure and hospitality sector added 128,000 of those jobs, 35% of the growth and more than any other single sector. U.S. Travel Association President and CEO Geoff Freeman said the report "is further evidence that travel is essential to the U.S. economy. Travel's success is the nation's success and robust travel demand is supercharging our nation's economic recovery and job growth."
He pointed out that the industry still has nearly 2 million open jobs despite returning to pre-pandemic employment levels and urged action to bring more temporary workers to the United States.
In addition to enacting other priorities to spur travel demand and growth, (streamlining temporary worker programs) should be a top priority for the federal government," Freeman said.
Small Luxury Hotels of the World Announce New Partnerships
Feb. 2, 2023—Small Luxury Hotels of the World (SLH) announced in December 2022 a new addition to their international MICE partnerships with Reilly Resort Representatives (RRR) Avenue Sales & Marketing (Avenue) and Heavens Portfolio.
Reilly Resort Representatives is a female-owned and operated marketing representation firm based in North America that works to connect hotels to qualified group leads. Avenue Sales & Marketing, based in the UK, specializes in the luxury hospitality industry. Lastly, Asian-based Heavens Portfolio offers a curated collection of the luxurious travel brands.
"We are thrilled to enhance the value of the average meeting, conference or event with the individual character and special charm that each of our SLH hotels provide. Small Luxury Hotels of the World collection of boutique hotels in more than 90 countries enables our partners, Avenue, RRR and Heavens Portfolio to provide their clients with some of the most distinctive, individually spirited hotels around the world," says SLH's Managing Director Richard Hyde.
Convene Acquired etc.venues
Feb. 1, 2023—The meeting and event space provider Convene announced today that it had acquired  etc.venues, an urban day conferencing company with venues in the United Kingdom in London, Manchester, and Birmingham, and in the United States in New York City, making the combined company the largest single provider of dedicated premium meeting and event venues in the U.S. and UK.
In a joint statement, the Convene CEO Ryan Simonetti and etc.venues managing director Nick Hoare, said, "We believe that the workplace of the future is a meeting space. While individual work can be done anywhere, there is nothing-not even with all the advances in technology-that can replace the magic that happens when you bring people together."
Federal Transit Administration Announces $1.7 Billion in Funding to Modernize Transit Fleets
Jan. 31, 2023—The U.S. Department of Transportation's Federal Transit Administration (FTA) announced the availability of $1.7 billion in funding to modernize fleets of transportation across the U.S. with low- and no-emission busses, upgrade facilities and provide additional driver and operator training. The funding is provided through the Biden-Harris administration's Bipartisan Infrastructure Law and will support transit upgrades on a local and state level, according to a press release.
"The historic funding opportunity we are announcing today is helping communities across the country purchase new buses, which will cut harmful pollution, and train workers for good-paying jobs," said U.S. Transportation Secretary Pete Buttigieg. "With these new, cleaner buses, Americans will have better options to get where they need to go and people everywhere will benefit from cleaner air."
The programs are part of the president's plan to reach net-zero emissions by 2050. "Buying new buses, including many vehicles that use new technology to fight climate change, will promote cleaner, faster, and safer rides as we move toward a better future," said FTA Administrator Nuria Fernandez. "Thanks to the strong commitment of this Administration to not leave anyone behind, we will be able to connect more people in their communities and improve the reliability of transit service."
FAA Creates Optimized Fuel-Saving Arrival Routes
Jan. 31, 2023—The FAA this week announced new fuel-saving arrival routes for 11 airports, expected to save millions of gallons of fuel. The new optimized descents include flights headed to Kansas City, Omaha, Orlando, and six airports located in South Florida, according to a press release.
"We are investing across the entire system to provide passengers with the best travel experience. The era of choppy descents is coming to an end, providing a smoother landing and saving fuel in the process," said Acting FAA Administrator Billy Nolen.
The fuel-saving method known as Optimized Profile Descents (OPDs) eliminates the need for descending planes to use the stair-step procedure, which required planes to incrementally drop altitude and level off followed by an increase in engine power. OPDs allow planes to descend in one continuous path from a cruising altitude to the runway.
Over 1,000 Flights Canceled Due to Winter Weather
Jan. 31, 2023—The website FlightAware marked over 1,000 flights canceled yesterday due to an icy blast of winter weather that hovered over the middle of the country. Meanwhile, the Federal Aviation Administration (FAA) told lawmakers in Washington, D.C. that it made a series of changes to its NOTAM system to prevent a repeat of a computer system outage that disrupted more than 11,000 U.S. flights in January.
Destinations International Foundation Announces Deadline for 2023 30 Under 30 Program
Jan. 30, 2023—The Destinations International Foundation has announced the deadline for applications to its 30 Under 30 Program set for February 28, 2023, at 5 PM ET. The program aims to provide guidance and professional development to individuals under the age of 30 by offering valuable industry experience and networking opportunities, according to a press release.
"The future of destination organizations worldwide remains dependent on today's young professionals," said Don Welsh, president and CEO of Destinations International. "The Destinations International Foundation continually invests in the leaders of tomorrow through professional development opportunities. We look forward to connecting with and celebrating the 30 future leaders throughout 2023 and their careers."
The 30 Under 30 Program is currently in its 13th year offering additional perks including a mentorship program, complimentary registration to the 2023 Annual Convention, access to networking with the 30 Under 30 community and year-round educational programming.
Alaska Airlines Becomes First Airline to Eliminate Plastic Cups
Jan. 27, 2023—Alaska Airlines has eliminated its annual use of 55 million plastic cups, the first major carrier to do so. This move will eliminate 2.2 million pounds of plastic from its operation.
As a replacement, the airline will use recycled paper cups for most of its passengers, in combination with its policy of offering Boxed Water, which comes in recyclable paper containers, first implemented in 2021. First-class passengers will use glasses for cocktails and soft drinks.
The airline began its journey of plastic removal in 2018, when it removed plastic straws and stir sticks from its service, also a first. According to a press release by Alaska, the company hopes to achieve the goal of replacing the top five waste-producing products from its inflight services by 2025. Alaska has also pledged to achieve net-zero emissions by 2040, partly by reducing emissions by using biofuel made from plants.
IHG Hotels & Resorts Donates $500,000 to AHLA Foundation Human Trafficking Survivor Fund
Jan. 27, 2023—No Room for Trafficking Survivor Fund now totals more than $2 million in donations after IHG Hotels & Resorts announced in a press release that it had donated $500,000 this week to fund the group's work to end human trafficking and support the economic stability of survivors.
"Recognizing that our industry has a unique opportunity to fight human trafficking collectively, we proudly join our peers and AHLA Foundation in continuing to make impactful change," said Elie Maalouf, CEO, Americas, IHG Hotels & Resorts, in a statement. 
Other contributors include: Extended Stay America, G6 Hospitality, Hilton Global Foundation, Hyatt Hotels Foundation and Wyndham Hotels & Resorts. 
Destination DC Welcomes 36 New Members to DEI Business Fellowship Program
Jan. 26, 2023—Destination DC (DDC), the official destination marketing organization for Washington, DC, this week welcomed 36 new members to its diversity, equity and inclusion business fellowship program as part of DDC's continued commitment to support small local businesses owned by people of color, LGBTQ+, women and disabled persons, according to a press release.
"As a member-based organization focused on economic development through tourism, it's important for us to interface with the local community and rebuild the tourism and hospitality industry in Washington, DC equitably and inclusively," said Elliott L. Ferguson, II, president and CEO, DDC. "Supporting local businesses through our marketing channels and exposure to customers provides greater awareness to visitors of the services and small businesses that are in our own backyard."
Those joining the fellowship program will receive free membership for one year, which includes access to marketing support and networking opportunities. Applications for the DEI Fellowship 2024 cohort will be available in the fall.
Freeman and ELX Announce Event Leader Community Network Partnership
Jan. 25, 2023—Event Leaders Exchange (ELX) and the live event producer Freeman announced a partnership that will give ELX members direct access to Freeman data, strategists and innovations. The invitation-only community of global event leaders from companies such as Allianz, Cisco and Google, will hold its first Annual Congress Feb. 1-3 at Hyatt Regency Chicago where Freeman will host a discussion group on "Aligning Business Events with Your Company's Sustainability Goals."
"Sustainability is a critical topic as the events industry looks to the future," said Adam Charles, head of Freeman's Agency group.
Accor Live Limitless, ITA Airways Launch Loyalty Rewards Partnership
Jan. 25, 2023 —ITA Airways and Accor Live limitless (ALL) on Monday announced the launch of a new reciprocal reward partnership that includes a two-way conversion offer, giving members of their rewards programs the opportunity to convert reward points starting Jan. 26, according to a press release.
Incentive Research Foundation Releases Signature Study
Jan 25, 2023–The Incentive Research Foundation has announced the release of its signature study, The IRF 2023 Trends Report.
"As we enter 2023, incentive, recognition, and reward programs will be expected to have broader reach and deeper impact," said IRF President Stephanie Harris. "Program owners are charged with motivating a changing workforce while dealing with major disruptions, including inflation, uncertainty, ongoing supply chain issues, and limited inventory."
The top trends for incentive, reward, and recognition programs in 2023 include:
Expanded Role of Incentives Professionals: The new decentralized workforce comes with new expectations and considerations for the structure and delivery of engagement programs to inspire employee performance and loyalty.
Incentive Travel Is Scaling Back… The demand for incentive travel is strong for 2023, but economic and staffing issues are often forcing incentive program owners to scale back.
…And Ramping Up: In order to meet the needs of the changing workforce, incentive travel needs to be more exciting, more exclusive, more experiential, more authentic, and more memorable than ever.
Patience Has Run Out: Suppliers have noted that incentive clients now expect services to be delivered at pre-COVID levels, particularly where costs are higher than pre-pandemic.
Downtime Is the Hot Activity: Attendees want more choices in their schedules, time between programs, and blocks of time to recharge or catch up with work.
Kirby Corporation Names Susan W. Dio to Company Board
JAN. 23, 2023— Kirby Corporation (NYSE: KEX) announced the appointment of Susan W. Dio to the Company's Board as of January 24, 2023.
Previously, Dio served as Chairman and President of BP America, as well as BP's Head of Audit and Refining and Marketing while focusing on integrating safety and operational risk.
"Susan's appointment reflects our commitment to ongoing Board refreshment and focus on adding diverse perspectives and experiences. We look forward to benefiting from her insights as we continue to provide high quality service and products in a safe, environmentally responsible manner all while delivering significant value to our customers," said Joseph H. Pyne, chairman of Kirby Board of Directors.
"I am honored to serve on the Board as Kirby continues to evolve its strategic priorities, build on its momentum in its Marine Transportation business and progress its electrification strategy in Distribution and Services. I look forward to working with my fellow directors and the management team to continue driving shareholder value," Dio said.
Kirby Corporation, from Houston, Texas is the largest domestic thank barge operator in the nation, focusing on transporting petrochemicals, black oil and refined petroleum products via tank barge.
Destinations International Announces CEO Summit
Jan. 24, 2023—Destinations International, the world's largest resource for official destination organizations and convention and visitors bureaus (CVBs), today announced that registration is open for the 2023 CEO Summit. The event will take place in Greater Victoria, BC, Canada April 3-5, 2023 and is open to CEOs, C-suite and executive-level staff in the travel and tourism industry.
This year's CEO Summit is themed "Navigating the Complexity," and exclusively available to Destinations International members and event partners around the world. The focus will be around continuing the journey to navigate and overcome the complexities of the past three years. Attendees will hear from thought leaders in the areas of sustainability, health and wellness, and the future of work.
Southwest Terminates Training Candidates for Appearance
Jan. 24, 2023 —Southwest Airlines Inflight Candidates Twitter group announced the termination of any training candidates who possess any tattoos in visible places such as the fingers, hands, face and neck, even if they are potentially able to be covered with makeup or otherwise concealed.
Although this matter could have been addressed in the onboarding interview into the training program, several training candidates were abruptly released today for violating what Southwest Airlines calls "Appearance Standards."
Accor Live Limitless, ITA Airways Launch Loyalty Rewards Partnership
Jan. 23, 2023 —ITA Airways and Accor Live limitless (ALL) on Monday announced the launch of a new reciprocal reward partnership that includes a two-way conversion offer, giving members of their rewards programs the opportunity to convert reward points starting Jan. 26, according to a press release.
Accor's ALL loyalty points and ITA Airway's VOLARE points can be transferred at a rate of 4,000 VOLARE points to 1,000 ALL points. Redeemed points can be used for hotel stays around the globe, room upgrades or can be applied to reduce an overall bill. The transferred points can also be applied to booking suites at major sporting events, culinary classes, concerts and other events. ALL points can also be transferred to VOLARE points with every 4,000 ALL points being the equivalent to 5,000 VOLARE points.
"We are proud to partner with ITA Airways, the leading airline company in Italy. Italy is among the most beloved and visited countries on the planet; it is thus one of our priority markets for experience, partnership, and hotel development. This partnership with VOLARE, ITA Airways' loyalty program illustrates the importance this country holds for Accor and its members. The introduction of this dual reward scheme will enable both ALL – Accor Live Limitless members and VOLARE members to benefit from a richer value proposition coupled with unrivalled services. Partnership with ALL will also give access to VOLARE members to an eco-system with lots of point accumulation and redemption opportunities. Our ambition is to offer a wide variety of rewards, services, and experiences," according to Ian Di Tullio, chief commercial officer Accor Europe.
Bruce White, Founder of White Lodging, Dies at 70
Jan. 20, 2023—Bruce White, founder and chairman of White Lodging, has died at the age of 70. He had been battling cancer for nearly one year.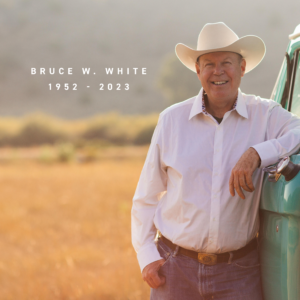 "Bruce was a visionary, a leader, and a hospitality icon like no other," said White Lodging CEO Jean-Luc Barone. "I have learned more from Bruce about hard work, leadership, and family, than any other person in my life. And while he maintained a low public profile and was humble in his impact on the industry, there's no question that Bruce White helped transform the modern hospitality industry by having a long-term vision, challenging existing norms, and executing at the highest levels—all from a smalltown in Northwest Indiana."
White founded White Lodging in 1985, and today, his company includes 60 hotels, more than 50 restaurants, 10 rooftop bars and luxury ranches. White Lodging remains family-owned and headquartered in Northwest Indiana.
White made many great achievements during his nearly 40 years in hospitality. After graduating from Purdue University, he later became a member of the inaugural class of the Purdue University School of Hospitality and Tourism Management Hall of Fame; he was also appointed to Purdue University's board of trustees, where he served from 2011 through early 2015, and is also a member of the university's Business Hall of Fame.
His accolades include the IHLA Lifetime Achievement Award, the Hunter Hotel Developer Award for Excellence & Inspiration and the Will Koch Indiana Tourism Leadership Award. He had also served on the boards of University of Chicago Hospitals, the Indiana Economic Corporation, the Chicago Economic Club, Big Shoulders Fund, the Terlato Wine Group and Young President's Organization.
White is survived by his wife, Beth, three adult children and newly born grandchild.
Visit Greater Palm Spring Names Todd Burke Vice President of Communications
Jan. 19, 2023—Visit Greater Palms Springs (VGPS) announced Todd Burke as the new vice president of communications, according to a press release.
In this first-ever role, Burke will support public relations and will lead corporate initiatives that include workforce development, education, sustainability and DEI.
"It's an honor to have Todd as a part of the team, embarking on an entirely new position for Visit Greater Palm Springs," said Scott White, president and CEO of VGPS. "With the implementation of this new position, we look forward to utilizing Todd's experience in aviation and healthcare to elevate our presence within the local community, sharing our organizational priorities, marketing, and PR efforts on topics that impact residents as well as travelers."
Before moving to Coachella Valley, Burke resided in Washington, D.C., where he served as Senior Vice President for Airlines for America, the trade association representing passenger and cargo airlines in the United States.
Landstar Plans to Announce Fourth Quarter Results Next Month
Jan. 19, 2023—Landstar System, Inc this week announced plans to release their fourth-quarter results, according to a press release.
The asset-light provider of integrated transportation management, with focus on transportation services will publicly announce their 2022 fourth quarter results at the close of the market on February 1, 2023.
The company will hold a quarterly conference call for analysts and investors on Thursday, Feb. 2, 2023, to discuss the results and future outlooks. The webcast can be found here.
New Parent Brand, Virgin Hotels Collection, Launches
Jan. 19, 2023—Virgin Hotels and Virgin Limited Edition will come together under the new umbrella Virgin Hotels Collection. Until this point, Virgin Hotels has operated as the "luxury lifestyle hospitality" brand of Virgin Group, and Virgin Limited Edition as a collection of retreats, hotels and exclusive islands owned by Sir Richard Branson, founder of Virgin Group. Virgin Residences will also join the two under the new brand.
James Bermingham, CEO of Virgin Hotels, will become CEO of the new collection on April 1, and Jon Brown, CEO of Virgin Limited Edition, will step down at the end of March.
Following this new development, the company has several property opening in the United States and abroad in the pipeline.
"As if launching Virgin Hotels Collection wasn't enough, we have an unbelievably exciting year ahead for the new collection," Bermingham said in a press release, "with the opening of Virgin Hotels in New York, followed by Glasgow and then the widely anticipated launch of Virgin Limited Edition's beautiful Son Bunyola Hotel in Mallorca's UNESCO World Heritage Site. Thereafter, the launch of Virgin Residences Miami, as well as Virgin Hotels Denver, both in 2025. And we certainly won't be stopping there."
Marriott International Announces Instant Booking Solution for Meetings
Jan. 18, 2023—Marriott International and Groups360 today announced the launch of Instant Booking for guest rooms and meeting space at scale for Marriott's portfolio of hotels in the United States and Canada. The GroupSync Marketplace streamlines the booking process with access to real-time best available group rates and inventory at over 1,500 Marriott properties, with additional growth expected throughout 2023.
While this is expected to benefit planners of small meetings immediately, they can also view inventory availability before submitting an RFP for more complex events at all Marriott hotels globally. The press release about the new feature describes the combination of these new capabilities as an advance that turns the "sourcing" process into the "shopping" or "buying" process, simplifying the way planners book meetings.
"This offers our group customers what they have told us they are looking for, which is a much more seamless and efficient booking experience," said Drew Pinto, global officer for Marriott International. He also predicted that Marriott team members will be able to receive and respond to RFPs quickly and efficiently through a two-way response process. He described it as "a win-win for both planners and hotels."
Kemp Gallineau, CEO of Groups360, called Marriott's involvement a testament to the commitment to reduce friction in group travel planning. With the addition of Marriott International, he anticipates that over 20,000 leading hotel properties will be equipped to offer online group booking in the months ahead.
Boeing, NASA Partnership Aims to Reduce Fuel Use, Carbon Emissions
Jan. 18, 2023—NASA on Wednesday announced the selection of Boeing and its industry team to lead the testing and development of a full-scale Transonic Truss-Braced Wing (TTBW) demonstrator airplane and will be tested as part of the Sustainable Flight Demonstrator (SFD) program, according to a press release.
The purpose of the new partnership is to inform future designs with the goal of reaching a breakthrough in aerodynamics and enhanced fuel efficiency. Ultimately, the new partnership is expected to aid in achieving net zero carbon emissions within the civil aviation industry by 2050 with advancements in propulsion systems, materials and systems architecture.
"The SFD program has the potential to make a major contribution toward a sustainable future," said Greg Hyslop, Boeing chief engineer and executive vice president of Engineering, Test & Technology. "It represents an opportunity to design, build and fly a full-scale experimental plane, while solving novel technical problems."
Wynn Las Vegas Launches New Health and Wellness Program
Jan. 18, 2023—Wynn Las Vegas this week announced the new Wynn Living Well program focused on curating health and wellness experiences designed to provide guests with a sense of elevated well-being with every visit, according to a press release.
"Being away from home does not mean you have to compromise on your desire to stay fit, eat right, or enjoy healthy activity—our program was created to provide our guests everything they need to live well, no matter how they choose to define it," said Brian Gullbrants, Chief Operating Officer North America, Wynn Resorts. "Through the Wynn Living Well program, we're able to offer our guests world-class instructors, five-star treatments, exclusive fitness programs and health-conscious fine dining at a caliber that only Wynn can deliver."
The new wellness program is focused on three pillars of health that include renewal, replenish and re-energize. The Wynn Living Well Program features a wide range of activities such as Tom Brady's TB12 method to bespoke in-room workout videos from Amanda Kloots. Individual and group sessions are available and are offered to both guests and visitors at the resort.
Fontainebleau Miami Unveils Newly Renovated Tresor Tower
Jan. 17, 2023—Fontainebleau Miami on Monday revealed its newly renovated 37-story, all suite Tresor Tower. The renovated tower marks the first full endeavor undertaken by Fontainebleau Development's in-house design team building off the legacy of the property's original architect, Morris Lapidus, according to a press release.
"Fontainebleau Miami is known to this day for birthing a golden age in hospitality defined by luxury, style and service and this renovation reflects the past while bringing us into the future," said Brett Mufson, President of Fontainebleau Development. "As Fontainebleau Development prepares for the highly anticipated opening of Fontainebleau Las Vegas in Q4 2023, we embarked on the renovation to the Tresor Tower to continue to evolve our iconic Miami property and provide guests with a consistent luxury experience across the brand."
Monterey Peninsula at Risk of Being Cut Off due to California Floods
Jan. 12, 2023—
Heavy rains have delt a major blow to the day-to-day lives of many living in the Bay Area with the rash of recent storms. On Thursday,
KTVU News reported
that the rising level of the Salinas River could potentially flood and cut off the
Monterey Peninsula
from the mainland, turning the area into an island. The surrounding communities and popular meetings destinations including Carmel and Monterey that are impacted by the flooding have been ordered to evacuate. On January 9,
President Joe Biden ordered
Department of Homeland Security and Federal emergency Management Agency (FEMA) to coordinate disaster efforts. At least 18 deaths have resulted from the flooding throughout the state.
Finavia Airport Co. Aims to Nearly Eliminate Carbon Emissions by 2025
Jan. 11, 2023—
Finnish airport company, Finavia, released a new responsibility program outlining measures to nearly end carbon emissions at four of the company's airports by 2025 in every aspect that's technologically and economically feasible, according to a
press release
. "Finavia's operations at all its airports have been carbon neutral since 2019. We have taken practical measures and we have been able to reduce carbon emissions by 64% compared to ten years ago. Next, we aim for our airports to have net zero emissions," Mikko Viinikainen, Finavia's Vice President, Sustainability & Environment said. The plan involves Finavia's airports located in Lapland including Rovaniemi, Kittilä, Ivalo and Kuusamo. A similar plan for Helsinki Airport is expected to be implemented in 2024. "Our objective is to reduce our carbon emissions by 98% over the next three years. At net zero level, there will still remain a couple of per cent points worth of emissions," Viinikainen said. All electricity consumed at Finavia airports has for several years been 100% generated using wind and solar energy.
Biden Orders Buttigieg to Launch a "Full Investigation"
Jan. 11, 2023— 
President Biden has ordered Secretary of Transportation Pete Buttigieg to launch a full investigation into the flight delays and cancellations caused by the FAA network breakdown occurring this morning. With uncertainty surrounding the cause of the issue, Biden says he wants to be updated to the causes of the computer outage continuously.
"I told them to report directly to me when they find out," says Biden. "Aircraft can still land safely, just not take off right now. They don't know what the cause of it is, they expect in a couple of hours they'll have a good sense of what caused it and will respond at that time."
Flights Delayed, Canceled Due to FAA Power Outage
Jan. 11, 2023— 
A computer outage at the Federal Aviation Administration (FAA) grounded all domestic departures as they work to handle the issue, as the Notice to Air Mission is integral to flight safety. While the system is slowly recovering, over a thousand flights have been delayed and hundreds of others cancelled. In a
statement
released by the FAA this morning, the administration gave scarce information. "The FAA is still working to fully restore the Notice to Air Missions system following an outage. The FAA has ordered airlines to pause all domestic departures until 9 a.m. Eastern Time to allow the agency to validate the integrity of flight and safety information."
Accor Restructures Under 2 New Divisions
Jan. 10, 2023—
Accor has implemented an organizational restructure falling under two new divisions. The restructure follows an announcement made in July 2022 that the hospitality group was planning to make the shift during the first quarter of the year, according to a press release. The restructure consists of a Premium, Midscale & Economy division and a Luxury & Lifestyle division that will both be supported by a Group Management Board and a Global Shared Platform with services including Digital, Technology and Procurement. The restructure is being implemented under the leadership of Sébastien Bazin, Group Chairman & CEO and Jean-Jacques Morin, Group Deputy CEO. The "Premium, Midscale and Economy" division is led by the Executive Committee under the leadership of Jean-Jacques Morin as CEO:
Thomas DUBAERE, CEO Americas
Patrick MENDES, CEO Europe & North Africa
Duncan O'ROURKE, CEO Middle East, Africa, Turkey & Asia Pacific
Gary ROSEN, CEO Greater China
Besma BOUMAZA, General Counsel
Fabrice CARRE, Chief Strategy Officer
Steven DAINES, Chief Talent & Culture Officer
Karelle LAMOUCHE, Chief Commercial Officer
Patrick LAURENT, Chief Financial Officer
Camil YAZBECK, Chief Development Officer
The "Luxury and Lifestyle" division is led by Executive Committee under the leadership of Sébastien Bazin as CEO:
Omer ACAR, CEO Raffles & Orient Express (starting March 1st, 2023)
Maud BAILLY, CEO Sofitel, MGallery & Emblems
Gaurav BHUSHAN, Co-CEO Ennismore
Mark WILLIS, CEO Fairmont
Gary ROSEN, CEO Greater China
Kamal RHAZALI, Secretary General & General Counsel (starting Feb 1st, 2023)
Agnès ROQUEFORT, Chief Development Officer
Johny ZAKHEM, Chief Financial Officer
Destinations International Launched Bespoke Event Cancelation Insurance Program
Jan. 9, 2023—
Destinations International announced at PCMA's Convening Leaders in Columbus, Ohio, that a partnership with Nashville-based insurance and risk management company Anderson Benson will offer
custom event cancelation insurance and risk management policies
. Coverage could include protection of budgeted costs and expenses or revenue should an event be canceled, abandoned or disrupted due to reasons beyond the destination organization's control. Protection options include traditional
force majeure
occurrences such as adverse weather and terrorism, but policies can also guard against recent event cancellation issues like civil commotion, national mourning, travel boycotts and bans, among others. Meeting professionals can work with convention and visitors bureaus in their destinations to access the service along with other tools. "Risk mitigation is the biggest issue to getting meetings back on track because it encompasses all of the challenges—civil, weather, economic and otherwise," said Don Welsh, president and CEO of Destinations International. "It could allow organizations to make decisions farther in advance."
PCMA Announced Acquisitions, Alliances and Partnerships
Jan. 9, 2023—
PCMA
announced
during the first day of its annual Convening Leaders conference in Columbus, Ohio, that it had forged a series of acquisitions, alliances and partnerships.
PCMA acquired Event Leadership Institute, a learning portal with an existing library of 260 videos. CEO Howard Givner will stay on as senior vice president of knowledge and innovation. Current PCMA members will have access to the library at no additional cost.
PCMA acquired Event Marketing Association-UK, a community of more than 800 corporate event marketing professionals from the United Kingdom.
PCMA implemented a strategic alliance with National Coalition of Black Meeting Professionals, a co-locating partner of the 2023 Business Events Industry Week, Power of Purpose, which will convene March 7-9 at Gaylord National Resort & Convention Center, National Harbor, Maryland in collaboration with ASAE, AMC Institute, Events Industry Council and Destinations International. The event will move to Walter E. Washington Convention Center in Washington, D.C., April 9-11, 2024.
PCMA partnered with American Geophysical Union, a global earth and science publisher, to focus on active steps to address climate change.
Sherrif Karamat, president and CEO of PCMA and CEMA said, "Covid didn't happen to us, it happened for us; sometimes things that seem so tragic give us inspiration for what is to come." He continued, "As of today, we are only moving forward—blazing a trail forward with and for the global business events community."
U.S. DOT Names New Technical Director of Volpe Center
Jan. 9, 2023—
The U.S. Department of Transportation last week named Johnathan Walker, PE, PhD as the new director of the department's Volpe Center, which oversees the Center for Communications, Navigation, Surveillance and Engineering. The Volpe Center executes over 300 projects annually with a focus on providing a safe, efficient, sustainable and more equitable transportation system, according to a
press release.
"Jonathan's experience, perspective, and expertise—from his extensive engineering background to his Marine Corps service—make him perfectly suited to lead our team and direct our work in real-time communications, navigation, surveillance, and decision-support systems," said U.S. DOT Volpe Center Director Anne Aylward. "We're thrilled for him to not only lead our FAA portfolio as we support the Administration's vision to deliver the safest, most efficient transportation system in the world—but also help our team of Volpe experts apply lessons learned from aviation across other transportation modes."
Horizon Air Announces New Senior Vice President of Operations
Jan. 5, 2023—
Horizon Air on Thursday announced that Jason Berry will take up the role as senior vice president of operations at the subsidiary of Alaska Air Group, according to a
press release
. "We couldn't be happier to welcome Jason back," said Horizon Air President Joe Sprague. "Adding talented operational leaders like Jason is great for our business and it's important for our long-term success at Horizon and Alaska. On a personal level, he is a fantastic person, he 'gets' Horizon and he knows our culture, and I'm excited to work with him again." Berry returns to Alaska Air Group after two years following his role at Air Canada where he served as vice president of cargo. Prior to that, the 27-year industry veteran served as president of Alaska's wholly owned subsidiary, McGee Air Services in 2019 and 2020 where he oversaw all aspects of aviation services ground handling, check-in and gate services, aircraft grooming and airport mobility services. He was named "Executive of the Year" by Air Cargo World in 2022.
Meet AC Booked 11 Events for New Year
Jan. 4, 2023—
In 2022,
Meet AC
and the
Atlantic City Sports Commission
hosted 210 competitions, conventions and sporting events across the destination, with 80 of the events taking place at the Atlantic City Convention Center. The destination was proud to host landmark events like the 113th NAACP National Convention in July, the Meet AC Atlantic City Airshow in August, and The Atlantic City Pickleball Open, the world's largest indoor pickleball tournament in September. "Last year was a landmark year for meetings and conventions in Atlantic City as we began to see planner's appetites for in-person meetings and events grow following the pandemic," said Meet AC President and CEO, Larry Sieg. "With the continued surge in both leisure and bleisure travel, we're expecting to build on the momentum into 2023 with exciting new events such as TakeOff North America 2023, the SHIFT Expo, and the 2023 USRowing Annual Convention and Indoor National Championships." Other events scheduled for the first quarter of 2023 at Atlantic City Convention Center include The Pool & Spa Show Jan. 24-25 and New Jersey Music Educators Association 2023 State Conference.
Visit Oceanside Collaborates With City to Develop Destination's First Sustainable Tourism Master Plan
Jan. 4, 2023—
Visit Oceanside
has partnered with the city of Oceanside to develop the city's first sustainable tourism master plan, providing a 10-year blueprint for leading its tourism growth toward a sustainable future. The destination will use best practices and criteria laid out by the Global Sustainable Tourism Council, one of only two California destinations to do so. According to a press release, the sustainable tourism master plan will provide an action plan for pursuing experiences, product, infrastructure and policies that match the plan's four objectives: visitor quality experience, quality of economy, environmental quality and resident quality of life. "The initial phase of the project includes a sustainability assessment, destination assessment, competitive analysis and stakeholder engagement," the press release says. "Input from residents, businesses and city leaders will be gathered through a series of online surveys, focus groups and town halls in the first quarter of 2023. The plan is expected to be completed by the end of the year." "The pandemic shed a light on the importance of a holistic approach to tourism that balances economic benefit with quality of life for residents and health of the destination," Visit Oceanside CEO Leslee Gaul said. "We are proud that Oceanside has not only taken a lead in formalizing this effort, but also committed to measuring our future product development, policies and achievements against the leading standard for sustainability in the world."
Atlantis Paradise Island Hosts Nassau Paradise Wine & Food Festival in Bahamas
Jan. 3, 2023—
Tickets are now available for the
Nassau Paradise Wine & Food Festival
(NFIWFF). The festival is happening between March 15th and March 19th at Atlantis Paradise Island, the Caribbean's most iconic destination resort in the Bahamas. Attendees can expect appearances from local and regional chefs, music performances, culinary demos, beachside parties, and an Ice Cream Social with a musical performance by Golden Globe-nominated rapper Wyclef Jean. The five-day festival with feature the likes of mixologist Tony Abou-Ganim, chef Alex Guarnaschelli, chef JJ Johnson and many more. Proceeds from the event will support the Atlantis Blue Project Foundation, dedicated to the preserving marine life and its inhabitants throughout the Bahamas and the Caribbean.
Campaign for Better Transport Calls for 'Super Tax' on Private Jets in UK
Jan. 3, 2023—
The UK-based transportation charity, Campaign for Better Transport, is calling for a new "super tax" that would be imposed on private jets passengers while suggesting that UK lawmakers revoke the Value-Added Tax (VAT)-free status of private jets. Campaign for Better Transport cited the unprecedented amount of pollution created by private jets—roughly five to 14 times more than commercial flights, according to a
press release
. Passengers flying on private jets pay the same Air Passenger Duty (APD) as those flying First Class and Business Class, but the charity says they should be paying a higher rate of APD. Campaign for Better Transport estimates that an increased tax could generate as much as £14 billion annually. "Private jets are hugely damaging to the environment and are the preserve of the super-rich," according to Norman Baker, the Director of External Affairs at Campaign for Better Transport, noting that private jet passengers should pay the equivalent for "the damage their flights cause and the proceeds used to help improve public transport for communities up and down the country."
Design Doyenne Who Drew Travelers to 'Cool Britannia' Dies at 81
Dec. 29, 2022
-- Vivienne Westwood, the British fashion designer who began media life as a punk princess and progressed to be a doyenne of UK design, has died at age 81. Westwood started her career at the dawn of Britain's punk movement but by the 90s and early 2000s had become a stalwart tentpole for British tourism's "Cool Britannia" marketing positioning. Westwood was more than a name from the runways. She designed uniforms for flight attendants on Virgin Atlantic and in 2014 designed the penthouse suite for The London West Hollywood Beverly Hills hotel. Her influence was a driving force for hotel design in the early days of the "boutique hotel" trend: seen in brands as mainstream as W and as eclectic as the Sanderson London hotel.
Hong Kong Lifts PCR Test Requirements
Dec. 28, 2022—
The Hong Kong SAR Government has announced the lifting of all mandatory PCR test requirements
for inbound travelers upon arrival in Hong Kong, as well as the lifting of Vaccine Pass which allowed
access to specified premises and
other measures starting from tomorrow (Dec. 29),
Inbound
travelers to Hong Kong are now only required to present negative results from PCR tests
conducted within 48 hours or rapid antigen tests (RAT) within 24 hours before their flights to Hong Kong.
In addition, restrictions on event size will lift, however mask mandates remain.
Miami Achieved LEED Gold
Dec. 28, 2022—
The City of Miami announced that it has achieved
LEED Gold certification
. The City is part of a growing group to be certified using the Leadership in Energy and Environmental Design for Cities rating system created by the U.S. Green Building Council (USGBC). The city has pledged Carbon Neutrality by 2050, said Mayor Francis Suarez. "Our resilience planning ensures that all buildings comply with the highest sustainability standards and being named a LEED Gold City is indicative that we are on the right track to building a Miami That Lasts Forever and Works for Everyone," he said. The city received credits for innovative and measurable initiatives, including resilience planning, environmental justice and an abundance of green spaces. An estimated 87% of City of Miami residents live within a 10-minute walk of a park which substantially exceeds the national average of 55%.
Southwest Tries to Shovel Out of Winter Storm Woes
Dec. 27, 2022—
In a historic storm that dumped up to four feet of snow in parts of the U.S., Southwest Airlines came out as the clear "winner" of the cancellation sweepstakes. On Tuesday, when
FlightAware
recorded 4,763 cancellations after the bulk of the storm late last week, Southwest still had 63% of those cancellations. The Department of Transportation will investigate the airline's handling of the crisis including its processing refunds to passengers but Capt. Michael Santoro, vice president of the Southwest Airlines Pilot Association
was quoted
by CNN as saying a major part of the problem was that "our IT infrastructure for our scheduling software is vastly outdated. It can't handle the number of pilots, flight attendants that we have in the system with our complex route network…So they don't know where we are, they don't know where airplanes are, and it's frustrating for the pilots, the flight attendants, and especially for our passengers."
Marriott President Leaves for Top Role at Under Armour
Dec. 22, 2022—
Marriott International announced yesterday that
long-time executive 
Stephanie Linnartz
has decided to leave the company, effective 
Feb. 24, 2023 to take on the role of
president and CEO of Baltimore, Maryland-based Under Armour.
In a statement, Marriott CEO

 

Anthony Capuano said:
 "On the one hand, I am excited for this next chapter in Stephanie's career. On the other, I am saddened by the departure of such an incredible executive. Beyond the collaborative relationship that Stephanie and I enjoy in our roles, we are good friends, having rooted for each other for more than two decades as we grew in our careers at Marriott and in our lives outside the company. I admire so much about Stephanie – she has this great combination of grit, grace, and humanity – qualities that make her an exceptional leader. To say she will be missed is an understatement – but she will always be part of our Marriott family." Reached for comment, Melissa Froehlich Flood, Marriott global corporate communications and public policy officer said, "Tony has indicated that he'll be working closely with Stephanie and his leadership team on the design of the organization going forward." Linnartz was named a Smart Meetings co-
Catalyst Award
winner last year along with Capuano.
NYC & Company Reported 56.4 Million Visitors in 2022, a 71% Increase
Dec. 22, 2022—
NYC & Company today announced that New York City's economic recovery continued in 2022, with an anticipated 56.4 million travelers arriving in the city by the end of the year—a 71.4% increase over 2021.
The city will see 47.4 million domestic and 8.9 million international travelers visit the five boroughs—with international visitation alone more than tripling over 2021
. This activity marks the return of 85% of the city's record 2019 visitation levels. New York City remains on pace to attract 61.7 million visitors in 2023, according to the press release. 
U.S. Department of Transportation Funds Rural Projects to Improve Infrastructure
Dec. 21, 2022—
The Biden-Harris administration announced today the plans for $274 million investment over 12 projects in rural areas that will improve and expand transportation infrastructure and connect the more remote communities to accessible hubs of transportation. The
press release
mentions Kalispell, Montana, the state of North Carolina and Todd County, South Dakota, as some of the rural areas that will be aided by the rebuilding of transportation systems with funding from the
Rural Surface Transportation Grant Program
(RSTG). "Infrastructure investments haven't always reached rural America, leaving far too many roads, bridges and other parts of the transportation system across our country in disrepair," said Pete Buttigieg, U.S. Transportation Secretary. "Today's announcement is one of many ways this administration is delivering the investments that rural communities have gone without for far too long, modernizing transportation, creating economic opportunity and making life better for millions of people."
New Online Booking Platform Will Convert Hotel Reservations into NFTs
Dec. 20, 2022—
LIFE Rewards
announced today the launch of an online booking platform offering hotel reservations that can be digitized and converted into tradeable, collectible NFTs for the secondary market, similar to how baseball and Broadway tickets are sold. Based on AI that services a large online travel agency, LIFE will launch with discounted prices on millions of hotels globally. Users can pay via credit or debit card. Crypto payments will also be accepted. "Travel and entertainment are ripe for disruption by the blockchain, which enables travel reservations and event tickets to be tokenized and traded securely and seamlessly. Hotels will welcome LIFE, since it helps them solve the problem of high cancellation rates by creating bookings that, for the first time ever, can be traded on secondary markets rather than cancelled when travelers' plans change," said Eduardo (Eddie) Ibañez, Scientist at LIFE and former Chief Scientist at Priceline, in a press release.
PCMA Foundation Announces 2023 Groundbreaker and Professional Excellence Finalists, Visionary Award Lifetime Achievement Honorees
Dec. 19, 2022—
The PCMA Foundation on Monday announced the 2023 PCMA Visionary Awards Lifetime Achievement Honorees and Groundbreaker and Professional Excellence Finalists for the annual Visionary Awards scheduled for March 9, 2023, during Business Industry Week at Gaylord National in National Harbor, MD., according to a
press release
.
The 2023 Lifetime Achievement Honorees are:
2023 Supplier Honoree: Ray Bloom, Chairman, IMEX Group, IMEX Group – Regent Exhibitions
2023 Education Honoree: T. Hickman, Lead Faculty, Dallas College – Richland Campus
2023 Business Event Strategist Honoree: Bill Reed, FASAE, CMP, Chief Event Strategy Officer, American Society of Hematology
Business Event Strategist of the Year:
Kristi Casale, CMP, DMCP
Lisa McGlashen, CMP, CEM, HMCC
Alexandra Zapple, CMP, CEM, DES
Community Advocate of the Year:
Jolene Jang, Consultant and Speaker, Asian Inclusivity Consultancy
Lakshmee Lachman-Persad, Accessibility Advocate, Accessible Travel NYC
Mariana Gallo, Director, Meetings and Programs, American Association of Physicists in Medicine
Digital Experience Strategist of the Year:
Jodi VanWoerkom, CMP, Senior Event Manager, Association for Talent Development
Cynthia Smith, CMP, DES,Virtual Event Manager, American Physical Society
John Chen, Chief Executive Officer, Engaging Virtual Meetings
Event Designer of the Year:
Megan Finnell, CMP, Director, Meetings & Conferences, MGMA
Beth Surmont, FASAE, CMP, CAE, Vice President, Event Strategy and Design, 360 Live Media
Kristi Casale, CMP, DMCP, Vice President for Meetings and Continuing Education, American Academy of Pediatric Dentistry
Groundbreaker:
Gary Murakami, GTP, GLP, CMP-Fellow, CMM, DES Vice President of Sales & Industry Relations, Teneo Hospitality Group
Constance Samuels, MBA, CMP, DES,Director of Events and Education, The National Association of Professional Employer Organizations
Sheila Wong, CEM, DES,Senior Vice President, BBW Event Staff
Outstanding Service to a Chapter or Region:
Susan Saganski, CMP, DES,Global Account Executive, Marriott International (Canada East Chapter)
Joni Opperman, Director of Sales, Association Group Sales, Hilton Worldwide Sales (Greater Midwest Chapter)
Leah Lewis, CMP, DES,Director of Meetings, American Gear Manufacturers Association, (Capital Chapter)
Supplier of the Year:
Tim Mathy, Senior Partner, SpeakInc.
Kristen Parker, CASE, Director of Eastern Regional Sales, Visit Austin
Rob Venus, General Manager, Freeman
Metro Toronto Convention Centre Sets Records for Securing Major Conventions
Dec. 19, 2022—
The Metro Toronto Convention Centre on Monday announced that it has set two facility records for securing major conventions in 2022 and during the 2023/24 fiscal year. The MTCC is Canada's leading convention facility and is scheduled to host 21 citywide conventions in the 2023/24 fiscal year—the highest yearly total for the convention in its 38-year history and is expected to generate an estimated $246 million in revenue for Toronto, according to a
press release
. The MTCC broke a second record for booking seven international meetings slated to take place over future years, the most secured in one year. These meetings will take place between 2025 and 2030 and are each expected to bring between 2,000 and 4,000 attendees to the region from around the world. "Our team continues to work tirelessly to book meetings and conventions that make key economic contributions to the province and our city. These results are a positive signal for the business events industry and our facility following a few challenging years," said Lorenz Hassenstein, President and CEO of the Metro Toronto Convention Centre. "Particularly, booking international meetings is an extremely competitive process, and we would like to thank our industry partners at Destination Toronto, the Leaders Circle and the incredible local experts we work with for their continuous collaboration and support." "The MTCC is a world-class venue with a proven track record for hosting major events and conventions that help generate a positive economic impact – for both the City of Toronto and the province," said Neil Lumsden, Minister of Tourism, Culture and Sport. "This record-breaking achievement is a clear indication that the centre is making great contributions to Ontario's tourism industry, ensuring the province remains a premier attraction for convention attendees and tourists alike."
Mesa Airlines to Expand Service with United, Winds Down Contract with American Airlines
Dec. 19, 2022—
Mesa Airlines on Monday announced the regional air carrier will wind down its partnership with American Airlines following unprofitable operations with the carrier and will now expand service with United Airlines, according to a
press release
. The final day of operations between Mesa and American will be April 3, 2023, with Mesa expected to begin placing aircraft with United in March 2023, but will continue to utilize all of its crew and maintenance locations currently operated by American in Phoenix, Dallas, El Paso, and Louisville during the transition and beyond. "I'd like to thank our long-time friends at American Airlines," said Jonathan Ornstein, Mesa Chairman and CEO. "Our relationship with American began in 1992 when Mesa initiated flying as a codeshare partner with America West after investing in its reorganization. Over the last 30 years, we've been through a lot together and we will always appreciate the opportunity to work as America West Express, US Air Express, and American Eagle."
Visalia Is First Certified Autism Destination
Dec. 15, 2022—
Visalia, California announced in a
press release
today that the city has become the nation's first Certified Autism Destination. The distinction is awarded by the International Board of Credentialing and Continuing Education Standards (IBCCES) for the progressive initiatives Visalia has implemented to ensure travelers with autism are able to enjoy adventurous tourism and all it has to offer. "We are truly honored to obtain the Certified Autism Destination designation," said John Oneto, board chair of Visit Visalia. "Visalia has long-prided itself in being a welcoming and inviting community and this was a collective effort by the tourism industry to make experiences sensory-friendly and remove barriers, ensuring every visitor can feel comfortable during and enjoy their stay as they explore our vibrant downtown and nearby national parks."
Bizzabo Receives SOC Type 2 Certification
Dec. 15, 2022—
The event Experience Operating System Bizzabo has achieved Service Organization Control (SOC) Type 2 compliance, a data security and management certification from the American Institute of Certified Public Accountants. "This certification analyzes Bizzabo's security processes to ensure we meet industry standards for our operating systems and customer and attendee data, so you can plan your event knowing you're fully compliant," said Boaz Katz, chief data officer and co-founder of Bizzabo.
Hyatt Consolidates Under Inclusive Collection Brand
Dec. 15, 2022—
Hyatt announced today that brands previously part of AMR Collection will now live under the Inclusive Collection, part of World of Hyatt umbrella, which includes the all-inclusive brands Hyatt Ziva and Hyatt Zilara. The result will be a selection of 120 resorts across 40 beachfront destinations and 11 countries, including Mexico, the Caribbean, Central America, South America and Europe. Services such as Endless Privileges, Unlimited-Luxury and Unlimited-Fun will still be available and World of Hyatt points benefits apply.
Greater Miami Convention & Visitors Bureau Launches New Planner-friendly Website
Dec. 15, 2022—
The Greater Miami Convention & Visitors Bureau (GMCVB) announced today the launch of its reimagined website at
MiamiandMiamiBeach.com
featuring the latest in personalization and artificial intelligence in addition to innovative immersive experiences for deeper storytelling. Meeting planners will have access to enhanced features, including detailed partner listings and access to meeting space details, floorplans and image galleries. Search features available in nine languages—English, Spanish, Creole, Portuguese, German, French, Italian, Mandarin and Russian—offer information about hotels and venues based on individual needs. The internal GMCVB sales team is empowered to create personalized webpages for specific meeting planner prospects.
New Urban Resort to Open in Vietnam in 2024
Dec. 14, 2022—
Those seeking luxury and a steaming bowl of Pho will get their new years wish in 2024. According to a
press release
, the Wafaifo Hoi An resort located in central Vietnam will be the first project of its kind for the hospitality firm. The resort will contain 118 rooms with air conditioning and 1,722 sq. ft. of meeting space. Created by Managing Director Peter van der Hoeven and Commercial Director Mikkel Krantz, the flagship resort aims to bring international attention and interest to the area. The company aims to have more information available publicly in 2023.
Oak View Group Assumes Management of Greenville Convention Center
Dec. 14, 2022—
The third-party venue management arm of Oak View Group, OVG360, announced yesterday that it entered a partnership with City of Greenville Partners to manage day-to-day operations of the 280,000-square-foot Greenville Convention Center in South Carolina, working closely with Greenville Convention & Visitors Bureau.
"The City is eager to work with Oak View Group to position Greenville as a premier destination for conventions," said Greenville City Manager John McDonough.
Among the more than 200 venues OVG360 manages in the South are: the Durham Convention Center in Durham, North Carolina; Miami Beach Convention Center in Miami, Florida; Greater Richmond Convention Center in Richmond, Virginia; Palm Beach County Convention Center in West Palm Beach, Florida; and Central Bank Center in Lexington, Kentucky. The company also manages the Atlantic City Convention Center in Atlantic City, New Jersey; Duke Energy Center in Cincinnati, Ohio; Kay Bailey Hutchison Convention Center in Dallas; and Overland Park Convention Center in Overland Park, Kansas. 
NY and LA Asks People to Mask Up
Dec. 13, 2022—
Health officials in New York and Los Angeles have issued statements suggesting but not yet mandating the use of masks indoors as Covid rates, RSV and flu rates rise in both cities. The New York City Health Commissioner issued a
Health Advisory
on Friday, Dec. 9, that urged New York City residents to "use high-quality masks when indoors and in crowded outdoor settings. This is especially important for people who are—or are meeting—those who are at increased risk for complications from Covid-19, RSV or the flu, such as those age 65 and older and people who are immunocompromised" In Los Angeles, officials
reported
that "with a rise in Covid-19 cases, Los Angeles County moved into the CDC High Community Level this week, prompting Public Health officials to ask all residents to layer in sensible health protections including indoor masking and getting vaccinated and boosted. "With the Covid-19 case rate reaching 258 Covid-19 cases per 100,000 people this week, and almost 15 hospital admissions per 100,000 people, the CDC High Community Level designation reflects both high transmission and increased stress on hospitals.  The stress on the healthcare system is compounded by high rates of influenza and other respiratory illnesses."
Air Canada Vice President Named Cargo Executive of The Year
Dec. 12, 2022—
Air Canada on Monday congratulated Air Canada Vice President, Cargo, Jason Berry for being named Cargo Executive of The Year by Air Cargo World. Air Canada Cargo posted record revenues in 2021 under Barry's leadership and continues to expand its business through investments in technology and infrastructure, according to a
press release
. "This award is a very well-deserved recognition for Jason, which I know he shares with his team. Since joining Air Canada to lead our cargo division, he has demonstrated his ability to build and lead a strong team that is well positioned to drive our cargo business forward. Coming to Air Canada Cargo at the height of the pandemic presented a unique set of challenges, and he rose to meet them head on. He sought out new opportunities, implemented new strategies, oversaw the introduction of our Boeing 767 freighters and furthered investments in technology and our people to position the business for growth and continued success," said executive vice-president and chief commercial officer at Air Canada, Lucie Guillemette.
Marriott's EDITION Brand Plans to Double Number of Hotels by 2027
Dec. 7, 2022—
Marriott International
announced today
that by 2027, it will add 15 new hotels globally to the 15 the luxury lifestyle properties it already operates in New York City, London, Miami Beach, West Hollywood and beyond, effectively doubling the footprint of the brand. Five will launch in 2023 in Rome; Riviera Maya, Mexico; Singapore; and Jeddah, Saudi Arabia; along with a second location in Tokyo. Following the success of EDITION residences as part of hotel developments in Miami, West Hollywood and Tampa, Florida, the first standalone EDITION residences are under development in Florida's Miami Edgewater and Fort Lauderdale.
New Meet Boston Brand Launched
Dec. 7, 2022—
Greater Boston Convention & Visitors Bureau announced a new name, corporate identity and tourism campaign today at its Annual Meeting.
Meet Boston
will launch a "Boston Never Gets Old" campaign to event planners, marathon runners and leisure travelers that draws from two major truths: Boston is still forging its identity, and Boston is a city that was built by motion and is designed to stay in motion. It will highlight the sports and entertainment industry, culture and food scene. "Tourism is integral to the Boston and Bay State economy, and it was time for us to further invest in promoting all that we have to offer to draw large-scale, international events to Boston. Boston is a global city that always deserves to be on the world stage," said Martha J. Sheridan, President & CEO of Meet Boston. "We have five-star hotels, world-class venues, art exhibitions, incredible professional sports teams and 23 diverse neighborhoods where 76 different languages are spoken. We also have 400 years of history that is not to be forgotten as we look to the future. The new 'Meet Boston' corporate identity reflects our plans to continually elevate Boston across the world, and the 'Boston Never Gets Old' advertising and marketing campaign captures both our tradition and innovation."
Hyatt Hotels Launches New Brand
Dec. 7, 2022—
Hyatt Hotels Corporation
has launched
a new all-inclusive, adults-only brand, Secrets Impression Resorts & Spas, under its AMR Collection. The first property to open under the new brand is Secrets Impression Moxche, which opened Dec. 1 in Corasol, Playa del Carmen's gated community. The resort features three suite categories: two-story oceanfront penthouses, master suites and signature suites, as well as in-room terraces and access to a dedicated beach area. The property also has more than 14,000 sq. ft. of meeting space and 10 breakout rooms. "The launch of Secrets Impression reflects Hyatt's commitment to offering best-in-class, all-inclusive resort experiences," said Gonzalo del Peon, Group President of AMResorts Americas & Global Commercial. "This new concept focuses on the two most important aspects guests look for when booking their stay: service level and experiences, to ensure every moment is set to leave a lasting impression." The brand's second property, Secrets Impression Isla Mujeres, just off Mexico's Yucatan Peninsula, is scheduled to open March 15, 2023.
U.S. Dept. of Labor Recovers Back Wages for Misclassified Employees of Panama City Beach Hotels
Dec. 6, 2022—
The U.S. Department of labor on Tuesday announced the recovery of $503,053 in back wages for hotel employees of a Panama City Beach hotel staffing agency after they were misclassified as independent contractors by their employer. The misclassification was discovered by the Department of Labor's Wage and Hour Division, which resulted in employees being paid straight-time rates, regardless if their work week included overtime that exceeded 40 hours, according to a
press release.
"Federal labor law includes strict criteria for classifying workers as independent contractors. Misclassified workers are illegally denied their full pay, benefits and legal protections," said Wage and Hour Division District Director Wildalí De Jesús in Orlando, Florida. "We encourage employers to use the resources the Wage and Hour Division offers to understand proper pay practices and avoid the costly consequences of violations." Touch of Grace Services LLC provides staffing to several Panama City Beach hotels. Investigators from the Department of Labor also found that the staffing agency failed to accurately track the records of hours worked and subsequent wages paid to some employees.
New Naming Rights Deal Announced for Tahoe Blue Center
Dec. 5, 2022—
Tahoe Douglas Visitors Authority and Oak View Group announced an exclusive multi-year naming rights agreement with Tahoe Blue Vodka. The live entertainment, sports and conference center on the south shore of Lake Tahoe will be named Tahoe Blue Center after the sprit made from water from the alpine lake. Located in Stateline, Nevada, Tahoe Blue Center is slated for a July 2023 opening and will host 130 events annually, including conferences, concerts, corporate and sporting events. The Center will accommodate up to 6,000 guests per event and could bring 200,000 guests a year. "The center is a significant investment in the destination's sustainable future and year-round economic health and we're pleased to announce this wonderful representation of local partnership," said Carol Chapin, president and CEO of Tahoe Douglas Visitors Authority in a press release.
Boeing Appoints New International Leaders
Dec. 5, 2022—
Boeing on Sunday announced former Australian diplomat Dr. Brenden Nelson AO will take over as president of Boing International and will lead the company's corporate operations and international strategy. Nelson's appointment is slated to follow the retirement of his predecessor Sir Michael Arthur following his retirement in early 2023. "Brendan brings to his new position vast experience in government and diplomacy, industry and non-profit associations, that will serve us well as we continue to grow as a global company while navigating the dynamics of the geopolitical environment," said Boeing President and CEO Dave Calhoun. Maria Fernandez will then take Nelson's place as president of Boeing Australia, New Zealand and South Pacific on Dec. 20, according to a
press release
. "Maria has had a distinguished career with more than 20 years of leadership experience in the Australian national security sector and was the first woman to lead an Australian intelligence agency. She has the ideal background for this position," Nelson said. Prior to her appointment, 
Fernandez ran a consultancy that provided strategic advisory and independent assurance services to Australian government agencies. In addition, Fernandez 
held executive roles with
Australia's
departments of Home Affairs, Defense, Immigration and Border Protection and Education.
Airlines Had Deep Dive, Are Now Nose Up with Delta Leading
Dec. 2, 2022 -
The Cirium World Airline Group Finance rankings
results
for 2021 and the first half of 2022 show that "the steep decline in airline revenues has translated into a net loss of nearly $220 billion in the past two and a half years since the beginning of the Covid-19 pandemic." The study found:
Airline groups added another $42 billion in net losses in 2021 and $15 billion for the first half of 2022.
The US industry is on course to return to profitability in 2022, with Delta Air Lines already reclaiming top place in the first half ranking.
Losses appear to be worsening in China as COVID-19 lockdowns take their toll on traffic, dampening recovery in the Asia-Pacific region as a whole.
Delta Airlines is Staffing Up
Nov. 30, 2022 - 
Delta Airlines reports that it will be hiring from 4,000 to 6,000 new flight attendants in 2023. "Our flight attendants have a unique opportunity to make a profound, lasting impact on the 200 million customers we serve every year," said Jennifer Martin, managing director – IFS CX, learning and hiring in a
release
. Major
US airlines have been criticized
post-Covid for offering retirement and other exit packages to staffers after agreeing to a no lay-off policy in order to receive Covid relief funds.
WTTC partners with Sustainable Hospitality Alliance
Nov. 30, 2022—
A Memorandum of Understanding (MoU) has been signed by World Travel & Tourism Council (WTTC) and Sustainable Hospitality Alliance in a progressive move towards the hospitality industry growing more environmentally and socially responsible. In a
press release
yesterday, Julia Simpson, President and CEO of WTTC, said "The Sustainable Hospitality Alliance of our Hotel Sustainability Basics which are the first step in the ladder to advance sustainability in the industry…our collective efforts will enable the hospitality industry to continue moving towards a greater positive impact through this new partnership."
Terminal 8 Opens at JFK for American Airlines and British Airways
Nov. 30, 2022—
Travelers will be welcomed to the newly renovated Terminal 8 at New York's John F. Kennedy International Airport (JFK) on December 1
st
. American Airlines and British Airways will cohabitate the gateways of the new terminal while the interior offers modern lounges and a sophisticated New York vibe. Governor Kathy Hochul was quoted in an American Airlines
press release
. "The completion of Terminal 8 is the latest milestone in our historic efforts to build a whole new JFK worthy of New York," says Hochul. "I congratulate American Airlines, British Airways and the Port Authority for the first of what will be many milestones to come. We will continue our close partnerships as we transform JFK into a magnificent global gateway that will help to keep New York at the center of the world stage."
Frontier Airlines Cuts Customer Support Line
Nov. 29, 2022—
Travelers flying with Frontier Airlines will no longer be able to speak with customer support as the airline has transitioned call centers to a digitized self-service platform, according to its
Investor Day report
released on Nov. 15. The move to "fully digital communications" is due to call centers being "unscalable, inefficient and expensive" with "manual, labor-intensive back-office processes," the report reads. The transition will also remove the "avenue for customer negotiation." The transition will also result in a reduction in customer service positions from 575 to roughly 350. "We have found that most customers prefer communicating via digital channels," said Jennifer De La Cruz, a spokesperson for Frontier Airlines, in an email. "Customers can visit our website and interact initially with a chatbot, which provides answers to common questions. If live agent support is needed, we have live chat available 24 hours a day, seven days a week."
Hyatt Hotels to Acquire Dream Hotels Group
Nov. 29, 2022
—Hyatt Hotels & Resorts
has made a deal to purchase
lifestyle hospitality company Dream Hotel Group for $300 million. The company has agreed to pay an initial price of $125 million and will pay the additional $175 million over a six-year period, as new Dream Hotel Group properties open, of which there are 24 in the pipeline, with projects slated to open in Las Vegas, St. Lucia and Doha, Qatar. The deal will add a dozen hotels and more than 1,700 rooms under Dream Hotel Group's The Chatwal Hotels, Dream Hotels, Unscripted Hotels and By Dream Hotel Group brands in destinations such as New York City; Nashville, Tennessee; Hollywood, California; Durham, North Carolina; and the Catskills. Dream Hotel Group CEO Jay Stein will join the Hyatt team, as head of Dream Hotels.
Rolls-Royce, easyJet Complete First Run of Modern Aero Engine Using Hydrogen
Nov. 28, 2022—
Rolls-Royce and easyJet on Monday confirmed the successful ground test of a modern aero engine on hydrogen, setting an aviation milestone, according to a
press release
. The test marks another step by the aviation industry in reducing carbon emissions by utilizing green hydrogen created by tidal and wind power. The test provided the world with its first glimpse at using the zero-carbon aviation fuel. "The UK is leading the global shift to guilt-free flying, and today's test by Rolls-Royce and easyJet is an exciting demonstration of how business innovation can transform the way we live our lives," said Secretary of State for Business, Energy and Industrial Strategy, Grant Shapps. "This is a true British success story, with the hydrogen being used to power the jet engine today produced using tidal and wind energy from the Orkney Islands of Scotland—and is a prime example of how we can work together to make aviation cleaner while driving jobs across the country." A converted Rolls-Royce AE 2100-A regional aircraft engine was used during the test, which took place at the outdoor test facility at MoD Boscombe Down in the United Kingdom. EMEC (European Marine Energy Centre) provided the hydrogen that was generated at the tidal test facility on Eday in the Orkney Islands.
Melbourne Convention Bureau Secured $203 Million in Business Events
Nov. 27, 2022—
Melbourne Convention Bureau (MCB) announced that for the 2021/2022 fiscal year, the destination marketing organization had booked 110 events, bringing 53,200 guests and contributing $203 million to the Victoria economy. That is a 33% increase from the previous year. Speaking at the company's Annual General Meeting, MCB Chief Executive Officer Julia Swanson reflected on the year that evolved "despite the restrictions on operations for the first half of 2021-2022, we delivered a buoyant outcome with the demand and recovery for business events in Melbourne occurring faster than expected. She pointed to a key highlight from the year was Asia-Pacific Incentives and Meetings Event (AIME) 2022, which " kick-started the business events industry," bringing together international and local buyers to access 225 exhibitors from around the world. "We're also seeing confidence across international markets rebound at pace with the return of international corporate, meeting and incentive groups, site visit re-engagement and enriched experiences for event organizers and delegates across both international and domestic segments," said Swanson.
Las Vegas to Host 2028 Men's NCAA Final Four
Nov. 22, 2022—
The NCAA Men's Final Four, also known as the "Big Dance," will take place at Allegiant Stadium in 2028—the first time the collegiate basketball championship will take place in Sin City, according to a press release. The games are slated for April 1 to April 3 at the $2 billion, 65,000-seat arena located near the Vegas Strip. "The Raiders are thrilled to welcome the NCAA and college basketball fans from around the world to Las Vegas and our home at Allegiant Stadium," said Sandra Douglass Morgan, president of the Las Vegas Raiders and Las Vegas NCAA Final Four bid team. The latest announcement follows several other marquee sporting events to land in Las Vegas including the NFL Draft, NFL Pro Bowl, Formula 1 Las Vegas Grand Prix, which will take place in 2023 and Super Bowl LVIII in 2024. "We couldn't be more excited to be a part of hosting the NCAA Men's Final Four in Las Vegas at Allegiant Stadium," said UNLV Director of Athletics Erick Harper. "Our city has been a hub for basketball on all levels for many years and now to welcome one of the premier events in all of sports is a culmination of how Las Vegas has truly become the Sports and Entertainment Capital of the World. We look forward to working closely with the LVCVA and the NCAA to put on an amazing event like our city is known for."
U.S. Virgin Islands Reported Strong Hotel Recovery
Nov. 21, 2022—
High occupancy rates, new hotels, resort development, and airline partnerships in the USVI were the news highlights that USVI Department of Tourism Commissioner, Joseph Boschulte, shared last week at the annual Caribbean Hotel Investment Conference & Operations Summit (CHICOS) in the Dominican Republic. He noted the new builds and rebuilds that will be coming to the Caribbean in 2023 and included the two new properties opening in St. Thomas this winter, the first in 30 years for the island: The Westin Beach Resort and Spa at Frenchman's Reef; and The Seaborn at Frenchman's Reef, an Autograph Collection. The new brand campaign, "Naturally in Rhythm," supports the hotel recovery and is designed to inspire visitors to fall naturally in rhythm with the diverse culture, natural wonders, and beautiful hotels and resorts of St. Thomas, St. Croix and St. John.
First Phase of Major Expansion of ExCeL London Now Complete
Nov. 21, 2022—
The first phase of the expansion project underway at the over 100,000,000-square-foot ExCeL London convention center is now complete. The project will expand the carbon-neutral convention center by 270,000 sq. ft. adding additional state-of-the-art ICC convention facilities, exhibition halls, conference rooms and outdoor spaces, according to a press release. The new addition on the ground floor of the facility will feature 130,000 sq. ft. of exhibition space, which will be integrated into the existing venue and will be complemented by high-end meeting space and rooms on the upper level. The expansion project has targeted the most sustainable plan possible and is seeking to obtain a Building Research Establishment Environmental Assessment Method (BREEAM) rating of "Excellent" with an electrical supply derived completely from renewable sources. The next phase of the project will be carried out by McLaren Construction.
Caesars Entertainment Debuts Ramsay's Kitchen at Harrah's Las Vegas
Nov. 18, 2022—
Caesars Entertainment hosted the grand opening reception of Ramsay's Kitchen at Harrah's Las Vegas Wednesday, featuring a video message from the multi-Michelin-starred Chef Gordon Ramsay, according to a press release. "I can't wait to introduce one of my newer restaurant concepts and the first of its kind on the West Coast to Harrah's guests," Ramsay said. "The menu features some of my favorite dishes I've created at home in my own kitchen, but with that special Vegas flair." The reception offered guests the opportunity to savor some of the restaurant's signature dishes and starters such as Tuna Tartare, made with chili garlic soy, sour cream, avocado and wonton crisps, Jumbo Lump Crab Cake, served with citrus herb aioli and frisée salad, Pan Seared Scallops with house-cured pork belly, apricot purée, pomegranate, orange and Beef Wellington with potato purée to name a few. Vice President of Culinary at Gordon Ramsay North America Christina Wilson was also in attendance Wednesday and was joined by Caesars Entertainment executives during a commemorative toast to celebrate one of Ramsay's newest culinary ventures—the sixth to open on Caesars property. Wilson was the winning contestant of the tenth season of Ramsay's Hell's Kitchen in 2012.
Central Subway in San Francisco Connects the City
Nov. 18, 2022 —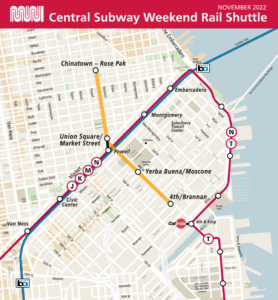 The long-awaited Central Subway connecting San Francisco's Moscone Convention Center to more of the city's neighborhoods and attractions is launching a soft opening this weekend. According to a
press release
from San Francisco Municipal Transportation Agency (SFMTA), the special weekend service will begin on Saturday, Nov. 19th, 2022, from the hours of 8 a.m. to 12 a.m. Trains will arrive approximately every twelve minutes and include stations for Moscone Convention Center, Yerba Buena Gardens, the Metreon and SFMOMA and Chinatown.
Food Service Workers at Major Convention Centers Threaten Strike
Nov. 18, 2022
- Sodexo food service workers at the Orange County Convention Center in Orlando and Centerplate food service workers at the Las Vegas Convention Center (Centerplate is owned by Sodexo) as well as Sodexo food service workers in New Orleans, Sacramento and Detroit have announced a planned press conference on Monday, November 21 to discuss the possibility of a strike. The Orange County Convention Center in Orlando is the third-largest convention center in the U.S. and the Las Vegas Convention Center is the second-largest convention center in the country. In a release on the planned press conference, UNITE HERE, the hospitality worker's union quotes Jackeline Ponce, a Sodexo retail concessions worker at the Orange County Convention Center as saying, "I support a strike because I need more money in my pocket to pay my bills when the cost of living has gone up so much. I struggle with food, rent, and gas with the money I make. I make $13.60 and our convention center is one of the biggest in the country. My coworkers and I are ready to do what it takes to win the contract we need." The release goes on to say that "The bargaining units and disputes at each convention center are distinct. While specific issues vary from city to city, key issues across all five convention centers operated by Sodexo include wage increases, affordable health care, secure retirement, and fair scheduling."
Miles Partnership and Tourism Diversity Matters Launch Apprenticeship Program
Nov. 18, 2022—
Tourism marketing consultancy Miles Partnership will be partnering with Tourism Diversity Matters (TDM) to create an
apprenticeship program
in 2023. The program was developed to support recent or upcoming business graduates with an interest in travel and hospitality. The program will be a paid opportunity for apprentices to receive a hands-on experience at Miles Partnership. They will receive training in various areas of the organization, including diversity, equity and inclusion, finance and operations, marketing and communications, and strategic planning. "We are thrilled to be the first tourism marketing agency to launch an apprenticeship program in collaboration with TDM," said Melissa Cherry, chief diversity and inclusion officer and senior vice president at Miles Partnership. "Participating in the TDM Apprenticeship Program aligns with Miles' mission to enrich lives through travel—which is only possible through an active and intentional commitment to diversity, equity and inclusion." Applications are due Dec. 16, 2022.
Los Cabos Projects 20% Growth in Visitation
Nov. 17, 2022 –Los Cabos Tourism Board
announced today that the destination at the tip of Mexico's Baja Peninsula expects to welcome more than 3.3 million visitors for the 12 month period ending in December–a more than 20 percent projected growth when compared to 2021 and a 32% compounded growth over the last five years.
The growth was attributed to  flexible business model, high quality of services, an enhanced safety and security approach, and integration of its private and public sectors to strengthen international promotional efforts.  
Los Cabos has over 1.3 million seats from the United States scheduled for the next six months (October 2022 to March 2023), representing a 35.2% increase when compared to the same period in 2019. M
ore than 1,500 new hotel rooms–many focused on sustainability and wellness–are expected from 2022-2024,
including Rancho Pescadero of the Unbound Collection (by the end of 2022), St. Regis
Los
Cabos
at Quivira (2023), Four
Sea
sons Resort and Residences Cabo San Lucas at Cabo del Sol (late 2023), Park Hyatt (2023), Vidanta East Cape (2024), Amanvari (2024), Soho House & Beach Club (2024), and Casa Vela (2023).
Registration Opens for 2023 Power of Purpose
Nov. 17, 2022 –
PCMA, Destinations International, and IAEE announced yesterday that
Power of Purpose–Business Events Industry Week
2023, a collaborative effort to unite the global business events industry, will take place March 7-9 at Gaylord National Resort and Convention Center in National Harbor, Maryland. The second annual multi-day experience will offer five programs, including: 2023 Showcase trade show, a new PCMA Foundation Fashion Show called "Living in Color", IAEE's Women's Leadership Forum and Reception, Destinations International's Convention Sales and Services Summit.
ASAE Will Bring Executive Leadership Forum to Vancouver in June, 2023
Nov. 16, 2022 –
ASAE announced today it will hold its Executive Leadership Forum 2023 June 4-6, 2023, at JW Marriott Parq Vancouver in Vancouver, British Columbia, Canada. The two-day Executive Leadership Forum is designed as a concentrated learning and networking opportunity for association CEOs and C-suite leaders to explore challenges and opportunities facing their organizations. ASAE has a long-standing strategic partnership with Destination Canada Business Events. Vancouver is home to the world's first double LEED Platinum certified convention center.
BESydney Brought 47,000 Delegates to New South Wales
Nov. 16, 2022 –Despite a third financial year impacted by the pandemic, Business Events Sydney (BESydney) reported a strong return of business events to Sydney and delivered a future vision that incorporates key learnings from the pandemic at its Annual General Meeting today.
The Financial Report for the year 2021-2022, showed the company secured 31 meetings, attracting 47,000 delegates, generating an estimated AU$132 million in direct expenditure to the New South Wales economy.
BESydney CEO, Lyn Lewis-Smith said, "In FY 2021-2022 our rally call was, 'Dare to rise,' to build back best. For all its challenges, the pandemic moved us to reconsider what we do and how we do it." He added, "The forward pipeline of events is strong with future business to 2029 comprising 85 global and national events that will generate an estimated $483 million in direct expenditure and attract 111,000 delegates to our city."
Travel Santa Ana Launches "Proud Santanero" Campaign
Nov. 16, 2022
–The new southern California destination marketing organization Travel Santa Ana debuted "Proud Santanero," a brand campaign that taps local artists and artisans to illustrate the originality of the people in the destination. The campaign will tell stories through the artistic expression of residents. "It makes sense to harness what makes this city great and stand apart from others—our people and diverse cultures," said Wendy Haase, president and CEO of Travel Santa Ana. Travel Santa Ana filmed eight local business owners, posing the question of what makes them a
proud Santanero
. Playing on the destination's city pride and close community, the video series also uses the tagline: "When it's Santa Ana vs. Everybody, Always Bet on Us." Featured creatives include Carlos "Charlie" Barragan (
Charlie's Tattoo Supply
), Robert Bergman (
The Visioneering Studios
), Norah Briceno Brower (
Mil Jugos
), Logan Crow (
Frida Cinema
), Raymond Rangel (
R & R Western Wear
), Jon Sanchez (
Native Son
), Delilah Snell (
Alta Baja Market
), and Raul Yanez (
Mi Moda
).
JetBlue Adds Service to Paris in 2023
Nov. 16, 2022
–JetBlue has announced their plans for service to Paris to be fully operational by summer 2023. The transatlantic destination service follows their successful launch of the five daily flights into London beginning in August 2021. In the
press release
this morning, JetBlue promises transatlantic flights with affordable travel fares. "JetBlue is offering something completely unique to what you get from the big global legacy airlines on these routes – where a single high-fare joint venture operates nearly three-quarters of the flying," said Robin Hayes, chief executive officer, JetBlue. "The response to our London service is proof that combining great service with low fares works. We can't wait to bring our reimagined Mint and core offerings to Continental Europe's most visited city." JetBlue flights from New York's John F. Kennedy International Airport (JFK) and Paris Charles de Gaulle Airport (CDG) will help bolster affordable transatlantic travel for upcoming events in Paris. Anne-Laure Tuncer, Director USA Atout France, welcomes JetBlue. "With so much pent up demand, JetBlue is just in time to have their American customers experience the vitality and diversity of France's offerings, new culinary itineraries, exciting upcoming sporting events – such as the Rugby World Cup 2023 and the Paris Summer Olympic and Paralympic Games 2024 – and everything else France is known for."
New Enforcement Actions from DOT Issue $600 million in Refunds to Travelers
Nov. 15, 2022—
U.S. Department of Transportation (DOT) announced today in a
press release
that more than a half billion dollars would be distributed to travelers across six airlines who were owed a refund for canceled flights or extreme travel disruption. The new enforcement actions extend further as DOT promised to assess the civil penalties in these six airlines reported to be more than $7.25 million. The airlines facing fines from the DOT are Frontier, Air India, TAP Portugal, Aeromexico, El Al, and Avianca. "When a flight gets canceled, passengers seeking refunds should be paid back promptly. Whenever that doesn't happen, we will act to hold airlines accountable on behalf of American travelers and get passengers their money back," said Pete Buttigieg, Secretary of U.S. Transportation. "A flight cancellation is frustrating enough, and you shouldn't also have to haggle or wait months to get your refund."
U.S. Department of Transportation aids El Yunque National Forest After Fiona
Nov. 14, 2022—
The U.S Department of Transportation announced it will be allocating $5.2 million to the U.S Department of Agriculture's Forest Service as a "quick release" Emergency Relief to aid the cost of rebuilding Puerto Rico's El Yunque National Forest in the wake of Hurricane Fiona in a
press release
today. The U.S. Department of Transportation has also given $8 million in funding to the Puerto Rico Highways and Transportation Authority (PRHTA) to repair damage to the island's infrastructure. Both the U.S. Department of Transportation and the Forest Service will have to work closely to not only repair the damage to the highways and the national park in general, but to fortify the infrastructure of El Yunque National Forest to withstand future natural disasters. "The Federal Highway Administration is working closely with the Forest Service to repair the damage caused by heavy rainfall in El Yunque National Forest," said Stephanie Pollack, acting federal highway administrator. "The emergency relief funding we are providing will help get those repairs done as soon as possible and better prepare this area for future rain events."
Aero Design Labs, Delta Test Technology to Decrease Aircraft Emissions
Nov. 14, 2022—
In an effort to meet its net-zero emissions goal by 2025, Delta Airlines has partnered with Aero Design Labs to test novel drag-reduction technology on its 737-800 and 737-900 fleets with the goal of using less fuel by improving aerodynamics, according to a
press release
. "This is a partnership formed by Delta and Aero Design Labs to contribute to the International Air Transport Association (IATA) net zero 2050 carbon reduction targets," said Chris Jones, Chief Commercial Officer Aero Design Labs. "Delta Air Lines has a proven history of leading the industry in innovation and we are proud to formalize our agreement and partner in the process to achieve FAA certification." The technology includes FAA testing and certification and will be implemented to Delta's 737-800 aircraft starting in the first quarter of 2023 with the use of the technology on the B737-900 fleet in the second half of 2023. Upon certification of the drag-reducing technology, Delta will have the option to purchase Aero Design Lab ADRS kits to outfit more than 200 aircraft across two fleets. "This is part of Delta's overall approach to taking short-, medium-, and long-term actions to reach our goal of net zero by 2050," Pam Fletcher, Delta's Chief Sustainability Officer said. "Our partnership with Aero Design Labs is a great example of how Delta continues to invest in new ways to modify our operations to make an immediate impact on our carbon footprint today, while we work on longer-term solutions to decarbonize our industry."
Cvent and Zoom Partner to Deliver Hybrid Events
Nov. 11, 2022—
Event technology provider Cvent and streaming service Zoom Video Communications announced an integration at the user conference Zoomtopia that will make Cvent's App supporting Zoom Meetings, Zoom Webinars and Zoom Events available in the Zoom App Marketplace. "In today's event environment, an organization's Total Event Program includes a blend of in-person, virtual, and hybrid events to maximize attendee engagement, reach and overall program impact" said Cvent Chief Marketing Officer Patrick Smith, in a
press release
. Last month, Cvent announced a partnership with American Express Meetings and Events to expand virtual payment capabilities for corporate event planners and executive administrators. The integrated payments solution simplifies the process of managing meeting and event payments and expenses.
Construction Kicks Off on $10M Grand Traverse Resort and Spa Renovation
Nov. 11, 2022—
Grand Traverse Resort and Spa in northern Michigan this week announced that a $10 million renovation project has begun at the resort's original six-story hotel with completion of the project slated for spring of 2023. The current project follows the $3 million renovation of the resort's meeting space. Both projects are part of a four-year, $13 million renovation plan at the 550-room resort, according to a
press release
. "This project is exciting for everyone. Of course, our guests, but also our associates," said General Manager Matthew Bryant. "This total renovation brings in new and updated amenities that both our guests and staff will benefit from." The project includes upgrades to 242 guest rooms, including four hospitality suites, two junior suites and all corridors of the facility—providing a modern and refined refresh of the property's interior—the most extensive renovation of the resort to date. "Our ownership has demonstrated over the past nearly 20 years that they are committed to maintaining and improving the Resort," Bryant said. "We are looking forward to debuting our newly renovated Hotel in the spring."
Florida Airports Close as Storm Nicole Approaches
Nov. 9, 2022 — 
Storms continue to impact travel as tropical storm Nicole heads towards Florida. In today's
press release
from Orlando International Airport (MCO), it was announced all commercial and private operations were to be cancelled as the storm heads towards the Florida coast. A total of 473 flights have been cancelled or affected by MCO ceasing to operate. CNN reported today Melbourne Orlando International Airport (MLB) and Orlando Sanford International Airport (SFB) were planning to close at 2 P.M. and 4 P.M. respectively.
Marriott International Launches Apartments by Marriott Bonvoy
Nov. 9, 2022—
As an answer to the continued blending of work and leisure travel and younger travelers seeking wider accommodation options, Marriott International has announced
Apartments by Marriott Bonvoy
. "Travelers planning vacations and long business trips today are seeking more choice in accommodations, and the introduction of Apartments by Marriott Bonvoy responds to those trends while offering developers a premium product backed by our trusted name and distribution platform," said Stephanie Linnartz, president of Marriott. According to the company's press release, the brand is building on its 26-year service-apartment brand Marriott Executive Apartments—currently in Asia, Europe, the Middle East, Africa and Latin America—extending its serviced-apartment portfolio in the United States and Canada with the new concept. Marriott plans to introduce the new concept in the "upper-upscale" and luxury segments, "with distinctly designed products that reflect the local neighborhood for independent travelers seeking more space and residential amenities." Apartments by Marriott Bonvoy will feature a separate living and bedroom, full kitchen, and in-unit washer and dryer. The concept will be different from its
extended-stay
brands in that it will not provide hotel services such as food and beverage, meeting space and retail;
Travel Advisory in the Caribbean
Nov. 9, 2022 — 
U.S Department of State, Bureau of Consular Affairs issued a travel advisory in a
press release
yesterday to warn travelers about the heightening crime rates in Trinidad and Tobago. Terrorism and kidnapping are increasing, while other crimes such as murder, robbery, etc., continue to pose a threat to visitors. The press release suggests travelers headed to Trinidad and Tobago to enroll in The Smart Traveler Enrollment Program (STEP) to receive alerts and share your location with loved ones. The statement also urges travelers to the Caribbean to review the Country Security Report for Trinidad and Tobago or any other Caribbean islands. The reports keep travelers updated on the crime trends in that destination and help people to stay safe.
200th Hilton Hotel Opening in the Caribbean, Latin America
Nov. 7, 2022— 
Hilton announced the opening of Waldorf Astoria Cancun in a
press release
this morning. The 173-room resort is the second Waldorf Astoria Hotels & Resorts location in Mexico. Hilton continues to expand in the Caribbean and Latin America and the region has been monumental in Hilton's international success. Boasting "accelerated growth" between the 2017 opening of its 100th hotel in the Caribbean/Latin American region, Hilton Rio de Janeiro Copacabana, and its 200th property Waldorf Astoria Cancun just a few years after, Hilton's portfolio now offers 36,000 rooms in these destinations.
Juan Corvinos, senior vice president of development, architecture and construction, Caribbean and Latin America, says Hilton's continued growth in the region is a reflection of their commitment to their guest's needs and the popularity of these destinations. 
"The opening of the elegant Waldorf Astoria Cancun and celebration of our 200
th
hotel milestone in the Caribbean and Latin America is a testament to Hilton's commitment in the region and the strength of our industry-leading brands to meet our guests' ever-evolving needs in the destinations where they want to travel," says Corvinos.
Aramark, Anaheim Convention Center Appoints Chef Bernard Foster to Lead F&B
Nov. 7, 2022—
Aramark, the exclusive caterer for Anaheim Convention Center (ACC), has appointed Chef Bernard Foster as Executive Chef. According to a
press release
from Visit Anaheim, Chef Foster will serve a global and fusion-forward menu for over one million event attendees annually at the largest convention center in California. Aramark and Chef Foster believe in a sustainable, seasonal and eco-conscious menu.
"My goal is to provide clients an experience that is true to Anaheim where food is seasonal, sustainable, personable and memorable," said Chef Foster. "We are implementing seasonal menus, providing offerings that reduce waste by incorporating a 'menu of the day' and including foods that cater to special dietary needs with plant-based options."
Jay Burress, President & CEO of Visit Anaheim, emphasizes the importance of food when planning meetings and events. "Food is such an important element of an event experience," says Burress. "When event organizers are considering bringing their business to the ACC, being able to offer them an innovative F&B program that's sustainable, local and seasonal makes Anaheim stand out from other destinations."
Sustainable Hospitality Alliance and Greenview Have Partnered to Advance Sustainability
Nov. 7, 2022—
Sustainable Hospitality Alliance and Greenview
have signed an agreement
to work together with the goal of progressing sustainability across the hospitality industry. This partnership will build on their collaboration in which they developed the Hotel Carbon Measurement Initiative, which allows hotels to measure the carbon footprint of stays, meetings and event. The updated tool is now accessible to any hotel, regardless of size or carbon reporting experience. "If we are to progress towards net positive hospitality, it is essential that hotels, partners and clients have access to reliable tools to understand the impact of the industry," Glenn Mandziuk, CEO of Sustainable Hospitality Alliance, said. "Having worked collaboratively with Greenview to develop pioneering tools for a number of years, this new agreement will ensure that any and all hotels around the world are able to measure their impact and help create alignment in order to drive significant progress."
Cvent Announces Strong Earnings
Nov. 3, 2022—
The event technology provider Cvent (CVT) announced today third-quarter 2022 revenue of $161.3 million, an increase of 20.3% from the same period in 2021 and 1.4% higher than the high end of guidance. "Momentum in the meetings and events industry continued in the third quarter of 2022, especially for in-person events. Organizations increasingly seek a comprehensive platform that can manage events of all formats and types, which helped drive our positive financial results in Q3," said Reggie Aggarwal, CEO and founder of Cvent. "We believe the versatility of our platform across in-person, virtual and hybrid events paired with our long track record as a market leader will help us successfully navigate the current unique macroeconomic environment." The report highlighted revenue from Event Cloud ($112.9 million for the quarter), an increase of 22.1% from the same quarter last year. Forbes Australia, Datadog, United Soccer Coaches and New Jersey Education Association signed on as clients during the quarter. Revenue from Hospitality Cloud product ($48.4 million) was up 16.5% from the same quarter the previous year. New clients included Visit Panama, HEI Hotels & Resorts, Visit California, IHG Hotels & Resorts and Boston Park Plaza. Also noted, a new partnership with American Express could provide a more seamless meetings & events payment experience for American Express Corporate Meeting Card and vPayment clients. Guidance for the fourth quarter of 2022 was set in the range of $169.3 million to $170.3 million, growth of 17.4% increase from the last quarter of 2021..
New Bass Pro Shop Resort Planned for Florida Keys
Nov. 3, 2022—
Bass Pro Shops founder Johnny Morris announced a new
Valhalla Island
sportfishing resort being planned in the Florida Keys, with construction slated for completion within the next two years. It will be the largest development of its kind in the Florida Keys and one of the most environmentally friendly. The 110-unit nature resort on 175 acres with a mile of beachfront property 15 minutes from Florida Keys/Marathon International Airport (MTH) is designed to be carbon-neutral, using ecologically sensitive design techniques that preserve 50 percent of green space throughout. It will be vehicle free and all surfaces will be permeable. Resort accommodations will include a collection of one-, two-, three-, and four-bedroom cottages, a master lodge, general store, restaurants, a spa, swimming pools, fishing marina and spaces designed for people to gather and connect with nature.
Jamaica Launches New 'Come Back' Campaign
Nov. 3, 2022—
Visit Jamaica launched a new advertising campaign inviting people to come back to their best selves. "In Jamaica, we've been recording arrivals that exceed pre-Covid levels, demonstrating that our travel sector is resilient and so are travelers," said the Hon. Edmund Bartlett, Jamaica minister of tourism. "While everyone has been impacted by the pandemic, we want to let everyone know that Jamaica is good for the spirit. Therefore, it is the ideal destination to help people rediscover their own sense of adventure, natural curiosity, human connection and ultimately realize their most valuable human potential." Created by the
Jamaica Tourist Board
's advertising agency of record, Accenture Song, the campaign showcases Jamaica's picturesque natural attractions and its friendly, welcoming people working together to help visitors live their best lives. The campaign was filmed utilizing over 50 local Jamaican crew members across locations in Jamaica spanning from Portland to St. Ann. Real couples and a real family were cast for the campaign so it would portray an authentic experience. Campaign music is also an original score created by Jamaican music producers.
Key West Airport Groundbreaking Launches $100-million Expansion
Nov. 2, 2022—
A $100-million investment in south Florida's Key West International Airport (EYW) broke ground as the first step in a Concourse A terminal expansion that will take 2.5 years to complete. A new, second-level concourse will feature nearly 50,000 sq. ft. of space, including a new departure area, additional baggage areas, and upgraded checkpoint for up to four security lanes. Seven passenger boarding jet bridges will provide all-weather access linking the terminal and aircraft. The project is designed to improve the airport's level of service and operational flexibility while accommodating projected changes affecting the aviation industry, according to a press release.
Destinations International and Charlottesville Partner for EDI
Nov. 2, 2022—
Destination International announced the launch of "Tourism for All" in a
press release
this morning. The pilot program is intended for CVBs to be advocates of Equity, Diversity and Inclusion (EDI), address the inequalities within the industry and to become leaders and educators in the community. Destinations International is partnering with Charlottesville Convention and Visitors Bureau, Virginia, (CVB). Courtney Cacatian, Executive Director of Charlottesville Albemarle, recognized the need for change and EDI progress in the tourism industry in 2019. Cacatian hopes the "Tourism for All" initiative in Charlottesville will inspire other cities and their tourism industry to make similar steps towards equality.
"I'm so pleased to see our community's work over the past couple of years be formalized into a usable model for other destinations," said Cacatian. "Building on the success of our Destiny Award-winning Discover Black Cville and 'Tourism for All' effort, I look forward to seeing how broadening our scope of creating a welcoming space for everyone will bring positive impact to our community, residents, businesses and visitors."
NCBMP Selects Jason Dunn Sr. as New Executive Director
Nov. 1, 2022 —
The non-profit organization National Coalition of Black Meeting Professionals (NCBMP) announced that Jason Dunn Sr. has been appointed as the new Executive Director. In a
press release
this morning, NCBMP Board Chairman Kevin Richardson officialized the appointment. "We're elated to announce Jason Dunn, Sr. as our national Executive Director, said Richardson. As the first black vice president of Visit Cincy and 18 years in tourism, Dunn has proved to be an asset to his city and to the industry as a whole. His experience, moral compass and vigor for the position are key values the NCBMP was looking for in their new executive director and Richardson is confident Dunn is a perfect fit as the non-profit heads into its 40th year anniversary. "Knowing the authenticity of Jason's leadership, the passion in which he builds his relationships, and his ability to move the moral consciousness of all around him, aligns with our Founders' vision and truly makes him the best person for the job," says Richardson. "We are now better positioned to compete, educate and highlight the impact of our business as we approach our 40th anniversary. We are excited about Jason leading the way."
Port of Oakland Aviation Marketing Manager Receives Legacy Award from Airports Council International
Nov. 1, 2022—
Port of Oakland Aviation Marketing Manager John Albrecht has received the Ted Bushelman Legacy Award for Creativity and Excellence from Airports Council International North America (ACI-NA), as part of ACI-NA's Marketing and Communications annual conference that took place in Vancouver, according to a
press release
. "On behalf of the Aviation Division of the Port of Oakland, I congratulate John for his excellent work in promoting Oakland International Airport over the past 14 years," said Bryant L. Francis, Director of Aviation at the Port of Oakland. "Throughout the past decade and a half, John and his team have held steadfast on the mission to share with the world the myriad benefits of using OAK as a gateway and what it means to Fly the East Bay Way." Albrecht received the lifetime achievement award during the Airport Marketing, Communications, and Customer Experience Awards ceremony that was held during the conference. Albrecht has held the position of Oakland Aviation Marketing Manager over the last 14 years.
Sensei Porcupine Creek Wellness Retreat Opens as First Standalone Property Under Brand 
Nov. 1, 2022—
Sensei Porcupine Creek wellness retreat in Rancho Mirage, California on Tuesday opened its doors to guests offering a variety of luxury accommodations and boutique experience. The primary focus of the wellness retreat is to promote a healthier lifestyle through evidence-based education, according to a
press release
. "The launch of Sensei Porcupine Creek is a thrilling next step for the growth of our brand," said COO of Sensei, Alexandra Walterspiel. "As our first property fully operated by Sensei, we are able to support a wider range of wellness intentions that allow us to bring an even more integrated approach to our guest experience. The 230-acre private estate, which is now open to the public for the first time, has impeccably designed grounds that immerse our guests in the healing properties the desert landscape is known for, and we couldn't be more delighted to see our team bring our vision to life." The new property boasts 22 luxury accommodations including a premier spa, fitness, tennis, golf and a private Sensei by Nobu restaurant to name a few.
IACC, MPI Announce Strategic Partnership
Oct. 31, 2022—
IACC and MPI on Monday announced a strategic partnership with the goal of advancing the global events community through shared knowledge and boosting engagement among meeting and events professionals. IACC is a global association representing the top 1% of small to midsize conference and meeting venues while MPI is the largest global meetings and events industry association. The new partnership will allow IACC to engage with MPI's extensive network of over 95,000 meeting and event professionals, spanning 70 chapters across the association and will also help to support all of IACC's 400 members with improved resources and networking opportunities, according to a press release. "I am delighted to announce this new phase of an already long-standing global partnership between IACC and MPI. Through connected intelligence, we will complement each other's crucial work in advancing the industry and deliver additional benefits for our respective members," said IACC CEO, Mark Cooper. "We are proud of the work IACC has achieved and the opportunities we continue to deliver for our ever-growing membership. The alliance with MPI will allow us to build on that work and to support MPI's membership and the wider industry as we drive further change and growth."
Loews Hotels & Co Announces New CEO
Oct. 31, 2022—
Loews Hotels & Co, a subsidiary of Loews Corporation (NYSE: L), on Monday announced that Alex Tisch will assume the role of CEO beginning Jan.1, 2023. Tisch will work closely with Jonathan Tisch, who will take on the role of Executive Chairman, while maintaining his position as a member of the Office of the President and Co-Chairman of the Board of Loews Corporation, according to a press release. "Loews Hotels & Co has a storied reputation in the travel and tourism industry, rooted in partnerships, operational excellence and best-in-class team members," Tisch said. "My goal is to build on that reputation, leverage the owner/operator model, empower our world-class team members and create value for all stakeholders." Tisch joined Loews in 2017 and took on the role as the company's president in 2020. Tisch led the $2.5 billion re-defined growth strategy and expansion of Loews over the course of his five years with the company. He will continue to oversee the development and execution of the organization's strategy and the management of capital and resource allocation, as well as the day-to-day operations of the company.
Grand Hyatt Shenzhou Peninsula Officially Opens Oceanfront Resort
Oct. 31, 2022—
Hyatt Hotels Corporation [NYSE: H] on Sunday announced the grand opening of Grand Hyatt Shenzhou Peninsula, located in the tropical region of Wanning, Hainan, overlooking the South China Sea south of the resort and inner sea to the north, according to a
press release
.
"With the opening of Grand Hyatt Shenzhou Peninsula, we are excited to welcome guests to experience all the pleasures of a tropical resort in awe-inspiring surroundings, elevated by the luxurious comfort, theatrical dining experiences, exceptional amenities and welcoming service that the Grand Hyatt brand is known for," said Terence Ng, general manager, Grand Hyatt Shenzhou Peninsula. The resort features over 27,900 sq. ft. of indoor and outdoor meeting space including a 6,458-square-foot Grand Ballroom and 262 spacious guest rooms and suites.
U.S. Department of Transportation Announces $703 Million to Improve Port Infrastructure, National Supply Chains
Oct. 28, 2022—
The U.S. Department of Transportation on Friday announced $703 million to fund 41 projects across 22 states and U.S. territories to improve port facilities through the Maritime Administration's Port Infrastructure Development Program. The program aims to modernize coastal seaports, Great Lakes ports, and inland river ports to improve efficiency, increase port capacity, lower costs, create new job opportunities and lower port emissions, according to a
news release
. "So many of the goods we all count on, from appliances to furniture to clothes, move through our nation's ports on their way to us," said U.S. Secretary of Transportation Pete Buttigieg. "Using funds from President Biden's Bipartisan Infrastructure Law, this year we're awarding record levels of funding to improve our port infrastructure, strengthen our supply chains, and help cut costs for American families." The funds were provided through the Bipartisan Infrastructure Law and additional Congressional appropriations.  President Biden issued an Executive Order on Supply Chains in February 2021 and created a Supply Chain Disruptions Task Force, co-chaired by Secretary Buttigieg in July 2021.
Spirit Airlines Announces 'Enhanced, Wider Seats' at APEX EXPO 2022
Oct. 27, 2022—
Spirit Airlines [NYSE: SAVE] on Thursday unveiled the new Vector Light™️ seats and the Vector Premium™️ product for the large front seats during the APEX EXPO 2022 in Long Beach, Ca. The new larger seats are manufactured by HAECO Cabin Solutions and are a part of Spirit's plan to provide travelers with a completely redesigned interior with roomier and ergonomic seats, a larger tray table, and additional pre-recline—features the airline first announced in 2019, according to a
press release
. The new and improved seats will be installed throughout each of Spirit's new aircraft, with the first deliveries scheduled to arrive in late January 2023. "Our cabin refresh in 2019 was a significant enhancement in the guest experience, and these new seats are another great step forward in increasing value for our guests. We're adding new features while, at the same time, continuing to provide More go with our same ultra-low fares," said Lania Rittenhouse, Vice President of Guest Experience, Brand, and Communications for Spirit Airlines. A total of 33 A320 Family aircraft are expected to be delivered to the airline throughout 2023.
U.S. Travel Association Announces Theme for #GMID 2023 
Oct. 26, 2022—
U.S. Travel Association announced that
Global Meetings Industry Day
(GMID) 2023, scheduled to take place on March 30, will adopt the theme of #MeetingsMatter. The day of activations demonstrating and celebrating the power of gatherings for economic, scientific, medical and social good, will be observed all over the world in in-person and online activations. "Following years of canceled in-person meetings, the global meetings and events industry will come together on March 30, 2023, to celebrate Global Meetings Industry Day and showcase why #MeetingsMatter to attendees, organizations, communities, businesses and our economy," read a statement from U.S. Travel. GMID 2022 on April 7 logged more than 40 million impressions worldwide and reached 30 countries throughout the world.
Boeing Shares Dip Following Q3 Loss of $3.3 Billion
Oct. 26, 2022—
The Boeing Company [NYSE: BA] on Wednesday reported a net loss of $3.3 billion for Q3 of 2022, or $5.49 per share, following a year-over-year increase of 4% to $16 billion, according to a
press release
. Boeing had an order backlog valued at $381 billion, including 4,300 commercial aircraft as of Sept. 30 of this year. We continue to make important strides in our turnaround and remain focused on our performance. We generated strong cash in the quarter and are on a solid path to achieving positive free cash flow for 2022. At the same time, revenue and earnings were significantly impacted by losses on our fixed-price defense development programs," said Boeing President and Chief Executive Officer, Dave Calhoun. "We're squarely focused on maturing these programs, mitigating risks and delivering for our customers and their important missions. We remain in a challenging environment and have more work ahead to drive stability, improve our performance and ensure we're consistently delivering on our commitments. Despite the challenges, I'm proud of our team and the progress we've made to strengthen our company." During the Q3, Boeing secured net orders for 167 737s, 27 767s, 18 777s, and 15 787s. Commercial Airplanes delivered 112 aircraft during the quarter, including 88 737s, nine 767s, six 777s, and nine 787 Dreamliners.
U.S. DOT Secretary Buttigieg Announces Commercial Space Transportation Advisory Committee
Oct. 26, 2022—
Secretary of the U.S. Department of Transportation Pete Buttigieg approved the nominations of 21 new members, along with seven re-appointments, to the U.S. Department of Transportation's Federal Aviation Administration (FAA) Commercial Space Transportation Advisory Committee (COMSTAC) to provide oversight of the U.S. commercial space transportation sector, according to a
press release
. The group of COMSTAC members consists of senior executives from the commercial space transportation industry, including manufacturers and customers from the satellite industry, state and local government officials, representatives from firms providing insurance, financial investment and legal service providers for commercial space activities and representatives from academia, space advocacy organizations and industry associations. The newly appointed members are:
Joe DePete, President, Air Line Pilots Association
Mat Dunn, Senior Director of Global Government Affairs, SpaceX
John Elbon, Chief Operating Officer, United Launch Alliance
Tony Frego, Vice President of Mission Management, Spaceflight, Inc.
Matt Ganser, Vice President of Business Operations, Astra
Moriba Jah, Associate Professor Aerospace Engineering and Engineering Mechanics, The University of Texas at Austin
Therese Jones, Senior Director of Policy, Satellite Industry Association
Dava Newman, Apollo Program Professor of Astronautics, Massachusetts Institute of Technology
Roosevelt (Ted) Mercer, CEO and Executive Director, Virginia Commercial Space Flight Authority
Megan Mitchell, Vice President Government Relations, Blue Origin
George Nield, President, Commercial Space Technologies/ Global Spaceport Alliance
Dr. Michelle Parker, Vice President and Chief Engineer, Space and Launch Engineering, Boeing
Melanie Preisser, Vice President of National Systems, York Space Systems
Caryn Schenewerk, Vice President of Regulatory & Government Affairs, Relativity Space
Amanda Simpson, Vice President for Research and Technology, Airbus
Ganesh Sitaraman, New York Alumni Chancellor's Chair in Law, Vanderbilt University
Jay Skylus, Chief Executive and Chief Engineer of the Aether Transport System, Aevum
Sita Sonty, Partner & Associate Director, Boston Consulting Group
Janice Starzyk, Vice President of Government Operations, Virgin Orbit
Melanie Stricklan, Co-Founder and Chief Executive Officer, Slingshot Aerospace
Julie Zoller, Head of Global Regulatory Affairs, Project Kuiper, Amazon
The re-appointed members are:
Edward Bolton, SGE, Former FAA Associate Administrator
Karina Drees, President, Commercial Spaceflight Federation / COMSTAC Chair
Mike French, Vice President Space Systems, Aerospace Industries Association / COMSTAC Vice-Chair
Dale Ketcham, Vice President, Government & External Relations, Space Florida
Kate Kronmiller, Vice President of Government Relations, Jacobs
Mike Moses, President of Space Missions and Safety, Virgin Galactic
Ann Zulkosky, Vice President, Commercial Civil Space, Lockheed Martin
Service Worker Economic Stabilization Act Expected to Boost Tourism and Hospitality Industries
Oct. 25, 2022—
Members of the House Ways and Means Committee, U.S. Representatives Darin LaHood (R-IL) and Jimmy Panetta (D-CA) on Tuesday introduced the bipartisan Service Worker Economic Stabilization Act in an effort to boost the recovery of the tourism and hospitality industries, following state-mandated closures, skyrocketing inflation and high costs, according to a
press release
. "State-mandated closures, inflation, and rising costs have wreaked havoc on communities and small businesses throughout Illinois, especially for our hospitality, travel, and tourism sectors," said Rep. LaHood. "This bipartisan bill will provide support to affected small businesses and workers, giving them more certainty and helping them accelerate recovery. I will continue to work to reduce the impact of inflation and high costs on small businesses and families in Illinois." It was reported that the tourism and hospitality industries suffered the highest number of job losses during the pandemic. The newly induced act would reinstate the 50% Entertainment Business Expense Deduction, while also extending 100% deduction for business meals, which will be reduced back to 50% at the end of 2022 through the end of 2024. The Service Worker Economic Stabilization Act will assist small businesses in recovering from the economic impact of the pandemic closures while investing in workers throughout the U.S. "This critical bill will support small businesses and workers in America's restaurants, theaters, arts and entertainment venues by removing tax penalties that add to the challenges already plaguing the industry, such as our ongoing workforce challenges," said Tori Emerson Barnes, U.S. Travel Association Executive Vice President of Public Affairs and Policy. "It will relieve pressure on business travel budgets and directly benefit still-recovering travel workers, particularly food and entertainment service workers, who would see a projected increase in household income of $62 billion over the next two years."
Visit Aurora Receives $400k Grant to Boost Tourism Recovery
Oct. 25, 2022—
The Colorado Tourism Office (CTO) has provided Visit Aurora with a $400,000 grant to boost the economic recovery of Aurora through the Tourism Recovery Marketing Grant. The one-time grant was offered by the CTO, which was funded through an EDA American Rescue Plan Travel, Tourism, and Outdoor Recreation State Grant and includes seven recipients to support the recovery of the tourism industry in Colorado, according to a
press release
. "We are thrilled at the opportunity this grant provides to further our mission to amplify Aurora as a premiere destination for business events and leisure. As we emerge from challenging times, proactive investment in our Destination Marketing Organizations uplifts our entire state. Visit Aurora thanks the Colorado Tourism Office for their foresight and partnership. We are determined to fulfill our mission to propel Aurora to the benefit of its residents and Colorado as a whole," said Bruce Dalton, CEO and president of Visit Aurora. The grant money includes $1.8 million in competitive funding provided by the CTO—the largest amount awarded by the CTO through the grant program, more than double the previous record of $750,000 provided last year. The tourism recovery marketing campaign is focused on attracting meeting planners and c-suite executives from association, corporate, government, contract, and SMERF groups to host events at Aurora venues.
Cronut Creator Celebrates Grand Opening of New Bakery at Caesars Palace
Oct. 25, 2022—
Dominique Ansel Las Vegas at Caesars Palace celebrated its grand opening this week with a new bakery lead by James Beard Award-winning pastry chef Dominique Ansel and will serve a wide variety of decadent deserts, including Ansel's famous creation the Cronut, according to a
press release
. "Chef Dominique Ansel is one of the most esteemed pastry chefs in the world," said Caesars Entertainment Regional President Sean McBurney. "The opening of his bakery has been a long time coming. His creations are the perfect addition to our extraordinary culinary offerings at Caesars Palace." The new bakery officially opened its doors on Oct. 21, with the occasion commemorated by a special giveaway for the first 100 guests, a toast with the chef's signature cookie shot, and were joined by the Caesars Palace Royal Court procession. "I'm so thrilled to finally bring Dominique Ansel Las Vegas to life and have a home here at Caesars Palace," Chef Dominique Ansel said. "We've been so honored and humbled to welcome guests from all around the world. For each of our shops, we strive to make each menu unique, and we hope our 'Lucky 7' pastry collection will bring some good fortune to everyone here. I can't wait to share what we have planned for our future menu creations."
Wyndham Hotels and Resorts Searches for Chief Eats Officer
Oct. 25, 2022—
A global search has been launched by Wyndham Hotels and Resorts to find a Chief Eats Officer ("CEO") to travel the world and report back on the cuisine culture of destinations around the world. This dream job would be able to travel the world and experience the best of international cuisine—not to mention, a pretty handsome monetary incentive. The
press release
from Wyndham offers the right candidate for the position $10,000 for their global adventure and a $150 daily travel stipend. Stephanie Kendrick, VP of Operations for Ramada by Wyndham, emphasizes the amazing opportunity the future CEO will experience. "Our lucky CEO will have the chance to fully immerse themselves in the best Ramada and its many destinations it has to offer, all while bringing along a global audience to share in every moment of their life-enriching adventure."
Visit Lauderdale Launches New 'Everyone Under the Sun' Brand Campaign
Oct. 24, 2022—
The official destination marketing organization (DMO) for the Greater Fort Lauderdale area in South Florida on Monday launched its new brand marketing campaign, "Everyone Under the Sun," highlighting the destination's commitment to inclusion and diversity. The new campaign features ads with locals with disabilities, those who are members of the LGBTQ+ community, people of different age ranges and community members from various ethnic and cultural backgrounds, according to a
press release
. "This campaign goes to the heart of what makes our community great – the people and our diverse offerings. We now have a strong campaign that truly reflects who we are and shows how special Greater Fort Lauderdale is in every bold, beautiful, and surprising way," said Stacy Ritter, president and CEO of Visit Lauderdale. "We are graciously welcoming everyone, and I mean everyone, to come join us and experience our tropical paradise rich with culture, flavor and unique experiences. Our diversity is our strength, and we are proudly telling this story to the world." The launch of the campaign took three years due to the pandemic, including conceptualization and deployment, bringing the evolution of the destination's brand full circle with the rebranding of the DMO with a new tagline, which switched from "Hello Sunny" in 2021.
Reno-Tahoe Airport Authority Breaks Ground on Ticketing Hall Expansion Project 
Oct. 24, 2022—
The Reno-Tahoe Airport Authority (RTAA) in mid-October broke ground on the ticketing hall expansion project, expected to be complete by 2024. Airport officials were joined by U.S. Senator Catherine Cortez Masto, U.S. Congressman Mark Amodei, Reno Mayor Hillary Schieve, along with other local officials, marking the beginning of the MoreRNO construction program slated to take place over the next few years, according to a
press release
. The expansion project will bring upgrades to the lighting and technology of the ticketing hall and will also provide travelers with additional space. The $500 million plan includes adding two new concourses and 28 new gates to the airport. A portion of the project's funding was provided by Bipartisan Infrastructure Law (BIL). "This is more than a great day for our airport, it's a transformational time for our region," said Adam Kramer, RTAA Board Chairman. "The gateway to Reno-Tahoe is being re-imagined and rebuilt for the next century. We are making the first and last impression on travelers better than it's ever been before."
Florida Receives $50 Million in 'Quick Release' Funds to Offset Repair Costs
Oct. 21, 2022—
The U.S. Department of Transportation's Federal Highway Administration (FHWA) on Friday announced the allocation of $50 million in "quick release" emergency relief funds to Florida's Department of Transportation to offset the cost of repairs caused by Hurricane Ian earlier this month, according to a
press release
. "Today we're making available $50 million in emergency funds to help Florida repair roads and bridges after the devastation of Hurricane Ian," U.S. Transportation Secretary Pete Buttigieg said. "This important step is only part of a larger federal commitment: as President Biden said, we will be with the people of Florida for as long as it takes to recover and rebuild stronger." The emergency relief funds will be used as a down payment to repair roadways, causeways, intersections, and bridges throughout numerous regions in the state that were destroyed or washed out following flooding caused by the category 4 hurricane. "The Federal Highway Administration is working closely with the Florida Department of Transportation to repair the damage caused by Hurricane Ian in Florida," said Acting Federal Highway Administrator Stephanie Pollack. "The quick release funding we are providing will help get those repairs done as soon as possible and better prepare this area for future storms in Florida."
Society for Incentive Travel Excellence Announces New CEO
Oct. 20, 2022—
The Society for Incentive Travel Excellence (SITE) on Thursday announced the appointment of Annette Gregg, CMM, MBA, as the association's new CEO, taking over for Interim Executive Director Rebecca Wright, CIS, CITP, according to a
press release
. Gregg's appointment as SITE's new CEO follows an extensive global executive search and her former position as Chief Revenue Officer with Meeting Professionals International (MPI) and her ongoing career in the business events industry. "We're thrilled to announce Annette Gregg as our new CEO knowing that the depth of her experience, the strength of her relationships, and the clarity of her vision will help SITE navigate the road ahead and realize its vision to build and bridge cultures through the transformative power of incentive travel & motivational experiences," said SITE President Kevin Edmunds, CIS, CITP.
Visit SLO CAL Awarded Bid to Host The California Luxury Forum
Oct. 20, 2022—
Visit SLO CAL, the non-profit countywide destination marketing and management organization for San Luis Obispo County, CA, has been awarded the bid to host The California Luxury Forum, according to a
press release
issued Thursday. The sixth edition of the forum is scheduled for Oct. 23-26 and will take place throughout SLO CAL. The forum is made possible through a partnership with Connections Luxury and Visit California. "I'm excited to take this exceptional program to California's incredible Central Coast to really show the breadth of what California has to offer," said Caroline Beteta, President and CEO of Visit California. "Visit California is extremely proud of the state's partnership with Connections, which is a platform unlike anything else in the world. We're looking forward to welcoming a critical industry segment to SLO CAL this fall." Hosting the forum will allow SLO CAL to showcase the county's finest travel products to 30 pre-selected luxury buyers and include hotels, venues and experience providers and other suppliers. "Luxury travel remains an important market for SLO CAL," said Chuck Davison, President and CEO of Visit SLO CAL. "Hosting the California Luxury Forum allows Visit SLO CAL to showcase our destination and connect with key travel buyers from regional markets across the globe. This is a first of its kind opportunity to share SLO CAL partner assets and world-class experiences with the luxury community and we are proud to be bringing this business to SLO CAL."
Event Tech Live Goes Multilingual with Silent Seminars/Interprefy Partnership
Oct. 19, 2022— 
ETL London 2022 will be increasing their interpretation efforts through their Seminar Audio Partner, Silent Seminars, and its partnership with Interprefy. ETL's
press release
this morning explaining how the online platform of Interprefy will be boosting the multilingual accessibility to the wireless headsets provided by Silent Seminars. The package will offer English and Spanish interpretation services at Event Tech Live and more interpretation services in upcoming events. Mark Breakspear, AV Alliance Manager at Interprefy, believes the partnership with Silent Seminars will be mutually beneficial. "Our partnership with Silent Seminars demonstrates how effective the cohesion of two market-leading technologies can be," says Breakspear. "Incorporating simultaneous interpretation into their scope of services provides a new business channel for Silent Seminars whilst Interprefy benefits from the on-site integration with their headsets." Read more about Event Tech Live at ExCel London on November 16 and 17
here
.
Marriott International to Acquire City Express Brand
Oct. 19, 2022
—Marriott International
reached an agreement today
with Hoteles City Express, S.A.B. de C.V. to acquire its City Express portfolio for $100 million. This entry into the "affordable midscale" hospitality segment makes it Marriott's 31st brand. The City Express portfolio is made up of 152 hotels across 75 cities in Mexico and three countries in Latin America, including properties City Express, City Express Plus, City Express Suites, City Express Junior and City Centro, which Marriott expects to update with its signature, "by Marriott." The acquisition also grants Marriott the franchise rights to five under-construction projects by Hoteles City Express. Marriott expects the transaction to be completed by the end of 2022 and the first half of 2023.
Cvent, AMEX Expand Virtual Payment Capabilities
Oct. 19, 2022—
Cvent Event Marketing and Management Platform and American Express on Wednesday introduced enhanced virtual payment capabilities to provide a seamless payment experience for meetings and events (M&E) for American Express Corporate Meeting Card and vPayment clients, according to a
press release
. "As large companies increasingly look to bring people back together for client events or internal gatherings, they want more simplification, efficiency and automation, and managing their budgets has become more important," said Dean Henry, Executive Vice President, Global Business Financing, Payments & Digital Experiences at American Express. "That's why we partnered with Cvent to deliver an enhanced virtual payment and automation solution that helps provide a seamless user experience and better serves our clients' needs."
The enhanced payment features include:
A streamlined onboarding process with a step-by-step escalation process and additional support.
Improved invoice processing with the tool, American Express @ Work Reconciliation®, available 24/7 to simplify M&E expense allocation.
Increased payment options using vPayment, an AMEX payment solution, that assigns a single-use account number to each transaction to increase billing efficiency.
Providing greater budget visibility by incorporating an automated reconciliation process with additional audit controls.
Buttigieg says DOT may 'Take a Look' at EU Regulations for US Airlines
Oct. 18, 2022—
In a streamed, "no surprises here" pre-recorded conversation on "The Future of Aviation" sponsored by General Electric with
The Washington Post
today, Pete Buttigieg, transportation secretary said that after a summer of chaos, the DOT's response was three-fold: enforcement (making sure airlines issue refunds and clarifying rules around that) improving rules themselves and improving tools of transparency. He also said in response to a question about EU regulations and passenger rights being more robust than their US counterparts that the DOT was "taking a look" at those regulations to see if they could be incorporated into the US model. When asked about the "why" of the airline summer chaos, Buttigieg pointed to lowered staffing levels and said that was why he had asked airlines to trim and thin out schedules. He pointed out that Florida's current flight levels have been higher than they were prior to Covid.
DC's Waterfront Neighborhood Celebrates 2 Milestones, Phase 2 of The Wharf Complete
Oct. 14, 2022—
The 1.5 million-square-foot Phase 2 of The Wharf at DC's waterfront neighborhood was completed this week while also celebrating the five-year anniversary of The Wharf's grand opening in Oct. 2017. The completed development extends from the Municipal Fish Market to Fort McNair, spanning over 3.5 million sq. ft., according to a
press release
. The Wharf now includes four hotels, including DC's first Pendry hotel, a myriad of rooftops, piers, promenades and green spaces with stunning views of the water and DC. Retail space at The Wharf is 94% leased with restaurants and shops expected to start opening in the fall. In addition, The Wharf is now home to three live music venues and more than 85 dining and shopping concepts. The development was made possible through a partnership with Hoffman-Madison Waterfront (HMW). "Five years ago today, we celebrated the opening of The Wharf and I knew then that this neighborhood was going to be unlike any other. As someone who lives and works at The Wharf, I continue to be in awe every day of this vibrant waterfront community and the magnetic energy that draws people here from across the region, country and the world," Monty Hoffman, Founder and Chairman of Hoffman & Associates said. "Bringing the vision for The Wharf to life was only possible because of our longstanding partnership with the District of Columbia and all the dedicated people who believed in what this waterfront could become. The Wharf is for everybody. It's a place where people connect with each other—to live, to work, to dine, and to celebrate. The waterfront, food, and music may be the catalysts, but it's the millions of visitors who create their own authentic experience. And today, we celebrate the opening of The Wharf's final phase and making DC a true waterfront city."
American Airlines Strives for Zero GHG Emissions by 2050
Oct. 14, 2022— 
American Airlines announced their investment in Universal Hydrogen Co. in a
press release
on Monday. This will be the second investment the airline has made towards the development of hydrogen-electric propulsion technologies.
Derek Kerr, American's Chief Financial Officer, is optimistic about green hydrogen innovating a zero-emission future for aviation. "This technology has the potential to be a game-changer on the industry's path to zero-emission flight," says Kerr. "As the world's largest airline, American has a responsibility to exercise leadership in making aviation sustainable."
WTTC and Sustainable Hospitality Alliance Partner to Further Net-positive Hospitality
Oct. 13, 2022—
World Travel Tourism Council and Sustainable Hospitality Alliance
have signed an agreement
solidifying their intent to improve the environmental and social impact of the hospitality industry. The two organizations have pledged to promote a more sustainable future for the industry, through cooperating on research projects for a greater understanding of the latest in sustainability. They also aim to create new commissions and advisory bodies, tackle issues such as youth employability, human trafficking and climate change, and more.
Destination Booking Agreements: What You Need to Know
Oct. 12, 2022—
A clear agreement outlining every expectation for all parties involved is essential to having a successful meeting or convention. A Destination Booking Agreement (DBA) outlines all responsibilities and liabilities to benefit both the CVB/Destination organization as well as the event strategist. A DBA outlines financial commitments, defines timelines, eliminates confusion and provides security for future year agreements. Operations can run more smoothly and partnerships between CVBs, event centers and meeting professionals can grow stronger. Read more
here
.
United Announces New Transatlantic Flights in Summer 2023
Oct. 12, 2022— 
United announced they will be adding brand new international flight routes and increasing nonstop international service by summer, 2023. A
press release
from United claims the airline will operate the most transatlantic flights than any other American airline. European destinations such as Malaga, Spain, Stockholm, Sweden and Dubai, UAE are among the new direct routes added in the upcoming summer.
"Next summer United is offering the best of both worlds: we're making it easier for our customers to visit the most popular cities in 
Europe
, but we're also expanding our reach to give travelers access to new places they haven't yet experienced," said 
Patrick Quayle
, senior vice president of global network planning and alliances at United. "We expect another busy summer for international travel and are proud to build on our industry-leading global network to offer our customers the widest range of destinations and most convenient travel options."
New Vice President of Sales for Caesars Entertainment Announced
Oct. 11, 2022—
Caesars Entertainment Inc. announced Kelly Gleeson Smith has been promoted to the Vice President of Sales, Meetings and Events. The
press release
yesterday acknowledged Smith's outstanding professional performance and expressed Caesars Entertainment's confidence in Smith to strategize global sales and lead a team of more than 120 sales executives. Smith started with Caesars Entertainment in 2017 and quickly rose through the ranks. Michael Massari, Chief Sales Officer at Caesars Entertainment, has no doubt Smith will be an asset to the enterprise in her new role. "Kelly's career with Caesar's Entertainment has been exceptional, and we could not have chosen a better candidate for this position," says Massari. "I am certain that our business will continue to flourish under her leadership."
FAA Provides $16 Million in Grants to Pursue Aviation Climate Goals
Oct. 7, 2022—
The U.S. Department of Transportation's Federal Aviation Administration (FAA) this week announced that $16 million in grant funding will be allocated to 14 universities across the U.S. to conduct research on how to reduce aviation emissions and noise caused by air travel, according to a
press release
. "The awards we are making today will fund research at universities across the country for a more sustainable American aviation system," U.S. Transportation Sec. Pete Buttigieg said. The participating university teams are part of the FAA's Air Transportation Center of Excellence for Alternative Jet Fuels and Environment program, known as the Aviation Sustainability Center. The grant money was split between a total of 43 university research teams with the goal of finding solutions to jet fuel supply chains, electrification, noise reduction, noise exposure, hydrogen propulsion, engine technology, supersonic operations, and environmental measurement.
Alaska Receives $9 Million in Relief Funding to Repair Damaged Roadways, Bridges
Oct. 6, 2022—
The U.S Department of Transportation on Thursday announced $9 million in "quick release" emergency relief funding will be allocated to Alaska to repair roadways and bridges damaged in the wake of Typhoon Merbok that struck western Alaska last month causing damage through hurricane-force winds, higher than normal tidal ranges, and massive storm surges of up to 10 feet above mean high water, according to a
press release
. "We are announcing emergency funding today to help the people of Western Alaska reopen vital roads, speed up emergency repairs before the winter season, and ultimately recover from the damage caused by Typhoon Merbok," U.S. Transportation Secretary Pete Buttigieg said. "The Federal Highway Administration is working closely with Alaska to repair the damage caused by Typhoon Merbok in Western Alaska," said acting Federal Highway Administrator Stephanie Pollack. "The quick release funding we are providing will help get those repairs done as soon as possible and better prepare this area for future storms and floods."
Ireland Strives Towards Sustainable Travel
Oct. 5, 2022—
Ireland is embracing sustainable travel. According to a
press release
from Department of Transport, transportation projects will be reallocating the country's road space to accommodate healthier and greener travel options such as public transportation, biking and walking. While Ireland's current transportation infrastructure was designed for car travel, Department of Transport announced today it will be making changes towards sustainability. Eamon Ryan, Minister for Transport, said he would be releasing the results of this past summer's "Pathfinder Projects" over the next few weeks. The research conducted by Department of Transport assessed Ireland's public transport and active travel project priorities. Minister Ryan emphasized the importance of these results when implementing "highly transformative measures" in travel and transport for a more sustainable system. "These projects will be delivered in the next two to three years and will begin to demonstrate practically, by people using them, that we can use our road space differently, we can re-imagine our towns and cities, we can begin to shift our focus from the car to other more sustainable transport systems," said Minister Ryan.
Uzbekistan's Cotton Industry Receives $2 Million to Prevent Forced, Child Labor
Oct. 5, 2022—
The U.S. Department of Labor on Wednesday announced the allocation of a $2 million grant to Uzbekistan with the goal of curbing forced labor and child labor in the county's cotton industry through a cooperative agreement to assist the country in adhering to international labor standards. The funding was administered by the Bureau of Internal Labor Affairs, according to a
press release
. "Uzbekistan's commitment to labor standards compliance has renewed international interest in sourcing and investing in cotton grown there," Deputy Undersecretary for International Affairs Thea Lee said. "To take advantage of these economic growth opportunities, employers must provide decent working conditions and respect the voices and rights of workers. At the same time, workers will need tools to advocate for good labor practices and participate in labor standards compliance systems." The grant will support a project including the Solidarity Center and its co-implementer, the Center for International Private Enterprise, to strengthen the voice of workers and assist local cotton businesses to enact processes for effective labor compliance standards. A full list of goods produced globally using forced or child labor can be viewed
here
.
Rest periods Between Shifts Extended for Flight Attendants: FAA 
Oct. 4, 2022—
The U.S. Department of Transportation's Federal Aviation Administration (FAA) on Tuesday announced a final rule that will extend the rest period between shifts for flight attendants to 10 consecutive hours, up from the previous requirement of nine hours. The ruling on the duration of rest periods also fulfills the requirement of the FAA Reauthorization Act of 2018, which directs the FAA to increase the rest period of flight attendants with scheduled duty lasting 14 hours or less while eliminating the provision that allows rest periods to be reduced under certain circumstances, according to a
press release
. "Flight attendants, like all essential transportation workers, work hard every day to keep the traveling public safe, and we owe them our full support," U.S. Transportation Secretary Pete Buttigieg said. "This new rule will make it easier for flight attendants to do their jobs, which in turn will keep all of us safe in the air." The
final rule
will go into effect 30 days after publication in the Federal Register. The FAA held two public feedback periods in 2019 and 2021, spanning more than 105 days, and reviewed over 1,000 comments from flight attendants, airlines and the public.
U.S. Virgin Islands Department of Tourism to Announce Hotel Reopening, Post-Pandemic Return of Cruise Industry
Oct. 3, 2022—
The U.S. Virgin Islands (USVI) Department of Tourism will announce the reopening of two Frenchman's Reef properties in St. Thomas following a $350 million renovation and news regarding the post-pandemic return of its cruise industry during the 40
th
annual Caribbean Travel Marketplace scheduled for Tuesday, Oct. 4 in San Juan Puerto Rico. The marketplace is produced by the Caribbean Hotel & Tourism Association (CHTA) and is the largest marketing event for Caribbean tourism suppliers and wholesalers. The USVI Charter Yacht Show in November and the popular month-long Crucian Christmas Festival in St. Croix will also be discussed during the annual marketplace, according to a press release. "This CHTA event is an ideal forum for the USVI Department of Tourism to announce to the media, to our partners and to industry peers, the progress we have made after the severe economic impact that the pandemic had on our tourism industry and throughout the Caribbean these past two and a half years," said Joseph Boschulte, USVI Commissioner of Tourism. "We are especially excited to share the news of the reopening of two rebuilt and rebranded properties at Frenchmen's Reef, restoring our accommodation capacity in St. Thomas to the levels prior to the devastating destruction caused by hurricanes Irma and Maria five years ago."
AHLA Survey Reveals Improvement in Ongoing Hotel Staffing Shortage
Oct. 3, 2022—
The American Hotel and Lodging Association (AHLA) on Monday reported widespread staffing shortages continuing at hotels following a survey of 200 hoteliers conducted Sept. 12-19, 2022. Responses to the "Front Desk Feedback" survey showed 87% of respondents reported staffing issues (36% reported severe staffing shortages) with housekeeping being the most severely impacted area of hotel service with 43% ranking it as their biggest staffing hurdle. However, the latest survey shows some improvement from May when 97% of survey respondents reported staffing problems and 49% reported severe issues, according to a
press release
. "Today's tight labor market is creating unprecedented career opportunities for current and prospective hotel employees, and AHLA and the AHLA Foundation are working tirelessly to spread the word. With hotel wages, benefits, flexibility and upward mobility at historic levels, there has never been a better time to work at a hotel than the present," AHLA President & CEO Chip Rogers said. In response to the ongoing staffing issues, the AHLA Foundation launched its "Place to Stay" advertising campaign across 14 cities, including Atlanta, Baltimore, Chicago, Dallas, Denver, Houston, Los Angeles, Miami, Nashville, New York, Orlando, Phoenix, San Diego, and Tampa to promote the over 200 career paths in the hospitality industry through the site
thehotelindustry.com
.
Federal Government vs. Northeast Alliance Trial Continues
Oct. 3, 2022—
The trial of the federal government vs. American Airlines—JetBlue Northeast Alliance continues this week. The government is attempting to dismantle the partnership between American Airlines and JetBlue under anti-trust laws due to the Northeast Alliance blocking competition in the city by pulling their resources together and operating as one airline. Robert Isom, Chief Executive of American Airlines Group, acknowledges the partnership with JetBlue yet denies violating any antitrust laws. Isom says the two airlines do not act as one in Boston nor anywhere in the Northeast. The latest update in the trial comes from
MSN News
as Isom testified. "We have our own gate. We have our own planes," said Isom in the Boston trial. "We have our own services that make us distinct."
Delta, LATAM Partnership Approved by U.S. Dept. of Transportation
Oct. 3, 2022—
The U.S. Department of Transportation approved a joint venture between Delta Airlines and LATAM that will provide travelers access to over 300 destinations between the U.S./Canada and South America, including Brazil, Chile, Colombia, Paraguay, Peru and Uruguay. The new partnership is expected to expand cooperation in these markets through additional route offerings, improved connections and strengthening existing reciprocal loyalty benefits, according to a
press release
. "Delta's partnership with LATAM will help grow the market between North and South America and provide significant and much-needed benefits for customers, and we applaud the DOT for this final approval," Ed Bastian, Delta's chief executive officer said. "Now, we'll get to work with LATAM to transform the travel experience for our collective customers and create new opportunities for our employees." The airlines first announced plans to form the partnership throughout the Americas in 2019 with the goal of significantly expanding travel options across North and South America, while offering an industry-leading customer experience.
West Virginia International Yeager Airport Projects Under Environmental Review: FAA
Sept. 30, 2022—
The Federal Aviation Administration (FAA) on Friday announced the environmental review of projects slated for the West Virginia International Yeager Airport (CRW), including airfield, safety and terminal improvements. A draft environmental review will be prepared by the FAA, which will also conduct several public meetings on the draft Environmental Impact Statement (EIS) for the projects. The upgrades were proposed by the Central West Virginia Regional Airport Authority (CWVRAA), according to a
press release
. The proposed projects include upgrades to the terminal facilities, shift and extension of Runway 5-23 and the parallel taxiway to improve safety and meet FAA standards with the goal of implementing the necessary upgrades to meet the forecast of heightened aviation demand at the airport. The EIS will be prepared to address the potential environmental impact of the projects.
Top DOT Officials Celebrate Groundbreaking of New Seaway Visitor Center in Massena, N.Y.
Sept. 30, 2022—
Top officials from The U.S. Department of Transportation this week celebrated the groundbreaking of the new visitor center at the U.S. Eisenhower Lock in Massena, N.Y. carried out by the Great Lakes St. Lawrence Seaway Development Corporation (GLS). The new 75,000-sqaure-foot center will welcome visitors to the Seaway and usher in a world-class tourist attraction in the region, according to a
press release
. "Since its creation over half a century ago, the Great Lakes St. Lawrence Seaway has become a model of international cooperation, an economic gateway to America, and an indispensable part of our national economy," U.S. Transportation Secretary Pete Buttigieg said. "From grain to steel, the Seaway delivers American goods to the world, and brings resources to our shores. This new visitor center will to build understanding of the Seaway's vital role in our economy and our history." The new center will feature an observation deck where visitors can view the process of commercial vessels being elevated 40 feet in the air through transit of the lock. In addition, the center will also house memorabilia and informational displays. Hundreds of ships from all over the world transport roughly 35 million metric tons of cargo through the St. Lawrence Seaway every year.
Florida Keys Reopened
Sept. 30, 2022—
Key West International Airport reopened Thursday morning after tropical storm-force winds and storm surge from Hurricane Ian impacted the island chain Tuesday and Wednesday. The Florida Keys Overseas Highway, including all 42 bridges, is open, said Monroe County Sheriff Rick Ramsay. Almost all Keys lodging establishments escaped significant storm impact and are open.
The National Hurricane Center
discontinued a tropical storm warning as well as storm surge warnings and watches for the Keys late Wednesday afternoon.
Gordon Ramsay's Hell's Kitchen Opens in Caesars Atlantic City
Sept. 29, 2022—
Chef Gordon Ramsay's Hell's Kitchen restaurant is now open in
Caesars Atlantic City
according to the hotel's
press release
. For the first time in the history of Chef Ramsay's hit competitive cooking show, the restaurant will be based on the East Coast's famous Jersey Shore. Hell's Kitchen in Caesars Atlantic City will be the city's third Ramsay restaurant. The celebrity chef has had success in Atlantic City with
Gordon Ramsay Steak
and
Gordon Ramsay Pub & Grill
. We hope to see the Hell's Kitchen television show and its restaurant at Caesars Atlantic City have the same success! Read more about Atlantic City's upgrades
here
.
Puerto Rico to Receive $8 Million in 'Quick Release' Emergency Relief Funding to Repair Flood-Damaged Roadways
Sept. 28, 2022—
The U.S. Department of Transportation's Federal Highway Administration (FHWA) on Wednesday immediately authorized $8 million in "quick release" funds for use by Puerto Rico to rebuild and repair roadways that were damaged by flooding and landslides caused by Hurricane Fiona, according to a
press release
. "Today's announcement will help the people of Puerto Rico in the aftermath of Hurricane Fiona, which has claimed lives and damaged infrastructure," U.S. Transportation Secretary Pete Buttigieg said. "These emergency funds are a down payment to help Puerto Rico clear debris and reopen as many roads and bridges as possible, so citizens and emergency personnel can get where they need to go safely." Fiona caused historic flooding after making landfall in Puerto Rico on Sept. 18. due to heavy rainfall and wind. The flooding caused massive landslides damaging bridges and roads throughout the island. The damage caused by the hurricane has been estimated at more than $35 million. "The Federal Highway Administration is working closely with the Puerto Rico Highways and Transportation Authority to repair the damage caused to roads and bridges by flooding in multiple locations across the island," Acting Federal Highway Administrator Stephanie Pollack said. "The quick release funding we are providing will help get those repairs started as soon as possible and better prepare this area for future flooding events."
Hurricane Ian Shuts Down Commercial Flights in Orlando
Sept. 27, 2022—
Orlando International Airport (MCO) issued a
press release
today announcing operations will be suspended as of 10:30 a.m. EST as Hurricane Ian is expected to hit Florida. After leaving Cuba this afternoon, the storm has gained momentum and is barreling towards South Florida with estimated wind speeds of 120 mph. MCO is alerting passengers to cancel/reschedule flights and other travel plans to remain safe. However, MCO won't be closed completely. The airport will remain in operation for emergency/aid and relief flights. Passengers are not allowed to be inside the airport during the storm as it is not an authorized shelter. Track Hurricane Ian
here
.
Bally's Finalizes Acquisition of Tropicana Las Vegas
Sept. 27, 2022—
Bally's Corporation has
completed its acquisition of Tropicana Las Vegas
with Gaming & Leisure Properties Inc. (GLPI) and Penn Entertainment Inc. (PENN), which was announced April 2021. Bally's has purchased the non-land assets of Tropicana from GLPLI and Penn for $148 million. Bally's will lease the land from GLPI for an initial 50-year term. Read more about Las Vegas
here
.
SFO Food Workers Continue Strike—Demand Higher Wages
Sept. 27, 2022—
Fast food workers at San Francisco International Airport (SFO) on Tuesday continued their open-ended strike, which began Monday, demanding higher pay amid skyrocketing menu prices offered at restaurants and other vendors at the airport, according to a
press release
. The duration of the strike "really depends on the employer," says Ted Waechter of Unite Here 2, a labor union that represents more than 15,000 hospitality workers in San Francisco, San Mateo County, the East Bay and North Bay. "Our lines are strong and workers are clear that they're not going back to work without a meaningful raise and affordable healthcare. So, we'll be out on strike until the employers agree to those, we think, very modest demands." The majority of food workers at SFO have reported making $17.05 an hour and say they have not received a raise in three years. Many have also reported having to take on multiple jobs to keep up with the high cost of living in the region. In addition, food workers at SFO have recently taken to social media to compare the cost of menu items compared to their hourly wages. "
My pay for a whole hour of work is less than the price of just one meal. That is so unfair. I'm on strike because I want to quit my second job and have more time with my family," said Vivian Narvarte, who works at both Pie Five Pizza and Ladle & Leaf Restaurant at SFO.  
The strike follows a vote held by airport food service workers in August with 99.7% voting to authorize a strike.
Caesars Entertainment Announces Caesars Virginia
Sept. 27, 2022—
Caesars Entertainment this week announced Caesars Virginia—slated to open in 2024. The new $500 million resort will be built in Danville, Virginia, and will be home to 500 guest rooms and 40,000 sq. ft. of meeting and convention space. Event planners will also be able to take advantage of the 900 square-foot boardroom and outdoor terrace, perfect for providing attendees with a reception area and additional breakout space, according to
press release
. The new property will also have the potential to provide attendees with an all-inclusive experience with a 2,500-seat live entertainment venue featuring state-of-the-art technology, new restaurant and bar concepts, a world-class casino gaming floor, spa, pool and fitness center. "Caesars Virginia will be an economic driver for the region, both as a tourist and entertainment draw and through the more than a thousand good-paying jobs the resort will create," Anthony Carano, President and Chief Operating Officer of Caesars Entertainment said. "The people of Danville have entrusted us to build a world-class resort, and we look forward to proving that trust was well founded with an incredible resort worthy of the iconic Caesars brand."
New Extra Fee Disclosure Laws for Airlines
Sept. 26, 2022—
President Joe Biden will propose new legislation this afternoon for airlines and travel search websites in response to hidden fees for unpredictable circumstances. After a travel-crazed summer due to pent-up travel demand, customers are unknowingly facing fees for losing luggage, changing or cancelling their flights and other unforeseen charges they may not have been aware they would be responsible for. President Biden and The Transportation Department will be announcing plans to ensure airlines fully inform potential customers on all possible travel fees on Monday afternoon, Sept. 26. Pete Buttigieg, Transportation Secretary, is confident the new protocol will relieve travel anxiety, according to a 
press release
. "Airline passengers deserve to know the full, true cost of their flights before they buy a ticket," says Buttigieg. "This new proposed rule would require airlines to be transparent with customers about the fees they charge, which will help travelers make informed decisions and save money."
FAA Releases Latest Vertiport Design Standards to Support Advanced Air Mobility Aircraft
Sept. 26, 2022—
The FAA on Monday released the latest set of design standards for vertiports as part of the main infrastructure that will support Advanced Air Mobility (AAM) aircraft at U.S. airports. The design standards will provide guidance and key information to airport owners, operators and infrastructure developers to support the use of the electrically-powered AAM aircraft that are designed for vertical takeoff and landing (VTOL), according to a
press release
. "Our country is stepping into a new era of aviation. These vertiport design standards provide the foundation needed to begin safely building infrastructure in this new era," Associate Administrator for Airports Shannetta Griffin, P.E. said.
The new design standards include the following:
Dimensions and design for vertiport touchdown and liftoff areas
Lighting, markings and visual aids to identify vertiports
Charging and electric infrastructure for charging equipment at vertiports
Guidelines for adding vertiports to an existing airfield
Standards for building vertiports on top of structures
Canada Ends Travel Requirements
Sept. 26th, 2022
—As of October 1st, Canada will be ending travel requirements such as masking, proof of vaccination, the ArriveCAN app and mandatory testing and/or quarantine. Though the tourism industry has been doing well in Canada recently, the lift of the border restrictions is predicted to increase the volume of visitors even further.
Porthole Cruise and Travel
reported on the story as the news is particularly important for the cruise industry. Many cruise ships traveling to popular destinations such as Alaska and New England use Canadian ports to dock. John Padgett, President of Princess Cruises, says "Alaska and Canadian cruises are among the most desired vacation options in the world, and we look forward to welcoming everyone who's waited the past three years for this market to fully open."
Hurricane Ian Heads to Florida, Ramps Up Strength
Sept. 26, 2022—
Hurricane Ian maintained its northwest course towards Florida as of 11 a.m. EDT on Monday as the storm continued picking up strength, hurling winds of up to 80 mph. Hurricane-force winds extended as far out as 25 miles from the storm's center as forecasters warn that Ian will become a Category 4 hurricane,
AccuWeather.com
reports. "By Tuesday, Ian may be a dangerous major hurricane," AccuWeather Senior Meteorologist Adam Douty said. Tuesday is expected to bring the worst conditions, with gusts reaching speeds of up to 120-140 mph and a storm surge of over six feet in some areas. Florida Gov. Ron DeSantis on Saturday declared a landfall state of emergency and later activated the National Guard on Sunday. DeSantis warned Florida residents to prepare for the storm's impact. Ian is currently categorized as Category 1 on the Saffir-Simpson Hurricane Wind Scale. "The path of Tropical Storm Ian remains uncertain and could have impacts from the Keys to Northwest Florida. Floridians along the Gulf Coast should prepare now for the possibility of severe weather next week," DeSantis tweeted. "A quick uptick in strengthening is expected early this week as Ian moves into the western Caribbean, where low wind shear and very warm water are in place. This will raise the likelihood of significant impacts in the western Caribbean, and eventually the United States," Douty said.
Amtrak Pledges Net Zero Greenhouse Gas Emissions by 2045
Sept. 23, 2022—
Amtrak this week pledged to achieve net zero greenhouse gas emissions across its network by 2045 to curb the impact of climate change while continuing to provide passengers with service, according to a
press release
.
Amtrak aims to meet this goal by taking the following actions:
Improve energy efficiency by implementing renewable fuels and energy.
Reducing the use of diesel fuel through innovations in zero-emission technologies.
Achieve 100% carbon-free electricity by 2030 through energy-efficient upgrades and renewable energy generation.
"Not only are trains convenient and comfortable, they are also one of the most sustainable modes of transportation," Amtrak CEO Stephen Gardner said. "With new equipment, modernized stations and net zero emissions, Amtrak can lead the drive toward sustainable transportation throughout the nation." "We congratulate Amtrak for this ambitious commitment to further reduce its carbon footprint, cementing its place as a leader in the clean transportation revolution," U.S. Transportation Secretary Pete Buttigieg said. "As we continue working to implement President Biden's Bipartisan Infrastructure Law, we look forward to working with Amtrak to demonstrate the key role of passenger rail in fighting climate change."
Next Round of Funding Opens for Airport Terminals Program
Sept. 23, 2022—
The FAA announced the
application process
for the next round of funding to provide grants for airport terminal development projects in the U.S. has started and will remain open until Oct. 24, 2022, according to a
press release
. The funding, made possible through the Bipartisan Infrastructure Law, aims to address the aging infrastructure of airfields across the country and includes upgrades and repairs such as expanding terminals, improving energy efficiency, building new air traffic control towers, improving energy efficiency, increasing accessibility among other features. The current round of funding will match the first round at $1 billion. "Americans deserve modern airports that meet the needs of their families and growing passenger demand. Funded through President Biden's Bipartisan Infrastructure Law, today's grants will improve airport terminals while also creating good jobs in communities across the country," U.S. Transportation Secretary Pete Buttigieg said. The first round was allocated to 90 airports across the nation, with the distribution of the funds determined by airport size. Large hub airports will receive 55% of the total funding; medium hub airports will receive up to 15% of the total funding; and small hub airports will receive up to 20% of the total funding. In addition, 10% of the total funding will be awarded to smaller, non-primary, non-hub airports.
Hurricane Fiona Heads for Atlantic Canada
Sept. 22, 2022—
After barreling through the Caribbean, Hurricane Fiona is now moving north towards Atlantic Canada. According to U.S. Consulate General Halifax, the Canadian Hurricane Centre is alerting residents of the possible flooding and rolling power outages that can occur as the storm hits Canada Friday night and Saturday morning, according to a
press release
. Hurricane Fiona is predicted to land in Nova Scotia and Cape Breton early Saturday morning before making its way to Lower Quebec Northshore and Southeastern Labrador the following day. The U.S. Embassy and Consulates in Canada have released a list of actions to take in preparation for the hurricane. Read more
here
.
PHL Life Sciences Appoints New Advisory Board Chair
Sept. 22, 2022—
PHL Life Sciences, a business development division of the Philadelphia Convention and Visitors Bureau (PHLCVB), on Thursday announced the appointment of Patrick M. Oates, Ph.D. as the organization's new Advisory Board Chair. PHL Life Sciences promotes Philadelphia as a leading hub and destination for the life sciences industry. Oates serves as senior vice president of business development and strategic planning for EMSCO Scientific Enterprise, Inc., and has a doctorate in physiology and molecular biology, according to a
press release
. EMSCO Scientific Enterprise, Inc. is a local, minority-owned distributor of laboratory supplies, equipment, chemicals and pharmaceutical excipients. Oates works to expand commercial growth through partnerships with pharmaceutical companies and other life science entities "Patrick will be an incredible resource and asset for PHL Life Sciences as we continue to connect industry associations and planners with our city's strong life sciences network for the most successful healthcare, medical and higher education meetings here in Philadelphia." Bonnie Grant, executive director of PHL Life Sciences said. Events booked by PHL Life Sciences in 2019 resulted in a regional economic impact of $215 million.
Joint Office of Energy and Transportation Appoints Leader Gabe Klein
 Sept. 21, 2022—
The U.S. Department of Energy and Transportation announced that former Commissioner of the Chicago Department of Transportation and Director of the Washington D.C. Department of Transportation, Gabe Klein, will be the lead on President Biden's Bipartisan Infrastructure Law. Klein will be leading the Joint Office of Energy and Transportation, an outfit created to service rural and disadvantaged communities, with vehicle electrification charging networks. The overall goal of the Joint Office is to upgrade national transportation systems and provide Americans with affordable electric options to cut down on fuel costs, according to a
press release
. While more metropolitan areas have long had options for electric vehicles and readily available charging stations, the Joint Office is ensuring the same options for electric energy systems will be available nationwide. U.S. Secretary of Energy Jennifer M. Granholm assures Klein is the man for the job. "Gabe has spent his career spurring innovation for sustainable transportation," says Granholm. "We couldn't be more excited to have him working for more electric cars and trucks on our roadways."
American Airlines Confirms Employee Email Hacker Breach
Sept. 20, 2022—
Although American Airlines is insistent to assure customers and employees that only a "very small number" of people were targets of email hackers and that no fraud has been reported, personal information was still compromised and caused both travelers and American Airlines employees alike to feel uneasy. Booking a flight requires an individual to provide date of birth, a driver's license, passport information and even medical history—these are all details the hackers now have access to, per
Associated Press.
According to Associated Press, the hacking investigation began in July, yet American Airlines did not disclose its discovery of hacking until last week. The airline has ensured customers and employees that the accounts breached have been disabled and a team of cybersecurity professionals has been hired to investigate.
American Airlines Partners with American Red Cross to Provide Hurricane Fiona Relief
Sept. 20, 2022—
With most of Puerto Rico out of power and almost 840,000 people without running water, Hurricane Fiona has proven to be an entity of destruction as it tears its way through the Caribbean. Hitting the Dominican Republic yesterday and Turks and Caicos earlier today, the storm has left the islands in desperate need of help. In alignment with the American Red Cross, American Airlines announced a
new offer for their AAdvantage members
that will contribute towards providing relief in the Caribbean and credit members with miles in return. The offer is available for American Airlines AAdvantage members and is available through October 15, 2022. For every dollar donated to the Red Cross with a minimum of $25, members will earn 10 miles. American Airlines is a member of the Annual Disaster Giving Program with the Red Cross and is urging patrons to donate and support American Red Cross efforts in Puerto Rico, the Dominican Republic and all of the Caribbean.
Partnership Connecting Small and Disadvantaged Businesses with Resources Announced During OSBDU Business Forum
Sept. 20, 2022—
The US Department of Transportation (USDOT), Office of Small and Disadvantaged Business Utilization (OSDBU), the U.S. Small Business Administration (SBA) and the US Department of Commerce Minority Business Development Agency (MBDA) on Tuesday announced a partnership with small and disadvantaged businesses that require resources to succeed. The partnership was announced during a business forum hosted at the USDOT headquarters and focused on helping improve access to capital and other resources to ensure all businesses will benefit from President Biden's Bipartisan Infrastructure Law. To date, USDOT is on track to hit the goal of allocating 20% of the agency's federal contracts to small and disadvantaged businesses, according to a
press release
. The business forum included several panels featuring business leaders and senior Biden-Harris Administration officials including US Transportation Secretary Pete Buttigieg, SBA Administrator Isabella Guzman, and US Department of Commerce for Minority Business Development Under Secretary Don R Cravins Jr. "Through President Biden's Bipartisan Infrastructure Law, we are making historic investments in our transportation infrastructure—and that represents major opportunity for historically excluded Americans and our nation's small businesses," U.S. Transportation Secretary Pete Buttigieg said. "These new initiatives with our partners at SBA and MBDA will help more small business owners secure federal contracts to modernize our country's infrastructure for decades to come."
AHLA Foundation Partners with U.S. Job Corps
Sept. 20, 2022—
The American Hotel & Lodging Association Foundation (AHLAF)
has partnered with
the U.S. Department of Lab in an effort to pump new life into the hospitality workforce. The partnership's initiatives have been designed to fill the 130,000 open jobs in hospitality with ready-to-work Job Corps students enrolled in hospitality training programs, giving them access to hotel jobs and AHLAF's apprenticeship program. "We are proud to team up with Job Corps as a platinum partner to strengthen our retention and recruitment programs," said Sarah Cozewith, vice president of workforce development at AHLAF. "With hundreds of thousands of open hotel positions, this is the perfect time for these students to enroll in the hotel industry. From training more than 1,400 apprentices to providing more than $1 million in academic scholarships annually, this trailblazing partnership builds on AHLAF's ongoing efforts to craft an industry as diverse as the guests we serve."
Qatar Airways Hosts Largest Post-Covid Meeting of Aviation Financial Leaders in Doha
Sept. 20, 2022—
Qatar Airways will host the largest gathering of the aviation industry's financial leaders since before the start of the Covid pandemic in Doha, Qatar, from Sept. 19 to 22. The financial symposium follows the IATA Annual General Meeting (AGM) and World Air Transport Summit (WATS), hosted in Doha last June, which was the most attended AGM in the Middle East in history, according to a
press release
. The financial forecast appears promising as the aviation industry continues to immerge from the pandemic while government-imposed restrictions have been removed and demand for air travel ramps up. Industry losses are expected to fall from $180 billion during 2020-21 to $9.7 billion in 2022. "We are honored to be hosting the first in-person World Financial Symposium since 2019, especially during our milestone year, celebrating 25 years of operations. This vital symposium will bring together financial leaders from airlines and from our many supply chain partners to discuss and debate the path forward and the challenges to be overcome," said Qatar Airways Group Chief Executive, His Excellency Mr. Akbar Al Bake.
The sessions of the symposium will address:
ESG and sustainable finance trends
Achieving carbon net zero by 2050
Financial risk management
The road to airline retailing & customer centricity
Fulfillment and settlement in a world of airline offers and orders
The future of airline payments and payments as a value creator
Understanding and preparing for OECD BEPS 2.0
Hurricane Fiona Tears Through the Caribbean  
Sept. 19, 2022—
Hurricane Fiona hit Puerto Rico yesterday with winds up to almost 100 mph and an estimated 25 inches of rain. Although Puerto Rico has worked to build a stronger and more resilient infrastructure on the island as they recovered from the destruction caused by Hurricane Maria in 2017,
CBS News reports
the new bridge in the central city of Utuado crumbled instantly under the pressure from the storm. Hurricane Fiona left almost the entire island without power and nearly 840,000 without running water. Hurricane Fiona continues to move and gain momentum. After slowing down slightly as it hit the land mass of the Dominican Republic, the
National Hurricane Center
says the storm is headed towards the islands of Turks and Caicos with tropical winds as fierce as 140 mph. The storm is projected to avoid Florida but will intensify to Category 4 as it heads northwest towards Bermuda.
Panama Lifts Travel Restrictions
Sept. 19, 2022—
Panama is an incredibly beautiful country with some of the most coveted resort experiences in the world—yet this was all shut down in 2020 as Covid swept the world. For obvious safety reasons, Panama stood strong in its strict restrictions regarding arriving travelers. However, the International Air Transport Association (IATA) announced the restrictions set in place during the pandemic were to be lifted and normal tourism protocol would be reinstated, per
Breaking Travel News
. Previous to the lift on restrictions, travelers were mandated to prove vaccination status, undergo both pre-departure and post-arrival tests and even quarantine after arriving in Panama. With these restrictions now lifted, Panama tourism can return to its rightly earned reputation as one of the best hotel/resort destinations in the world.
DHS and TSA Appointing Personnel to Ensure Safety and Security
Sept. 19, 2022—
The Department of Homeland Security (DHS) has issued a
press release
this morning announcing the appointment of 25 members to the Faith-Based Security Advisory Council who will aid the DHS and Secretary Alejandro N. Mayorkas in matters of security, equity and overall service to the public. The alliance between DHS and the Council is believed to improve communication and coordination in order to address any security threats. While the DHS is appointing new personnel,
Transportation Security Administration (TSA) Administrator David Pekoske
has been confirmed by the U.S. Senate to serve a second term. As President Biden's nominee, both the government and the TSA have faith that Pekoske's experience in security leadership is an asset to travel safety.
White House Announces Minority Enterprise Development Week
Sept. 19, 2022—
President Joe Biden proclaimed Sept. 18 through 24 as Minority Enterprise Development Week from the White House—calling on all Americans to acknowledge and celebrate the contributions and achievements of minority business owners and enterprises, according to a
press release
. "Every day, America's 9.2 million minority business enterprises deliver essential goods and services to their customers and help power the United States economy.  They develop cutting-edge technologies, provide social services to people in need, construct roads and bridges, operate restaurants and retail shops, and make vital contributions to all industries.  Minority business enterprises also provide proprietors and employees a sense of purpose, a source of dignity, and for some, a valuable asset to pass down through generations.  During Minority Enterprise Development Week, we celebrate the ingenuity and dedication of America's minority entrepreneurs, and we recommit to helping all Americans access the resources they need to build thriving businesses and a fairer, more prosperous Nation," the press release read. The Minority Business Development Agency was made permanent through funding provided by the Bipartisan Infrastructure Law and is the only federal agency dedicated to connecting minority-owned businesses to "private lenders, exporters, and public- and private-sector buyers; and it directs the Department of Transportation to prioritize contracts to small, disadvantaged businesses." President Biden also announced his administration has pledged to boost federal dollars allocated to minority-owned businesses by 2025, which is estimated to bring these businesses as much as $100 billion in new revenue over the span of this period.
Mental Health and Employment Working Group Launched During U.S. Conference of Mayors
Sept. 16, 2022—
U.S. Department of Labor's Assistant Secretary for Disability Employment Policy, Taryn Williams, applauded the launch of the Mental Health and Employment Working Group during the U.S. Conference of Mayors hosted in Miami on Friday, according to a
press release
. The goal of the working group is to identify policies, plans and practices to address and support workers' mental health needs across the country. It's development was made possible through a collaboration between the department's State Exchange on Employment and Disability and the Conference of Mayors. "When it comes to mental health, America's workplaces have a critical role to play. That's why we at the Labor Department are committed to helping employers—Including state and local public-sector agencies—understand the steps they can take to promote mental health-friendly work environments," said Assistant Secretary Taryn Williams. "We're pleased to call the U.S. Conference of Mayors a partner in the State Exchange on Employment and Disability initiative and look forward to the knowledge-sharing and collaboration that the Mental Health and Employment Working Group will foster." Since 2020, the National Center for Health Statistics' Household Pulse Survey revealed an increasing number of adults reporting symptoms of anxiety and depression. In addition, the Centers for Disease Control and Prevention also reported a growing number of adults who say they have experienced mental health conditions caused by
lingering Covid-19 symptoms
.
U.S. Senators Manchin, Capito Announce Continued Essential Air Services at Lewisburg, Clarksburg Airports
Sept. 14, 2022—
U.S. Sens. Shelley Moore Capito and Joe Manchin of West Virginia on Wednesday announced Essential Air Services (EAS) will continue at North Central West Virginia Airport in Clarksburg (CKB) and Greenbrier Valley Airport in Lewisburg (LWB) following a decision by SkyWest Airlines in March to terminate EAS services at 29 airports across the U.S. including Clarksburg and Lewisburg, according to a
press release
. "Air service is absolutely critical for West Virginia, connecting our communities to the rest of the country, helping businesses export their products and increasing tourism across our great state," Senator Manchin said. "I have fought for EAS program funding for years to bring quality, reliable air travel and new economic opportunities to West Virginia, and I am pleased Contour Airlines will be continuing these critical flight services at the Clarksburg and Lewisburg airports. I am grateful to DOT for their commitment to protecting EAS in West Virginia, and I will continue advocating for our transportation hubs across the Mountain State." EAS at Clarksburg and Lewisburg airports will now be provided by Contour Airlines following a selection process conducted by the U.S. Department of Transportation and will start a three-year term on December 1, 2022. However, SkyWest is still responsible for providing EAS at both airports until the new term begins. "Our airports in West Virginia are vital to connecting our residents and our communities with the rest of our country and world," Senator Capito said. "These three-year contracts that will provide weekly service between our North Central West Virginia Airport (CKB) in Clarksburg and our Greenbrier Valley Airport (LWB) in Lewisburg to Charlotte Douglas International Airport will not only create great opportunities for our residents but will also serve as a gateway for people around the globe to visit West Virginia. I have long fought to keep Essential Air Services at our airports in West Virginia, and I'm thrilled to see this operation come to fruition."
EPA Launches Program to Protect 3 Boston-area River Watersheds
Sept. 14, 2022—
The U.S. Environmental Protection Agency (EPA) on Wednesday announced advanced actions in protecting three Boston-area watersheds from stormwater pollutants, which were previously unregulated. The Charles, Mystic and Neponset rivers will now be protected under the Clean Water Act, requiring permit coverage under the provision titled "residual designation authority," for stormwater discharge. This includes commercial, industrial, and institutional properties that have one or more acres of impervious area such as hard surfaces like parking lots, roofs, and roadways that make it difficult for stormwater to soak into the ground, according to a
press release
. "On the eve of the 50th anniversary of the Clean Water Act, EPA is taking strong, decisive action to ensure that all our citizens have access to local waterways that support enjoyment and recreation. It is clear that the nature and scale of the problem requires urgent action on this pressing environmental justice concern," EPA New England Regional Administrator David W. Cash said. "With a warming climate there is no time to waste to reduce bacterial and nutrient pollution in stormwater and the resulting water quality degradation including harmful algae blooms experienced yearly in all three watersheds." The general permit will be released in draft form by the EPA for public comment and will also be gathering public feedback on the implementation of the program at that time, per EPA regulations.
Alaska Receives $6.7 Million to Boost Tourism, Develop New Visitor Infrastructure
Sept. 13, 2022—
U.S. Secretary of Commerce Gina Raimondo on Tuesday announced the Department's Economic Development Administration (EDA) has awarded Matanuska-Susitna Borough, Alaska, with a $6.7 million grant through the American Rescue Plan, according to a
press release
. The grant will be used to boost tourism and develop new visitor infrastructure and amenities. The funding will be allocated to the construction of a new visitors center and will provide local businesses with additional retail space with the goal of helping them connect with visitors in a central location. "President Biden recognizes the vital contribution the travel and tourism industry makes to the American economy," Raimondo said. "This project will create new opportunities for businesses in Matanuska-Susitna Borough to tap into Alaska's important tourism economy, expanding the potential for economic growth and resilience." "The Economic Development Administration plays an important role in supporting community-led economic development strategies designed to boost coronavirus recovery and response efforts," Assistant Secretary of Commerce for Economic Development Alejandra Y. Castillo said. "This EDA investment will provide a critical new amenity that the region needs to support local businesses and increase tourism in the community." The grant will also be partially matched with $1.7 million in local funding to retain or create roughly 180 jobs, according to estimates. Read more
here
.
Baird/STR Hotel Stock Index Dropped in August
Sept. 13, 2022—
The Baird/STR Hotel Stock Index dipped to a level of 5,021 after falling 2.7% in August with a total year to date decrease of 12.6% during the first eight months of 2022, according to a
press release
. "Hotel stocks took a breather in August after July's sharp rebound. Despite the slight decline in stock prices, both the Global Hotel Brands and Hotel REITs outperformed their respective benchmarks in August," Michael Bellisario, senior hotel research analyst and director at Baird, said. "Hotel trends have remained solid throughout the summer months despite all the capital markets volatility and macroeconomic uncertainties. However, investors appear somewhat skeptical about the prospects for a significant recovery in business transient travel post-Labor Day, and hotel stocks appear to be discounting this relatively conservative fundamental expectation, in our opinion." "Even with expected seasonal slowing, demand and room rates have remained at healthy levels," Amanda Hite, STR president said. "Upscale and upper midscale hotels reported stronger occupancy levels in August, appealing to price-conscious leisure and corporate transient travelers. With schools now back in session, owners and operators are closely watching the return of the corporate group and individual traveler to understand if, and how, patterns have changed since the onset of the pandemic. Association and large group event organizers are looking forward to the first fall without significant health restrictions, which could drive event attendance to new heights. When looking at the bottom line, GOPPAR surpassed 2019 levels for a fourth consecutive month in July. But as wages increase and operations are ramped up further, expenses will likely continue to rise, putting pressure on profit growth." However, Baird/STR Hotel Stock Index outperformed both the S&P 500 (-4.2%) and the MSCI US REIT Index (-6.1%). The Hotel REIT sub-index decreased by 3.7% to 1,143, while the Hotel Brand sub-index dropped 2.3% from July to 8,959.
'National Economic Disaster' U.S. Chamber of Commerce Urges Action on Railroad Negotiations
Sept. 12, 2022—
The U.S. Chamber of Commerce on Monday sent a letter to Congress urging immediate action in the negotiations with the country's six largest freight railroads and 12 unions to avoid a shutdown of the nation's rail service that would have "enormous national consequences," according to the
letter
. "A national rail strike would be an economic disaster—freezing the flow of goods, emptying shelves, shuttering workplaces, and raising prices for families and businesses alike, but that is exactly what is likely to happen in less than four days. To avoid a strike and the catastrophic economic impacts that would follow, one of three things needs to happen: the remaining unions who have not agreed to a deal need to join the ones who have; an agreement to extend the current 'cooling off' period must be reached; or Congress intervenes, as it has in prior situations. If action is not taken, the nation's rail service will come to a halt, the negative impacts of which cannot be understated." The letter also suggests that Congress implement the recommendations of President Biden's Presidential Emergency Board (PEB), which includes wage increases among other measures, if unions and carriers are unable to reach an agreement. A rail service shutdown would have a serious impact on 46 states and cost the U.S. economy roughly $2 billion a day.
FAA, NTSB Clarify Agency Roles During Commercial Space Investigations
Sept. 9, 2022—
Members of the Federal Aviation Administration (FAA) and the National Transportation Safety Board (NTSB) on Friday signed an agreement clarifying the specific roles of the agencies during investigations into commercial space accidents, according to a
press release
. The agreement was signed by National Transportation Safety Board Chair Jennifer Homendy and Federal Aviation Administration Acting Administrator Billy Nolen. "For over three decades, the NTSB has led and supported major commercial space mishap investigations that have made human spaceflight safer to this day," Homendy said. "This agreement is proof that the federal government can keep pace with the exciting advances taking place in the private sector while also prioritizing safety as we enter a new space age." The NTSB will lead investigations involving any fatalities or injuries of persons, regardless of whether the individual was on board a commercial space launch or reentry vehicle, or if a commercial launch or reentry results in property damage, injury or death caused by debris created during a launch or reentry. The FAA will be responsible for investigating all other commercial space mishaps.
Scramble for Hotel Rooms After Queen's Passing Starts Now
Sept. 9, 2022—
With the announcement of the death of Queen Elizabeth in London, hotel bookings have begun to soar. Tim Hentschel, founder and CEO of HotelPlanner.com says that the site "has seen a 20% increase in searches for London hotels from IP addresses in North America over the past 12 hours, and around a 32% increase in bookings. Also about a 10% to 20% jump in room rates over the past 12 hours, particularly among four and five-star hotels, the latter of which are going for £1,000 per night. HotelPlanner is forecasting that rates will double in the next few days across hotel categories."  The next 10 days in the United Kingdom will be official Days of Mourning for Queen Elizabeth. King Charles' official Coronation may occur up to 10 months after his succession to the throne. It remains for the King to name William as Prince of Wales, but when that occurs as is expected, William will be invested as Prince of Wales in the capital of Wales, Cardiff. For all of these events, hotel bookings in and around London (and Cardiff, Wales) and possibly near the Queen's Scottish home of Balmoral will be experiencing higher than normal volumes.
United Airlines Invests Additional $15 Million in Flying Taxis
Sept. 8, 2022—
United Airlines on Thursday announced a $15 million investment in Eve Air Mobility, marking another significant bid by United in flying taxis. In addition, United announced the conditional purchase of 200 four-seat electric aircraft, plus 200 options, with the first delivery of the flying taxis, or eVTOLs (electric vertical take-off and landing vehicle), expected as soon as 2026, according to a
press release
. United Airlines and Eve Air Mobility also announced future projects including additional studies and development of the aircraft and the urban air mobility (UAM) ecosystem with the goal of revolutionizing the commuter experience in cities around the globe. "United has made early investments in several cutting-edge technologies at all levels of the supply chain, staking out our position as a leader in aviation sustainability and innovation," President of United Airlines Ventures Michael Leskinen said. "Today, United is making history again, by becoming the first major airline to publicly invest in two eVTOL companies. Our agreement with Eve highlights our confidence in the urban air mobility market and serves as another important benchmark toward our goal of net zero carbon emissions by 2050–without using traditional offsets. Together, we believe our suite of clean energy technologies will revolutionize air travel as we know it and serve as the catalyst for the aviation industry to move toward a sustainable future."
Govt. Of the Municipality of Los Cabos, Mexico Implements New Environmental Sanitation Tax
Sept. 8, 2022—
The government of the municipality of Los Cabos, Mexico announced a new tax that will support environmental infrastructure, sustainability practices, and safety and security, among other projects, according to a press release issued by AMR Collection resorts. The new mandatory tax is $33.68 Mexican Pesos per room, per night, approximately $1.70 USD, effective Sept. 8, and is applicable to all guests staying in Los Cabos regardless of room occupancy. However, the tax will be included in the room rate and will not be charged as an additional fee. All reservations booked prior to Sept. 8 will be exempt from the tax.
Biden-Harris Administration, National Oceanic and Atmospheric Administration Launch New Climate Hazard Tracking Tool
Sept. 8, 2022—
The Biden-Harris administration and the Department of Commerce's National Oceanic and Atmospheric Administration (NOAA) and the Department of the Interior (DOI) on Thursday introduced a new website that will allow communities across the country track and analyze potential climate-related hazards and quickly find federal funds, including those allocated through the Bipartisan Infrastructure Law, to support climate resilience projects in their area, according to a
press release
. The interactive geospatial website,
Climate Mapping for Resilience and Adaptation (CMRA)
, allows people to consider their exposure and the long-term impact of climate-related hazards in their communities. The tool uses data integrated from across the federal government in real-time with the intention of assisting
federal, state, local and tribal governments as well as non-profit organizations
in creating equitable solutions to protect people, property, and infrastructure. "From day one, President Biden made a clear commitment to protect our most vulnerable communities from the impacts of climate change," Deputy National Climate Advisor Ali Zaidi said. "This website is designed as a one-stop shop to equip those on the ground with the tools they need to plan and prepare, and to access federal resources to build greater resilience."
Holiday Inn Under Cyber-Attack
Sept. 7, 2022—
The popular hotel chain, owned by hospitality industry titan Intercontinental Hotels Group (IHG), announced today their technology system has indeed been hacked. IHG released a statement to confirm their booking system and other applications have been infiltrated since Monday, per
BBC news
. IHG assures they are taking the issue seriously. While still investigating the full scope of damage, the company says it is bringing in outside experts and pursuing legal action against the hackers with the authorities. Despite public complaints on social media about the hacked system, IHG claims their booking system is up and running. "IHG's hotels are still able to operate and to take reservations directly," says the company.
Las Vegas Sands and Marina Bay Sands Create $1 Million Hospitality Scholarship Program in Singapore
Sept. 7, 2022
—Las Vegas Sands and Marina Bay Sands have launched a
$1 million scholarship program
in Singapore. The program is being facilitated through Sands Cares, the company's community engagement program. With tourism in Singapore expected to grow in the coming years, Singapore is looking to capitalize by increasing its hospitality career opportunities. The Sands Hospitality Program will give the opportunity to more than 100 Singaporean students at six Singapore-based institutes, Nanyang Polytechnic, Ngee Ann Polytechnic, Republic Polytechnic, Singapore Polytechnic, Temasek Polytechnic and the Singapore Institute of Technology. The program will begin in 2023.
Labor Day Travel Recovers Beyond 2019 Levels
Sept. 7, 2022
—The Transportation Security Administration (TSA)
has announced
that over the Labor Day holiday, they screened 8.76 million travelers between Friday, Sept. 2 and Monday, Sept. 5. The weekend travel volume represents 102% of volume for the same pre-pandemic holiday weekend in 2019 and is the first time that a holiday weekend passenger screening volume exceeds that of 2019. Transportation Security Officers screened 2.48 million passengers, says the administration's website.
Dept. of Homeland Security Launches Inaugural Tribal Homeland Security Advisory Council
Sept. 7, 2022
—The Department of Homeland Security (DHS) on Wednesday announced the establishment of the first-ever Tribal Homeland Security Advisory Council, as well as the opening period for membership nominations. The purpose of the newly formed Council is to allow tribal leaders to advise the security policies and practices implemented by DHS and their direct impact on indigenous communities, including law enforcement, emergency management, cybersecurity, border security, domestic terrorism and targeted violence, according to a
press release issued by DHS
. "The inaugural Tribal Homeland Security Advisory Council is a result of sustained engagement to improve nation-to-nation relationships and comes at a time of critical importance,"
Secretary of Homeland Security Alejandro N. Mayorkas
said
. 
"I look forward to building a new Council that will provide timely advice and recommendations directly from Indian Country regarding how we can better work together to improve homeland security." To create a diverse pool of members that reflects the wide expanse of Indian Country, individuals nominated for leadership will be selected based on their qualifications, including professional background, geographic location and technical expertise. Nominations will be accepted over the next 30 days.
AMEX GBT, Travelport Renew Strategic Relationship with Tech Upgrades
Sept. 6, 2022
—
American Express Global Business Travel
(AMEX GBT) and London-based
Travelport
on Tuesday announced a multi-year agreement renewing their strategic relationship, which now spans more than 40 years. The goal of the ongoing relationship seeks to enhance travel retailing with new technologies and simplified processes that power bookings and travel suppliers from around the globe. "We value our relationship with Amex GBT which has lasted more than 40 years. Deepening our collaboration by using Travelport+ will benefit both Amex GBT and its business customers,"
Jason Toothman, Chief Commercial Officer - Agency at Travelport said
. "Combining Amex GBT's expertise with our modern travel retailing tools will ultimately improve how corporate travel is managed. The introduction of Travelport+ servicing capabilities and retailing improvements will ensure continued focus on delivering customer, traveler and supplier value to Amex GBT's marketplace."
Incentive Groups Want Luxury Says New Survey
Sept. 6, 2022
—The Incentive Research Foundation's most recent report, 
Decision Drivers 2022: Elevating the Experience
, finds that 80% of groups surveyed (US-based) prefer luxury accommodations for incentive trips. The survey also found that the 10 top destinations for incentive groups are: 1. Hawaii; 2. Caribbean; 3. Western US; 4. Western Europe (France, Italy, Spain, etc.); 5. Southern US (New Orleans, Atlanta, etc.); 6. Southwest (New Mexico, Arizona, etc.); 7. Eastern US; 8. Alaska; 9. Mexico and 10. Canada. On a webinar on September 6, Rick Garlick, the IRF's chief research officer said that the survey found a continuing trend in European cruising. Within the cruising demographic, the Caribbean was up by 50% as a desired destination followed by Europe at 30%.
Hospitality Students Awarded $1 million in Scholarships
Sept. 6, 2022
—Students of the hospitality industry from across the U.S. have been awarded $1 million in scholarships from
The American Hotel and Lodging Association Foundation
(AHLAF). The scholarships will be allocated to 336 program participants over the course of the 2022-23 academic school year. Of the participants receiving funds, 72% are female and 51% are people of color. The age range of program participants is 18 to 70. Recipients of the scholarships are students from two-year and four-year schools including 10 community colleges and 71 other institutions across 36 states and Washington D.C. To date, AHLAF has contributed roughly $16 million to students pursuing careers in the hospitality industry. "Now more than ever it is critical to empower the future minds of the hospitality industry. Through this generous giving, the scholarship recipients at these various institutions will build upon their skills to discover the many exciting career opportunities our industry has to offer," Sarah Cozewith, Vice President of Workforce Development of the AHLA Foundation said. "We could not be more thrilled to help them on their journey." Read more
here
.
Port Canaveral to Receive $1.9 Million in Security Funding
Sept. 2, 2022
—The U.S. Department of Homeland Security's Federal Emergency Management Agency (FEMA) has awarded $1.9 million in federal grant funding to Port Canaveral through its Port Security Grant Program (PSGP), given to protect the Port's infrastructure from terrorism and other threats. The Canaveral Port Authority will received $1.3 million in federal funding for two Port Canaveral security enhancement projects: the Cybersecurity Vulnerability Reduction Project and for the purchase of a new Security Rapid Response Boat. In addition, the Canaveral Pilots Association was awarded $684,265 in PSGP funding for the purchase of a new high-tech response boat. Port Canaveral was one of more than 30 U.S. ports awarded federal funding in 2022 from FEMA's 100 million PSGP program. Read more
here
.
California Passes Sweeping Climate and Clean Energy Package, Industry Profs Respond
California lawmakers on Wednesday passed
SB-1137
, allocating $54 billion toward clean energy and measures to mitigate the effects of severe drought amid intense heat and a 22-year drought in the western United States. The new package is aligned with the California air regulator's vote to eliminate the sales of new gas-powered vehicles by 2035. The bill focuses on the regulation of projects to decarbonize the state's power grid, end new oil drilling around communities and create interim targets for 100% clean energy. In addition, the closure of the Diablo Canyon nuclear power plant, the last in the state, has been postponed until 2030. Industry professionals in the state have grappled with the impacts of climate change over recent years as extreme weather and wildfires have plagued areas known for being tourism destinations, including Lake Tahoe and California's wine country, with strides in sustainability taking place across the board in the hospitality and tourism industries. "This legislation plays an important role in continually moving California and our destinations forward in recognizing the realities of climate change and taking responsibility for being part of the solution. Sonoma County Tourism has a solid commitment to destination stewardship and sustainable travel," says Claudia Vecchio, president and CEO of
Sonoma County Tourism.
Read more
here
.
National Hotel Employee Day Announced by AHLA
The Washington D.C.-based
American Hotel & Lodging Association (AHLA)
has established Sept. 1 as
National Hotel Employee Day
, recognizing the contributions of hotel workers and their impact on the hotel, tourism and meetings industries, according to a press release. The announcement comes amid a nationwide hotel staffing shortage with roughly 120,000
open hotel positions. The AHLA reports that severe staffing shortages and increased demand, due to the busy summer travel season, have resulted in a national increase in the average wages of hotel workers to $22.25 an hour in May 2022. The average wage was $18.74 an hour prior to the pandemic. "There has never been a better time to work in the hotel industry than right now,"
AHLA President & CEO
Chip Rogers said.
The newly-established National Hotel Employee Day was launched to thank and celebrate hotel employees who are critical in supporting the nearly $2 trillion tourism industry, according to the announcement. Read more
here
.
Alaska Airlines Adds New Nonstop Flights to Anchorage
Event profs and attendees headed to Anchorage from the Seattle area's
Snohomish County Airport (PAE)
in Everett, Washington can do so with nonstop flights starting Nov. 30, 2022, with tickets now available for purchase at
alaskaair.com
, per Travel Daily News. Direct flights from the Everett airport to
Ted Stevens International Airport (ANC)
, will be serviced through Alaska's sister carrier, Horizon Air, and will be the farthest nonstop flight from that commercial travel hub, also known as Paine Field Airport. "We listened to our guests who live and work from north of Seattle to the Canadian border. They told us one of their top requests is a nonstop flight between Everett and Anchorage,"
Brett Catlin
, vice president of network and alliances for Alaska Airlines said in a statement. "There's a significant need and demand to connect workers and businesses in the two regions—from the fishing industry to aviation—In addition to the desire for leisure travel. We're ready to welcome our guests on this new route this fall." Read more
here.
Waldorf Astoria Hotels & Resorts Announces Partnership with Aesop
Waldorf Astoria Hotels & Resorts, a Hilton brand, this month announced a partnership with Aesop, a vegan skincare brand. Aesop's products center on hair and skin care, fragrance and other personal care products that will now be offered in Waldorf Astoria properties around the world. This partnership helps reflect the Hilton's commitment to environmental sustainability as all in-room toiletries will be made from 97% post-consumer recycled plastic. All toiletries will also be full-size rather than travel-size to help reduce environmental impact. 
Read more
here
. 
Four Season Launches New Platform: Luxury is Our Love Language
In an effort to redefine luxury, the Four Seasons is debuting new branding that will continue to roll out over the next year. Luxury is Our Love Language is focused on a belief that true luxury should be personalized and intimate rather than rigid and scripted. By using surveys from guest experiences to personal anecdotes, Le Tuc, an NYC-based creative collective, partnered with Four Seasons to create personalized luxury experiences. 
As a part of this branding, The Four Seasons Hotel New York Downtown will soon have a custom Acts of Love postcard experience for guests to write letters to their family, friends and loved ones. 
Read more
here
.
EventUp Releases Data on Hottest Planning Trends in 2022
The largest global marketplace for booking events,
EventUp
(powered by
Tripleseat
), this month released its findings on the most popular trends among meeting profs for selecting venues in 2022.  EventUp works to connect various types of venues with planners to create ideal experiences. The data is based on leads and events booked through EventUp's marketplace in 2022. "We are seeing an uptick not only in event size but also the amount of planners willing to invest in executing a perfect celebration," Jonathan Morse, CEO of Tripleseat, said in a
press release
. "By looking at the trends both locally and globally we are able to better understand and support planners' needs in order to connect them with the perfect venue."
Top Trends
The average spend for events is $3,545; $35,827 for holiday parties
New York, Los Angeles, Chicago and Atlanta ranked highest in popularity among host cities
Top celebrations include birthday parties and baby showers
Saturday is still the most popular day to party
The average event size is 130 guests
Restaurants and bars ranked highest as popular meeting venues
Orlando Health, Visit Orlando Form Official Wellness Partnership
A new partnership connecting leisure and medical health experts has taken shape between the Official Tourism Association for Orlando, Visit Orlando, and Orlando Health, offering health-related benefits to Orlando's millions of visitors as the country's most visited destination. Orlando Health is a nonprofit healthcare organization serving the southeastern U.S. "This new partnership allows us to seamlessly connect both leisure guests and meetings groups with Orlando Health's medical experts to make healthy travel more accessible," said Casandra Matej, president & chief executive officer, Visit Orlando. The partnership provides both tourists and member organizations with access to a wellness and health resources telephone concierge service to provide
individualized health resources and
visitor-specific wellness tips. 
Read more
here.
Transportation Secretary Buttigieg Asks Airlines for Hotels, Meal Vouchers
Transportation Secretary Pete Buttigieg has sent a letter to nine major airlines saying that they should pay for meals and hotels when travelers face delays or cancellations. Buttigieg asked for meal vouchers for delays of at least three hours caused by airlines themselves. He also asked for hotel lodging vouchers for passengers stranded overnight, per Bloomberg. Buttigieg said in the letter that air carriers canceled 3.2 % of domestic flights and delayed 24% of domestic flights in the first six months of 2022."These aren't just numbers," Buttigieg wrote. "These are missed birthday parties, graduations, time with loved ones and important meetings." Read more
here.
Destinations International Unveils New EDI Tool 
A tool created to assess Equity, Diversity and Inclusion (EDI) was launched by Destinations International during the association's 2022 Annual Convention in Toronto with the purpose of assisting destination organizations of all budget sizes and locations to better assess the implementation of EDI strategies while tracking progress through data-driven metrics. The new EDI tool will also help to set the standards for EDI initiatives across the industry, Don Welsh, president and CEO of Destinations International said. Read more
here.