After six years of planning, in January of 2023, a renamed Seattle Convention Center will open a 573,770-square-foot Summit building blocks from the original Arch building in the heart of downtown, doubling the convention capacity to over a million sq. ft. and opening new ways of meeting in the Emerald City.
When the expansion was announced in 2017, the convention center was known as Washington State Convention Center, but the new name and differentiated buildings better reflect the location, funding and profile of the venues, Jeff Blosser, president and CEO of Seattle Convention Center shared.
A recent tour of Arch and a hard-hat sneak peek of the 99% complete Summit highlighted the unique features at each facility.
Summit Expansion
When real estate brokerage company Redfin loads in Jan. 12 for the building's soft opening, attendees will find several eye-catching spaces, including a living wall at the entrance lined with planters.
A colorful, 58,000 sq. ft. ballroom is crowned with 3,900 hanging recycled wormwood planks—only a fraction of the recycled materials used throughout the building. Theatrical lighting and blackout curtains are a touch away if the need arises to cover the 125-ft. by 75-ft. wall of windows.
The Hillclimb is a wide, suspended stair with radiant floor heating that doubles as hanging and meeting space overlooking Pike Place Market, Elliott Bay and the Olympic and Cascade Mountain ranges.
A massive "flex room" of 100,000 sq. ft. with no columns offers privacy and flexibility. Public art in the retail space weaves the stories of the local community into the building, including a carved wood "chandelier" that stretches across the grand entrance, casting shadows on the floor that call to mind the light of a sun-dappled forest floor.
Local restauranteur Ethan Stowell of Cortina fame will open an outlet called Bombo in the lobby for lively, all-day dining.
The entire building encompasses 20% more open, prefunction space to fit how people want to connect post-pandemic.
Original Arch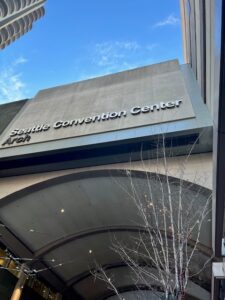 When the original building was constructed in 1988, it was designed in the style of grand hotels, explained Kelly Saling, Visit Seattle chief sales officer. It was part of the community, with retail on the first three floors and a robust public art program.
Now, quarterly rotating exhibitions augment the permanent collection. Three expansions, including the acquisition of a museum next door (now known as The Conference Center) added up to Arch's current 469,988 sq. ft. of event space (205,000 sq. ft. of exhibit space).
The signature space is a 10,000 sq. ft. glass skybridge with an arched atrium over Pike Street. It marries the two sides of the building and provides a dramatic backdrop to dinners and meetings.
Local, woman-owned Juicy Café offers raw, cold-pressed refreshments in the common area.
Savory and Sustainable
What the two locations have in common is a commitment to fresh, creative catering and environmental sustainability.
Aramark Sports and Entertainment Executive Chef Jose Chavez came from Four Seasons Hotel Seattle and will be overseeing operations at both "made-from-scratch" kitchen facilities, including a bakery where the majority of the bread will be baked on-site with a cafe selling to locals.
The entire operation diverts 77% of waste from landfills and donates excess food to local homeless training program FareStart. "We hope to get to 85% diversion and are pushing the limits as far as we can," said Blosser.
Arch is LEED Silver-rated and a new $10 million investment will improve adjoining Freeway Park, upgrading amenities for convention attendees and the community. Summit is already LEED Gold certified and targeting Platinum certification. A 14,000-square-foot Garden Terrace will reduce the urban area's heat island effect. Rainwater will be collected and used for landscape irrigation and climate control, reducing water usage by a project 89%. Air handling units can run on all outside air to save energy. Light bounces between floors through overlooks in the 14-story atrium and carefully designed windows.
Upgraded Guest Rooms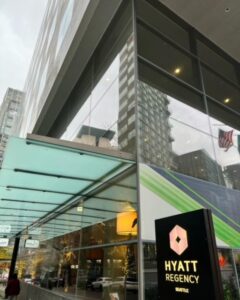 The new convention center complex is surrounded by 15,000 guest rooms in the busy city, including a new convention center headquarters hotel across the street from Summit building, Hyatt Regency Seattle and upgraded spaces at two other convention center properties, Sheraton Grand Seattle and The Westin Seattle.
Hyatt operates what it calls A Seattle Collection—three convention center hotels that make up a campus including Hyatt at Olive 8 (346 guest rooms and 12,000 sq. ft.) and Grand Hyatt Seattle (457 guest rooms and 25,000 sq. ft.) along with the new Hyatt Regency's 1,260 guest rooms and 103,000 sq. ft. of meeting space, which were designed by the same architect as nearby Summit building with lots of continuity between floors, overlooks and windows that span multiple floors. The two large ballrooms feature soaring ceilings and guest rooms that are large and modern. A fitness-equipped suite includes a separate room with a Peloton bike, yoga mat and arm weights.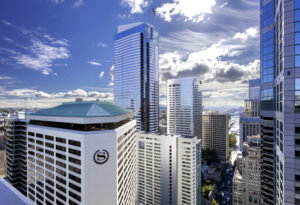 Fellow Smart Meetings Platinum Choice winning property Sheraton Grand Seattle was completely renovated in 2019, including all 1,236 guest rooms in two towers, more than 77,000 sq. ft. of meeting space, including three ballrooms and a lobby with an elevated Starbucks experience and works from local glass artists. It is 27 steps to the Arch building and a monorail ride away from Seattle Space Needle.
The Westin Seattle's 891 guest rooms have hosted dignitaries since it was built in 1969 and a 2018 renovation maintained those celebrity standards. In addition to two main event floors, the 69,000 total sq. ft. of event space includes Westin Seattle Pine Room, a self-contained event silo for smaller groups looking for a boutique feel. An indoor swimming pool and Westin Workout Fitness studio make wellness part of the experience.
Action Packed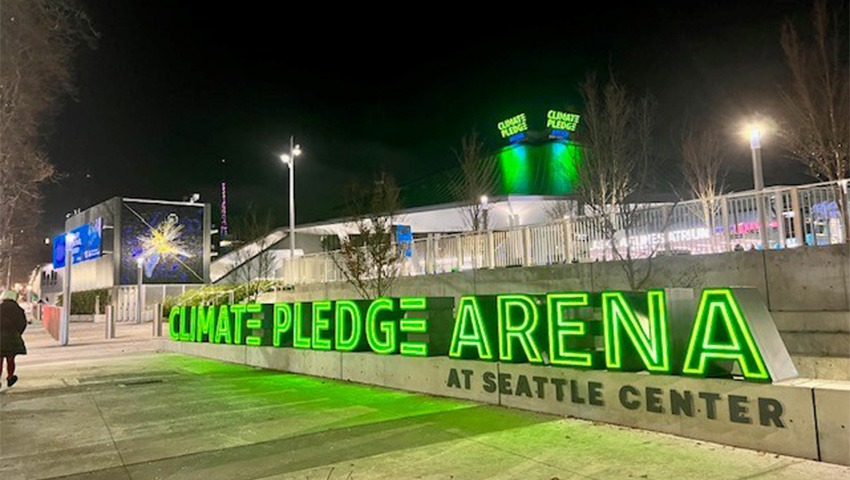 The city is full of new spaces. In October of 2021, the band Coldplay opened Climate Pledge Arena, the first net-zero carbon-certified arena in the world owned by a partnership of Oak View Group, NHL Seattle Kraken Hockey, (which plays in the arena along with WNBA Seattle Storm) and Seattle Center and named "as a reminder of the urgent need for climate action to achieve net zero carbon by 2040."
The building is dug into the ground to conserve energy, topped by the roof originally built for the 1962 Seattle World's Fair to save on greenhouse gas emissions and holds up to 18,300 people. A living wall contributes to a total of 12,500 plants and trees in the building and premium spaces include Moet & Chandon Imperial Lounge and Space Needle Lounge, which affords views of the nearby landmark.