Salamander Resort & Spa, Middleburg, Virginia (Photo by Drew Xeron)
CEO Sheila C. Johnson's latest endeavor is expanding luxury hotel collection
• Born: Jan. 25,1949, in McKeesport, Pennsylvania
• Education: University of Illinois, bachelor's degree in music performance and education
• Family Life: Married to the Honorable William T. Newman Jr.; two grown children, Paige and Brett
The salamander can regenerate damaged or missing body parts, and mythically could walk through fire and survive. Sheila C. Johnson, who considers herself a survivor, decided to name her land in Middleburg, Virginia, after the amphibian she admired, especially after discovering that Salamander was also the code name of Bruce Sundlun, a World War II hero who formerly owned the property. Salamander eventually became the name of her signature luxury resort, as well as her hospitality empire.
Johnson could have also embraced the name chameleon because like that lizard, which effortlessly morphs from one state to another, Johnson has gracefully switched from one career into another—achieving success and prominence as a violinist, music teacher, media entertainment executive, businesswoman, film producer and now hotelier.
In the process, the 67-year-old entrepreneur has amassed a considerable fortune. Johnson is currently ranked No. 21 on Forbes' 2016 list of America's Richest Self-Made Women. A prominent philanthropist, Johnson uses her wealth to fund a wide variety of causes, including many that help artists and people of color.
Background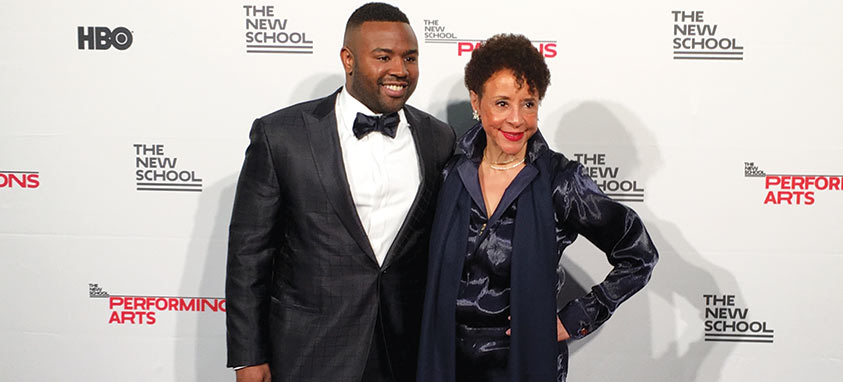 Johnson with son, Brett Johnson
Johnson was born in 1949 in McKeesport, Pennsylvania, to a neurosurgeon and an accountant. In the early 1950s Johnson's father was one of just 11 African-American neurosurgeons in the country, and had difficulty finding work. Eventually he secured a position with the Veterans Administration and the family settled in Maywood, Illinois, a working-class suburb near Chicago.
The family was very musical, and early exposure to the arts had a profound effect on the young girl.
"Music has been the foundation of my life," says Johnson, who plays piano and violin. "The arts teach you how to focus and sharpen your senses, to listen in different ways, and see the world in a bigger picture."
A violin virtuoso, Johnson completed high school at 16 and received a full scholarship to study music at University of Illinois. During orientation she met Robert Johnson, and married him in 1969. After graduation they relocated to Washington, DC. Robert worked for the Public Broadcasting Corporation and she taught violin. To supplement her income, she accepted a small role in a play as a prostitute. The job paid three times her annual teaching salary—enough for the couple to buy their first home.
This move was not unusual for Johnson, who has always possessed a strong work ethic and entrepreneurial spirit. As a youngster, she made potholders and sold them to neighbors for a nickel each; in college she held three jobs and graduated with $24,000 in a checking account.
Black Entertainment Television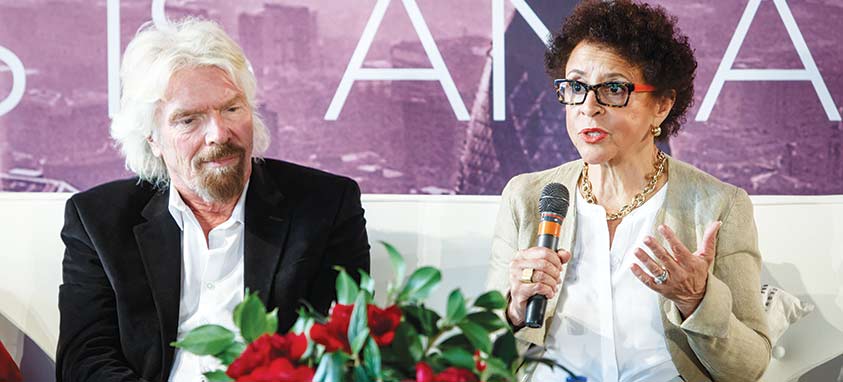 Speaking with Richard Branson at Entrepreneurial Summit, Washington, DC
The couple's big break came in 1979, when they secured $500,000 from media mogul John Malone, allowing them to co-found Black Entertainment Television (BET). For more than a decade, the network rode an unrivaled wave of popularity.
"I thought BET was going to be the television media voice for African Americans," says Johnson, who signed for the company's first loan. "We started out talking about issues, but then we took the easy way out." Although Johnson was very proud of Teen Summit, a talk show for youths, it didn't attract advertising dollars like music videos did.
"Music videos were liquid money because in the beginning, MTV didn't want to broadcast African-American talent," Johnson says. Disenchanted as the videos grew more sexually explicit, the couple sold the station to Viacom in 2001 for $3 billion, securing themselves a comfortable future. However, in what Johnson describes as a "curveball," the couple divorced in 2002 after 33 years of marriage and two children: Paige, a world-class equestrian, and Brett, a designer of men's outerwear.
Birth of Salamander
"When my marriage dissolved, I decided to get out of Washington and start a new life," Johnson said. She moved to Middleburg, Virginia, and did some soul searching to determine her next step.
"I love traveling and staying in fine hotels, and am very astute as to how they are run," Johnson says. She purchased 340 acres of land in Middleburg with intentions to build a luxury resort that would warmly welcome everyone, including, Johnson notes, people of color.
Between the economic recession and initial resistance from the town, opening Salamander Resort & Spa proved a test of Johnson's fortitude, but she is pleased with the result.
"Every inch of that resort has my thumbprint on it," Johnson says, adding that it feels more like a stately home than a hotel. The diverse workforce makes all guests feel comfortable.
Half the business at resort, located an hour from the nation's capital, is meetings. "Guests shed their coats and ties, and find they get a lot done here," Johnson says. Intimate farm-to-table dinners can be held in the outdoor garden or in the 150-year-old refurbished barn, and the grand lawn can accommodate up to 600 for a reception. Team-building options include golf, ziplining, spa and equestrian experiences.
Embracing her new role as hotelier, Johnson has amassed properties in Florida and New Orleans, and is working on projects in North and South Carolina. The coy Johnson does not rule out more acquisitions. "We have built the company to be a new star on the hospitality circuit," she says. "I want to make a mark and a dent."
Interests, Philanthropy & Leveling the Playing Field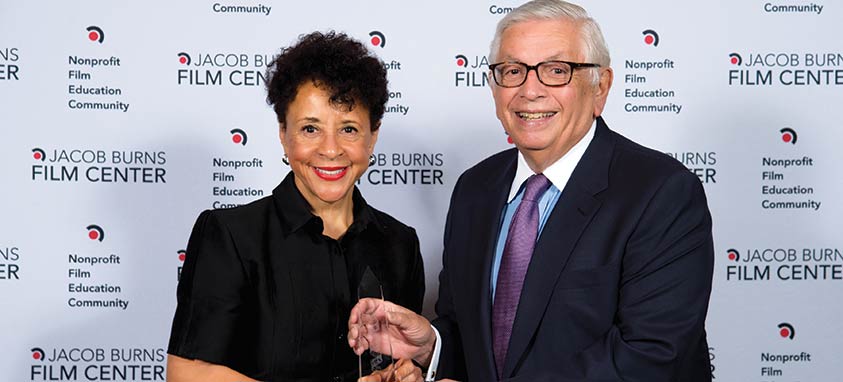 With former NBA Commissioner David Stern at Jacob Burns Film Center, Pleasantville, New York (Photo by Lynda Shenkman Curtis)
Johnson is part owner of the NBA's Washington Wizards, the NHL's Washington Capitals and the WNBA's Washington Mystics. She also serves on the executive committee of the United States Golf Association.
A film buff who sits on the Sundance Film Festival board, Johnson is executive producer of four critically acclaimed documentaries, and invested $2 million in Lee Daniel's movie The Butler, a 2013 box office hit. She founded the annual independent Middleburg Film Festival, and has business interests in a private charter jet service.
A generous philanthropist, she supports many charities and educational institutions, including Parsons The New School for Design in New York City, which named a building after her. She is particularly passionate about a five-year project underway at Kennedy's School of Government at Harvard University. Each year, 10 minority fellows are selected in hopes that they will, in Johnson's words, "level the playing field for black America."
"They can't get jobs through Daddy's law firm. I give them the networking capabilities to make their way in corporate America," she says. In addition to mentoring, Johnson gave this year's graduating fellows golf clubs and will teach them how to play because, she notes, many important decisions are made on the golf course.
"There are undeniable economic barriers for women and African Americans," Johnson says, emphasizing that although her father was a doctor, her background was decidedly middle class. "He could not practice in white hospitals and worked for the VA, which didn't pay well," she says. "Economic stress was there."
Although Johnson says she did not personally suffer direct racism, she has experienced discrimination as a female.
"I ended up with a lot of money, but banks would turn me down for loans because I am a woman," she says. Johnson also notes that few women sit on corporate boards. To empower businesswomen, she is hosting A New Dawn retreat at Salamander Sept. 29–Oct. 2. Women will golf, network and focus on their mental, physical and spiritual health.
The Beauty of Fearlessness
Looking back over her storied career, Johnson celebrates the strength and courage that has allowed her to embrace new opportunities.
"Many people become paralyzed and are not willing to jump through doors, but I have always been fearless," she says.
This holds true in business, as well as personal relationships. Although her divorce was initially a blow, she now realizes that it opened up new doors that enabled her to reposition her life. In an interesting twist that illustrates this point, she wound up marrying the judge who presided over the divorce proceedings.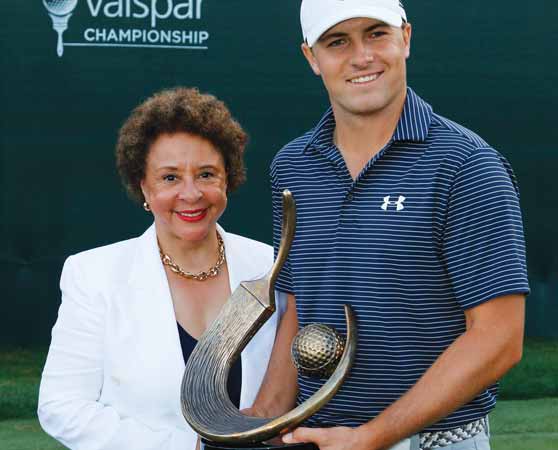 With golfer Jordan Spieth
---
Salamander Portfolio

Salamander Resort & Spa
Middleburg, Virginia
• Accommodations: 168 guest rooms and suites
• Meeting Space: 16,256 sq. ft. indoors; 115,970 sq. ft. outdoors
• Restaurants: Harrimans Grill features Virginia Piedmont cuisine; Gold Cup Wine Bar has casual fare
• Amenities: Award-winning 23,000-square-foot spa and wellness center; 14 treatment rooms; three pools
• Group Activities: EquiSpective; cooking studio; ziplining; art; mountain biking; fitness classes
Hammock Beach, a Salamander Golf & Spa Resort
Palm Coast, Florida
• Accommodations: 320 guest suites and villas
• Meeting Space: Recently refurbished 14,454 sq. ft. indoors; 31,140 sq. ft. outdoors
• Restaurants: Delfino's Italian cuisine; Atlantic Grille; Sushi Bar; Ocean Bar & Grill; Loggerheads, Cigar Bar
• Amenities: 10,000-square-foot spa and wellness center; 10 treatment rooms; Jack Nicklaus Signature Ocean Golf Course and Tom Watson Conservatory Course; outdoor pool with lazy river and waterslide; heated indoor pool; three pools nearby
• Group Activities: Eight hydro-grid clay tennis courts; nine-hole putting course; kayaking; 117-foot event yacht; surfing lessons; bird watching; biking
Reunion Resort, a Salamander Golf & Spa Resort
Kissimmee, Florida
• Accommodations: 360 luxury suites, condos, multiroom villas and private vacation homes
• Meeting Space: 24,446 sq. ft. indoors; 6,500 sq. ft. outdoors
• Restaurants: Eleven steakhouse; Forte features Italian cuisine; Clubhouse Grill dishes up casual fare; Sushi Bar; two pool bars and grills
• Amenities: Full-service spa; golf courses designed by Watson, Nicklaus and Palmer; 11 pools; water park with lazy river; organized activities for youth
• Group Activities: Six hydro-grid clay tennis courts; fitness classes; exercise trails; tickets and transport to Walt Disney World theme park; outdoor game room
Innisbrook Resort, a Salamander Golf & Spa Resort
Palm Harbor, Florida
• Accommodations: 609 guest rooms and suites
• Meeting Space: 65,000 sq. ft. indoors; 35,000 sq. ft. outdoors
• Restaurants: Packard's steakhouse; Market Salamander Grille; Turnberry Pub features British-style pub fare; poolside dining at Grill at Loch Ness
• Amenities: Full-service spa; salon and fitness center; pools; four golf courses designed by Larry Packard, including top-rated Copperhead course, family course
• Group Activities: 11 Har-Tru tennis courts; pro shop; three racquetball courts; fitness classes, yoga, Pilates, aqua aerobics
The Henderson, a Salamander Beach & Spa Resort
Destin, Florida
* Luxury oceanfront property opening late fall 2016 on Florida's Gulf Coast
• Accommodations: 170 guest rooms, including eight suites
• Meeting Space: 10,000 sq. ft. indoors; 20,000 sq. ft. outdoors
• Restaurants: Primrose includes a sushi bar; Horizons; Sea Level poolside bar and grill
• Amenities: Spa with 11 treatment rooms; two pools; deep-sea fishing; ocean kayaking; surfing lessons; bird watching; bike rentals; beach picnics
NOPSI New Orleans, a Salamander Hotel
* Opening late spring 2017 in the central business district, in a 1920s-era building
• Accommodations: 217 guest rooms, including 70 suites
• Meeting Space: 7,000 sq. ft. indoors; including ballroom with 30-foot ceilings and huge arched windows; 4,000 sq. ft. outdoors
• Restaurants: Public Service offers Gulf Coast seafood; Lobby Bar; Pool Bar and Grill
• Amenities: Rooftop pool with bar for hotel guests during the day transitions to a local nightspot in the evening; Grand Lobby features 21-foot vaulted ceilings