The City of Innovation has a history of resiliency and is already reinventing itself
Rumors of a mass exodus from San Francisco's ballrooms and expo floors are turning out to be premature, indeed. After a blow to international travel due to Covid, a wave of tech layoffs and some negative publicity, the city is leaning into its strengths as a diverse, business savvy and beautiful destination to re-emerge stronger. Now the city is benefitting from an AI boost. A reported  $10.7 billion in funding for generative AI startups was announced within the first three months of 2023 alone. We talked to the experts from The Golden Gate to Silicon Valley's Sand Hill Road in the South Bay to find out what is really going on. 
Joe D'Alessandro, president and CEO, SF Travel
San Francisco's city flag is adorned with the phoenix rising emblem—a perfect symbol of the city's indomitable spirit. We've survived booms and busts, earthquakes and pandemics, and have come back thriving every time. The city has always had a forward-thinking ethos and spirited resiliency.
We're thrilled to welcome meeting and event attendees back to the City by the Bay. If there's one trait that best defines San Francisco, it's diversity. San Francisco's iconic landmarks and scenic beauty always captivate, while new experiences showcase the city's always-evolving nature. Attendees can explore the city's many unique neighborhoods, discover its historic and thriving LGBTQ community, and visit world-renowned art and cultural institutions. San Francisco's welcoming people, its unbeatable food scene, and its endless activity regularly lead to record-breaking meeting attendance.
Getting here is easy, with the top-ranked San Francisco International Airport (SFO) just 13 miles from the city. And in the past year, a dozen new meeting and event spaces have opened throughout the city. They offer settings ranging from sophisticated dining destinations to beautifully re-designed gathering spaces in some of the city's most iconic buildings. With these new venues, San Francisco and the surrounding Bay Area offer more than 360 special event facilities in addition to the city's impressive Moscone Convention Center. Boasting one of the lowest carbon emissions per delegate compared to other major convention centers in North America, Moscone Center offers more than 502,000 sq. ft. of contiguous space and sits within walking distance to more than 19,000 hotel rooms.
There are so many things that make San Francisco a one-of-a-kind location for events, and one of our most unique offerings is our Welcome Ambassador Program, which launched in 2021. The program's ambassadors are friendly faces tasked with helping visitors with everything from directions and public transportation to translation requests. They also assist with meetings and events in our downtown area—helping direct business and events visitors. The program has tremendously enhanced visitors' and attendees' experience in San Francisco, and we look forward to continuing to offer this unique program to attendees in the year to come.
Since the first day our doors opened 34 years ago, we've been a tower of strength and reliability in times of crisis for all in need. The Loma Prieta Earthquake hit the evening of that opening day back in 1989, with a 6.9 reading on the Richter scale. As a surviving building, the San Francisco Marriott Marquis served as a central resource downtown in the weeks and months to come. Many of the displaced citizens were housed here, as were care workers and construction teams sent in to help rebuild the city.
It's been that way ever since. During Covid, we kept our doors open and housed first responders. While properties in the neighborhood have turned over and sold and rebranded or simply closed for good, the Marriott Marquis has been the steadying force that travelers and San Franciscans alike have come to rely on for respite in the city.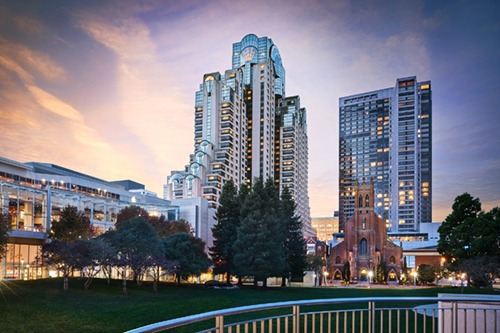 And we've met our most recent challenges by reaching down into this resilience-DNA. Coming out of the pandemic, we've taken a leadership role in the city's new Ambassador Program that joins city government officials with private sector staffs to personally connect on the streets with visitors. General Manager John Anderson identified that the central position of the Marriott Marquis and the proximity to the Moscone Center provides us a unique opportunity to change the narrative perpetrated by national media that has tried to tell our story from afar.
John has personally donned the Welcome Vest and gone out with the other ambassadors to greet and guide business travelers looking for events and directions, or simply sights to see. We've had record attendance for our comeback conferences: RSAC, APA and Semi-con—corporate, tech, and association citywide conferences, all who were able to see through the white noise of the press, and all who, once here, marveled at how much the city has turned things around. They have been reminded just how beautiful the city is and how much San Francisco has to offer its visitors. We've been able to diversify our reach by attracting back huge leisure groups like fans attending the Dead and Co. concert at Oracle Park. And is there really any more fitting setting for The Dead than the band's hometown?
Our kitchen staff, led by Executive Chef David Hollands, is a leading force in repurposing food for the needy and recycling our excess. We are huge participants in the Chefs To End Hunger initiative, which connects both excess prepared and unprepared food with shelters around the city, many of which are in our surrounding neighborhoods.
Read More: Wolfgang Puck Catering Turns 25
Back in '89, though our building came through the quake intact, all the glassware above the bar on the 39th floor was thrown from the shelves and destroyed. A lone martini glass survived. You can find that single glass on display today in the View Lounge where it—and the signature drink that it holds—the martini—serves as an inspirational icon for the San Francisco Marriott Marquis team each day: Shaken, but not Stirred. It represents our unbreakable spirit and commitment to our community and guests.
People love San Francisco. It is without question one of the most beautiful cities in the country.  The city boasts a myriad of distinct and vibrant neighborhoods, diverse communities, prolific arts and culture, a world-class culinary scene, hundreds of parks, state-of-the-art innovative companies, and movements that have changed the world.
The Fairmont San Francisco dates to 1903, when two sisters—Theresa Fair Oelrichs and Virginia Fair Vanderbilt—decided to build a spectacular boutique hotel in the heart of San Francisco's Nob Hill. Dedicated in honor of their father, Senator James Graham Fair, the two hoped that the business would become a renowned local icon. Yet, mere weeks after the building debuted, the San Francisco Earthquake of 1906 struck the region.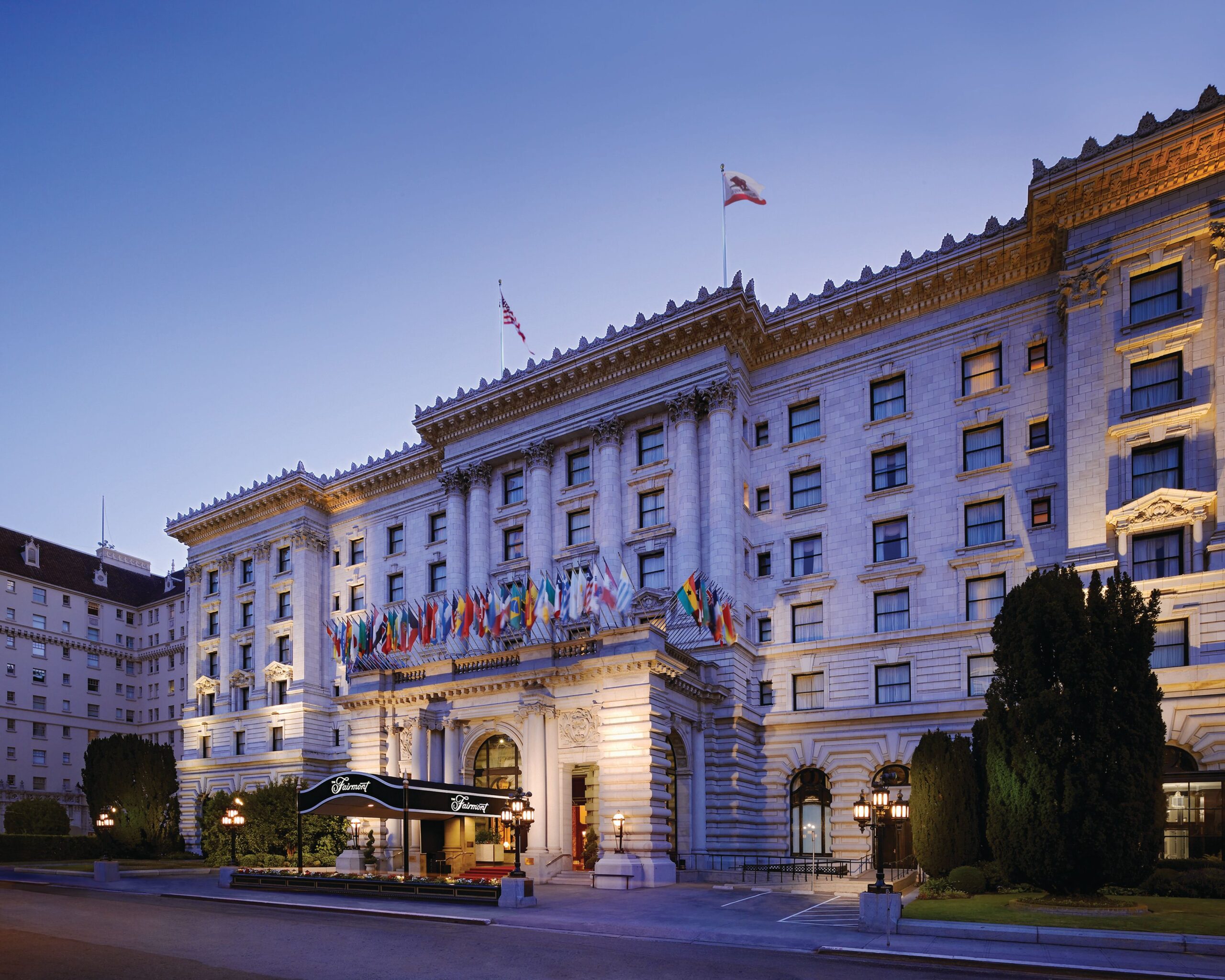 Like many other buildings in Nob Hill, The Fairmont Hotel was utterly destroyed. Undeterred, the sisters hired architect Julia Morgan—who would later come the nation's preeminent female architect—to rebuild the entire structure. Exactly one year after the quake, like a phoenix rising from the ashes, the Fairmont Hotel re-opened and soon became the social hub of the city.
Read More: Wellness and Sustainability Top Agenda for Accor
Tourism is vital to San Francisco's economic recovery and vibrancy. Along with local and statewide destination partners, our teams are aggressively working to bring visitors and meetings to San Francisco and support the city's economic recovery. Regional recovery will depend on the continued growth of the
convention market and the rebound of visitors from Asia.
Our onsite, national and global (Fairmont) sales teams continue to provide industry-leading levels of service. At Fairmont San Francisco, every solution is built in-house, exclusively for our groups and meeting planners. Guests appreciate world-class facilities, dedicated client support and ongoing innovation.
Innovative public/private partnerships are taking place throughout San Francisco and are making a positive impact. Programming like Yes San Francisco (Yes, SF), launched by Deloitte, Salesforce and World Economic Forum, an Urban Sustainability Challenge.  The first location-based UpLink Challenge created in direct response to the United Nations' Sustainable Development Goal 11 of making cities more inclusive, safe, resilient and sustainable. The Challenge is a unique call to action for entrepreneurs to submit sustainable solutions that contribute to the city's needs and to have the opportunity to receive funding and support. YES SF Top innovators will be announced in September at Salesforce's Dreamforce 2023.
InterContinental Mark Hopkins, a historic landmark hotel in San Francisco, has a remarkable story of resilience. Overcoming earthquakes, economic fluctuations and cultural shifts, it has remained a steadfast provider of exceptional service and guest satisfaction.
In times of adversity, the hotel has consistently adapted and innovated to meet the evolving needs and expectations of its valued guests. Its dedicated team strives to deliver unforgettable experiences, ensuring that each guest feels welcomed, cared for and inspired. Whether it's recommending the best local attractions, arranging special surprises for a celebration, or simply offering a warm smile and attentive service, we strive to exceed the expectations of our guests and leave them feeling inspired by their time with us.
As a cultural landmark within the city, the hotel takes immense pride in celebrating San Francisco's rich heritage and its spirit of progress and innovation. It seamlessly blends timeless elegance with contemporary amenities, offering guests an unparalleled experience that reflects the city's unique character. Imagine stepping into our grand lobby, adorned with exquisite artwork and historic photographs that pay homage to the city's vibrant history. As you walk through the hallways, you'll notice tasteful nods to San Francisco's iconic landmarks and cultural icons, creating a sense of connection and immersion in the city's heritage.
Understanding the significance of virtual and hybrid meetings in today's evolving landscape, the hotel offers advanced technology solutions that facilitate seamless connectivity and engagement for both in-person and remote participants. State-of-the-art audiovisual equipment, a robust internet infrastructure, and dedicated technical support ensure a smooth and immersive experience for all attendees.
With an experienced event planning team, we provide personalized assistance and support throughout the planning process. The team works closely with meeting professionals to understand their specific requirements, offering tailored services ranging from audiovisual equipment setups to customized catering options.
As San Francisco continues to recover and rebuild, the InterContinental Mark Hopkins eagerly welcomes meeting professionals and their groups back to the city, and we are particularly excited to show off our newly renovated Peacock Court Grand Ballroom.
Sebastien Pfeiffer, managing director, Beacon Grand
San Francisco's story of resilience is a testament to the indomitable spirit of its people. From rebuilding after natural disasters to reinventing in the face of tech and economic fluctuations, San Franciscans have consistently embraced change, harnessed their collective creativity, and forged a path towards a brighter future. Although San Francisco is still recovering after the COVID-19 pandemic, the city's resilience lies in its ability to learn from setbacks, adapt to new circumstances and inspire others with its unwavering determination, ensuring that San Francisco remains a beacon of innovation for generations to come.
Read More: Plan with Your Pups
As Beacon Grand, we are excited to extend a warm welcome to meeting professionals, inviting them to experience the revitalized energy and unwavering spirit of our city. To ensure a seamless and unforgettable visit with deep city connectivity, Beacon Grand provides the expertise of our dedicated Social Hosts who can curate customized itineraries complete with insider recommendations and exclusive offers that only locals could know. From securing dining reservations to arranging off-the-beaten-path excursions, our Social Hosts go above and beyond to create tailored experiences that reflect the city's vibrant culture, one which we acknowledge continues to evolve.
Food & beverage shines, and our bar team, in particular, offers several engaging opportunities reflective of San Francisco's flavors, from tastings of our selection of whiskey barrel casks aged on-site to savoring handcrafted cocktails and learning the art of mixology. Through these tailored events, we ensure that each gathering is infused with memorable moments and unparalleled hospitality.
We continue to closely partner with city organizations and local businesses to further support economic development while also fostering city connectivity and inspiring exploration for both our leisure and corporate guests. This spring, we partnered with the Union Square Alliance for their annual 'Union Square in Bloom' campaign, a cherished tradition celebrating the rich history of our neighborhood. By participating in this community event, we aimed to inspire our guests to get out and explore the city. Our hotel showcased its support through floral decor, special cocktails, and menu items that encapsulated the excitement and vibrancy of the area. By embracing this initiative, we fostered a sense of community and encouraged visitors to appreciate the beauty of Union Square.
Read More: California, Meet What is Possible
Recognizing the significance of flexibility and value, we're also offering group promotions and online sales offers to attract meeting professionals and their groups to choose our city as their preferred destination. By showcasing our one-of-a-kind hotel amenities and central location, our promotions entice guests to book their meetings in San Francisco, allowing them to experience firsthand the city's resilience, innovation and creativity.
Matthew Martinucci, vice president of sales and destination services, Visit San Jose
What does a tech destination do when the tech disappears? It goes back to its roots. San Jose has always been at the forefront of innovation. From the first cannery born out of agricultural roots to a welcoming environment for pioneers of the tech industry, we've drawn upon our entrepreneurial spirit to rebuild.
San Jose's DNA is strong. Covid and its aftermath made us look inwards at ourselves. We have what it takes to be attractive to a wide variety of audiences. As the tech industry adjusts to economic climates, we are shifting focus to sustainable recession-proof businesses such as association meetings, youth and national sports (building on our history of successfully hosting events such as the U.S. Figure Skating Championships). Corporate businesses like pharmaceuticals and biosciences are also growing.
Read More: Visit San Jose Makes Adventurous Food a Star
No meeting is too big or small. We treat our convention calendar like a mosaic—there is always a right time and place for each client.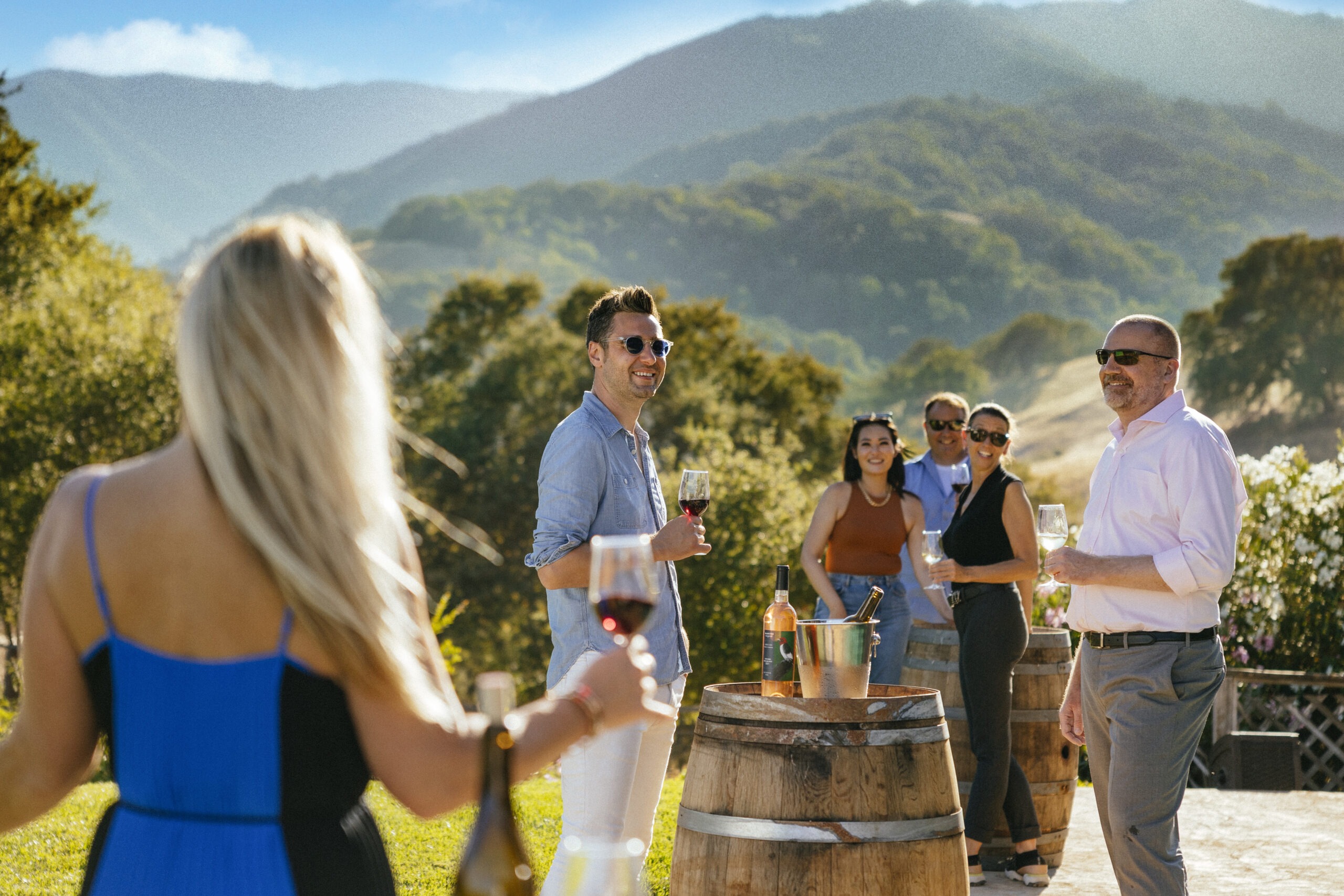 We're appealing to many types of industries because San Jose offers much as a DMO. We have our own San Jose Mineta International Airport (SJC), two more airports within driving distance in the Bay Area, year-round sunshine, and the templated "Own the City" program where clients can turn San Jose into an extension of their meeting space with branded streets, buildings and even transportation.
San Jose makes the meeting planning experience easy with our vertical integration. Team San Jose, Visit San Jose's parent organization, is the DMO, but also manages the convention center, four theater venues and its own F+B catering arm. We cut through the red tape planners are used to—offering a customized experience while saving time and money.
Outside the event planning experience, clients love the in-destination experiences available to attendees. As one of the most diverse cities in the U.S., we offer diverse culinary options, eighteen unique neighborhoods, access to mountain-top wineries and one-of-a-kind attractions.
As we rebuild as a destination, we aren't just getting back to where we were. We're leaning into innovation and making San Jose a welcoming destination for all.