Gordon Ramsay's sixth restaurant with Caesars Entertainment pays homage to the chef's beginning
From afar, Las Vegas continues to hold the allure of forbidden vices advertised with elaborate displays and flashing lights and the chance to win big, but perhaps the largest draw to Sin City is its ever-expanding culinary scene. From Martha Stewart's first restaurant, The Bedford at Paris Las Vegas, to Nobu Caesars Palace Las Vegas by renowned Chef Nobu Matsuhisa, guests can dine at any one of the many fine-dining establishments peppered throughout the city.
And the presence of Michelin-starred chef and TV personality Gordon Ramsay is no exception to this booming food and beverage scene. In November, Ramsay opened his sixth restaurant on a Caesars Entertainment property, Ramsay's Kitchen at Harrah's Las Vegas, which began taking shape during the height of the pandemic in the early spring of 2020.
"Caesars has been an amazing partner to work with and we've been able to develop some incredible concepts with them. It's truly a partnership and I'm so excited to continue to grow with them in the years to come," says Chef Gordon Ramsay.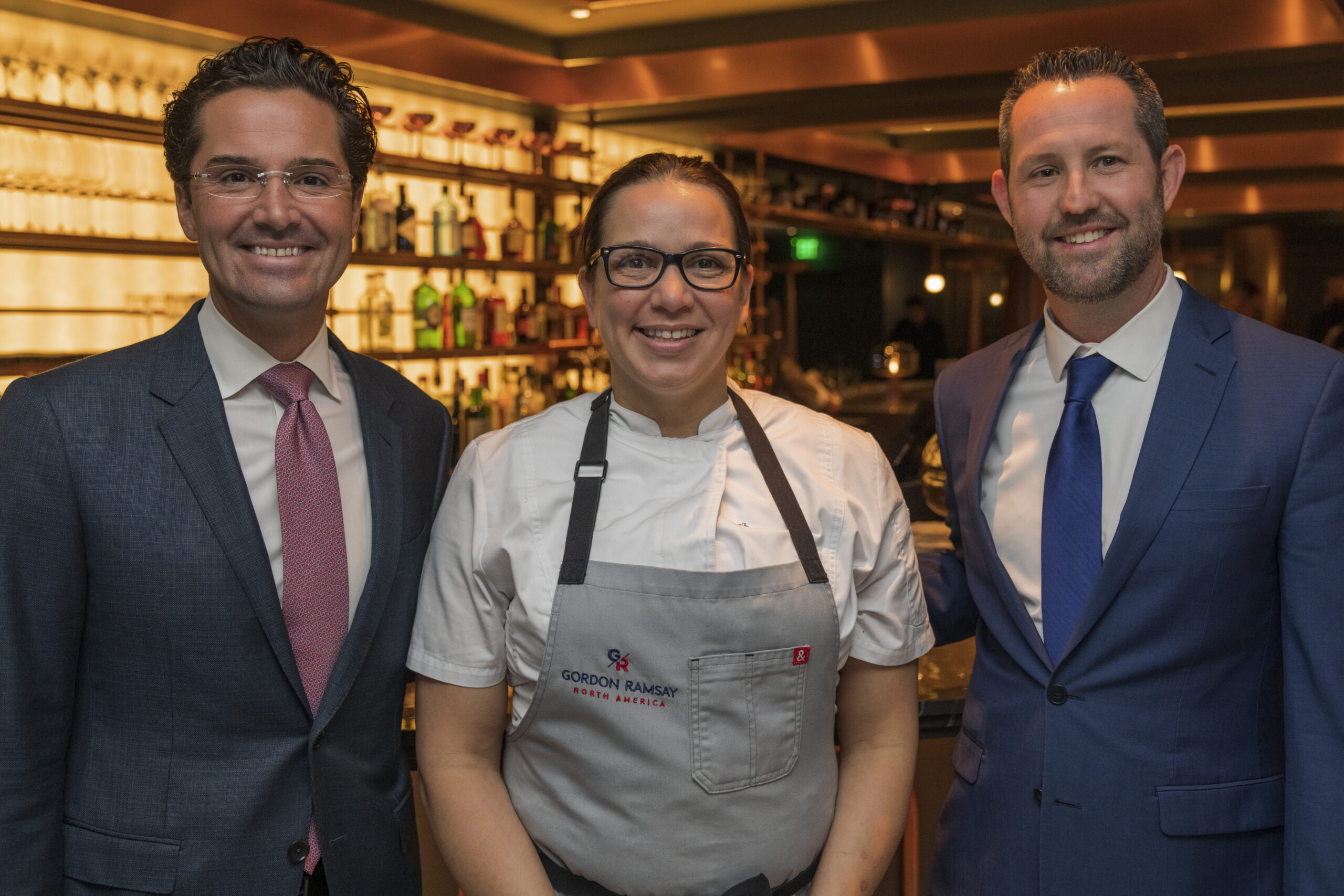 But the world coming to a standstill wasn't enough to stifle the chef's creative process and newest concept. "Gordon was in lockdown in Cornwall with his family and The Strip was shut down at the time," says Vice President of Culinary Gordon Ramsay Christina Wilson. "The thing about Gordon," she says, "If you give him any kind of downtime—and I use that term loosely," she laughed, "but he's just an idea man and wanted to start looking at a menu that gave an ode to how far his journey had come."
Read More: Las Vegas: Bigger, Shinier Strip
Being forced to shift from constantly being on the move to slowing down a bit caused Ramsay to be stricken with a sense of nostalgia and he and Wilson began taking a stroll down memory lane, reviewing menus from the early days of his career including his time at The Savoy. "​It's loosely based on my all-day dining concept Bread Street Kitchen in the U.K. I've wanted to bring the all-day dining concept to the U.S. for some time now, but with the added bonus of my experiences and travel around the world," says Ramsay.
A True Culinary Journey
Probably one of the most recognizable dishes on Instagram, Ramsay's beef wellington with potato puree, glazed baby root vegetables and red wine demi-glace not only graces the screens of envious scrollers but is front-and-center on the menu at Ramsay's Kitchen as a signature main beside pan-seared scallops served with house-cured pork belly, apricot puree, pomegranate, orange and chicken jus—and of course—butternut squash risotto. "It all became part of this development of not what he would cook for you, but what he would eat with you," Wilson says, and the diners win big with Ramsay's latest development.
"We really wanted to look at some of the stories that he tells," Wilson says. "Quite often, during his first couple of restaurants, he really couldn't afford the more prime cuts of meat, so he had to take things like lesser cuts and elevate them and make people want to spend a little extra to make the money to then be able to break into the fine-dining world."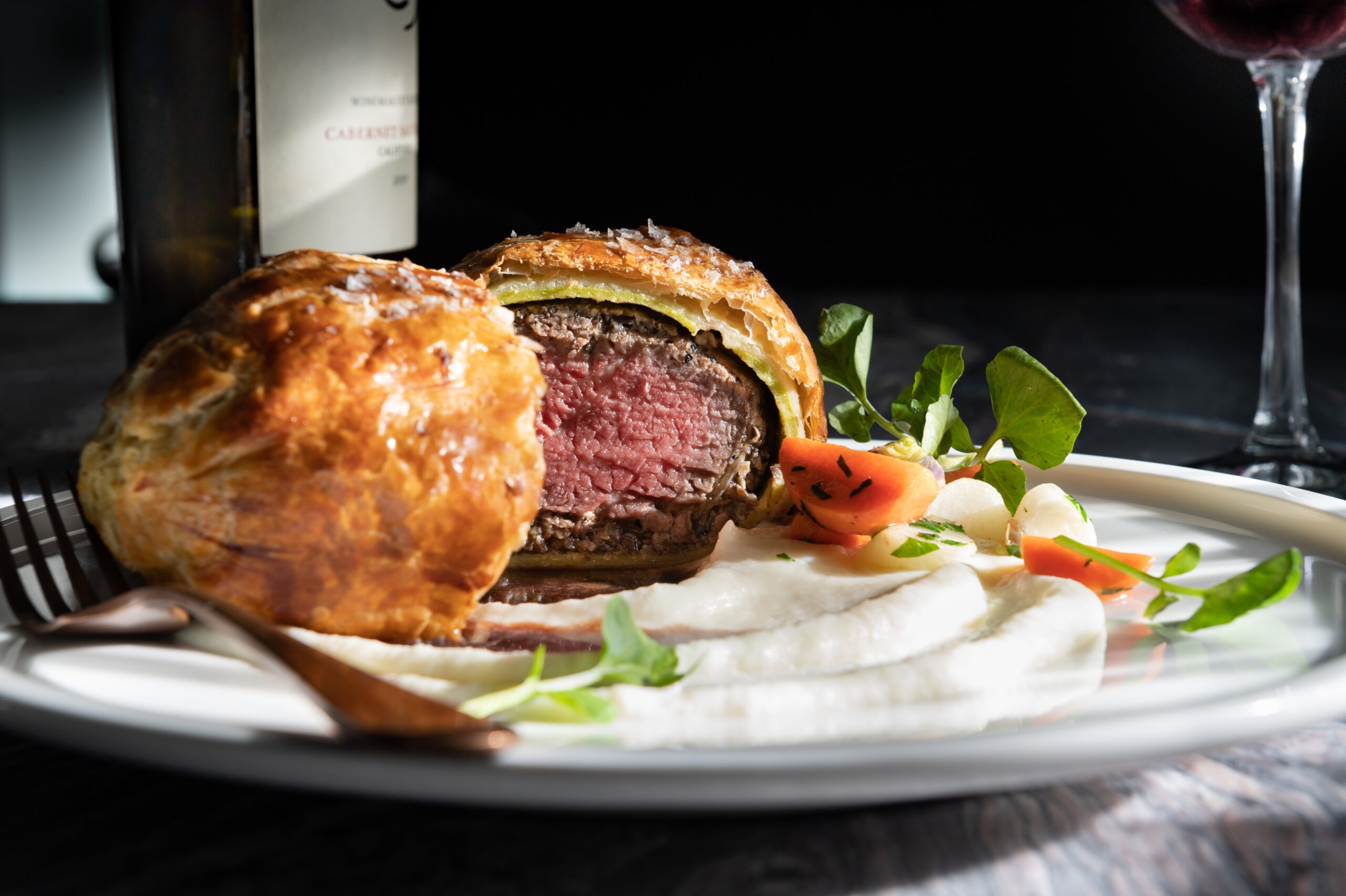 While the dishes listed on the menu of Ramsay's Kitchen are nothing short of indulgent, Wilson noted that the onion soup with oxtail brandade, gruyere gratinee and baguette harken back to his beginnings when the young Ramsay used oxtail because a short rib was out of his price range. "I'm excited by the design as well as bringing some more classic British dishes to Vegas," Ramsay says.
Ramsay's Kitchen also serves cocktails and deserts designed by Ramsay with a touch of the chef's personality and experiences, such as The Spiced Pear, made with Absolut pear vodka, pear liqueur, cinnamon-cardamom vanilla syrup and lemon, and Boston's Inferno, mixed with Maker's Mark whisky, Smoke Wagon small batch whiskey, dark maple syrup and angostura bitters.
Diners will be pleased to see Ramsay's Sticky Toffee Pudding served with ice cream and drizzled with caramel sauce tableside, and the Eton Mess, which features baked meringue, cranberry jam, Chantilly cream, winter citrus and pistachio dust. The back story of the Eton Mess desert stems from folklore centered around a 19th century cricket match between Eton and Harrow.
Legend has it that the strawberry, meringue and cream pudding was accidentally dumped on the floor. Instead of letting the delicious treat go to waste, it was scooped up from the floor and served in individual bowls.
A Virtual Collaboration Shapes a New Culinary Venture
As Ramsay was quarantining with his family in the U.K. and the Vegas Strip was shutdown, Wilson spent time at Ramsay's house in Los Angeles, which was empty. "As you can imagine, he has an absolute dream kitchen," she says. Wilson would travel to L.A. to use Ramsay's kitchen, face timing with the chef back at his home in England while exchanging video clips and sharing YouTube videos to shape a new menu. "He would send us his inspiration videos from old recipes, even some that were handwritten."
Read More: Elevating Holiday Cheer Through Culinary Creativity  
But what many fail to realize about Chef Ramsay, Wilson says, is his continued involvement in his establishments beyond creating menus. "I think people don't actually understand how involved he still is and it's probably hard to comprehend having nearly 16 restaurants globally," Wilson says. "When we're in the middle of an opening, from pre-construction all the way to the first plate coming out, Gordon will call three to four times a day depending on where he's at in the world."
Understated Elegance Set to Elevate
Nothing is approved until Chef Ramsay signs off on it, Wilson says, including the interior design of his establishments. Not only is the menu of Ramsay's Kitchen inspired by his early days, the interior design and layout is as well. And while Wilson drew inspiration from old menus, AO, a California-based architecture and design firm, also drew inspiration from Ramsay's early days, creating lighting fixtures that resemble the hanging copper pots in his kitchen of yesteryear.
"People from the AO design company sat down and listened to the story, listened to the journey. He gave a couple of things that were important to him and it was threaded into the design," Wilson says.
Additionally, Ramsay's Kitchen can accommodate up 244 guests, making it an ideal location for meeting planners to wow attendees with an amazing fine dining experience.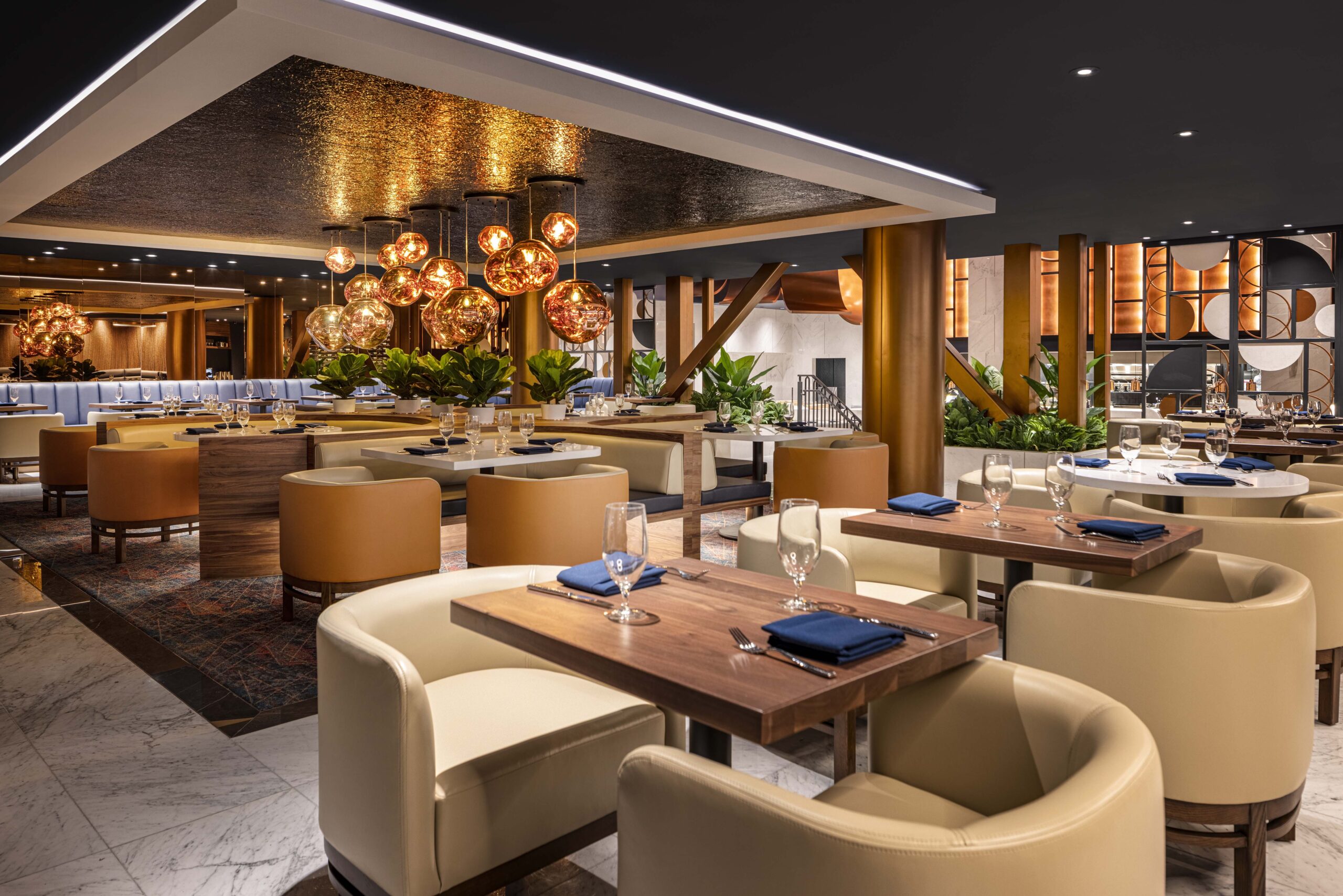 AO drew inspiration from the restaurant's location in Boston at the Mandarin Oriental, which opened in January 2022. The dimly lit interior features include details representative of New England architecture with wood paneling, textured brick and blue marble.
Guests can savor the distinct culinary creations served at Ramsay's Kitchen beneath the curvilinear walls at the spacious bar and dining area or glide past the floor-to-ceiling wine display beneath the floating lighting elements to a lower dining area set before the theater kitchen next to the seven-seat raw bar teeming with fresh seafood. "Ramsay's Kitchen is really different from the rest. It's inspired by my travels around the world and it isn't limited to one idea like Gordon Ramsay Steak or Gordon Ramsay Burger," Ramsay says.
Where Beginnings Collide
In 2012, Wilson triumphed over all other contestants on the televised cooking competition, Hell's Kitchen, in what Wilson refers to as a "very unique interview process." Wilson quickly joined the Ramsay brand shortly thereafter, going to work at Gordon Ramsay Steak when the celebrity chef first broke into the Vegas restaurant scene. "I was very fortunate with that timing that I got to work directly with and for Gordon," she says. In addition to Gordon Ramsay Steak being his establishment in Las Vegas, it was also his first partnership with Caesars Entertainment.
During her start, Ramsay's career as a TV personality was beginning to take shape with only one show, filmed mainly in Los Angeles; Wilson was afforded ample face time with the chef. "I got a lot of one-on-one time with Gordon during those early years, and I paid attention, kept my head down and grinded it out." Ramsay's work ethic has helped push Wilson beyond her comfort zone, providing her with goals that have helped her to continue improving over the last decade. "Gordon has the unique ability to see potential and really drive it out of people."
"[Gordon Ramsay] Steak was so successful, they just absolutely struck lightning," Wilson says, adding that after Ramsay's first restaurant opened in the spring of 2012, both Gordon Ramsay Pub at Caesars Palace and Gordon Ramsay Burger at Planet Hollywood opened by the following December. "I was on the front end of that bubble, so the timing lined up."
Wilson then worked for two years at Gordon Ramsay Steak and one year at Gordon Ramsay Burger before taking over the brand's North American portfolio, which at the time held four restaurants. The North American arm of the Gordon Ramsay brand now has 17 locations, all of which Wilson oversees.
Ramsay's philosophy of hard work and elevating others to new heights is something he always carries with him. "Keep your head high and never give up on opportunities. Just this week I met a young chef at Gordon Ramsay Steak in Atlantic City who I jokingly asked when he was going to school since he looked so young. Turns out the young chef was going back to culinary school at 7 a.m. the next day! Truly an example of hard work," he says.