It is only fitting that Global Meetings Industry Day and New Orleans Entrepreneur Week coincide, said New Orleans & Company President and CEO Walt Leger III at a GMID panel discussion. Both are focused on advancing new ideas around business, science and society. 
The destination brought together 340 members of the local hospitality community at Hyatt Regency New Orleans to talk about why meetings matter and how to better tell our story to decision makers at all levels. 
Stephanie Turner, senior vice president of convention sales and strategies with New Orleans & Company, kicked off the conversation. "Meetings are of profound importance. Meeting face-to-face builds friendships and solves problems," she said. Turner explained that the city was built to host and every meeting touches so many lives, from bakers and florists to chefs and hoteliers. 
Transformation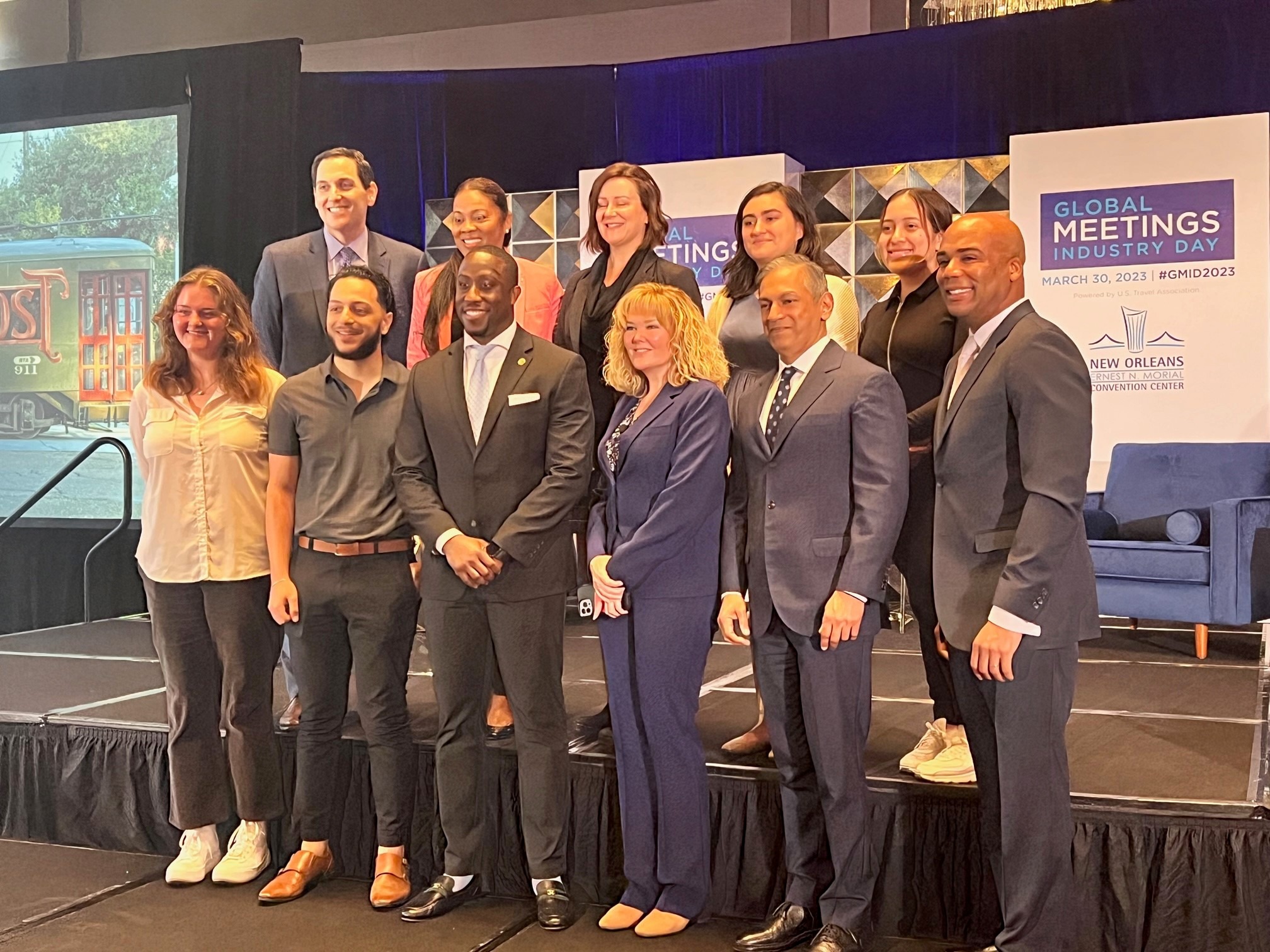 "Coming to New Orleans feels like coming home," said Lauren Parr, senior vice president of meetings and learning with American Geophysical Union (AGU)—and a 2020 Smart Women in Meetings Innovation Award winner—which supports earth and space scientists across the country and recently started bringing their 24,000-person meeting to the city. She sees it as a fit because of the robust local scientific community and the sense of urgency about addressing climate change in a nonpartisan way. "You have a front row view on the changing climate," she said.
Read More: New Orleans: Cultural Collaboration in The Big Easy
Sustainability and walkability is an important deciding factor when Parr is sourcing, but she is not necessarily looking for the most sustainable city, she said. "I want to know how they are approaching recycling and energy and where they are going and how we can partner with them," she added. In 2022, New Orleans Ernest N. Morial Convention Center achieved Gold LEED certification and has hired an employee dedicated to sustainable practices. Because the city is compact, some 40 hotels are within a mile of the convention center, so no bus transportation is needed and everyone can have their own experience with varying price points, loyalty programs and styles available.  
Parr said she will continue to offer virtual options for her events because she wants to include everyone and some people see reducing travel as an important part of reducing their carbon footprint and she respects that. But she also wants to educate around the full impact of meetings. "Meetings change lives. It's not just the business, it's the knowledge and connections that spread around the world. We need to address how meetings can be more sustainable and be transparent about the power of gathering to further ideas and careers to clear up misunderstandings," she said.
While in town, most groups have the goal of leaving a community better. At AGU, Parr connects the scientific community with local schools to inspire them to go into scientific careers.
The Future of the Industry
Banding together in tough times was the reason a group of black students attending Indiana University started their own affiliation in 1911. Ryan E. Tucker, MPA, deputy executive director with Kappa Alpha Psi Fraternity, is planning a 2024 meeting of the now 150,000-strong fraternal organization in New Orleans because he said there is nothing like southern hospitality and cooking to bring people together. "We train the next generation of leaders so they are prepared for the next stage of life," he said. "We give our members the tools to be successful so they can be contributors to society and live their best lives. That includes mental health and representation."
Smart Meetings Editorial Director JT Long is in New Orleans covering #GMID2023 festivities there and sent back this report from Sherrif Karamat. @neworleansandco https://t.co/oiiIdPwmNM

— SmartMeetings (@SmartMeetings) March 30, 2023
PCMA CEO and President Sherrif Karamat, who has partnered with AGU to develop sustainable meeting curriculum, shared that while every city has beautiful buildings, it is the people inside—particularly in New Orleans—who make attendees feel welcome. He is focused on telling young people that careers in hospitality are fulfilling.
"We have to do a better job at the high school level of letting people know event design jobs exist," he said. "We need to sex up our industry. There is no better industry to make an impact because touch every issue in the world." PCMA is building a portfolio of internships available to more people exposure to all the possibilities, including roles in destination marketing organizations. "DMOs serve an important role of connector. A lot of people don't know that."