Visions for how your hospitality journey could change, post-COVID-19
As we all return to airports, ballrooms and stages, they will not look exactly the same. The landscape may be altered, with new acrylic barriers in place, spaced out—and fewer—tables and seats, and ubiquitous hand sanitizer and signs reminding you to stay physically distant (we don't like the term socially distant here). Operationally, your favorite venues may be much different as well. Touchless check-in, more frequent cleaning and fewer handshakes could be just the beginning of a litany of innovations and protocols.
What does this mean for your programs, large and small? Smart Meetings asked industry leaders from the front lines of hotels, event venues and creators, transportation, travel, networking, wellness and sustainability to share their commitments and challenges for keeping everyone safe and connected.
Here, in their own words, is what they said.
Hotels
Arne M. Sorenson, CEO, Marriott International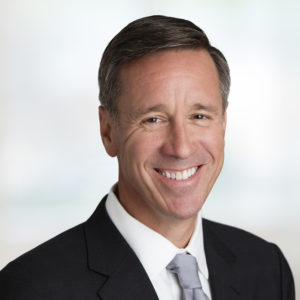 We are living in a new era. Throughout the next year, or until there's a vaccine, there will be clear operational changes as we work to protect our associates and guests. There will be changes in protocol for every aspect of the hotel, ranging from guest check-in, public spaces, food and beverage outlets to all parts of meetings and events, as hypercleanliness, hygiene and social distancing become our new normal.
More: Marriott Unveils New Global Cleanliness Council to Fight COVID-19
This is part of what we're doing at Marriott.
Cleanliness: We've initiated plans to roll out enhanced technologies, such as electrostatic sprayers, and hospital-grade disinfectants to sanitize surfaces throughout our hotels with increased frequency. We are also evaluating adding partitions at front desks to provide an extra level of precaution for our guests and associates, and we're working with supply-chain partners to make masks and gloves available to associates.
We are installing more hand-sanitizing stations throughout our hotels. And, in more than 3,200 of our hotels, guests can choose to use their phones to check in, access their rooms, make special requests and order room service that will be specially packaged and delivered right to the door without contact. We want to make it clear that our hotels are a safe place to be.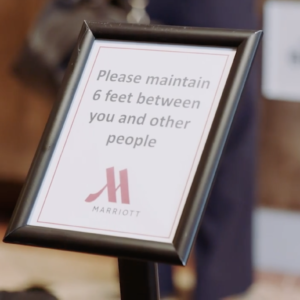 Contracting: At this time, we are evaluating all aspects of the meetings and events space–including the contracting phase. We realize it will take the entire industry to work together to create the confidence and trust to bring back meetings. We will keep our customers updated as we revise and refine our policies based on the ever-changing business environment.
Food and Beverage: Group events will probably be smaller at first, as we try to accommodate social distancing. In our space design, for example, we may seat four people to a table instead of ten as we use more square footage in our rooms. We may set tables closer to event times and wrap utensils in napkins for additional protection. There may be fewer buffets and more grab-and-go options. And coffee breaks may be staggered. Every event will differ, but safety and hygiene always will be top of mind.
Service: The service our guests have come to expect—a warm welcome and fond farewell—is in our DNA. We will continue to provide friendly service and clean facilities. But there will be changes, depending on location. At guest check-in, we may reduce the number of transactions by providing digital check-in options.
There may be minimal housekeeping service during stays but, instead, an intensified housekeeping service between stays, so guests are confident that their rooms are extremely clean when they check in after another guest.
Room Setups: We are working closely with our customers to better understand their future needs, and actively participating in industry work groups such as the Event Industry Council to explore this topic. In the near future, we will be communicating our recommendations to our customers.
In the interim, the multi-thousand, theater seating-style room may go away for a while. It is our objective to work with our customers and the industry to set new standards that respect social distancing and adhere to the unique government regulations that exist around the world.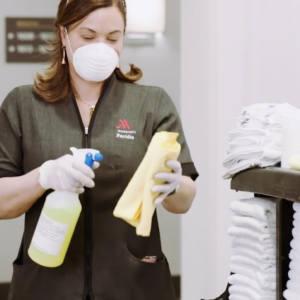 It is likely customers will be looking for ways to break up larger groups into smaller sessions, so this is something we will be discussing and finding ways to accommodate. While it is too early to tell how this will impact future hotel design, the customer voice has always been a key factor in how we stay relevant and competitive.
Security: The practice of scanning for fevers will vary around the world, based on government regulations. If guests express concerns that they may have contracted COVID-19, our hotel management will advise them to reach out immediately for professional medical assistance. These guests will be quarantined to their rooms, and our hotels will provide limited service to make their stay comfortable without entering their rooms, such as fresh towels and food left at the door.
Costs: We have entered a new era, and we are still working through every detail of how hotel management will change, including costs. There will definitely be increased costs related to the new requirements for hyper-sanitization and cleanliness. There will be implications in some countries related to the smaller occupancy levels we will be allowed to operate with. All of this needs to be factored into our plans, plus the impact of supply and demand. But we have no definitive price changes to announce at this time.
Harris Rosen, president and chief operating officer, Rosen Hotels & Resorts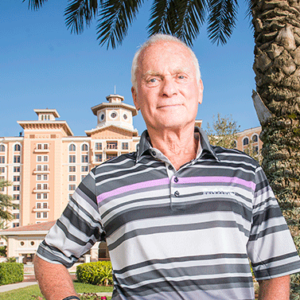 With a serious recession on the rise and unemployment at its highest rate since the Great Depression, we must get this economy moving again—and fast. We believe that this can be done safely. State and local governments have enacted various safety precautions and ramped up increased testing, and it is time for private industry to do its part in helping bridge the gap to a safe and fully open economy. The question then is, how is it possible to do both simultaneously?
Here is an idea. We should announce that all businesses may open to higher occupancy with two provisions: 1) that all employees should be screened on a daily basis; and 2) that all guests/customers should be screened before they enter the business. If a business wishes to require masks and/or distancing, or other restrictions or precautions, it may do so. All businesses should open quickly and judiciously. Caution and discretion should be employed at all times.
We need to move the focus from how many people should be permitted to enter a space to whether those people actually have COVID-19. New technology makes this easier. We have successfully flattened the COVID-19 curve; now it is time to flatten the curve of unemployment.
Transportation
Robert Alexander, president and CEO, RMA Worldwide Chauffered Transportation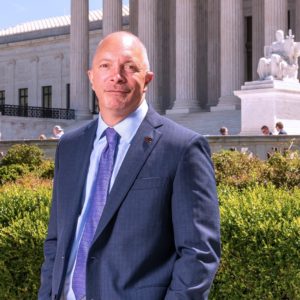 It's not complicated, but it is complicated. People have to move from bubble to bubble, from home where they feel safe to plane to hotel, and they need cars in between. For groups, that could mean sedans or motor coaches. We can do the simple things and have guidelines for cleaning between rides. Where it gets fuzzy is how we seat people. The front seat is a no-go. We can load larger vehicles from the back, with people in every other seat and everyone with face masks.
One thing that might change is people taking rides instead of planes, especially if airports start requiring longer times to screen people. If you have to arrive two hours early or more, the math changes. My unscientific guess based on phone volume is that people have short memories. Just as after 9/11, we were hesitant at first, looking around for the air marshal, then returned to record volumes. When you don't get sick after attending your first meeting, then you start to let your guard down after the second one, and when it is no longer in the news every day, it won't be such a big deal.
Venues
Mark Herrera, director of education and life safety, International Association of Venue Managers (IAVM)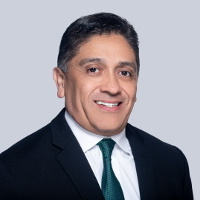 The reality of the event industry is one of unrelentingly disruptive change. This change is happening at an unprecedented pace. Venues of all types must successfully adapt and operate under a set of rules and expectations that are constantly in flux based on the current health crisis. The challenge of this disruption has posed an economical and physical risk, but now we will see how resilient the industry is and embrace the growth opportunities.
It is our civic duty to assure we provide safe, secure and healthy environments within all public facilities where crowds assemble. IAVM has partnered with Global Biorisk Advisory Council, where venues can apply to a performance-based accreditation program that helps facilities demonstrate they have the work practices, procedures and protocols to prepare, respond and recover from outbreaks and pandemics as it pertains to deep cleaning and sanitization.
Topline safety considerations for all venues are to allow healthy people to enjoy the facility and event. Enhanced protective measures, such as face coverings and hand-washing stations, will be more common. Managing the crowd density to assure that physical distancing guidelines are adhered to during ingress and egress will be heavily monitored, with physical barriers strategically placed in areas where crowds can be controlled.
Prior to attending all events, messaging and communication with employees and guests—to include signage on how to prevent the spread of germs—will be a common practice. Facility design and touchless points of sale will be more common than before to avoid the transmission of any communicable disease.
Although there is no guarantee to a "zero risk" environment, we will continue to implement and measure a means to mitigate all risk associated with this health crisis, and we will do it together.
Destinations
Julie Coker Graham, president and CEO, San Diego Tourism Authority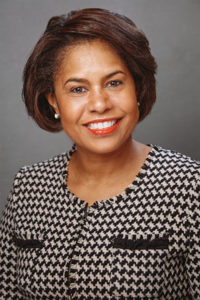 There is pent up demand for attendees and meeting planners to return to hosting face-to-face meetings; however, everyone wants to do so when it is safe. Having said that, I think the return to meetings will be both slow and fast. Some meetings will take more time returning while other meeting sectors will jump right in using all safety protocols, masks, temperature checks, etc. The great thing is that all destinations, including San Diego, are ready for either.
The name of the game is creating meetings and events that provide human connection and meaningful networking opportunities while still providing the space to ensure your attendees' health and safety.
It means cutting back the capacity of your meeting spaces, limiting the number of tables or spacing out seating. You also must develop thoughtful plans for how to move people through a space, including designating one-way aisles and creating entrance and exit plans with clear signage. You must provide both proper crowd control and the best experience for attendees.
We know people want to meet in person again. They are Zoomed out and sick of being at home. What we are seeing through Meetings Mean Business is a lot of planners rescheduling and moving their meetings to later in the fall or early 2021. By the first quarter of next year, our meeting business should be going strong, and people will be hungry to attend meetings by 2022.
Event Tech
Tara Thomas, Co-founder, The Meeting Pool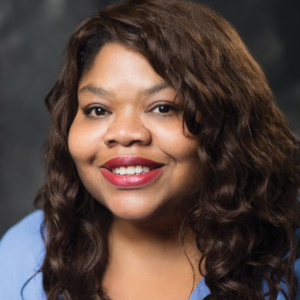 As the world moves deeper into the digital space, human connections become more valuable. And from what I've seen, people want to meet their idols and thought leaders in person, eager for inspiring and enriching dialogues. We like to focus on identifying, inviting and engaging with people who can share diverse ideas and perspectives.
To do that, you need the following:
Experiences: Design experiences where the attendees and speakers take ownership to educate each other
Speakers: Select speakers from diverse communities and give them the platform to advance their dreams and goals
Technology: You need to evolve with technology. 100 percent required. Relying on Excel as your primary tool is no longer effective.
Travel
Scott Eddy, host of Video Globetrotter on Lifetime TV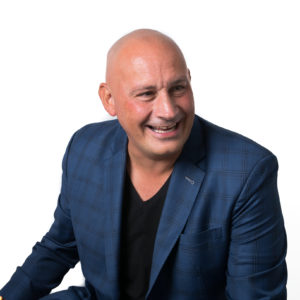 Luxury travelers will lead the pack in coming back. They understand the risk and are not cancelling; they are rescheduling. The secret for incentives is to be in constant communication, sharing itineraries and keeping people excited.
What won't change is airlines. They have always been difficult to deal with. They hold all the cards and will again. Just as travel came back after 9/11, with a new normal of taking off our shoes and being screened, this will as well.
What will change is buffets. I never understood the obsession; it shouldn't take a pandemic to do away with those.
The shift to experiences will be accelerated. Small boutique lodges and niche getaways will be more popular than big cities going forward.
Bucket-list trips will take the lead. I hope it will lead to a trend of valuing local people and eating real, authentic food.
Michael Taylor, travel intelligence lead, J.D. Power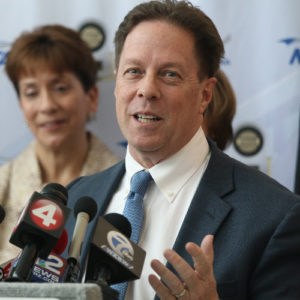 Most aircrafts actually have very good filtration systems that trap and remove 99.97 percent of particles in the air. Many airlines have also initiated giving passengers sanitary wipes, which helps them feel in control of the cleanliness of their area. In the coming months, you can expect less crowded airplanes and increased safety protocols. If flying internationally, many flight paths continue to be cancelled, but that could change in a few months.
One of the biggest lasting effects of COVID-19 on airlines will be a lack of direct flights. Instead, passengers may need to transfer one or two times to get to some places in the United States. Despite the fear and uncertainty surrounding flying today, humans have a tendency to revert to normal and thus the effects of COVID-19 on air travel are likely temporary.
Presentations
Lisa Choi Owens, head of global partnerships, TED Talks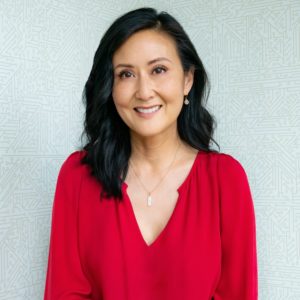 The future is hybrid. We realize that this is our new reality, and we need to not just accept but embrace it. In less than two months, we went from a four-and-a-half-day conference in Vancouver to an eight-week extravaganza called TED2020 Uncharted by launching a virtual platform that is in many ways even more engaging than traditional theater-style gatherings. Time is now our friend.
Unlike the one-to-many format of a convention center, this is much less linear and more democratic. By using a two-screen model, we enabled that ability to whisper to a neighbor, whoop or clap in response to something that comes from stage using emojicons and the ability to chat. A central hub allows people to dip into meditation, workouts, comedy acts, even someone talking about the future of meeting (how is that for meta?). Five-minute speed dates focused on a topic more meaningful and less awkward than cocktail party chatter.
Community is the focus of the TED universe, and content is at the center. Streaming will continue to be a sidecar to physical events even after the pandemic has passed. Now that the entire world is indoctrinated, we can do both. It is a case of "and" rather than "or."
Networking
Leo Gestetner, CEO, Zenvoy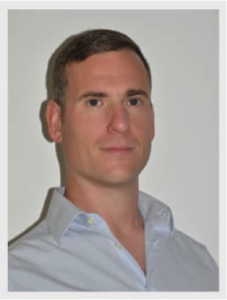 Three to five years from now, leisure travel will be back, but business travel may be reduced because we have learned not all the meetings are necessary. Big events might be broken up into smaller locations with people calling in instead of flying.
Overall, we might be having more meetings, however. Fewer people will be working in offices, and they will want to get together to connect.
Year-round connection through online platforms could be the dominant strategy instead of just holding one or two big events a year a la IMEX. Then connection will be built around communities, and if a meeting doesn't happen, business still gets done. It needs to be seamless between the event and outside events.
Another welcome change? "Fine" is no longer an acceptable answer to "how are you?" Everyone now has something in common because they are living through this time and can quickly move beyond "where are you from?" and "what do you do?" It will be similar to how everyone remembers where they were on 9/11 and how comrades in a war zone recognize each other with a shared bond. Now we are meeting fewer new people, so we can go deeper.
Health and Wellness
John Ayo, wellness expert, keynote speaker, and author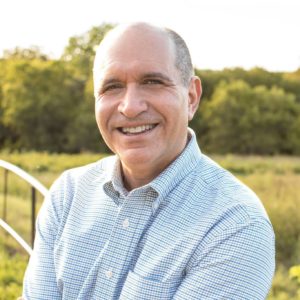 People will seek out more information to help them truly work on their self-care and wellness, which is a huge shift. More people are motivated to actually pursue this path, as no one wants to be immunocompromised anymore.
Health and wellness will be prioritized by companies, including in their meetings and events. In terms of education and exposure, where in the past we had to struggle with justifying the ROI, more companies and their employees will better understand the importance of this area relative to their business. It's not just about sales, but also about employee well-being.
It's great to have a wellness center and program, but education via events and webinars combined with "on-site" days would be optimal. For example, you might have a chiropractor teach a session on the importance of structural alignment, and then schedule them to either come to the company's office, or have employees visit their own office on a specific day, where the company pays the chiropractor a monthly retainer for this service. This could also become part of meeting design.
It's important that we move from early detection of disease to prevention, which requires education and more dedication from employees, and I think we'll see both very soon. The Western medical model is fabulous for acute care (when you are in an accident or crisis), where the natural health model of focusing on wellness (naturopathy, chiropractic, acupuncture, massage, etc.) tends to be more effective at long-term health.
Live Events In-person and Virtual
Michael Dalton, senior vice president of strategy, LEO Events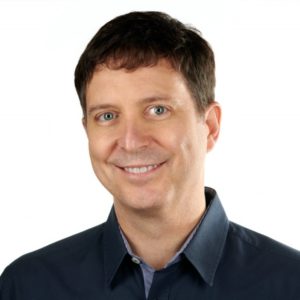 The challenge may be containing the excitement! The pent-up demand after just a few months without live events is already incredible. The longer we go without gathering and connecting in-person, the more excited people will be to have that chance again.
A lot more consideration will go into people's decisions to attend a live event. Some new protocols might feel a bit intrusive. So, we view health and safety requirements as a chance to be creative, to reimagine the moment-to-moment experience in favor of attendees. For example, the necessity to put space between people creates an opportunity to introduce luxury seating. It's about weaving some unexpected surprises into the fabric of a safe, valuable event.
Virtual events won't go away, but let's remember that the recent, aggressive shift to virtual has been driven by a crisis, not by consumer preference—and not because traditional live events were unsatisfying. Live events will continue to be engineered around the in-person experience—you really can't replace face-to-face.
We will need to be flexible and creative at every turn. Still, despite the gravity of our circumstances, being jolted out of our routines is exhilarating. We can only mourn the loss of how things used to be for so long. Now, our industry is morphing daily, right in front of our eyes. What might have felt keenly disruptive or cutting-edge a few months ago is now irrelevant. All the rules need to be rewritten. What an opportunity.
Valerie Bihet, founder, VIBE Events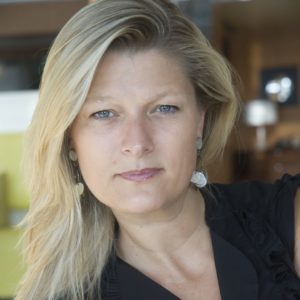 Why not return to the model of the classic drive-in theater? We've already done drive-in events for corporate incentives. One involved renting cars for a team of over 100 who went on a road trip, then stopped in the evening at a meeting point for a viewing party complete with a DJ and dancing. Customized drive-in events offer the built-in benefit of physical distancing through cars.
With event goers tuning in to a low-wattage FM radio channel, a stage set up for panel discussions or speakers, and the use of social media, the atmosphere could provide the energy missing without face-to-face, while adhering to necessary safety precautions. Even a huge parking lot could easily be converted into such an arena.
For virtual events, my philosophy is to think of them like broadcast television. There needs to be a narrative. Visual storytelling and seamless pacing are crucial. When you see webinars with one slide and half a speaker in the corner, and they stay like that for an hour—come on, we're event planners!
Sustainability
John Abrahamson, director of event sales and food services, Monterey Bay Aquarium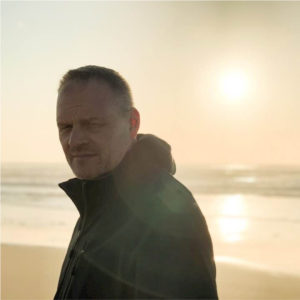 If the steps the aquarium is taking to ensure the safety of our guests and our employees is an example, sustainability efforts in the wake of the pandemic won't be significantly impacted. We may produce slightly more landfill waste due to increased glove use. (Our current landfill assessment is fairly low already: less than one pound of waste per 100 event attendees.)
More: 10 Sustainable and Hygienic Ideas for the Post-Corona MICE World
We're not expecting as many events right away, so the reduction in travel will mean less CO2 emissions created by our guests.
We will continue to increase efficiency, support electric vehicles, use renewable energy and reduce event waste. Our remaining emissions will be offset with verified emissions reductions from an afforestation project in Mexico and the Million Mangrove campaign, which plants coastal mangrove trees southern Mexico.
Here is my checklist for planners to make their gatherings both safe and sustainable.
No table linens (eliminates CO2 emissions from transportation and cleaning, as well as the plastic covering cleaned linens).
Do not pre-pour water or other drinks, which minimizes waste.
Move from buffets to plated dinners (reduces waste and common-touch areas).
Ensure the venue practices composting as well as recycling. Ask for a venue's sustainability plan, as some may have revised their programs due to the COVID-19 response.
Of course, ask your venue not to use single-use plastics—especially plastic water bottles, cutlery and straws.
Ask the venue what it means by locally sourced food products. We source 90 percent of food from local partners and small businesses less than 90 miles away.
Be a space hog! A minimum of six feet from table to table and 161 sq. ft. per guest to ensure safe social distancing.
Do hybrid events. Fewer people on site and more attending remotely equals less travel and fewer environmental impacts.
Getting events venues to think about how to make this serve their bottom line will be a challenge, and an opportunity.