Worried about how safe it will be to check into a hotel in the age of COVID-19? Marriott International wants you to breathe easier. The world's biggest hotel company is rolling out a "multi-pronged platform to elevate its cleanliness standards and hospitality norms and behaviors to meet the new health and safety challenges presented by the current pandemic environment."
"We are living in a new age, with COVID-19 front and center for our guests and our associates," said Arne Sorenson, Marriott's president and CEO. "We want our guests to understand what we are doing today and planning for in the near future in the areas of cleanliness, hygiene and social distancing so that when they walk through the doors of one of our hotels, they know our commitment to their health and safety is our priority."
A Global Cleanliness Council
A new Marriott Global Cleanliness Council will focus on developing "the next level of global hospitality cleanliness standards, norms and behaviors that are designed to minimize risk and enhance safety" for hotel guests and staff.
The council will seek input from in-house and outside experts, including senior Marriott leaders in charge of housekeeping, engineering, food safety, occupational health and associate well-being. Advisory members include a scientist from a corporate provider of water, hygiene and infection prevention solutions; an infectious disease specialist; a hospitality school leader; and a professor of food microbiology.
Enhanced Technology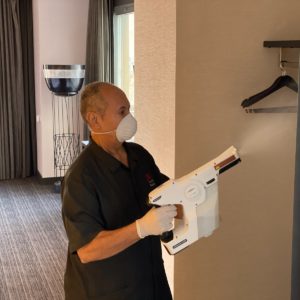 Marriott is also rolling out use of electrostatic sprayers with hospital-grade disinfectant to sanitize surfaces throughout its hotels. The technology uses the highest classification of disinfectants recommended by the Centers for Disease Control and Prevention and World Health Organization to treat known pathogens.
The sprayers are said to rapidly clean and disinfect and can be used in guest rooms, lobbies, gyms and other public areas. In addition, the company is testing ultraviolet light technology for sanitizing keys for guests and devices shared by associates.
Cleanliness Plus
Marriott says its enhanced cleaning regimen will include:
Surface Areas: Public areas will be treated with hospital-grade disinfectants, with cleaning done more frequently. In guest rooms, all surfaces will also be cleaned with hospital-grade disinfectants. Marriott will also be placing disinfecting wipes in each room for guests' personal use.
Guest Contact: To help alleviate risk of person-to-person transmission of the virus, the company will be using signage in its lobbies to remind guests to maintain social distancing, and it will remove or rearrange furniture to allow more space for distancing. Marriott is also evaluating adding partitions at front desks to provide an extra level of precaution for guests and staff, and it will supply staff with masks and gloves. The company is installing more hand sanitizing stations at the entrances to its hotels, near the front desk, elevator banks and fitness and meeting spaces. At over 3,200 of Marriott's hotels, guests can choose to use their phones to check in, access their rooms, make special requests and order room service that will be specially packaged and delivered without contact.
Food Safety: Enhanced food safety guidelines and training videos for staff will feature hygiene and disinfecting practices. In addition, the company is modifying its operational practices for in-room dining and designing new approaches to buffets.
"We want our guests to know that we are doing everything we can to welcome them back to a safe and clean hotel environment when they start traveling again," said Ray Bennett, chief global officer for Marriott Global Operations, who is heading up the new Marriott Global Cleanliness Council.
Wynn Calls for Nevada Reopen, Followed by the Strip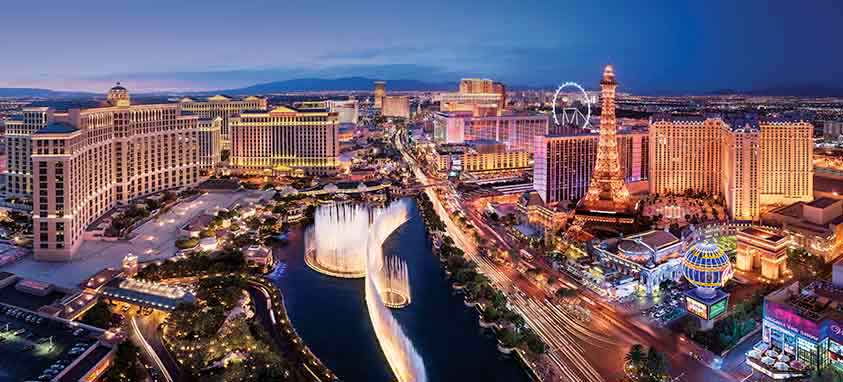 Matt Maddox, CEO of Wynn Resorts Ltd., is calling a reopening of Nevada's economy, beginning in early May, followed by the Las Vegas Strip in the middle or late May.
In an op-ed, accompanied by a 23-page proposal stating how it's managing to keep its property clean and safe, Maddox stated, "I understand that if we incrementally reopen we might have to pull back if a spike in cases occurs that jeopardizes our health care system capacity. However, the only way to cross this river is one stone at a time, and we need to put our feet in the water before it is too late."
Safeguards that were proposed include:
• Reopening with reduced occupancy, physical distancing measures, temperature checks and no large gatherings
• The need to wear masks
• An increase in coronavirus tests in the state
• Ensure hospitalizations and deaths relative to the population aren't exceeding the national average
• Hospital critical care availability should increase
• Limiting the number of guests in elevators and limos
• Removing guest rooms with presumptive positives from service and quarantined
• Security officers to greet visitors, who will be screened and asked to use hand sanitizer and wear a mask
Wynn was the first casino in Nevada to close its doors amid the coronavirus pandemic and will continue to pay its employees through May 15.