2020 unleashed a whole host of twists and turns for the hospitality industry, challenging the professionals who specialize in bringing people face-to-face. Most were forced to pivot and innovate in order to continue connecting people over a shared meal. That resulted in some creative solutions that may just be getting started.
Following are the lessons we at Wolfgang Puck Catering (WPC) learned for adapting food and beverage service that we think will continue into 2021: 
1. Enhanced hospitality experience.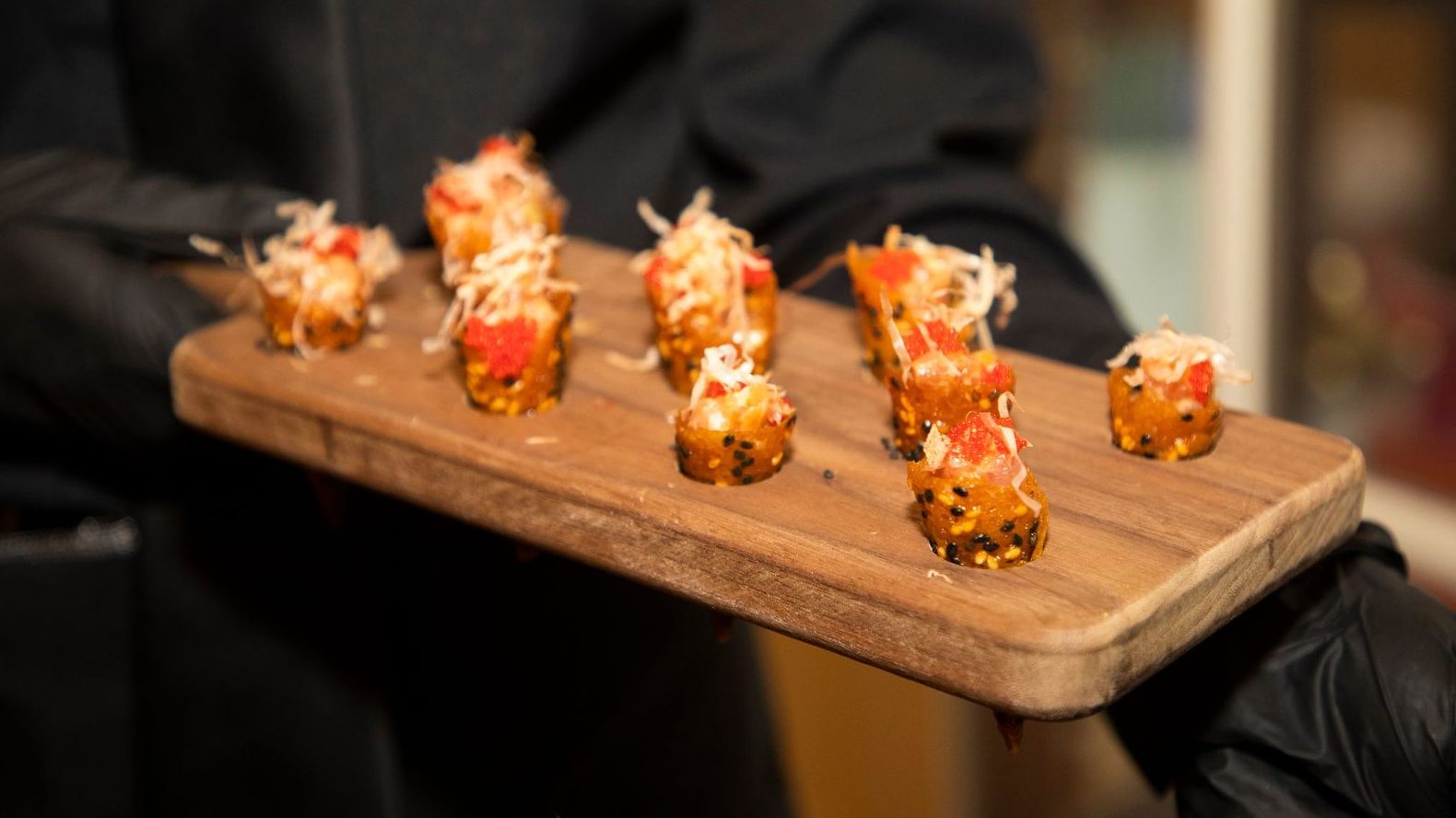 Health and safety service modifications have been integral to sustaining events during the pandemic, which increased the need for making small moments and human interaction matter even more than before. The enhanced guest experience will remain well into 2021. That includes self-service buffet stations replaced with station attendants serving guests, offering an additional moment of conversation and hospitality, extra hospitality training for staff so they understand hospitality, which translates into heightened empathy and compassion. 
2. Paradigm shift in space usage and service styles.
Pre-COVID, a full room and crowded event was a successful event. The pandemic has forced a paradigm shift here, most of all—a successful event now is a safe event, so spreading your points of service out with multiple food stations serving 1 or 2 items each and breaking up your menu across the entire space; or, set multiple stations serving complete, composed plates. As we navigate through the next phases of the pandemic, we, as hospitality professionals, must recognize that our guests will remain sensitive to their sense of "personal space" beyond the pandemic, and maximizing real estate will continue into 2021.
In the ongoing, pre-emptive action of mitigating crowding, mixing up the service styles will also enhance the guest experience. Tray pass concurrently with access to open food and beverage stations rather than the previous approach of "rolling" service (tray pass, then stations, then maybe tray pass again or something to-go). The goal is to provide a natural environment for social distancing, so guests do not feel awkward and can naturally avoid gathering around service areas. 
3. Think inside the box.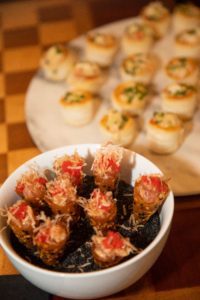 We continue to move forward with innovating what can and cannot be successfully boxed, shipped or locally fulfilled. Food and beverage gifting will continue into 2021, and I think will continue beyond the pandemic.
More: Smart Style: Your 2020 Holiday Gift Guide
Following a decade of "greening" our industry, the pandemic has forced a setback in terms of sustainability with the return to single use disposables and individual packaging. There are ample options for compostable disposables or single use plastics made from recyclable materials. Use these so that current altered services do not negate the great strides we have made to reduce landfill waste. For a recent "open house" event for a new exhibit opening in Atlanta, Wolfgang Puck Catering featured tray passed sushi rolls and mini tacos individually packaged in compostable wooden containers. It was safe, the natural palette of the vehicle enhanced the food presentation and it was environmentally friendly.
The reintroduction of individually packaged items does offers a variety of branding opportunities for both social and business event clients whether through labelling, burnishing, incorporating logos and/or color schemes into the food and beverage items themselves. That trend may continue to grow in the coming year.
4. Emphasis on quality.
As face-to-face events return through 2021, planners, hosts and guests will inevitably experience a lot of anxiety transitioning back into outside group activities large and small. Do not sacrifice the quality of what you are serving; every delicious bite and tasty sip sets your guests more at ease. Our future event guests in 2021 will also return us to more of an educated experience about food and beverage, thereby adding a greater appreciation for quality and craftsmanship. Many have been watching cooking and mixology videos via Tik Tok and Instagram, participating in virtual cook alongs, experimenting at home, having restaurant take-out and otherwise delivery expanding their palates. The future event guest will be looking for an experience, a spark of joy or curiosity and higher quality. 
5. Comfort and nostalgia.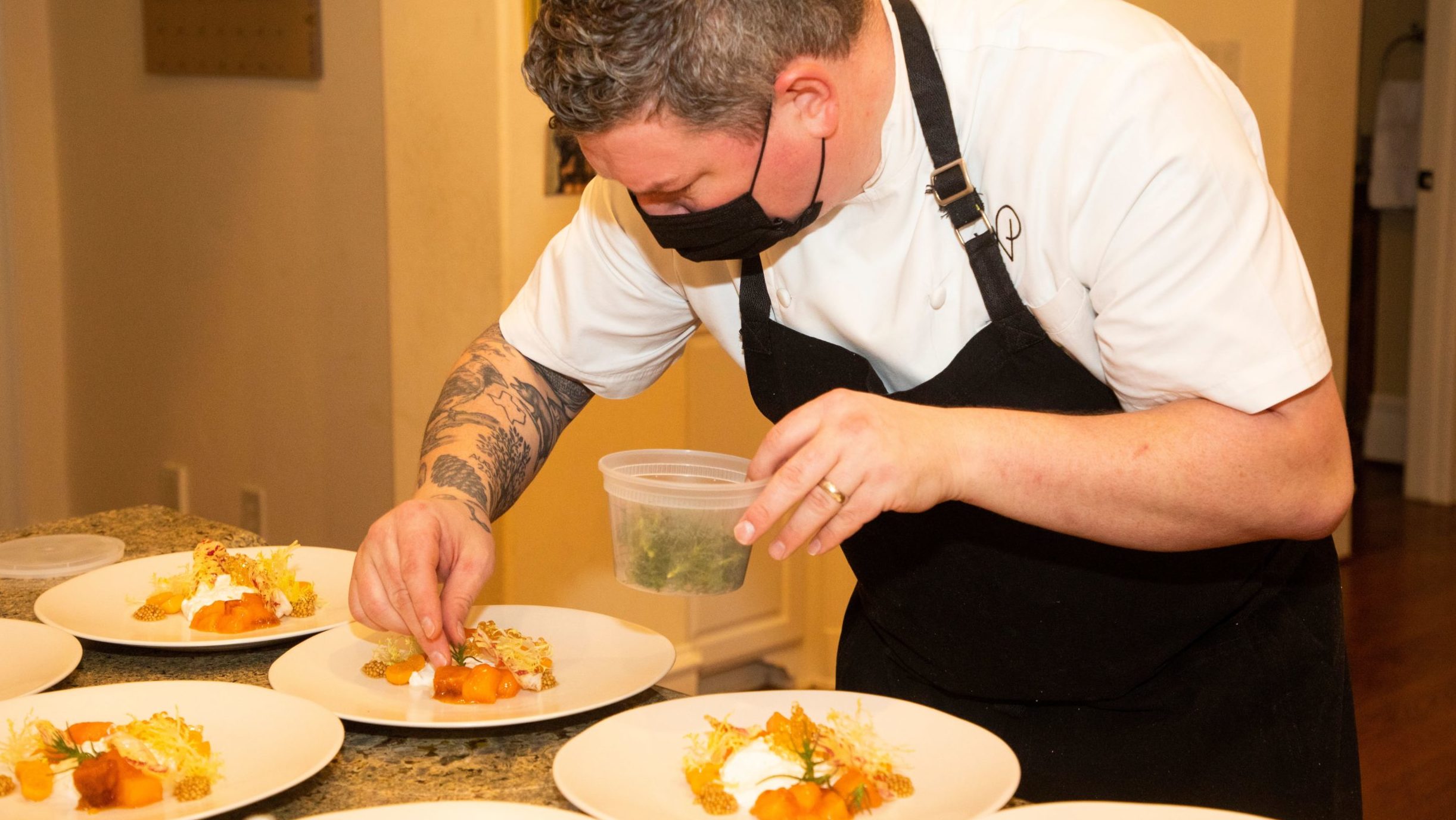 Our 2021 guests will need extra attention paid to making them feel comfortable in public settings again. The food and beverage experience should include delicious, recognizable nostalgic items that are cleverly presented and of high quality.
6. Online experiences.
Virtual and hybrid events have evolved as the new fixture for future-forward entertaining. Businesses of all types and genres who have fought to remain relevant through virtual and hybrid entertaining have learned that a) they can broaden their audience through a virtual component, and b) increase touchpoints with their audience through virtual and hybrid events. WPC's Virtual Chef and Private Chef experiences coupled with On The Go options for dining-along together will continue into 2021 and beyond as options for bringing people together over a shared meal, whether face-to-face or via a computer screen.
Wolfgang Puck Catering continues to strive toward exceeding expectations whenever our guests gather for a meal – whether an intimate dinner for 10 or 30,000 festival-style, shipping provisions for a virtual cook-along with a WPC chef, or packaged meals for contactless pickup or delivery so guests can make new delicious memories at home with their families. 
Mary Cline is regional director of catering sales for the East Coast with Wolfgang Puck Catering.