Magic in the kitchen means getting back to basics
When the catering teams at meetings hotels slip into their spotless white chef's coats and don their toques again, they will be faced with pulling off some of the biggest creative feats of their cooking careers. Only part of it will be on the menu—after all, these chefs were already adept at soaring to Insta-worthy culinary heights before the pandemic, and they are fully capable of picking up where they left off. Like sports stars, they can't wait to get back in the game.
But the game has changed.
Their challenge—and that of the planners who engage them—begins with packaging and service. How do they wow attendees not only with what's on the plate but also with how that plate gets served in a way that adds to the festive ambience of the gathering rather than seeming like a meal in a quarantine zone?
"We are going to challenge the conference servicing and catering teams a lot, and they're going to have to be really creative," in the words of Kristin Horstman, co-chair of Events Industry Council's Accepted Practices Exchange (APEX) and Salesforce strategic event senior director.
More: Is This the End of F&B as We Know It?
Behind the scenes, kitchens will change to keep human handling at a minimum—because attendees will want to be assured safe practices prevail there, too. "Moving forward, we can expect…more solutions that lower back-of-house labor requirements, including partially cooked, ready-to-use, ready-to-heat, ready-to-assemble foods, as well as new technologies that streamline the kitchen operation," note Bruce Reinstein and Tim Hand of Kinetic12 Consulting, a Chicago-based foodservice and management consulting firm on the website of Restaurant Operator Daily.
Conceiving elevated food experiences will be the big one. It's easy to package a sandwich or a cookie as a safe single serving, but how can a kitchen serve up memories in ways that are safe and sustainable against the ongoing threat of a very contagious, potentially fatal respiratory disease? The very thought, mused celebrity chef David Chang during lockdown, is enough to make your brain bleed.
Pack It Up Pretty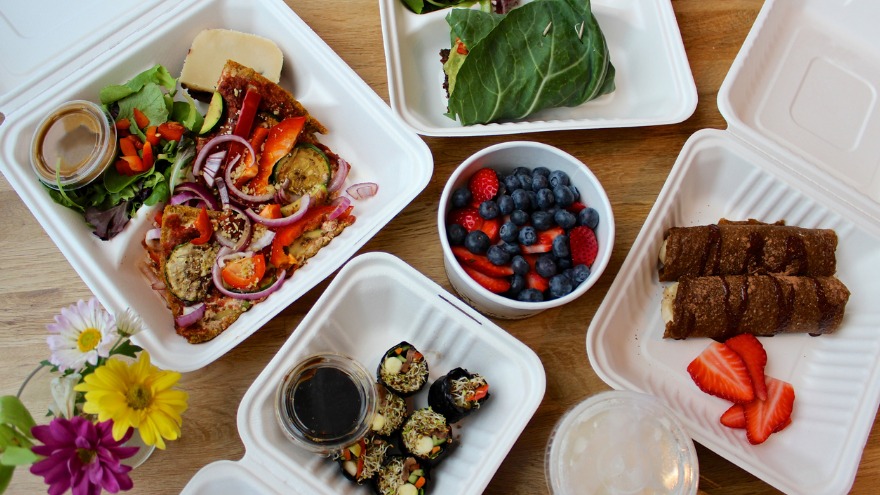 Planners are nothing if not creative, and so are the many companies eager to supply their needs. Pinterest and other websites are rife with interesting, colorful, even offbeat options for packing up single-serving or even multi-course meals. From bento boxes to riffs on the classic clam shell and oyster pail, many choices can be branded with a conference or company logo and be imprinted with colorful patterns or even elegant themes.
Mary Cline, regional director of catering sales for Wolfgang Puck Catering in Atlanta, says her company, which operates in 11 major U.S. cities, is focused on "prepackaged, high-quality foods and meal kits" in the near term, to minimize touch points.
Tell the Story
A proven way to make any meal more satisfying is through storytelling, and this is even more true now. "Consumers are developing a dramatically heightened sense of what they view as safe food handling practices and an increasing desire to know where their food came from, how it was grown, raised and processed. We see this continuing into a post-COVID environment as consumers' focus on how their food was handled has been exponentially amplified," say Reinstein and Hand.
Others agree. Internationally renowned culinary ambassador and cookbook author Kristian Brask Thomsen expects a full-court press of everything—really everything—sourced locally, which he wholeheartedly endorses as a welcome thing. "Nothing is so bad there isn't some good in it," he says.
Telling this story of the meal in an engaging way, through signage or a cleverly designed insert in the packaging, not only reassures attendees about safety but also can instill an authentic sense of place and regional cuisine.
It will also be important for event venues to be transparent about their kitchen and serving practices—and storytelling about these, too, will reinforce attendee well-being.
Who Was that Masked Server?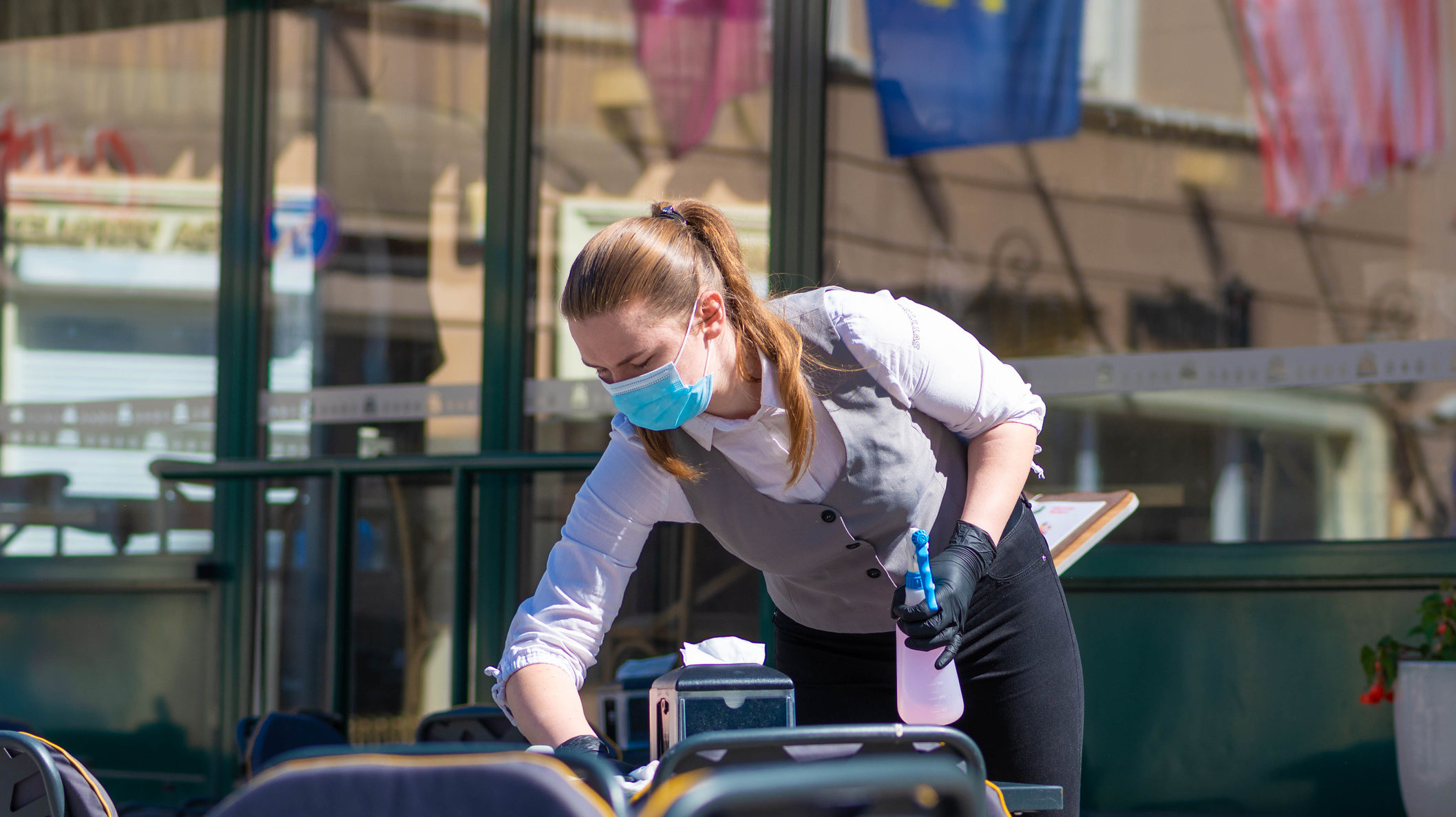 A fine meal can be compared to an orchestral performance or classical dance. Its success depends on nuances and pacing, big dramatic highs and transition moments. How the food tastes is very important, of course; but so is how it is presented and served, and at what pacing and with what grace.
That's where the burden passes from the kitchen to the serving staff. Masks and gloves on servers will certainly be required, but instead of flashing the "service smile," their welcoming hospitality and friendly personalities will have to be conveyed through sparkling eyes, assenting nods and other nonverbal cues. This takes practice, as any drama coach will tell you—and planners shouldn't feel shy about asking catering managers if their staff has had such training, and to request that they do so.
Plexiglass, Plated and Serviced Buffets
No, the buffet won't go away (even if some food snobs think it should), but it won't be the same, either. Think "serviced" buffet, with stations where attendees indicate their preferences, after which their plates are carefully slid toward the server to avoid close contact. Most likely there will be Plexiglass separating server and diner, as well as the ubiquitous floor marks to indicate proper distancing in the food line.
Other permutations of pandemic dining are plated meals served to long tables where they can be picked up by diners (especially good for fancier presentations), and chef stations, also walled off by clear acrylic plastic: heaped-up plates will be nudged through openings just like those at many retail and grocery stores.
Ah, but what about the sine qua non of elegant gatherings—the passed hors d'oeuvres? "That can be done, too" Cline asserts. She envisions items on individual plates handed to you—or placed on a nearby table—by a gloved server.
Embrace Elegant Simplicity
It's hard to believe, but many think the era of outrageously pretty food—elaborate platings in intricate geometries and vivid colors, topped by tweezed microgreens and surrounded by rivulets of sauces—may be over, at least for a few years. Even high-end chefs have reverted to simpler, more comforting fare.
"I just cook like a grandma now," David Chang told The New York Times about what he's preparing at home while waiting for his restaurant world to awaken from its induced coma. And when Denmark began loosening its lockdown restrictions, Rene Redzepi, one of the world's most famous and no-holds-barred chefs, said he was reopening Noma, his Copenhagen restaurant that has been named best in the world…as a burger joint. But not without freshly baked potato buns, dry-aged bavette steak patties and "a little bit of magic from our fermentation cellar," he said. Seattle's extravagant Canlis began selling burgers in March, too.
Both these McMichelins will revert to more high-end cooking in the future, but the point is, they've identified a need in themselves—and, presumably, in their customers—for taking the beloved familiar and kicking it up a notch…or two or three. The message there is clear: People want to be comforted in these uncertain times, but they also love that special fillip that only a talented chef can add.
Call it elegant simplicity, even on a bun. "I'm interested to see what creative ideas come out of this in the industry. Events people are really ingenious," Cline says.