It's time for festive decorations, warm cocoa, sparkly lights and good cheer. What's missing from this year's lineup of time-honored holiday traditions? Many people will forego in-person gatherings due to concerns about Covid-19. However, there's no need to cancel your plans to bring the team together. These tips for a lively virtual holiday party, complete with food, spirits, music and swag will allow you to safely celebrate the season and connect with coworkers, clients and friends.
12 Tips for a Celebration that Rocks
1. Set goals. Do you want to recognize the team's achievements? Give back to community? Engage employees with an end-of-year bash? As always, your goals will shape event content.
Check out the Aventri virtual holiday party checklist here.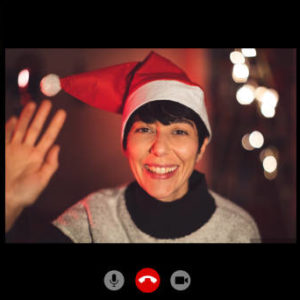 For example if the goal is to…
Recognize the team: Raise a glass to guests' accomplishments during a challenging year. Be inclusive with speeches noting each department's contribution. Feature a 15-minute mixology session. A bartender can share insider tips for signature cocktails and "mocktails" honoring winners. Play a 2020 highlights video of proud moments before the final toast.
Engage employees with a year-end celebration: Invite everyone to pick a team-building holiday activity. Options include Caroling/Music Video Festival and Group Virtual Card Competition. Employees can use polling features to vote up their favorites.
Give back to community: Host one large group or invite guests to choose from concurrent sessions. Knit scarves for the homeless. Write cards for nursing home residents and overseas troops. Participate in charity run/walks and share photos at the party.
2. Create a design theme. Maybe you want a vibrant firework display to celebrate achievements or perhaps you prefer a classic holiday look. Showcase your design theme on invitations, registration page, PowerPoint slides and background image for your event.
3. Build your agenda. Make each segment 15-60 minutes long due to the shorter attention spans of online attendees. Sessions should be fast-paced and easy to consume. Trim your agenda to just a few items, such as: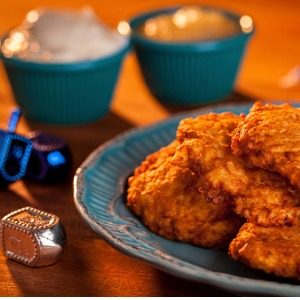 Welcome from host
Message from CEO
Mixology workshop
Concurrent sessions: Gingerbread House Decorating Contest, Holiday Recipe Swap, Never Have I Ever Game–Holiday Edition
Closing toast and remarks
4. Choose a platform. Make sure the attendance cap exceeds your guest count estimate. Confirm the solution has enough bandwidth and works well with the hardware guests will use. Also find out if it offers all the features you want, like chat, instant polling, surveys and breakout rooms.
5. Create Invitations. Standard emailed URLs are forgettable; build excitement with festive invitations instead. Send themed digital invites that link to your registration page and communicate key details. Let invitees know if there's a dress code, such as semi-formal attire.
6. Build a registration page. Include session selection and address for party packages. Tell guests if you're sending holiday swag, food and drink or activity kits. For gift baskets with edibles, ask about food sensitivities and preferences for "mocktails" or spirits.
7. Engage early and often. Before your event, encourage invitees to share their holiday photos and quick videos to drum up excitement. Post seasonal conversation starters in group chat. Also share FAQs and videos with easy instructions on using the platform.
8. Create a holiday playlist. The whole team can chime in on Spotify. Get the party started with crowd-sourced hits, from "Jingle Bell Rock" (Bobby Helms) to "O Come, All Ye Faithful" (Faith Hill) and "All I Want for Christmas is You" (Mariah Carey).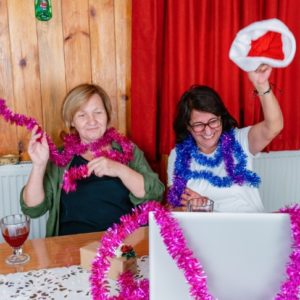 9. Get creative with content. If you're hosting a dinner party, deliver the meal on the day of the event. Guests can dine while watching a charismatic chef show how to create the feast. Feature recipes on your navigation bar widget, so employees can see them while watching the demo.
10. Connect. Virtual parties provide fewer opportunities for one-on-one conversations. Overcome this challenge by dividing guests into small breakout rooms more conducive to intimate discussions. Offer immersive activities, such as:
Holiday Trivia: Invite teams to compete in categories like Traditions around the World. They can answer via webcam, chat and polling, or use the raise hand function as a virtual buzzer.
Holiday Movie Charades: Act out titles or scenes from favorite films like "It's a Wonderful Life," "Elf" and "National Lampoon's Christmas Vacation."
Holiday Karaoke: Croon tunes in a virtual karaoke party. Guests can make requests via chat and share their talents on social channels.
11. Practice a lot. Conduct a full event run-through ahead of time to ensure everything runs smoothly.
12. Continue the conversation. After the party, post prize winners, share screenshots and continue chat discussions. Also conduct a survey to find out which part of the event guests enjoyed most and how to make future virtual celebrations even brighter.
See, no need to cancel your holiday party; give it a modern twist instead.
Cara Pelander is vice president of sales and account management at Aventri, a global technology provider of virtual, hybrid and in-person events.