As you plan, keep sustainability in mind
COVID-19 is our shared enemy now, and as we return to meeting in person, it must be kept at bay. Yet we've all seen grim images of what a war zone looks like after the battle. Even as victory was won, the environment was laid waste.
But must it be so in our fight against the coronavirus?
In our urgency to defeat the virus, collateral damage is being done to sustainability. All that additional packaging, the throw-away masks, the toxic cleaning chemicals. Sustainability gains in meetings and hospitality venues of the past decades—and in the expectations of meeting attendees—have been substantial and hard-won.
The challenge now: how to devise strategies for not taking huge steps backward, while keeping meetings safe. For as many climate scientists have pointed out, this pandemic could be only a dress rehearsal of coming climate disruptions.
Hotels, convention centers and other meeting venues have reacted with admirable thoroughness and impressive alacrity to the challenge of welcoming back groups safely and instituting rigorous hygiene protocols. And to add to guests' sense of safety, where once the public spaces of hotels were discreetly cleaned at night, while guests slept, now they will be conspicuously cleaned by day.
Yet these same venues are only now beginning to come to grips with the environmental issues some of their new safeguards could present. A spokesperson for one major hotel group, when asked to comment, replied by email: "We are still working through this and don't have any insights to provide at this time."
Glenn Hasek, publisher and editor of Green Lodging News, wrote recently to his hospitality industry readers: "Here is a challenge for all of you: Given the current pandemic, still try your hardest to do things in a sustainable manner—focusing on worker and guest safety, energy and water conservation, waste reduction, and enhancing, not worsening, indoor air quality. With each step you take to stop COVID-19, ask yourself if you are helping or hindering environmental protection. I know it will not be an easy thing to do, or even accomplishable in some cases."
Masking the Problem
Think of the billions of throw-away face masks that have joined the waste stream across the globe. Masks are believed to be essential to our mutual safety, yet they are also a big problem. Hasek quotes Steve Uretsky, founder and CEO of Los Angeles-based Allied Feather + Down. "While we understand the critical need to use face masks, we fear disposable masks are already becoming the new cigarette butt," Uretsky said. His company is among those making washable cotton masks, and he has shipped millions of them—including to hotels and resorts.
"This widespread use of disposable masks comes with a heavy impact on the environment," Uretsky's company said in a press release. "Unfortunately, disposable masks are not sustainable at this scale, and the environmental nightmare this has the potential to become has not fallen on deaf ears. Already in Hong Kong, discarded masks are washing up on beaches and posing a threat to marine life."
What, Us Worry?

Face masks are the most visible symbols of the pandemic. But in addition to becoming cultural flashpoints, conservationists warn that the billions of disposable masks could add to the threat against marine life—"after finding disposable masks floating like jellyfish across seabeds," wrote The Guardian. Masks often contain plastic with a lifespan of 450 years. OceansAsia did a recent survey of marine debris on an island off the Chinese mainland. "On a beach about 100 metres long, we found about 70," said Gary Stokes of OceansAsia. One week later, another 30 masks had washed up. "And that's on an uninhabited island in the middle of nowhere."
Plastic Never Goes Away
The meetings world has largely embraced the concept that single-use anything is not eco-friendly, and has worked to skip plastic water bottles in favor of refillable pitchers or dispensers, for example. But what about all the sanitizer? Here, too, dispensers are a better solution.
"Think about the other ways the pandemic has resulted in the creation of additional waste to landfill," Hasek advises hoteliers. "Is your new approach to breakfast causing more waste? With fewer guests staying at your property, your overall waste stream has got to be less but still be mindful of the problem."
Of Toxins and Allergies
It's comforting to see photos of hotel employees in hazmat outfits looking like Ghostbusters using industrial electrostatic spray guns on interior surfaces. In fact, this technology seems to be among the most environmentally friendly, if properly used. Yet, as what we know about the virus evolves, planners should be on the lookout for venues that use even more natural, yet effective, approaches to disinfection.
One better option is a vapor cleaner, which relies on steam sprayed at a temperature of 160 degrees F. These machines can sanitize washable surfaces and floors, eliminating up to 99.99 percent of viruses, germs, and bacteria.
"I have already read hotel reviews about hotels smelling too much like Lysol," Hasek says. When cleaners that are even more toxic are used, he cautions, "Understand the long-term impacts of using [them] on the materials in your hotel, and on the employees, who dispense it. Be mindful of the millions of travelers who have chemical sensitivities."
It's in the Air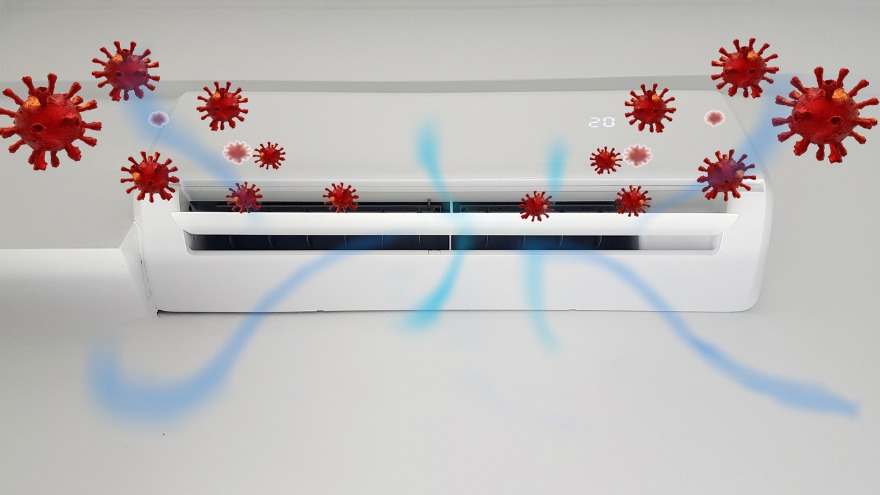 "Wellness is not a luxury, it's a right," says Peter Scialla, president and chief operating officer for Delos, which has partnered with several hotel brands to create Stay Well guest rooms, which offer advanced technology in lighting, air filtration, materials and other wellness features. In 2014, Delos partnered with the Mayo Clinic to create the Well Living Lab to study the impact of indoor environments on health and well-being.
"After all, studies show we spend 90 percent of our time inside four walls and under a roof," he says. Research is increasingly pointing toward stagnant indoor air as the most dangerous breeding ground for COVID-19.
He emphasizes the importance to our health of the very air we breathe. "We've been focused on air quality standards for some time now, and we're able to remove air particulate matter as small as .0007 microns," he says. A coronavirus particle measures between .06 microns and .14 microns in diameter.
In general, planners should ask venues if they have tuned up their ventilation system to increase air circulation and outdoor air. CDC guidelines specifically recommend that businesses do both. International WELL Building Institute, a Delos subsidiary, and LEED rating systems both say MERV-13 (or better) air filtration filters are best for HVAC systems. Be aware that many older buildings were not designed with ventilation systems that meet even today's minimum standards. A new system retrofit can achieve that.
Two-Pronged Approach
Scialla recommends two levels of scrutiny when it comes to choosing venues that promote wellness and sustainability. First, take a look at the venue's policies. What are the practices and protocols in place? "Taking somebody's word for it has pretty much gone out the window," he says. Instead, look for a third-party review of the venue's hygiene and safety standards.
Second, take a close look at what's inside the space. Are advanced air-filtration and other wellness facilities and technologies in place? Ask yourself if the venue's offerings enhance the health and wellness of both humans and the planet.