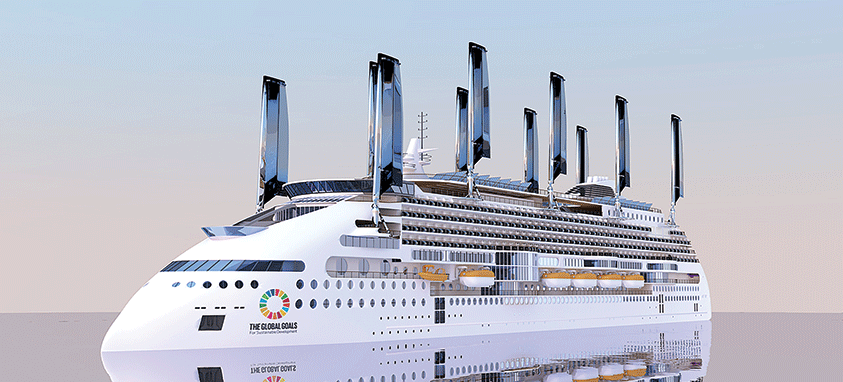 Welcome aboard the S.S. Conundrum. Groups are clamoring for authentic experiences, and what could be a more splashy departure from your standard hotel ballroom than a meeting at sea? Yet you and your attendees also want green meetings—and the cruise industry has a problem on that score. Or is it just a perception problem?
A report to the European Parliament predicts maritime emissions will account for up to 17 percent of total global greenhouse gases produced by 2050. Almost all giant cruise ships still use heavy fuel oil, the worst of the worst in terms of CO2 and particulate pollution, and they can consume up to 150 tons of the stuff a day. They dump waste water, including oily bilge and ballast water, into the oceans. More massive than all but the very largest hotels on land, they face the same environmental challenges in waste management, energy efficiency and the rest—in spades.
Still, cruise ships tempt with undeniable advantages. Most cruise lines, including those that offer the increasingly popular river cruises, are actively marketing for events, meetings, incentives and charters. Meeting space, audiovisual needs, meals and entertainment are included in the base price—like an all-inclusive—as is all-important Wi-Fi. And then there is the allure of being at sea, with all the diversions that come with today's cruisers, plus stopovers at Insta-bait ports of call.
But, can an eco-conscious planner justify booking a cruise meeting?
The answer is a tentative yes. The industry is well aware it needs to clean up its act to attract business and, increasingly, to comply with environmental laws. In January, new passenger ships were banned from areas in the Baltic Seas, unless they were outfitted with an approved sewage treatment system; older ships will have to comply by 2021. In April, a federal judge threatened to block Carnival Corporation ships from docking in U.S. ports for a possible violation of $40 million settlement that resulted from illegally dumping oil into the ocean from its Princess Cruise ships.
In other words, before setting sail with a group, doing due diligence on a cruise line's environmental standards is a must. Also keep in mind that eco-fitness can vary even within company fleets—usually, the newer the ship, the better.
A few companies are leading the way. Last year, the first cruise ship powered by less-polluting liquefied natural gas (LNG) was launched by Aida Cruises, a British-American-owned company based in Germany. Carnival Cruise Lines is investing in three LNG-powered ships. Royal Caribbean Cruises (which also owns Celebrity Cruises and has a stake several other cruise lines) has two LNG ships on order for debut in 2022 and 2024; they will also use advanced fuel cells and other green technologies. Since 1992, the company has had an impressive initiative, Save the Waves, to make its ships more eco-friendly.
Onboard Greening
Other steps cruise liners are taking to be greener include serious recycling. A good example is Princess Cruises. Its entire fleet is equipped with state-of-the-art waste management facilities, and the company is working to further minimize waste and plastics used on board. Passengers are encouraged to recycle their glass, paper and cans. Signs in passenger cabins promote reusing bed linens and towels to save energy.
Several cruise line companies are now trying to urge crew members to be more environmentally conscious by adopting a greener approach to their life on board. Mandatory environmental training is now part of most new-hire programs. Some companies even employ a dedicated energy-conservation director to look at new ways to be eco-friendly on board and save more energy.
Another major challenge for cruise liners is wastewater, which is typically discharged into the open ocean or in port. Increasingly, ships are retrofitted with reduced-flow dishwashers, energy-efficient laundry equipment and low-flow shower heads, which all significantly reduce wastewater. Royal Caribbean uses purification systems to clean wastewater from onboard sinks, showers, laundry, galleys, toilets and medical facilities. It says its systems perform twice as well as required by U.S. federal standards for in-port wastewater discharge. The company, like many of its competitors, also treats ballast water (greatly reducing or eliminating the potential of discharging non-native species into local environments).
Most ships have now switched over to LED and fluorescent lighting, tinted windows and high-efficiency appliances. Plus, many cruise lines work with suppliers to ensure that plastic packaging is replaced by biodegradable materials.
The Future Afloat
The holy grail of green cruising may be just over the horizon. Peace Boat, a Japanese nonprofit that hosts educational cruises with wellness programs, lectures and workshops on topics such as environmental change and human rights, is planning to build a $500 million Ecoship. She will be fueled by solar panels, wind power—high-tech sails—and LNG. This combo promises to produce 40 percent less CO2 than a traditional cruise ship.
The highly advanced design mimics the shape of a whale. Ecoship will accommodate 2,000 passengers, and host conferences and events while docked. Peace Boat hopes its new standard of cruising will set sail on a maiden voyage in the early 2020s, and that she will quickly become a showcase for the future of the industry.