Now is the time to master hybrid planning for virtual and in-person audiences
Editor's Note: Welcome to the new Hybrid Meeting Genius, a regular feature that will help you navigate event tech like a pro. We are proud to welcome #EventIcons cohost and Event Leadership Institute instructor Brandt Krueger to the team to answer your burning questions.
Send them to us editor@smartmeetings.com and look for more hybrid meeting resources at SmartMeetings.com.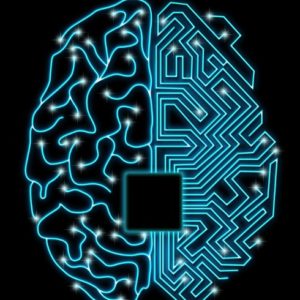 I get it. There's a strong desire for things to go back to normal. So many of us watched in a combination of shock and uncertainty as our second and third quarter business just…vaporized. Microsoft announced it wouldn't be doing any in-person events until June 2021, and other companies followed. Some organizations scrambled to take their events online; others, short on time and feeling out of their element, cancelled. On top of that, shelter-in-place orders had many of us trapped in our homes, spending a little too much "quality time" with our families, and unable to participate in the activities that usually give us solace.
Who wouldn't want things to go back to normal?
But what is "normal"? What most people really mean when they say they want things to go back to normal is, "I want things to go back to the way they were." Life, unfortunately, rarely works that way. Normal is ever-changing. Normal is evolving. We have to keep moving forward because the world's going to do so, whether we like it or not.
So, I get it—I understand when I hear my European colleagues pressing their governments for concrete timelines for reopening events. But I also shake my head, because we know that's just not possible with something as unpredictable and evolving as Nature. We have to work with what we've got, and not let uncertainty paralyze us.
The safe bet, for the foreseeable future and possibly from now on, is hybrid.
Even though epidemiologists have been warning us this was coming for years (literally—I know because I worked on their events, and every year it was basically the same agenda), we got caught flat-footed as an industry. Nobody had "global pandemic" on their bingo card.
Now's your chance to prevent that from happening ever again. Start planning for both an in-person, and online experience.
Step 1: Use this time to experiment with your online audience
At the moment, attendees are still in the "we're all in this together" phase, for the most part. Once we get into 2021, that might not quite be the case. Think you're sick of Zoom calls now? Give it a few more months. Now's the time to try new things and see what works.
Most people look to events, especially from professional associations, for two things: education and networking. You're going to need to find new ways to do both while accounting for the shorter attention span that comes from watching an event from home, and the fact you can't just open up a bar, put on some music, and "let networking happen." You need to force people to mix and mingle, so come up with a discussion topic and randomly divide them into breakout groups. Or don't do it randomly—use a service such as Mixtroz to split them up based on how they answer surveys, similarly or differently.
See also: 6 Great Virtual Meeting Icebreakers
Same thing on the education side. Instead of a tiny talking head superimposed over a PowerPoint for an hour, try interviews. Instead of polls, try trivia games. Try graphic recording, where an artist live-chronicles the presentation through cartoons and caricatures. I can't believe I'm quoting Zootopia (darn you, Disney!) but "try everything!"
In short, take advantage of the now, to start honing in on what works for the future.
Step 2: Start planning your hybrid event. You are a professional designer of experiences.
Fantastic! Because you now have two completely different experiences to design. Here's the thing: Hybrid events have been around for well over a decade, just not in a quantity you probably noticed. Of that small percentage of events, the best hybrid events were the ones that thought through both the in-person and online experiences—equally.
You have to think about what the online audience is supposed to be doing, and how they're supposed to feel at every moment, just like your in-person audience.
For instance, if you're giving your in-person attendees a coffee break, what is the online audience doing? If you're offering Q&A or polling in person, how can your audience members participate? Do they have a moderator or host to be their voice in the room? Are you warning your presenters that it can take up to 30 seconds for your online attendees to even hear the question being asked, much less formulate an answer and respond? How can they participate in any team building, and if there's a networking function, what can you do to help them network as well?
Oh right, you've already been experimenting with that in your online events. Right?
Improvising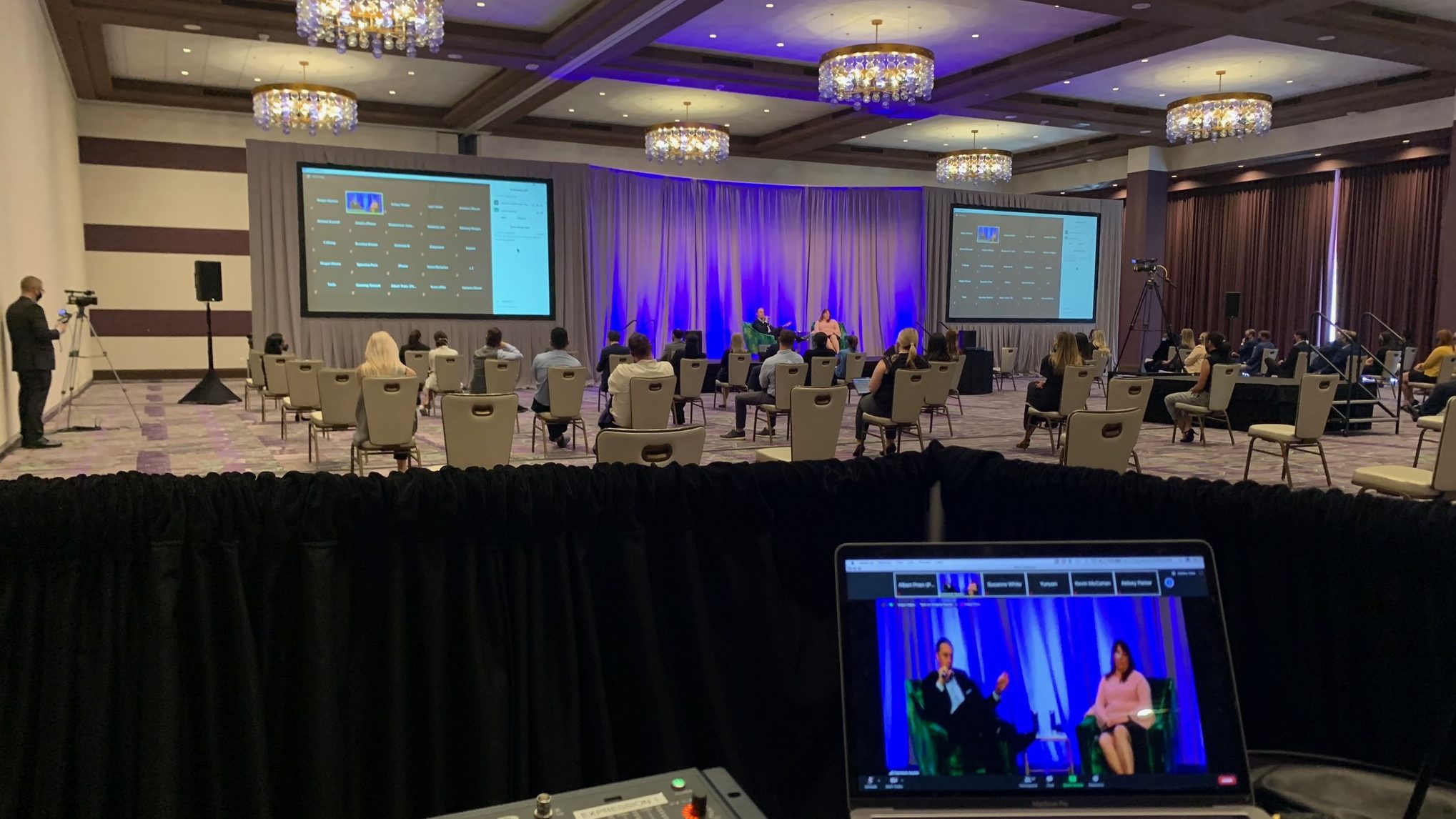 Hybrid meetings are the "yes, and…" approach to sharing experiences. When you want all the energy and engagement of in-person, but not everyone can make the trip, streaming the session could be just the ticket.
Last month, PSAV Sales Director Jason Mueller helped Fairmont Austin General Manager Nenad Praporski double the number of people who were able to participate in a town hall about the property's plans for welcoming back visitors. He shared operational changes with the 70 people in staggered chairs in the grand ballroom and the same number of furloughed and distanced employees using Zoom. The experience included traditional production elements such as walk-in music and narrator.
Both in-person and remote audiences were able to ask questions through the chat and the entire experience was recorded for on-demand playback later. "Engagement is key," Mueller said. He often suggests using live question and answer platforms that allow people to vote up or down queries. And he works with a local DMC to send local gifts—candies and beef jerky.
"This will keep us going until we can all meet face to face again," he said.
Step 3: Be ready for the new normal, and the next, um…whatever
There are a lot of advantages to a hybrid model: increased attendee reach, opening up your event to global audiences, new revenue streams and more diverse conversations. The real secret of hybrid, though, is this: If you do the work deliberately now, you won't have to do it later in a hurry when the next "once in a lifetime" event brings your event world to a crashing halt, whether it's a secondary coronavirus wave, a terrorist attack or a volcanic ash cloud.
By planning a quality online experience from Day One, it's then just a matter of transitioning to a fully online event. You can use the same platform; you can use the same agenda. The only change is where your presenters are beaming in from. You can be prepared for that, too, with backup plans for AV kits (lights, microphones, cameras) for your presenters, or mini-studios in your main offices, if the situation permits. AV companies are already stockpiling more "consumer-grade" versions of their gear for this very purpose, so why not include this in your RFP, so you don't have to negotiate it later?
Not knowing what the future holds can leave you paralyzed with indecision. If you choose to go fully online, that can solve a lot of problems, and you won't have to worry about virus spikes or lockdown orders. But at some point, you're going to have to start making decisions on how to have live events again, so you might as well be prepared for all contingencies and embrace the idea of hybrid events sooner, rather than later.
Every day you delay puts you further and further behind for when things go back to…normal.
More Certified Solutions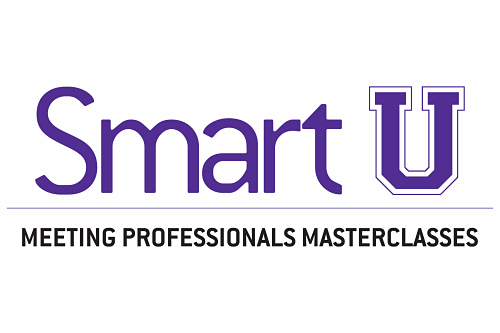 The team at Event Leadership Institute has been helping planners manage event tech almost back to the days of overhead projectors. Some of the classes available through Smart U on SmartMeetings.com include:
Technical Meeting & Event Production: This certificate course is worth 9 CMP clock hours and will empower you to understand what kind of gear, staff and setup your event actually needs to function properly, look right and be cost-effective.
Virtual Event & Meeting Management: This certificate course is worth 20 CMP clock hours and will teach meeting professionals the differences between planning a live event and a virtual event, develop a strategy for virtual events and requirements for human resources, vendors, public relations, digital platforms, data collection and analytics, and data security.
Presentations and Presenters: This class worth 1.75 CMP clock hours focuses on best practices for the content and technical elements of sharing information.
Brandt Krueger, a technical producer and consultant based in Minneapolis, is dedicated to helping clients get the right event technology, for the right price. He has over 20 years' experience in the meetings and events industry, has spoken at industry events and seminars all over the world, been published in numerous magazines and websites, and teaches public and private classes on meeting and event technology and production. More information at brandtkrueger.com