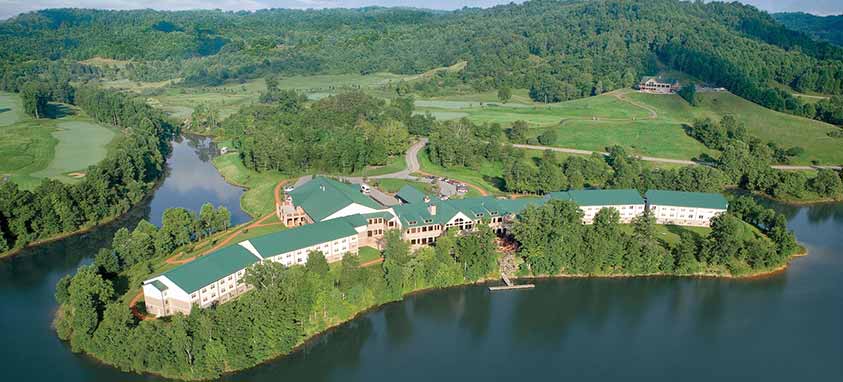 Stonewall Resort, Roanoke, West Virginia
Chefs from Benchmark Hospitality at Deloitte Hotel and Conference Center in Westlake, Texas, and Stonewall Resort in Roanoke, West Virginia, have won IACC's annual U.S. Copper Skillet competition.
Sebastien Layen, executive chef at the Westlake property, won the Senior Category U.S. Copper Skillet Award for his winning dish, consisting of whole-grain, crusted striped bass with root vegetable hash, New York brim, blueberry gastric and tomato pie.
Shane Hawkins, lead cook at the Roanoke resort, took the Junior Category U.S. Copper Skillet Award for his entry, consisting of red potato hash, lightly fried striped bass with wine butter, and seared New York strip with portabella. The junior category was included for the third time, and was open to chefs under the age of 26.
Layen and Hawkins competed against six other chefs from throughout the United States at Hilton Chicago/Oak Brook Hills Resort & Conference Center on Nov. 10. They now will participate at the Americas Chapter Cook-off in February, consisting of senior and junior winners of the U.S. and Canadian cook-offs.
The winners from each chapter (Americas, Europe and Australia Asia Pacific) will be eligible to compete in the Global Copper Skillet Final on April 4 at UCLA Luskin Conference Center in Los Angeles.
In the recent U.S. finals, all chefs were presented with basic pantry items along with a mystery basket of proteins. They were given 30 minutes to prepare, create and present their creations to local area judges.
"Each year, IACC showcases the best in culinary performance through its Copper Skillet competitions, and this year's U.S. cook-off featured impressive talent from eight chefs who competed from around the country," said Dan Techman, director of sales and marketing for President Abraham Lincoln Springfield-a Double Tree by Hilton in Illinois and board member of the IACC-Americas chapter. "The chefs…represent the best of the best from across the United States…"
The Copper Skillet Competition was introduced in 2004 to highlight artistry and skill of the best chefs from IACC-member conference centers around the world, and to honor their contributions to the shared goal of providing an outstanding conference venue experience.