"The winner during disruption is not the smartest or the strongest. The most adaptable wins," journalist and author Thomas Friedman declared during the opening keynote at PCMA's omnichannel Convening Leaders conference on Wednesday. A total of 3,500 people from 36 countries registered to watch the content online through the Juno AI platform, interacted in The Kitchen conversations and as part of micro-communities and satellite gatherings.
The event moved from its planned location in Houston to Singapore, with 19 official network partners hosting watch parties from United Arab Emirates, where Abu Dhabi Convention & Exhibition Bureau held an experience, and Las Vegas, where Caesars Entertainment debuted the new CAESARS FORUM, to a Marriott International gathering in Denver and a Hilton event in Dallas.
"The guidance was changing fast, and we saw that Asia-Pacific was coming out of lockdown faster, so we made the decision to host 300 people there, with network partners hosting groups of 50 or so in other locations," said PCMA President and CEO Sherrif Karamat in a press conference on Wednesday. "It has been a massive learning curve even though PCMA has been doing digital for years," he said.
Innovating and Growing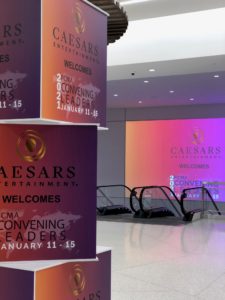 The Professional Convention Management Association took Friedman's words to heart over the last year and after its most successful annual conference in January 2020 in San Francisco (5,300 attendance/ 4,450 on site), it spent this painful year putting tools in place to support members who could no longer plan meetings as they had in the past.
The organization offered free memberships to those who had lost their jobs and about 500 applied, largely on the supplier side, according to Karamat. It ended the year with more than 8,000 members, a record, which came both from nurturing young (Gen Z) meeting professionals—a focus for the last two years—and from acquisition.
PCMA acquired Corporate Event Marketing Association (CEMA) in November and Incentive, Conference & Event Society Asia Pacific (ICESAP) in 2017.
"2020 was a black swan event, but I am proud of the way we were able to pivot," said Stuart Ruff-Lyon, 2020 PCMA board chair and vice president of events and education for Risk Management Society.
In addition to disruption from the pandemic, he pointed to the group's reaction to social unrest. PCMA staged 150 Community Conversations to help members work through their next steps, increased content in the Digital Event Management curriculum to help with reskilling, and formed a Black Lives Matter Task Force to build on progress made with the Ascent CEO Promise in 2018 and to develop suggestions for making the industry more diverse.
Due to the "unprecedented" year, Ruff-Lyon announced, displaced workers would be honored with the Chairman's Award.
Valerie Sumner, chair of the 2020 PCMA Foundation and owner of VRS Meetings and Events, reported that the foundation invested $900,000 on individual grants, industry support and chapter support. "We are trying to move forward the event field," she said.
Kirsten Olean, director of meetings with Cystic Fibrosis Foundation, is PCMA board chair elect and Angie Ranali, vice president of sales for the Midwest region with San Diego Tourism Authority, is foundation chair elect. She announced a new Groundbreakers Award in 2021 to recognize trailblazers who have advanced inclusion and equity.
More F2F Planned for 2021
Karamat said face-to-face meetings are starting to come back, although he is seeing more planned activity in the third and fourth quarters of the year, with full recovery in 2023. "Recovery is on its way, but we can't expect to go back to what it was. We have changed, and we have to help people face that new reality."
In the meantime, he said PCMA is looking to have a more physical presence this year. EduCon 2021 is planned for JW Marriott Desert Ridge in Phoenix, June 6-9. And a new omnichannel Convening EMEA developed out of the European Influencer Summit will be hosted in Lausanne, Switzerland, Oct. 17-19.
More Friedman Wisdom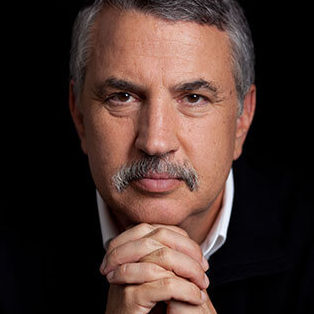 "Baby, the world is flatter than ever," said the author of the 2005 bestseller, The World is Flat: A Brief History of the Twenty-First Century. The resulting lack of buffers will cause disruption that will require innovation. Look for more changes AC (after coronavirus), he said.
Human adaptation was tested with a geopolitical crisis on 9/11, a financial crisis in 2008, a medical pandemic in 2020—and next comes a climate disruption. "Each starts with a warning and then shakes the whole world," he said.
Rebuilding the events industry will require meeting professionals to take responsibility to reskill themselves. "We can't assume someone will do it for us. We have to create a learning ecosystem," Friedman said.
He saw some cause for optimism. "We will see an explosion of creative destruction, creative destruction will be on steroids," he said. More people have cheap tools of innovation and access to high-powered computing through the cloud. Money is almost free due to low interest rates, so more businesses will be launched.
The downside? The half-life of skills will get smaller. "The usefulness of what you know today will be relevant for a smaller amount of time as technology development accelerates.
"We need just-in-time education by employers and developers. We have to change the model from 'learn, work, retire' to 'learn, work, learn, work, repeat," he said.
He predicted that companies will be seen as platforms, with some tasks done by employees, but others farmed out to gig workers. "We will need problem finders, not problem solvers. The iPad and iPhone were examples of things we didn't know we needed until Steve Jobs told us we couldn't live without them." He suggested people who study humanities might be better at that than those with computer degrees in a world of no-code software.
Despite all the changes, Friedman predicted that in-person events will not go away. "Yes, you can reach more people in virtual talks, but if don't go, you don't know. The experience of being there and talking to people is what helps us learn and see new points of view. You have to be where ideas collide."
A Message of Encouragement
Among the regional gatherings was Oklahoma City. Today, a keynote livestreamed the horrifying but ultimately uplifting story by Amy Downs, who survived the 1995 bombing of the city's federal building. A teller in a credit union in the building, she plummeted three stories as the nine-story building collapsed and was trapped upside down in rubble for hours. Eighteen of her coworkers died.
"I remember wondering if I was dead or alive," she said.
Now, she is CEO of the same credit union and has successfully completed an Ironman competition.
"Hope is simply having a goal, being clear about what you want. Constantly visualize the finish line," she advised meeting professionals in the in-person and virtual audience. "Keep your eyes on that finish line. Break it down into steps. You really will make it through. You're here seeking out information for how to navigate. So, my bet's on you. You got this."