In September, Walt Disney World Swan and Dolphin was host hotel for professional soccer's MLS is Back Tournament. MLS was the first pro league to create a bubble atmosphere for players, separating the athletes from the spectators, thus protecting everyone. group travel
This example was cited in newly compiled data from InterContinental Hotels Group (IHG), which shows that sports and entertainment are leading the comeback for group travel.
According to the study, sports and entertainment bookings have been increasing steadily since the earliest days of the COVID-19 outbreak. Thanks to the entertainment business, for example, at least two properties, Kimpton Monaco in Portland, Oregon, and Staybridge Suites Long Beach Airport, in California, were able to reopen sooner than anticipated.
"Film and television productions are looking for responsible ways to keep their projects on track and produce content for 2021 and beyond. Many productions are utilizing our hotels in cities such as Atlanta; Chicago; San Diego; and Manchester, England to create 'bubbles' for crews to sequester while filming," Derek DeCross, senior vice president of global sales for IHG Hotels & Resorts, said.
Sports bookings have seen monthly improvement since May, and through August have accounted for more than 1/3 of booked group business, with larger bookings slated for 2021 and beyond. Youth sports bookings have been made at IHG brands like Holiday Inn and Holiday Inn Express. And Indianapolis recently hosted Tournament of Champions, a California-based high school tournament.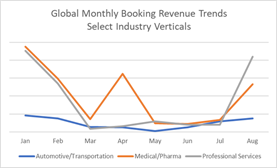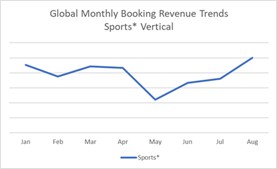 IHG's research notes growth in other sectors as well. August saw a significant gain in medical- and pharmaceutical-related bookings and the biggest increase in automotive industry bookings since January.