Sherrif Karamat leads PCMA's drive toward economic and social transformation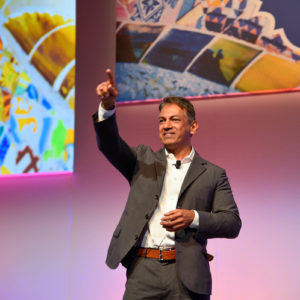 Birthplace: Mahaicony District, Guyana
Title: President and CEO of PCMA
Education: Bachelor's degree in international business and marketing, and MBA in international business and marketing, with a minor in finance, both from York University.
PCMA president and CEO Sherrif Karamat now occupies an office in the famed, 40-story Jewelers Building in Chicago, but in spirit, he's not very far from the fields of his native Guyana.
That's largely because throughout his life, Karamat has remained focused on the teachings of his parents, Yusuf and Zai, who raised a family of 16 biological children—plus many others they adopted—while working as rice farmers and cattle ranchers in northeastern South America.
"My parents came from very humble beginnings, but they believed that people should take their life into their own hands and live on their own terms," Karamat says. "They taught me two things that really influenced my life: that we need for all people to do well to have a prosperous society and that the more education people have, the more they will be able to prosper."
See also: Make the Most of Your PCMA Trip to SF
His parents not only achieved success in their own lives, but also built a school for local children (Karamat Government School, which still exists) and a small medical clinic to provide people with intermediary help before they are taken to a hospital. And his parents' two teachings have provided much of the foundation for Karamat's life, including the way he has been reshaping PCMA since longtime president and CEO Deborah Sexton stepped down last January.
Expanding PCMA's Vision
During the final years of Sexton's watch, she and Karamat—who was serving as chief operating officer—began to expand PCMA into a more global organization, both digitally and geographically. Shortly after Karamat became CEO, he announced that PCMA's new vision statement was to drive global economic and social transformation through business events.
"This is what I truly felt was my passion, where I could bring value," he says. "The means to the end [transformation] is not just the event or meeting. The means to the end is the impact that it has on broader society. My purpose in life is to use this platform to bring a quality of life to people that they would not otherwise have, much like my parents did when they saw that they could help by creating a school and a medical center. So, I was rethinking my childhood all over again as we created this vision of economic and social transformation."
Central to this vision are expanding PCMA's reach, enhancing its educational offerings, empowering more people, providing additional personal and professional development, and actively welcoming everyone, regardless of their ideas, gender, sexual orientation, ethnicity or cultural background. Karamat also emphasizes the need for a fundamental change in the ways meetings and events are approached.
"Organizing a meeting or an event is a good thing, and you have to be good at it, but that's not good enough," he says. "As a matter of fact, in order to even be in the 'game,' that part should be flawless, expected and a given. But we need to be focused on outcomes. Why are we doing what we're doing, and are we achieving meaningful successes?
"In that vein, we've invested a significant amount of research and development in how we can make that happen. What you are seeing at PCMA events such as Convening Leaders today is a manifestation of that work—and it's only started. Ultimately, all our events will really look at the different verticals that are important to driving economic and social transformation."
Convening Leaders and Other Efforts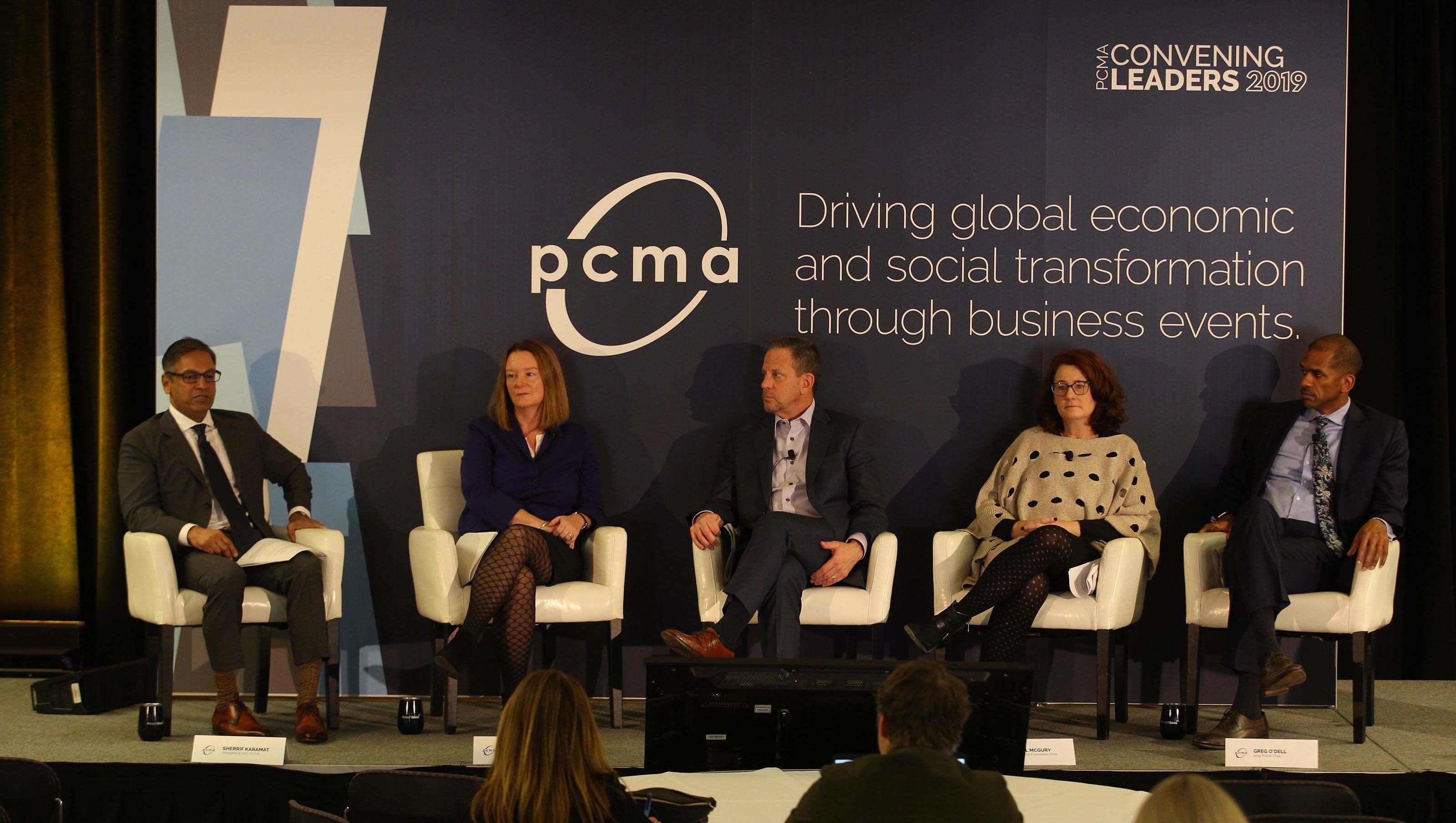 Convening Leaders 2020, taking place Jan. 5–8 at Moscone Center in San Francisco, is designed for business events professionals to gain innovative ideas and insights from industry leaders. A leadership summit on economic and social transformation will be offered, as well as a broad mix of speakers, including NASA flight control director Gene Kranz, former U.S. Secretary of State Condoleezza Rice, Endeavor Chief Marketing Officer Bozoma Saint John and author Simon Sinek.
"These are global leaders, big thinkers who really challenge us and make us look at the platform for business events in a different light about the power we have," Karamat says. "My hope is that we will no longer go to governments anywhere for handouts, but instead people will come to us as an industry because they recognize the power of the business events platform to make economic and social changes.
"I want to take back our power as an industry and utilize it for good so that others will come to us and say they want to join or be a part of what we're doing."
PCMA already has taken several other steps to achieve its strategic vision, such as launching the Ascent initiative, which is providing inspiration, research, best practices and real-life tools to promote the inclusion of all members of society and ensure diversity. PCMA has been requesting leaders in the business events community to sign the Ascent CEO Promise, which outlines actions they will take to create more inclusive and equitable workplaces and events.
Embarking on a Career
Karamat is clearly pleased that rapid progress has been made in working toward PCMA's new vision, especially since it is so close to his heart. But his journey to get to this point his been full of twists and turns.
Even as a very young boy, Karamat was a voracious reader, and dreamed of becoming an airline pilot. He was a successful student, and after completing primary school in Guyana (then known as British Guiana), his family moved to Toronto, where he attended high school. Karamat then enrolled in Western University in London, Ontario, but had to drop out because he couldn't afford the costs.
A lifelong lover of sports, he began working for the Toronto Blizzard of the North American Soccer League, with the goal of becoming a chief marketing officer for a soccer, football or baseball franchise. The league soon folded, but Kasten von Wersebe, the owner of the team, had taken an interest in Karamat, and asked if he would like to work in Niagara Falls at one of the nine hotels he owned in Canada that were part of ITT Sheraton.
"He said that I should consider working in the hotel industry," Karamat says. "I told him that I thought I should go back to school, but he then said that he would invest in me if I would commit to the hotel industry. He said he would send me to a hotel management trainee program if I was prepared to do the work—and accept a 50 percent pay cut."
Karamat agreed, and ended up as night manager in the hotel. "I did anything I wanted to do—I wanted to learn, and I learned a lot," he says.
Within a year, Karamat was transferred to Toronto, where he worked in sales at two hotels, but also decided to go back to school part-time. Karamat enrolled at York University, and eventually received a bachelor's degree in international business and marketing, as well as an MBA in international business and marketing, with a minor in finance.
Toronto Calls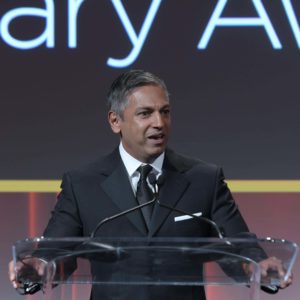 "I decided I needed to get much more serious about my career, my direction and what I wanted to do," he says. The Toronto Convention & Visitors Bureau [now Tourism Toronto] asked if he would be interested in an available sales position, but just as in Niagara Falls, he would need to take a 50 percent cut in pay from what he was then earning.
"I thought, 'Here I go again. What am I doing this for?'" Karamat says. "But the person who was interested in hiring me [vice president Gino Giancola], said, 'Sherrif, if you are as good as I think you are, you will be in a fishbowl. Everyone will notice what you're doing: If you're doing good things, they'll notice them, and if you do bad things, they'll notice them even more. But if you do good things, I promise you that your career will take off."
He was hired as a director, and subsequently took over as vice president of business sales and client services. Karamat was forging a successful career and helping to boost Toronto as a meetings destination when a worldwide outbreak of SARS (severe acute respiratory syndrome, a viral respiratory disease) hit Toronto hard in 2003, claiming 42 lives.
"It was a very devastating time for Toronto," he says. "The deaths were one thing, but there was also a fear of the disease. The hotel occupancy rate plummeted to the teens, and in one month Toronto lost 339,000 group room nights and 32,000 jobs in the service industry.
"A light bulb went off in my head about the power of the business events industry—the power it can have when things go right, and the power it can have when things go wrong. And this fundamentally changed my life. I felt a sense of enormous responsibility about what a convention district bureau does for a city. I had just finished my MBA, and I was soul-searching about whether I was bringing value, but when SARS had this profound impact on me, I could not walk away from the city."
He—along with Barry Smith, then president and CEO of Metro Toronto Convention Centre—traveled by plane nearly every day to try to save conventions for Toronto. At the end of it, Karamat felt completely burned out. He wanted to leave the job, but his sense of responsibility won out. He resolved to stay until the city was more stable.
Linking Up with PCMA
When SARS was in full bloom in Toronto, the first person who contacted him to volunteer help was David Kushner, then president and CEO of PCMA. (Karamat had been volunteering for PCMA since the early 1990s, and in 2000 had served as president of the Toronto chapter.) "It was incredible to me that PCMA would try to come to our rescue," Karamat says. Together, they organized a global webinar in Toronto to discuss the issue. It was well-received, and they collaborated on subsequent efforts to publicize and address the situation.
By August 2003, SARS had subsided, so Karamat planned to attend ASAE and then vacation in Hawaii with family members. A couple of days before the trip, Kushner called Karamat and praised him for the way he conducted himself during the SARS epidemic, and asked if he had ever considered working for PCMA.
"I told him, 'No. I don't know what I could do at PCMA that makes me feel the way I do about what a convention bureau does,'" he says. "But on the day I was going to leave for Hawaii, he asked me to fly to Chicago beforehand to meet with him."
They ended up meeting in Chicago, and when Karamat arrived in Honolulu, he received a message from Kushner, inviting him to join PCMA. Increasingly intrigued and motivated by his conversations with Kushner, Karamat resigned from his CVB position upon his return to Toronto, and he became vice president of sales and sponsorship for PCMA. After about six months, he advanced to chief partner relations officer.
Karamat subsequently worked as chief operating officer for 10 years under Sexton, who gave him plenty of leverage to help shape PCMA. Together, they made some fundamental changes that helped to put the organization on more solid financial footing.
He treasures the close relationship he and Sexton forged, saying that after about a year of working together, they were "inseparable," sharing a mutual passion for PCMA's mission. "Deborah brought a new energy to PCMA and a presence to her role that I just loved," Karamat says.
Keys to Success
Karamat attributes much of his success to his ability to learn from Sexton and others, both within and outside the meetings industry. "My parents used to say, 'Try to be around people who are smarter than you,'" Karamat says. "That has always stayed with me."
Three other keys to his success have been his ability to see "the glass half-full, rather than half-empty," to build strong professional networks and to understand that though many people fear success more than failure—because success brings more accountability and responsibility—it is to be celebrated for bringing more exciting opportunities and challenges.
He hopes that his legacy to PCMA and the world in general will be that he helped to bring positive changes that enable people to live better, more productive lives.
"I believe we owe it to the next generation to leave this place a better place than it was when we started—we need to equip younger generations so that they can be successful," he says. "Also, I firmly believe we should no longer need to have conversations about women's rights, gay and lesbian rights, and whatever. For me, people are people, and everyone should have an equal playing field.
"I also think that we should make sure that our future is renewable by creating sustainable jobs and industries that bring about positive changes so that people can have a good life."
On a more personal level, he spends as much time as he can with his 93-year-old mother and enjoys tennis, soccer and golf. Describing himself as a "big gym person," he also is a weight-lifter, and helps people with their fitness, diet and other health routines.
"But I also love red wine, and I'm not going to give that up," he says, laughing.