How do you gather 650 meeting professionals in one place and simultaneously stream the action to more than 1,100 people watching at home? Paul Van Deventer, president and CEO of Meeting Professionals International answered by doing just that—very carefully. From the opening reception on Main Street in Grapevine, Texas, to the general sessions at Gaylord Texan, the emphasis for the "reunite for recovery" event was on demonstrating how protocols could be followed while still learning and networking.
Attendees filled out daily health checks that were managed by InHouse Physicians and had their temperature checked before they could enter the events. Masks were required unless actively eating or drinking and the 72-inch rounds were set with four people per table. "The world is watching; we have to do this right," Van Deventer said.
"Our role is to model practices for safely and affectively hosting live business events," he stressed in his remarks from stage during the opening session. To that end, the streaming portion of the hybrid event was done completely live with nothing prerecorded. The virtual audience was included in comments read from the stage and some were brought onto the big screen monitor to answer questions for the live audience. The two groups had parallel journeys.
The simulcast included a keynote that from a remote speaker, Shabnam Mogharabi, who co-founded the inspirational web site SoulPancake and shared a Joy Toolkit. For those who didn't get a chance to play along at home, the main tools are expressing gratitude; connecting with vulnerability; living for a cause, not applause; and starting today. "Being intentional about bringing joy into your life is an act of rebellion. It allows you to deal with life's circumstance, no matter what they are," she said.
The Road to Recovery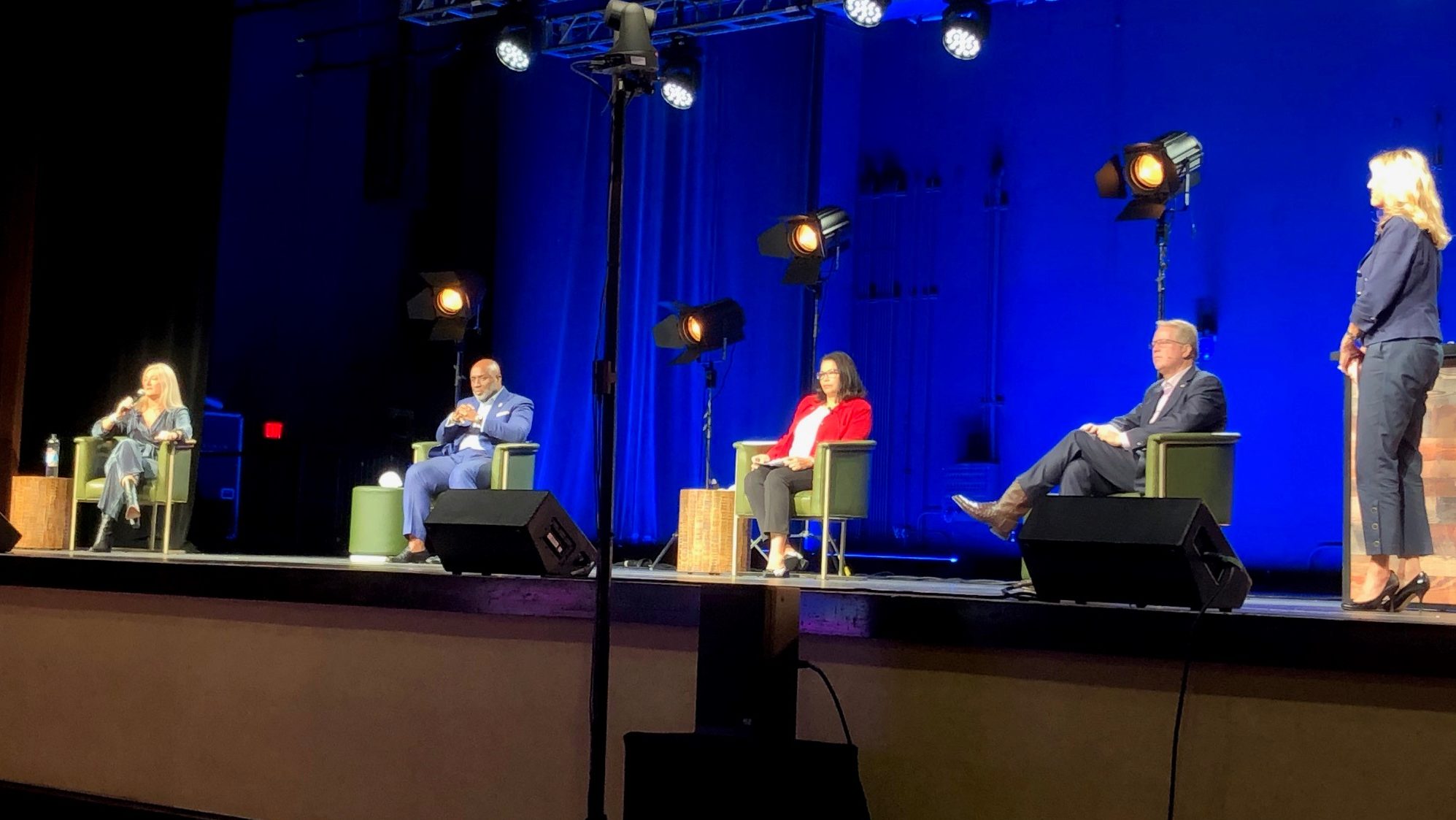 A panel discussion looked ahead to how the industry will get back on its feet after the crippling blow of being shut down much of 2020. Amy Calvert, CEO of Events Industry Council, which is gathering best practices through APEX COVID-19 Business Recovery Taskforce, explained that the crisis is an opportunity to reflect on what was taken for granted pre-COVID. "We have a moment as an industry to think about why we do what we do and reconnect with our purpose," she said.
Nan Marchand, managing director of the Meetings Mean Business Coalition, called for presenting a unified voice, particularly to elected officials who can help with the recovery. "The economy can't grow without this industry. We will come back stronger because we have learned," she said.
At the same time, Jason Dunn, chair of the National Coalition of Black Meeting Professionals, called on meeting professionals to take this opportunity to collaborate and "add more chairs to the Thanksgiving table." He explained that empathy will help to balance the human and business sides of the industry. "We will get through with passion and perseverance," he said.
Van Deventer was optimistic that the industry would be appreciated more now that companies had to operate without the marketing, sales and collaborating power of in-person events. "They know they need it and we have to bring it back for them," he said. "We need a new experience for a new normal because when we meet, we change the world."
Open for Business
Cities from across the country shared updates about how they have continued to draw crowds during the pandemic and plans for even more group business in the coming years. Many of the presentations included their GBAC STAR certifications and videos of their sanitation foggers. They also shared practical advice they have learned from the sporting events and regional corporate meetings that have started to return. Being a drive-in destination was seen as a draw. Similarly, having the ability to manage traffic flow to serve up programming (and meals) in waves with plenty of room to spread out was the key in many instances. Access to outdoor spaces helped, too.
Maura Gast, executive director of Irving Convention and Visitors Bureau, reported that a half dozen meetings have been held at Irving Convention Center at Las Colinas since the pandemic was announced. New equipment, including Clorox sanitizers, touchless access points and temperature screening stations, is now in place to welcome more visitors safely. To aid compliance, the venue is offering double the space groups normally would book at no extra charge through June of 2021.
Susie Townsend, vice president of visitor experience at Visit Indy, mourned the fact that no one is kissing bricks at Indianapolis Motor Speedway today as they did when MPI was in that city in 2018, but they are meeting. A total of 21 live events brought 50,000 attendees for medical and corporate meetings and sporting events. The community has come together to support each other and beef up pandemic responses by installing touchless entry throughout Indiana Convention Center and upgrade the building's air filtration system. And in a bid to draw hybrid meetings, prices were cut on WiFi access and AV services and equipment rental. Looking forward, a 143,000-square-foot expansion is planned to begin in 2022 in parallel with the building of a new, 800-room Hilton Signia hotel, which will be connected by skywalk and completed in 2025.
Brad Dean, CEO of Discover Puerto Rico, explained that after the hurricanes and earthquake that devastated the island over the last three years, the destination has a Ph.D. in resilience. And the experience made them stronger. The U.S. territory has invested in power, internet and meetings infrastructure over that time. For hybrid meetings, a production studio can be set up in any of the meeting rooms in Puerto Rico Convention Center. And a new five-acre El Distrito San Juan entertainment venue is opening next door.
Keith Talbert, director of sales with Visit Oklahoma City, Oklahoma, reported that the up and coming destination hosted 83 events and 414,519 attendees between May and August and has no set limits on occupancy. With a new convention center and a 605-rooom Omni Oklahoma City opening at the beginning of 2021, the city will be on a lot more meeting planner radars.
Todd Bertka, director of Waco Convention Center & Visitors Bureau, shared a glimpse of what awaits groups in the heart of Texas when they return to the city. Five hotels are currently under construction totaling 607 guest rooms. Another 5 projects with 950 rooms, including an AC Hotel by Marriott, have been announced.
Waco natives Chip and Joanna Gaines from the television show Fixer Upper have opened Magnolia Market at the Silos and are in the process of opening a hotel. And a burgeoning craft beer scene has taken root.
Waco Convention Center's 144,000 sq. ft. Are open at 50 percent capacity and incentives are being offered for bringing groups to the area.
Tammy Routh, senior vice president of global sales with Marriott International, said a lot of meetings are still happening. The company is documenting cleanliness standards, F&B solutions and suggestions for managing traffic flow at large events on Marriott Bonvoy Events so planners can learn from each other. "Everyone has a role and every meeting is different," she said. "That is why we are getting creative."