What's better to find in your stocking than candy, diamonds or even your two front teeth? Meeting professionals facing a year of lumps of coal are putting venues with a turnkey production studio at the top of their lists. As hybrid meetings become the norm going forward, having the ability to record and produce from the meeting space could be the best present ever.
"The more venues can help us achieve the Monday Night Football model, the better off we all will be," said Megan Finnell, director of meetings and conferences with Medical Group Management Association (MGMA). "That is the future, and it is never going away."
Venues across the world are listening, and many have already delivered with upgraded equipment, dedicated space and on-site expertise.
1. Puerto Rico Convention Center boasts a 600,000-square-foot space with high-end video conferencing capabilities. The Broadcast Studio can be set up in any of the 15 meeting rooms or 29 break-out rooms and includes livestreaming, video broadcast and interactive video editing. Clients can choose to work with the venue's preferred AV company, PSAV, or bring their own. Enhancements available include Wi-Fi, dynamic backdrops (panels, monitors, LED walls), stage design (furniture and plants) and remote-presenter kits.
2. StreamLine by Loews is a new brand-wide solution for virtual gatherings. Alex Tisch, president of Loews Hotels & Co. explained the offering as a "deliberate virtual meetings experience aimed to exceed the expectations of groups looking to assemble in any way they desire."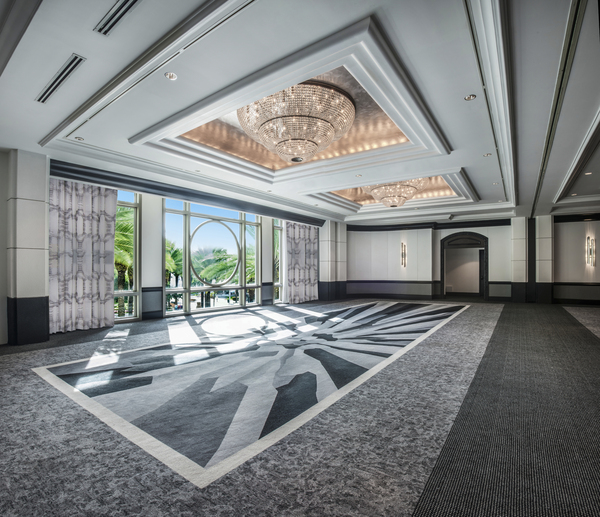 StreamLine features two options. Virtual Meetings Your Way promises the same attention to detail whether the meeting is virtual or in-person, or a hybrid of both. It includes 15 percent off the best available rate for presenter and production guest rooms, a 10 percent food and beverage discount across the hotel, meeting space rental at $1 per square foot and no cost for bringing in an outside production company. Some conditions apply.
The second offering, available at select properties, is called The Virtual Presentation Stage. It's based on a partnership with PSAV to offer turnkey, state-of-the-art technology studio spaces, featuring built-in technology that can deliver professional footage in a styled environment, with the ability to broadcast globally. Packages begin at $5,000, with price varying based on production requirements.
3. ExCeL London partnered with AV supplier Anna Valley to establish a unique environment for organizers to deliver dynamic hybrid events, using an adaptable digital backdrop and stage floor, a multicamera and full-sound system and lighting rig, as well as space for up to 30 delegates socially distanced per government guidelines. Remote presenters with broadcast-quality feeds can be included in studio activity, and content can be streamed to platforms such as Zoom, YouTube and Facebook.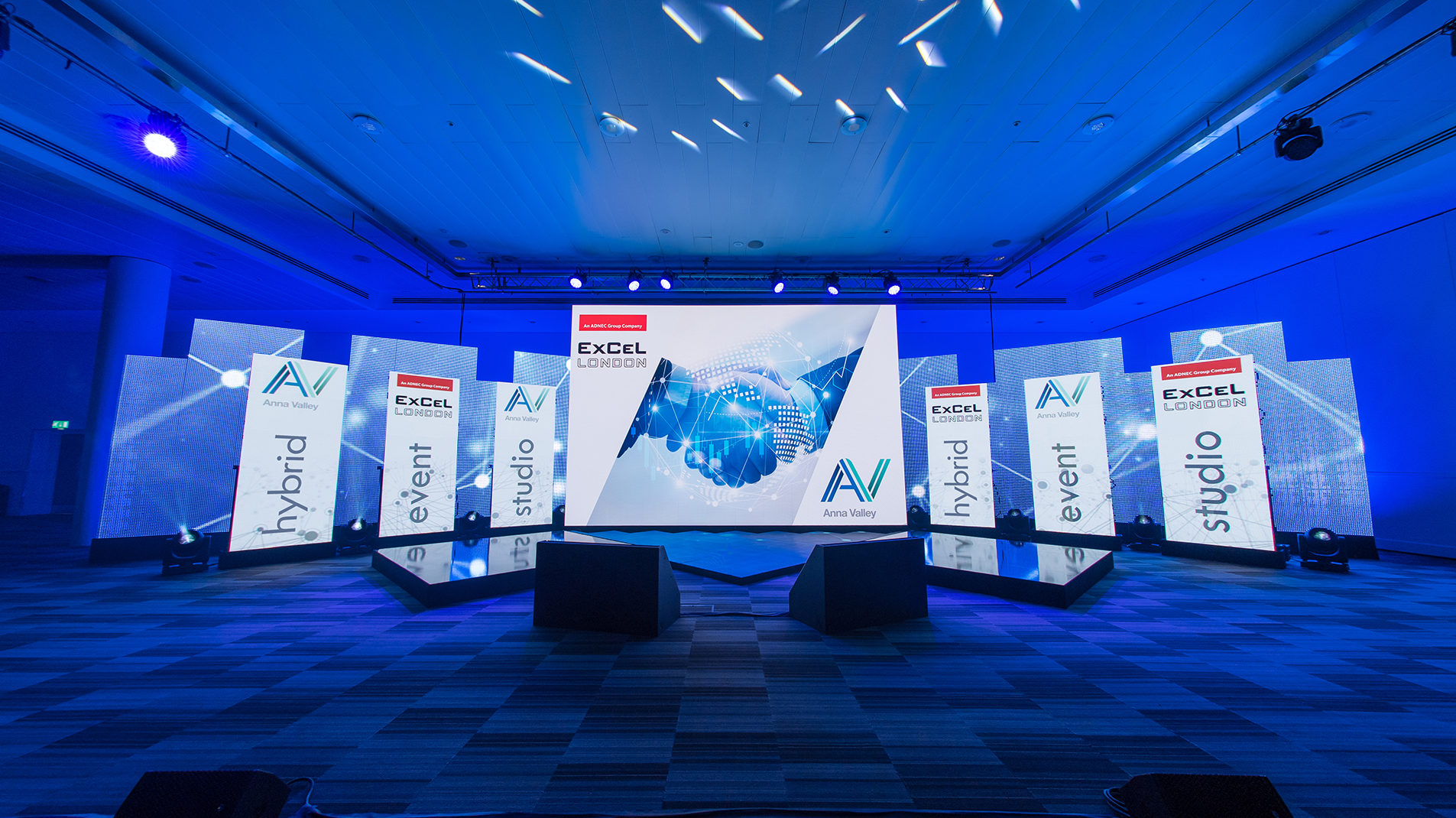 The studio is in a central, self-contained area above the venue's main event halls, making it an easy addition to a larger, live conference or hybrid event. Nearby are office spaces, green rooms and production areas.
"While nothing beats meeting face-to-face or being amid the buzz of an auditorium, this studio will enable organizers to deliver exceptional audience experiences whether the event is attended in person or remotely," said Jeremy Rees, ExCeL London CEO.
4. Explore St. Louis recently introduced StreamStage at America's Center, a new hybrid meeting solution offered in the Ferrara Theatre. It's got everything needed for a hybrid experience, including a production manager, ample theater space for social distancing, internet bandwidth for livestreaming, an HD camera, a studio backdrop with lighting and projection capabilities, and audio and streaming technology; the package can be rented for a half or full day. America's Center partners PSAV and Smart City provide all technology, project management and streaming services.
"Our new StreamStage is a direct response to organizers seeking new ways to connect with their stakeholders in a safe and responsible manner and embodies our dedication to building the meeting facility of the future," said Kitty Ratcliffe, president of Explore St. Louis.
StreamStage is a component of the AC Next Gen Project, St. Louis' $175 million upgrade of America's Center. Other upgrades specifically designed to for in-person safety include touch-free doorways, a 60,000-square-foot ballroom, expansive outdoor green spaces and enhanced ventilation throughout an additional 92,000 sq. ft. of exhibit space.
5. Long Beach Convention & Visitors Bureau and the Long Beach Convention & Entertainment Center (LBCEC) has rolled out Long Beach Live, touted as a turnkey solution for the blended meetings and events industry. This digital-first approach takes cues from hosting events such as Twitch and TED, both of which enjoy highly engaged audiences in person and online.
The LBCEC campus has been turned into a multicamera, multispace broadcast facility. Virtual audiences are encouraged to participate using Long Beach Live's digital platform, which allows for chat, social integration and other remote interactivity.
A new director of creative initiatives will act as executive producer, guiding the planning process and ensuring a cohesive bridge between the live event and a sophisticated broadcast production. Additionally, the entire Long Beach CVB team has received PCMA's Digital Event Strategist (DES) certification. A show producer with a background in the television and film industry will manage the production crew.
Recent changes to the campus include boosting bandwidth capabilities, increased lighting in all venues, construction of a stand-alone studio, an array of remote-controlled robotic cameras and the addition of production and edit space.
"Long Beach Live is an innovative solution to renewing the state of the meetings industry," said Steve Goodling, president and CEO of the Long Beach Convention & Visitors Bureau. "The industry has largely focused on the in-person experience. However, blended events present the opportunity for greater connection, larger audiences, evergreen content, smaller carbon footprint, ongoing engagement and more."
6. Javits Center in New York City installed a 30,000-square-foot broadcast studio that can accommodate up to 300 attendees with social distancing measures in place. At the end of September the facility, which is still embarking on a 1.2-million-square-foot expansion, welcomed Nest Summit, the largest international climate summit, for a virtual program. The space boasted a giant video wall, an on-site production team, a control room and multiple video cameras.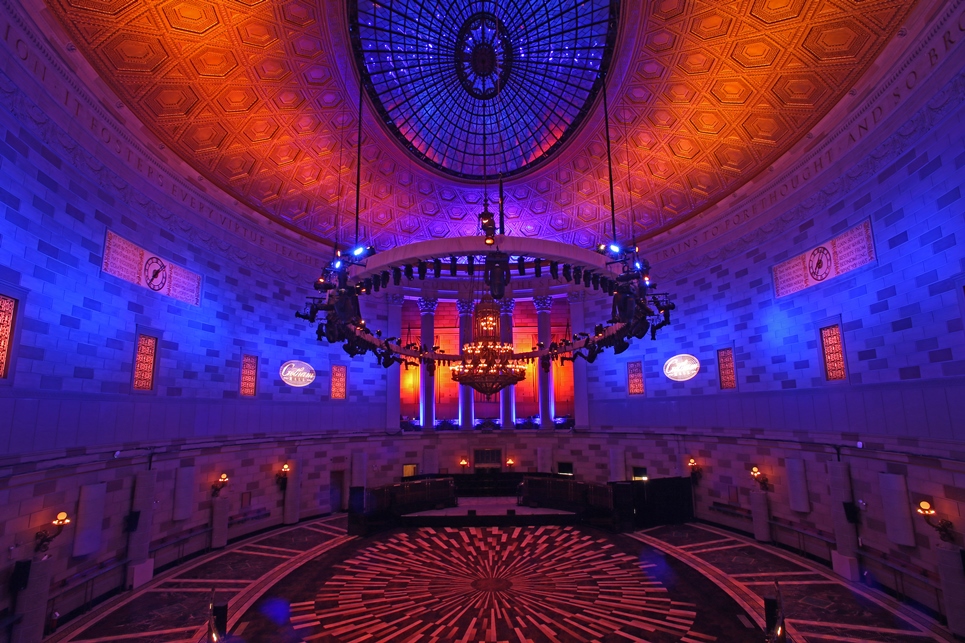 Javits is one of a host of NYC venues prepared to host hybrid gatherings. The list includes Convene's 14 venues in the city; etc.venues, which partner with Glisser to offer elevated audience engagement and insights; Ziegfeld Ballroom and Manhattan Center, which, in partnership with Metro Multimedia, offers livestreams, web hosting and studio spaces.
"As we look forward to welcoming larger groups back to New York City in the future, we are able to bring the only-in-NYC meeting and event experience directly to delegates, no matter where they are in the world, through these hybrid offerings," added Jerry Cito, Executive Vice President of Convention Development at NYC & Company.
Questions to Ask Producer Partners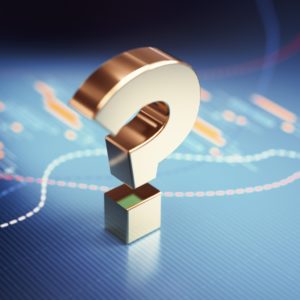 Live Nation Special Events, the umbrella for 150 venues, including House of Blues concert stages in multiple cities, Coca-Cola Roxy in Atlanta and Orpheum Theatre in Boston, has a long history of streaming content for corporate groups. Barbara Bouman, Live Nation vice president of national sales, shared tips for what to ask your potential producer partner before deciding on where to host your hybrid meeting.
What are your goals? This is always the starting point. What are you hoping to accomplish, what is the purpose and how will you measure success?
How many people will be attending? Start with the scope of who will be attending in person, how many may be in the virtual audience and where will they be coming from.
What is included, and what will you have to rent? When a venue has the equipment on site, that can reduce the price, but ask early on if special equipment will be needed to deliver the experience you are expecting. This would also be a good time to ask what bandwidth is included, its capacity and if you will be charged extra for Wi-Fi.
What cleanliness and sanitation measures are in place? Ask for the protocols, how they handle F&B on site, a map of how traffic will flow and where sanitations stations will be located.
How are you making your virtual audience feel as included as the in-person audience? This is the time to talk about ways to engage the at-home audience. Can you insert a video wall behind the in-person speaker that scrolls through social media feeds tagging the event? Will you be able to create a sense of place by showing iconic video of the venue? Will you be sending kits home with snacks, swag and props? Will you hire a separate virtual moderator to speak directly to the virtual audience?