Can you say, "Virtual happy hour?" Chances are it was never in your lexicon before late March, when offices throughout the country began to empty out…and the new realities of F&B during COVID set in. Did you even know how to spell that plastic barrier between you and a buffet server before? Plexiglas or plexiglass?
Looking back over our coverage of how planners, hotel chefs and caterers adapted to a changed world, here are highlights.
Here's Looking at You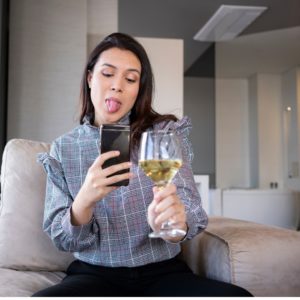 Zoom F&B, you could call it. From sending prepackaged food and drink for attendees to share simultaneously from the safety of their undisclosed locations to simply asking everyone to raise a glass of something in a cybertoast, this was how we keep team camaraderie alive.
"Engage people on a personal level," advised Mark Roberts, chief marketing officer for collaboration and communications company PGi, in an April post. "Don't limit a virtual meeting to business; host a live virtual happy hour and invite your pets or share a video of your meeting location to increase human interaction and make sure you're connecting with your audience."
Of course, we got tired of that pretty fast. It didn't match up to the real, in-person thing. But it was better than nothing.
Hybrid Noshes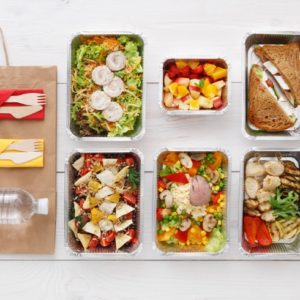 With many more months of hard-won experience under our belts, Roberts weighed in again in November, when smaller, regional meetings had resumed in some places but with a twist—there was a hybrid component that allowed other attendees to drop in from anywhere on the planet.
"If an in-person session would typically have time for lunch, why not deliver a meal to attendees so they can join in from wherever they are?" he asked. "Send them a bottle of Champagne for a toast or a bag of tchotchkes so that they 'go home' feeling like they received some added value."
Safety—but Appeal, Too!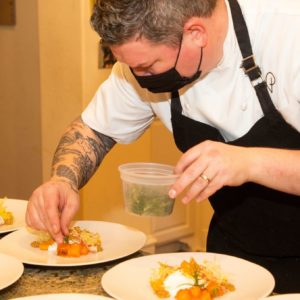 Used to be, food safety meant proper kitchen and service cleanliness. Now, of course, it also means protecting attendees and kitchen staff from each other. That's where the Plexiglas (or plexiglass, your choice) comes in. And out went the shrimp bowl, the self-service buffet and the breadbasket and iced-tea pitcher preset on the six-top round.
Mary Cline of Wolfgang Puck Catering and other experts filled us in on touchless, yet matchless, COVID cuisine.
Anything Goes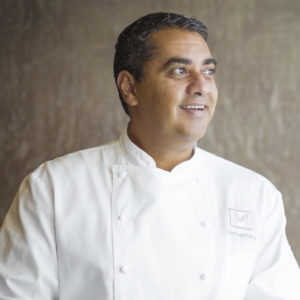 We know chefs and caterers are big on creativity. Every planner has a Top 10 of pieces de resistance like fantastical ice sculptures, desserts disguised as works of art and so on. Yet the pandemic has been the real test.
As he dared to open a new restaurant in this uber-challenging time, Michelin-starred chef Michael Mina reflected on these past nine months.  Asked what he's learned during these challenging times, he laughed and said, "We've gotten extremely good at telling people how to reheat food. It could never happen again that you have all these great chefs thinking about how to make to-go food. From that, you also see fun concepts emerge. All the rules are in play."
May the best F&B win.