Just when meeting professionals are growing hoarse from bemoaning that COVID has changed everything, one group came along to show that the fundamentals are still the same. "We were hoping to remind marketers and event producers that conversation and connection is an important part of events, and that includes virtual," said Liz Lathan, CEO of Haute Dokimazo, producer of the September one-day virtual event The Age of Conversation Summit.
More: Haute Dokimazo: Putting the "Un" in Reunion
The entire experience, complete with retro theme and fun graphics, is now available on-demand for $20 and an eBook outlines the behind the scenes stuff—tech stack (they used QiqoChat), roles and responsibilities, checklists and takeaways from the dozens of presentations along multiple tracks, including career and job hunting, social media and "unlocking your inner entrepreneur."
Smart Meetings asked Lathan and event content manager Carrie Abernathy for lessons learned from the six-week push that recruited event professionals looking for virtual meeting experience to experiment with new ways of doing their job while keeping the human element at the center.
Creating Meaning—and Work Experience—Out of Nothing at All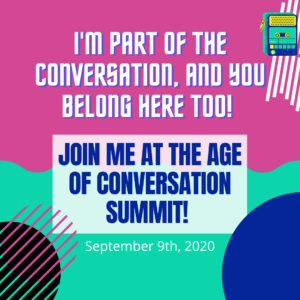 "There are ways to add in human connection to events and create meaningful connections between attendees," Lathan said. Now she has proven the power of playing on the humanity of shared pop culture touchstones and authentic presentations, the next experiment is to see if the energy can be maintained on in the group Slack channel.
Lathan's second big hope was to help event professionals get experience running a virtual event. "This is what I'm most proud of," she enthused. More than 100 event professionals were granted access to learn helping the team run the event so they have real experience. She hopes hundreds more benefit from the behind-the-scenes revelations so they can see how it was accomplished and "replicate it or do it better!"
Her biggest lesson? "Marketing is more important than you think," Lathan said. She called audience acquisition the hardest part of any event. She suggested dedicating a team to that workstream from the beginning rather than throwing it on at the end.
Abernathy agreed. "If content is queen, marketing is king," she said. "Compelling content is amazing, but if there isn't a solid structured marketing plan and target audience in place—your great content will not reach anyone."
You Can Sometimes Get What You Want
Lathan also got a lesson in compromise. "I also learned that even though I really wanted the event to be live conversation, some conversation leaders were just not comfortable doing it that way and needed to pre-record their sessions and just be available for live Q & A and I had to be okay with that if I wanted them to be part of the event."
The same goes for accommodating audience schedules. "People are busy and sometimes just can't make that day work, so it was imperative to have the recordings available for them," she said.
That was where the idea of the eBook came in. The shared Google document is where participants took notes on the sessions to create a type of CliffsNotes for participants who want to see which speakers they should go back and watch recorded. "I watched and listened to over a dozen sessions this weekend to add in more notes and OMG…these sessions were incredible!" One section on Virtual Engagement Ideas is filled with 12 entertainment activities to add to virtual events. The original content was organized in tracks called "Shift Happens," "Is This Thing On?" and "Unicorns + Rainbows."
Double Vision
A fun AV trick added to the energy for Rachel Sheerin's keynote, "The One Where You Reinvent Yourself" (everything had a "the one where" theme as a nod to the sitcom "Friends", a cultural touchstone that extended to the Central Perk breakout room for after-conversations). She had to tape the presentation in her living room because of logistical challenges. To keep everyone engaged, she changed the angle of the camera and herself every few minutes, even turning her head upside down to deliver a few lines. "In this moment of time for virtual events, I think it matters more than ever to bring lightness and smiles to people, plus some surprise and delight," she explained later.
Her dynamic presentation was the vehicle for a frank presentation that focused on self-confidence beyond title or external judgement. "Loving your work is an American tradition," she said in the description. "The majority of Americans gain most of their identity from their work, title and position in their companies. But what about when roles change?" That is when a change in the way you look at yourself comes in handy.
Remember the Time
Abernathy was still taking a deep breath in the days after the last attendee clicked off. Six weeks was "far from the ideal amount of time" to pull together concept, content, speakers and marketing, she said. She would have preferred to have at least 8-10 weeks to better flesh out attendee experience, vendors, sponsorships, look and feel of the event and marketing.
Virtual attendees also seem to work on their own clock. "They tend not to sign up until 24 hours prior to the conference," she reported. At least a quarter of attendees signed up in the 24 hours prior. "With our changing schedules, work from home atmosphere, and our daily lives getting in the way and forever changing—people cannot make commitments as easily," she reasoned.
Sophie's Choice
Some of the early decisions about platform, theme and partners paved the way for the engagement and experience on event day. Just as viewers have many choices when it comes to video programming, meeting professionals have a buffet of options for virtual meeting platforms.
"Do your homework," advised Abernathy. "It is not one-size-fits-all." In fact, she suggests that meetingprofs challenge platform designers to try things that may not exist on their system…yet. "Sometimes they can make it happen or find solutions or work arounds within your timeframe and budget," she said.
In the debate between live or Memorex, OnDemand is the way to go, Abernathy concluded. "A single day event is great, but many people may miss out on sessions." Having recorded options allows for attendee engagement far after the event is through.
Pro tip: Get permission from speakers and attendees to record them.
"Variety is truly the spice of virtual life," Abernathy said. In addition to pre-taped sessions, The Age of Conversation offered Zoom-optional virtual experiences and discussions.  The band SongDivision led a virtual happy hour where people created their own lyrics. A "Romper Room" space offered entertainment throughout the day so that people could step away for a brain-break without leaving the conference entirely. "It was truly an exercise in 'choosing your own adventure,'" she said. "Attendees didn't want to leave! That is a great problem to have—virtual or live!"