Don't let years of progress unravel
We had come so far together. Planners, partnered with suppliers, had made reducing a meeting's carbon footprint the accepted way of doing business—with a zero-waste event, the ultimate goal, shimmering on the horizon.
In the understandable rush to safeguard ourselves, critical momentum toward sustainability faltered. And, inevitably, some vested interests tried using the present crisis. In March, Politico obtained a letter sent by Plastic Industry Association to the FDA and U.S. Department of Health and Human Services, urging them promote the "health and safety benefits" of single-use plastics and to speak out against bans on them.
Reusable grocery bags and other reusable items, if washed or disinfected between uses (or not used for days), are said to be unlikely to spread the virus, according to the online nonprofit Grist, which observes that new items "come with an aura of cleanliness, while reusable and secondhand goods often fight the perception of being unsanitary."
"No disposable package is sterile," rejoins Tom Szaky, the founder and CEO of TerraCycle, in an interview with Grist. Unless a product is labeled as sterile, bacterial contamination is present. Take a disposable plastic bottle. "That bottle is going to be moving through a bottle plant. It's going to be put onto a pallet. That whole process is being touched and dust is being collected on it," Szaky said.
More: Re-incorporating Sustainability into the Future of Meetings
Surgical single-use face masks may be sterile but are typically made of polypropylene—plastic. New but reusable fabric masks are now seen as just as effective in protecting others from the wearer's exhalations that may contain the virus.
What Planners Can Do
For planners in these perilous times, keeping their eyes on the prize of sustainability will take extra effort and extra attendee education. These challenges were discussed by more than 175 participants in a recent online FICP Chat, a virtual education series by Financial & Insurance Professionals.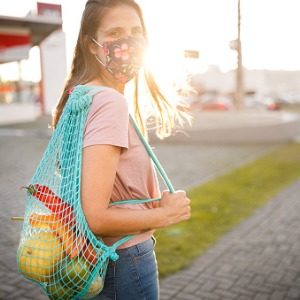 Cartoned water and touchless water stations were among sustainable alternatives to plastic bottles that surfaced in the session. So was donating leftover food, which adds a CSR element while also decreasing waste. Instead of typical room drops for incentives (and when hotel guest rooms are do-not-enter zones), it was suggested an environmental cause like planting a tree or adopting an endangered animal be done in honor of event attendees. Using digital alternatives to printed handouts and signage and donating items like centerpieces to local nonprofits were also urged.
Sanitizer is omnipresent now. And this may continue for a very long time. But as with masks, there are choices. Single-use sanitizer wipes reside at the least sustainable end of the spectrum. Small plastic bottles come next. More sustainable are no-touch, refillable wall dispensers. Large refillable dispensers are best.
As Katherine Martinko, an expert on sustainable living, wrote recently, "It is imperative that we not let one crisis turn into another." So, be safe. But keep zero waste shimmering on the horizon.
The Queen of Zero Waste
Bea Johnson's California family of four produces only one small glass jar of waste a year, compared to the American average of 4 1/2 pounds a day.
The author of Zero Waste Home lives by her Five Rs. Refuse (anything you don't need, like junk mail). Reduce (let go of what you do not use). Reuse (get rid of single-use items and buy reusable substitutes). Recycle (what you can't reuse). And Rot (compost, to reduce the 20 percent of landfill that is food waste).