Star Wars Land rendering
Disney is Illuminating the Circle of Life
The huge tree suddenly came to life, displaying bold, colorful images of animal spirits and nature scenes on its leaves and branches. People stood in amazement as they watched the magical show.
They were witnessing the new, nighttime Tree of Life show during a preview of coming attractions in April at Walt Disney World Resort in Bay Lake, Florida (near Orlando). The show, which opened to the public on Memorial Day weekend, enables visitors to experience the Tree of Life in an exciting new way throughout each evening. High-tech projections of images onto the tree are done so adeptly that they appear to emanate from within it.
"Technology and innovation are extremely important to us, but our storytelling is at the heart of what we do," says Michael Jung, creative portfolio executive for Disney Imagineering. "We build experiences that create emotional and visceral moments, but if we do our jobs right, you never notice the technology. Our focus is always on the story—we are storytellers at heart—but technology is a little bit like pixie dust, and gives wings to ideas and provides new ways to accomplish narrative environments in a highly believable and physically tangible manner."
While the tree is a technological marvel, more significantly it helps us to understand and feel that all creatures are part of an interconnected environment, a notion invoked by many other Disney attractions, including the upcoming Pandora–the World of Avatar, Star Wars Land and Rivers of Light show.
The Imagineers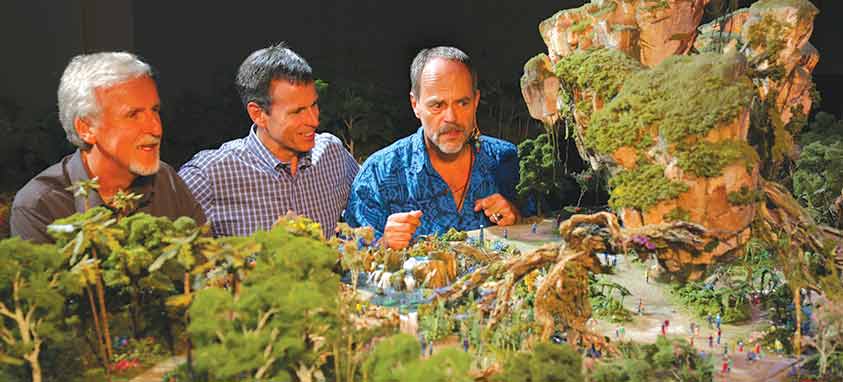 Avatar film director James Cameron, Walt Disney Parks & Resorts Adviser Tom Staggs and Disney Imagineering Senior Vice President and Creative Executive Joe Rohde examine a model of the upcoming Pandora—the World of Avatar attraction at Walt Disney World Resort, Bay Lake, Florida
Disney has long emphasized the idea of interconnectedness as its teams have worked together to create world-renowned products, including magnificent attractions in theme parks around the globe. This is especially true of the Imagineers, a group of Disney artists, architects, designers, drafters, machinists, model-makers, painters, project managers and many others who draw from their research and experiences to innovatively and passionately collaborate to blend art, science and technology in their brilliant creations.
"As Imagineers dream and scheme, things can get serious or silly, frustrating or fun," write Kevin Rafferty and Bruce Gordon in the book, Walt Disney Imagineering: A Behind the Dreams Look at Making the Magic Real. "Each idea is approached with minds open to any intriguing possibility.
"Every aspect is questioned, admired, debated, and turned upside down and inside out until that first sketch can take a daring leap off the napkin and grow into larger, more defined drawings and paintings. The brainstorming subsides when the basic idea is defined, understood and agreed upon by all group members. It belongs to all of us, keeping a rich heritage left to us by Walt Disney. Teamwork is truly the heart of Imagineering."
Disney's emphasis on interconnectivity in the workplace can be a stimulus to meetings professionals seeking to make their businesses and organizations more successful. The attractions that Imagineers create that invoke the interconnectedness of life can serve as a similar motivator and source of inspiration, with an added touch of magic.
Tree of Life
Trees, with their roots deeply entrenched within the Earth and branches reaching skyward, have long been considered a link that binds Earth and sky. The tree of life is one of the oldest and most widespread symbols throughout history. The mythologies of many religions, cultures and civilizations feature it as a representation of creation, power, wisdom, fertility and interconnectedness. It also connects humanity, nature and divinity—elements that sometimes appear to be quite unconnected.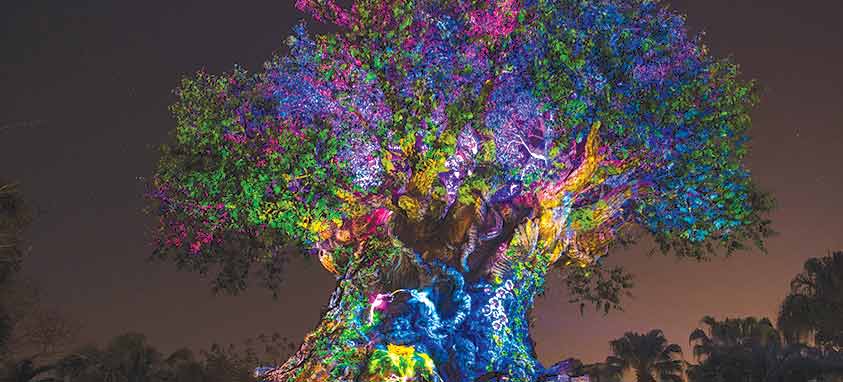 Tree of Life, Walt Disney World Resort, Bay Lake, Florida
Disney World's Tree of Life, an intricate man-made creation, debuted in 1998. It is 145 feet tall and 50 feet wide at its base, and is home to more than 300 meticulously detailed animal carvings on its massive trunk, gnarling roots and outstretched branches. Based on the structure of a bonsai tree, it has 8,000 branches of various sizes and more than 102,000 leaves, each over 1 foot long.
Three Imagineers and 10 artists worked for 18 months designing the tree, the symbol of Animal Kingdom park.
This winter, the tree's roots expanded into the attraction's central hub, which features intricate carvings of new creatures that make up the circle of life, from tiny bugs to crocodiles.
The Tree of Life's new evening offerings include several shows, each approximately three minutes long, which celebrate the balance and harmony that exists among all living things. The shows include a fox spreading gifts of love among the denizens of a wintry forest, a doe embarking on a thrilling cross-country journey and love blossoming between two hummingbirds.
"The goal of [the Tree of Life and Rivers of Light] shows was to truly express and manifest the real magic of nature," Jung says. "At Disney, we talk about magic a lot, but in nature, there are remarkable—and I would contend genuine and magical—moments such as the murmurations of birds, butterfly migrations, the Northern Lights, even the simple glow of a firefly.
"Our goal was to remind people of the magic right in front of them, and the importance of the interconnectivity between all life. Intrinsically that is a spiritual concept, but Disney's Animal Kingdom is by its very nature a place of spirit. It has a unique energy, emanating from deep within the Tree of Life and connecting all living things."
Rivers of Light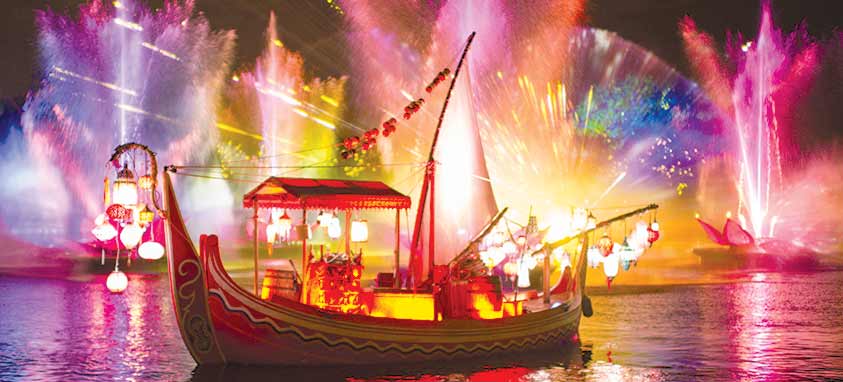 Rivers of Light show, Walt Disney World Resort, Bay Lake, Florida
A portion of Rivers of Light, a nighttime water and light show being developed in Disney World's Animal Kingdom park, was introduced at the preview event in April. It featured breathtaking special effects, including a brilliant, colorful display of glowing lanterns, magical fireflies, dancing fountains and animal spirits. The show's opening was scheduled for this spring, but has been delayed.
"In Rivers of Light, we were inspired by the ancient and timeless artistry of Southeastern Asian lantern festivals, and that felt so organic to Discovery Lake, and the beautiful Anandupur and Everest areas of the park," Jung says. "We wanted to immerse the audience in that world and let our storytellers emerge from that mystical canvas. These storytellers and their acolytes bring the offering of light and are able to harness the power of fireflies to affect a magical transformation, which brings nature to life. They tell a story about the rivers of light, or as we know them, the aurora borealis.
"This show is, at its heart, a celebration of life—not just biological life, but the very idea of life itself and of living. Of all the known places in our vast galaxy, only here have light and water come together to create life in all its beauty and diversity. I find that a very humbling and profound thought."
Rivers of Light will transport visitors across Asian jungles and tropical oceans to African savannahs and North American mountains. The show will utilize advanced technology to blend music with light, color and earthly elements. It will depict an ancient lantern festival guided by two storytellers who call forth four animal spirit guides: an Asian tiger, tropical turtle, African elephant and great horned owl. These spirit guides will return at different points during the show to lead the audience as they journey through the rivers of light.
As the show winds down, the aurora borealis will spring with unbridled joy as a menagerie of animals transcends above the cosmos, becoming glittering star constellations in the heavens. All of this activity blends together to convey the inspirational message of peace and the kinship of all living things.
Pandora–the World of Avatar
Pandora—the World of Avatar rendering  
James Cameron's movie, Avatar, is set in the year 2154, when humans have depleted Earth's natural resources, causing a severe energy crisis. The Resources Development Administration mines for unobtanium, a valuable mineral on Pandora, a densely forested habitable moon orbiting the gas giant Polyphemus in the Alpha Centauri star system. Pandora, with an atmosphere that is poisonous to humans, is inhabited by the Na'vi (The People), 10-foot-tall, blue-skinned, sapient humanoids.
Cameron's story celebrates diversity and alternative ways of knowing. The People, like other tribal cultures, live in harmony with nature, and value simplicity and community. The People worship the mother goddess Eywa, and their Earth-based cosmology is in sync with contemporary movements emphasizing reverence for Gaia (Earth) as a living being, and the Oneness movement, which celebrates the interconnection of all beings.
Designed by Walt Disney Imagineering in partnership with Cameron and Lightstorm Entertainment, Pandora—The World of Avatar at Disney World's Animal Kingdom park will feature Pandora's intriguing landscape. Thanks to cutting-edge technology, the attraction will give visitors the chance to "fly with banshees and explore a rich natural environment with mountains that float and interactive plants that glow at night," according to Thomas Smith, editorial content director for Disney Parks.
The attraction is slated to open at Disney World in summer 2017.
Star Wars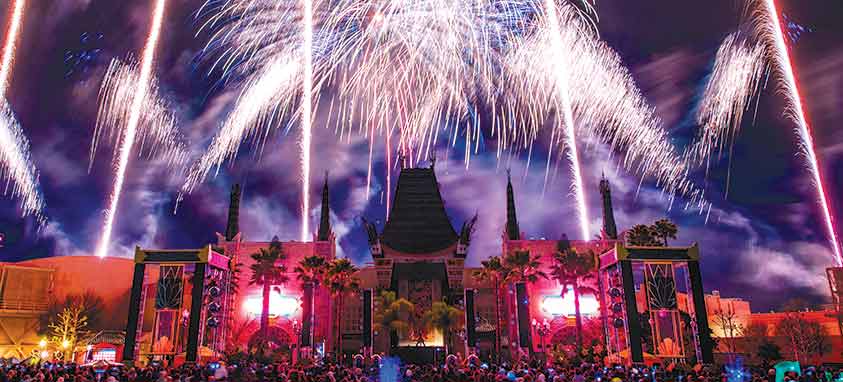 Symphony in the Stars: A Galactic Spectacular, Walt Disney World Resort, Bay Lake, Florida
The first film in this immensely popular series, Star Wars (subsequently dubbed Star Wars: Episode IV—a New Hope), introduced a fundamental element—the Force. Jedi Master Obi-Wan Kenobi first described the Force as what gives power to a Jedi, a member of the mystical knightly order in the Star Wars films who is trained to guard peace and justice in the universe. The Force is an energy field created by all living things that surrounds us, penetrates us and binds the galaxy together.
In the Star Wars film series, due to the surrounding and binding presence of the Force in all life, an inherent theme is responsibility for the care of all living things. All things are symbiotic with the Force and therefore with one another, interconnected in a complex web. So, exploiting any aspect of that arrangement for one's own gain risks the delicate balance of life.
The Force is central to all of Disney's Star Wars attractions, which debuted with Star Tours at Disneyland in 1987 and has developed there and at other parks ever since. Disney bought the Star Wars franchise in August 2014, and expressed plans to expand the franchise's presence.
New offerings at Disney World's Hollywood Studios include Star Wars: A Galaxy Far, Far Away, a show that recreates favorite Star Wars scenes with Kylo Ren, Darth Vader, Chewbacca and Darth Maul. This month, Disney World is introducing Star Wars: A Galactic Spectacular—an extravaganza that lights the night sky with state-of-the-art projections, lasers, pyrotechnics, special effects and memorable moments from the Star Wars films.
Other additions include Star Wars Launch Bay, an area for fans to celebrate all things Star Wars; several daily Stormtroopers marches; Path of the Jedi, a cinematic overview of the Star Wars saga; and enhancements to Star Tours—the Adventures Continue and Jedi Training: Trials of the Temple.
The biggest news of all is that Disney's Hollywood Studios at Disney World and Disneyland Park at Disneyland Resort in Anaheim, California, have been working to create a 14-acre area at each location, tentatively called Star Wars Land, that will feature attractions, shops, restaurants and a richly detailed, interactive Star Wars world to explore. It will allow visitors to fly the Millennium Falcon.
The opening dates of Star Wars Land at Disney World and Disneyland haven't been announced.
Just a Simple Notion
The same thread of interconnectedness that underlies Disney's foundation runs through all of its facets. The word "interconnectedness" is long and sounds complex, but it's as simple as these lyrics from the song "Circle of Life," which Elton John and Tim Rice wrote for Disney's The Lion King movie:
It's the Circle of Life
And it moves us all
Through despair and hope
Through faith and love
Till we find our place
On the path unwinding
In the Circle
The Circle of Life
---
Inspired Testimonials from Groups
Besides the new and upcoming Disney attractions highlighted in this story, several established attractions—including those mentioned below—inspire and stimulate groups with their emphases on interconnectedness and unity.
"My favorite Disney World attraction is Kilimanjaro Safaris at Animal Kingdom, absolutely my favorite park out of all of them, because I have this deep love of animals. The amazing part is that I've actually done a real safari in Tanzania and with the exception of timing, Kilimanjaro is a very authentic experience. It's layered in a context where you can see many things that you would be unable to see; in a real safari, you would see maybe one, two or three animal groups in one-half day or so. At Kilimanjaro, you get to see much more and understand how the ecosystems are connected. You understand Disney's conservation message broadly, as well. It's a layered learning message."
–Helen Trapp, managing director of strategic services for Greystar Management Services
"A centerpiece of every meeting or event that I've done at Walt Disney World has included fireworks at Epcot [IllumiNations: Reflections of Earth]. There are a number of reasons why, but one of them is that there is the message around unity and hope. We've begun to modify this experience by adding Soarin' as the final ride after we experience Illuminations. We do this because it's a fun ride and it gives our guests the message that we soar above. You're on a hang glider with a group of colleagues; it's a group journey and the only way you're going to soar to the heights is if you do it together. IllumiNations helps us see the power of what we can do together and Soarin' is really a reflection of us working together to soar to new heights."
–Scott Spohn, partner and chief of staff for DHG Healthcare/Dixon Hughes Goodman, LLP
---
Q&A with Jay Burress
A native of Edmond, Oklahoma, Jay Burress is president and CEO of Visit Anaheim. He previously served as president and CEO at Experience Arlington, Texas, and held executive-level positions in convention and tourism sales for Dallas Convention and Visitors Bureau.
What is the significance of Disneyland Resort to the Anaheim community?
It's the single-largest driving force for tourism in our region and establishes the destination as a leading place to visit on the global stage. In 2015, Anaheim saw a record-breaking 22.5 million visitors, which was in large part anchored by Disneyland's Diamond Celebration. Tourism is our leading local industry and we're dependent on Disneyland to keep the multibillion-dollar economic impact flourishing.
Has Disneyland's importance changed over time, and if so, in what ways?
Disneyland's importance only grows with time. As Disneyland continues to evolve and expand by adding more attractions and hotels, the Anaheim Resort district keeps pace.
Several Disneyland attractions blend advanced technology with inspiring, educational themes. Would you like to comment on this?
Disneyland is the best in the world at adapting to its audience and staying relevant generation after generation through the experiences they give and the stories they tell.
What is your favorite Disney attraction, and why?
I am a huge fan of Disney California Adventure, especially Cars Land. You feel like you're actually in the movie when you're there. However, my favorite place in Disneyland has to be Main Street, U.S.A.
---
Q&A with George Aguel
Cuban-born George Aguel is the CEO of Visit Orlando. He previously served as senior sales and marketing professional with Gaylord Entertainment's Opryland in Nashville and senior vice president of worldwide sales and services for Walt Disney Parks and Resorts.
What is the significance of Disney World to the Orlando community?
Disney is where it all began, and it set the stage for how Orlando has grown over the decades to offer more variety of theme parks, attractions, dining, shopping and entertainment than could have ever been imagined. Disney is also one of the most recognized brands in the world, and we are the envy of many other destinations for having Disney World in our community.
Has Disney World's importance changed over time, and if so, in what ways?
They are as significant as ever as our largest private employer, and the economic impact they generate for our community. Disney, along with our other theme parks, also constantly evolves by regularly adding more attractions and experiences that ensure the high repeat visitation we enjoy in Orlando.
Several Disney World attractions blend advanced technology with inspiring, educational themes. Would you like to comment on this?
These themes and the technology they reflect are just another example of the diversity of experiences that Disney and our other parks develop to maintain the high level of guest satisfaction for any audience that visits us.
What is your favorite Disney attraction, and why?
I'm very fortunate to be living in the theme park capital of the world, with too many amazing attractions to call any one my favorite.