Walt Disney World Resort in Orlando is opening a flurry of new attractions—including restaurants, shops and rides—that is significantly enhancing and broadening its already-enormous appeal. In fact, it's gotten to the point where asking, "What's new at Disney this year?" is much too huge of a question: A more appropriate one is "What's new at Disney within the past hour?"
I asked Disney staffers the latter question this week while attending Awaken Summer—a preview of new and upcoming summer offerings—and sure enough, they came up with something. It's a tribute to Disney that while in the midst of such rapid change, it maintains and develops tightly knit, highly energized teams that constantly collaborate on projects and maintain very high standards of excellence.
Of course, cutting-edge technology is central to many of the new attractions, but Disney has avoided falling into the trap of emphasizing it at the expense of other components and qualities, particularly depth of substance—and even wisdom.
Tree of Life
This can be seen in the Tree of Life, which has served as Animal Kingdom's iconic feature since 1998, but recently has been transformed into a vibrant nighttime attraction. The tree displays vivid awakenings throughout each evening as animal spirits are brought to life my magical fireflies that reveal extraordinary stories. Yes, it's all made possible by high-tech projections of nature scenes, but the experience inspires a stirring feeling of the interconnectedness of all life.
The kinship of all living things also is celebrated in the new Rivers of Light, which blends traditional Asian festivals with modern technology in a show featuring dancing fountains, glowing lanterns, magical fireflies and animal spirits. We received a preview of this dazzling work in progress, which draws of the creative, inspired genius of Disney imagineers par excellence Joe Rohde and Michael Jung, among others.
Another exceptional new feature at Animal Kingdom is Kilimanjaro Safaris After Dark, the first night safari ride offered at the park. I joined other Awaken Summer participants in a preview ride, which provided an extraordinary opportunity to view and hear lions, elephants, giraffes, African wild dogs and many other animals while many of them are most active. The experience was educational and unforgettable.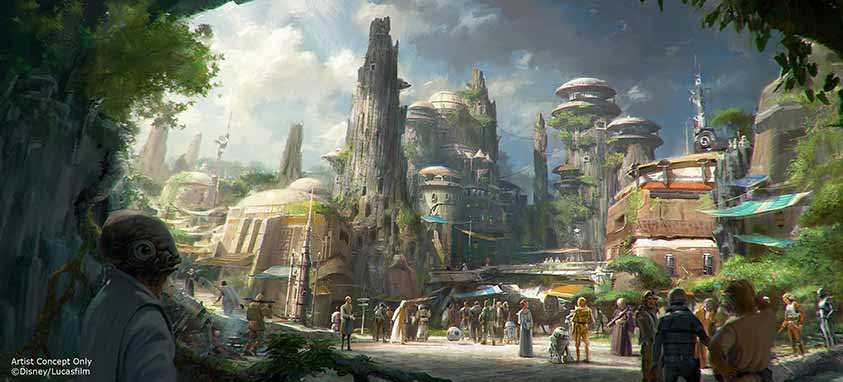 Concept art of Star Wars-themed lands
The millions of Star Wars fans around the globe are eagerly anticipating the opening of Star Wars: A Galactic Spectacular in June. This highly adventurous show will feature fireworks, lasers, special effects and video projections of iconic characters and scenes from the complete saga, set to the film series' musical score. We viewed a video about this new attraction and had a chance to have a photograph taken with a Star Wars character. Mine was taken with Chewbacca, and we bonded very quickly.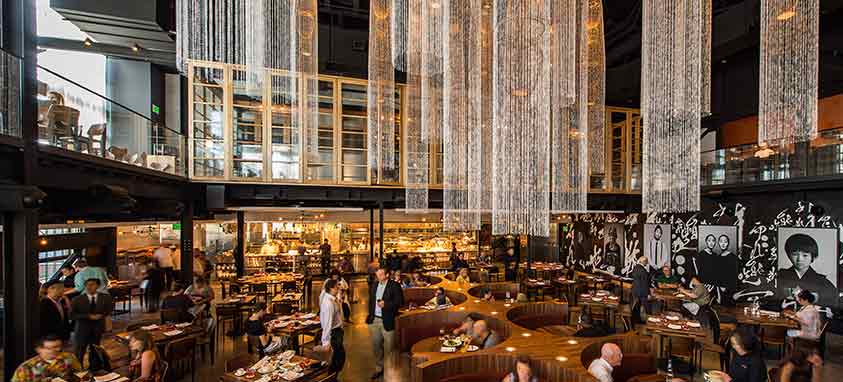 Morimoto Asia
Last but by no means least, Downtown Disney is in the midst of a major transformation, which even involved a name change, to Disney Springs. Known for its dining, shopping and entertainment, Disney Springs has been adding more than 30 new tenants, including Morimoto Asia, which features chic style, Pan-Asian cuisine and meeting space. Special, customized group dining can be arranged.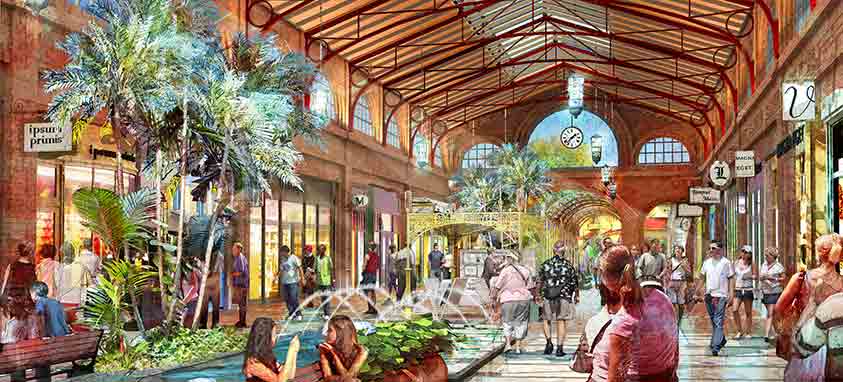 Rendering of Disney Springs Town Center
Disney Springs consists of three neighborhoods—The Landing, Marketplace and West Side—each with their own distinct look and feel. The district will open a fourth neighborhood, Town Center, on May 15. Centered around a series of bubbling natural springs, it will welcome guests with a new gateway featuring a signature water tower and grand entry.
This new neighborhood will feature a lushly landscaped promenade where guests can relax, and refresh at the water's edge and Spanish Revival architecture that draws from the rich history of explorers that landed in Florida centuries ago. Our group was given a special tour of the neighborhood; it's definitely taking shape, but many of us wondered how everything will be ready by May 15. Actually, I have a strong feeling that Disney's magic will pull it off.
These are some of the main new additions at Walt Disney World Resort, but they're only the tip of the iceberg: Speaking of ice, did I mention that this summer at Epcot Theme Park, the new Frozen Ever After attraction will open, enabling visitors to hop aboard an ancient Norwegian vessel and sail through Arendelle's fantastical world of Frozen?
Exciting things just keep on happening at the resort, and at Disney properties in general. In fact, chances are, something new and fabulous just developed at the resort since you began reading this blog!