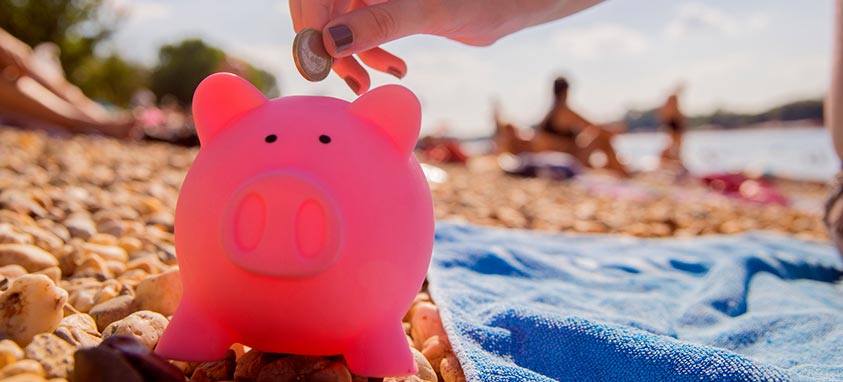 Believe it or not, you are most likely spending too much money on your travel expenses. When planning your trip, there are a few simple things you can do that will go a long way and save you money. Strategic preparation in how you book and pay for your trip is crucial in the money saving process.
1. Sign up for e-newsletters and follow airline and hotel's social media
Airlines and hotels will typically offer special deals and promotions to those who receive their newsletter and through their social platforms. You may find a promotional code on airfare and can save significantly on your travels.
2. Use the shoulder season to your advantage
Allowing flexibility for your trip is going to give you the best possible deals. Travel during the offseason of the specific place you will be attending. The month of September makes for a great time to travel; children have gone back to school and you are less likely to see families on the go. After the holiday season in early January is another great month and right after the spring break period. Flying during the midweek, either on Tuesday or Wednesday, and staying through Sunday can typically save you money.
3. Book your trip at just the right time
The best time to book your trip is two to three months prior to your departure. Airfare is constantly rising and falling but booking too early can be just as harmful as booking too late.
4. Browse for airfare and hotel rates in an incognito window
Using travel websites can be a great way to find you the best deals out there. However, use these sites with caution. When browsing in an incognito window for flights or hotels websites will not be able to use your cookies and can see that you are looking. Otherwise, they will take the opportunity to jack up their prices and get more money from you.
5. Get the rewards you deserve
Signing up for an airline credit card can help you fly places for free. Every time you spend money with the card you are earning points toward free flights. Join hotel rewards programs as well. It is free to sign up and you can often receive free amenities such as Wi-Fi.
6. Savings is in the details
Taking small steps to save a few dollars here and there can make a big difference, especially when airports charge $4 for a bottle of water. When you are headed to the airport remember to grab your empty reusable water bottle. Many airports have water refilling stations. Bring your own snacks so you are not tempted to go to the convenient store in the airport or grab something from the mini bar. Download apps on your smartphone that allow you to call and text while you are abroad. Bring medicines you might not think you will need. Destinations raise prices on items such as these because they know tourists will pay for them. Call the hotel for a better rate or a discount. It never hurts to ask and at the end of the day they want all their rooms filled, so chances are they will give it to you.