A brief history of coping and helping in Israel, Ukraine and elsewhere
On Oct. 7, it was life as usual in Israel. Hotels were bustling, and visitors of every stripe crowded the streets. Bollywood actress Nushrat Bharucha, in for the Haifa International Film Festival, Israel's oldest and biggest cinematic event, was in Tel Aviv. George Mason, a Baptist pastor from Dallas, there to attend a conference and then host a nine-day tour of the Holy Land, was in Bethlehem.
A day later, Bharucha woke to the sounds of terrific explosions and soon found herself in her hotel's air-raid shelter. Mason told The Washington Post he went down to the lobby of his hotel to drop off some laundry, only to get a call from hotel staff saying it could no longer wash his clothes "due to the difficulties."
"What difficulties?" he asked. "Before long we knew that Israel was at war."
In a tragic irony, Mason's tour was for a group he co-founded with a Dallas rabbi called Faith Commons "to provide a safe space for people of all religions," and it was organized by a Florida tourism company, Mejdi Tours, whose leaders have Palestinian and Jewish backgrounds.
"We were hearing rockets coming into Jerusalem, but the security system called the Iron Dome was demolishing them before they could land," Mason recounted to a Dallas television station. As the attacks intensified, he and his group made their way north to safety, out of the war zone.
Bharucha was able to catch a plane back to New Delhi before many flights were canceled. Cruise lines have also curtailed their ports of call in the region.
Mobilization of reservists—some 360,000 Israelis, about 4 percent of the country's 9.8 million population—has stripped the staff of hotels, restaurants and other hospitality businesses.
The U.S. State Department has since urged travelers to "reconsider travel" to Israel and the West Bank and placed a "do not travel" advisory on the Gaza Strip. "The situation in Israel remains dynamic; mortar and rocket fire may take place without warning," the department posted.
In short, Israel's hospitality industry—not to mention in the Palestinian territory of Gaza—has gone dark, a foreboding word employed in many media accounts. But, as almost always happens in war zones, hotels have already morphed into new roles.
Tel Aviv-headquartered Brown Hotels has been hosting evacuees at its 24 luxury hotels in Israel despite reduced services. At the 200-room Brown BoBo in Tel Aviv, for instance, five dozen families of refugees from settlements around Gaza took up residence. A conference room became a center for donations of clothing and other necessities, according to published reports. At Debrah Brown by Brown Hotels, a Tel Aviv celebrity chef served free kosher meals to evacuees.
Brown Hotels also operates in Greece, where Israelis forced to flee their homes were invited to book at discounted rates.
Leon Avigad, founder of Brown Hotels, told Post he feels a moral obligation to help, citing a Hebrew saying, "kol Israel haverim," meaning roughly "all of Israel are friends." Avigad continued: "This is not a time to think of financial losses. In these times of need, everybody just gives a hand—no questions asked."
Other Israeli hotels, emptied of tourists and event attendees, have repurposed themselves to house Israel Defense Forces, medical personnel and volunteers who arrived in the country to help.
Although none of the big U.S.-based hotel companies is yet to make public any refugee relief at their properties in Israel or issue a statement regarding the Hamas attack and ensuing hostilities, others have.
Dina Orenbach, consul and director of the Western Region of the United States for the Israel Ministry of Tourism, which is based in Los Angeles, told Smart Meetings on Oct. 13, "We are heartbroken and devastated from the last week." She said it too early to address the question of what meeting professionals could do to directly help the recovery of Israeli tourism. (Last year, Israel recorded 2.7 million tourists—about 41 percent lower than the prepandemic year of 2019.)
A History of Wartime Service
"This hotel is going to join the ranks of some of the great war hotels for journalists around the world," said Christiane Amanpour, CNN's chief international anchor, speaking to me from the InterContinental last Friday night. "We had the Holiday Inn in Sarajevo, the Palestine Hotel in Iraq…and now the InterContinental in Kyiv."
– Joe Pompeo, Vanity Fair
"Dear Guests, caring for our guests and employees is our top priority. Our hotel is safe to stay in and open for reservations. Hotel security service works in an enhanced mode. There is a shelter in our hotel, so guests can proceed there in case of air raid sirens."
– Fairmont Grand Hotel Kyiv website
It is 1968. The lunar new year, or Tet holiday, in Vietnam. The North Vietnamese and communist Viet Cong forces have unleashed a furious coordinated attack against American and South Vietnamese army targets in that country. In Saigon (now Ho Chi Minh City), a young journalist named Mike Roberts watched from the rooftop bar of Rex Hotel, where he was a registered guest, as were dozens of other war correspondents. "It was unbelievable," he vividly recalls to this day.
All of a sudden, in the nearby skies, an American B-52 rained bombs on the advancing enemy. "Man, it was loud. A guy was standing next to me, and I could hear the ice cubes rattling in his drink," Roberts says. "I look over and I think, I know this guy. It's Walter Cronkite."
Cronkite was staying at another Saigon war hotel favored by television correspondents, the Caravelle. The Hotel Continental was yet another hive of war coverage, but the rooftop of the Rex was renowned among journalists, and a large meeting room in the hotel was also the site of the daily military briefing for the press disparagingly called the Five O'Clock Follies.
Roberts remembers Cronkite buying a round of drinks for a table of war reporters on the rooftop, asking each in turn if he thought the Americans would win the war. To a man, each said no. Back in New York, on February 27, 1968, the CBS anchorman referred to as the most trusted man in the nation told his audience the Vietnam War was "mired in stalemate."
From the rooftop of the war hotel still known as the Rex was launched a turning point in public opinion about our involvement in that faraway Asian country.
For Every War, a Hotel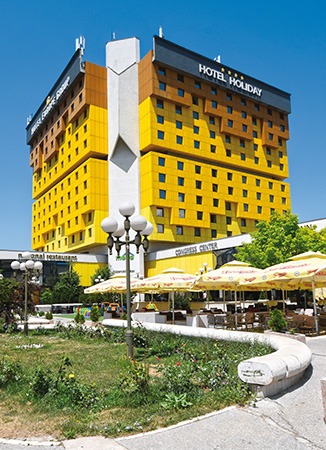 We think of hotels as our workplace, though we certainly know they are sometimes called into service to shelter the homeless or, recently, as Covid quarantine and isolation housing. But almost from the very first hotel, Japan's Nishiyama Onsen Keiunkan, which opened its doors in the year 705, hotels have played significant roles in times of war and other violent conflicts. As hubs for journalists and others with operations or business in war zones. As military quarters. As makeshift hospitals. As refuges for the displaced. And even as battlegrounds themselves.
"Almost from the very first hotel…in the year 705, hotels have played significant roles in times of war and other violent conflicts."
The often horrific and sometimes humanitarian story of war hotels can help us appreciate the dedication, ingenuity and even the heroism of staff from managers down to the waiters and housekeepers. Battlegrounds magnify the integral role hospitality plays in our lives if we stop long enough to listen to their stories.
Tales from the Front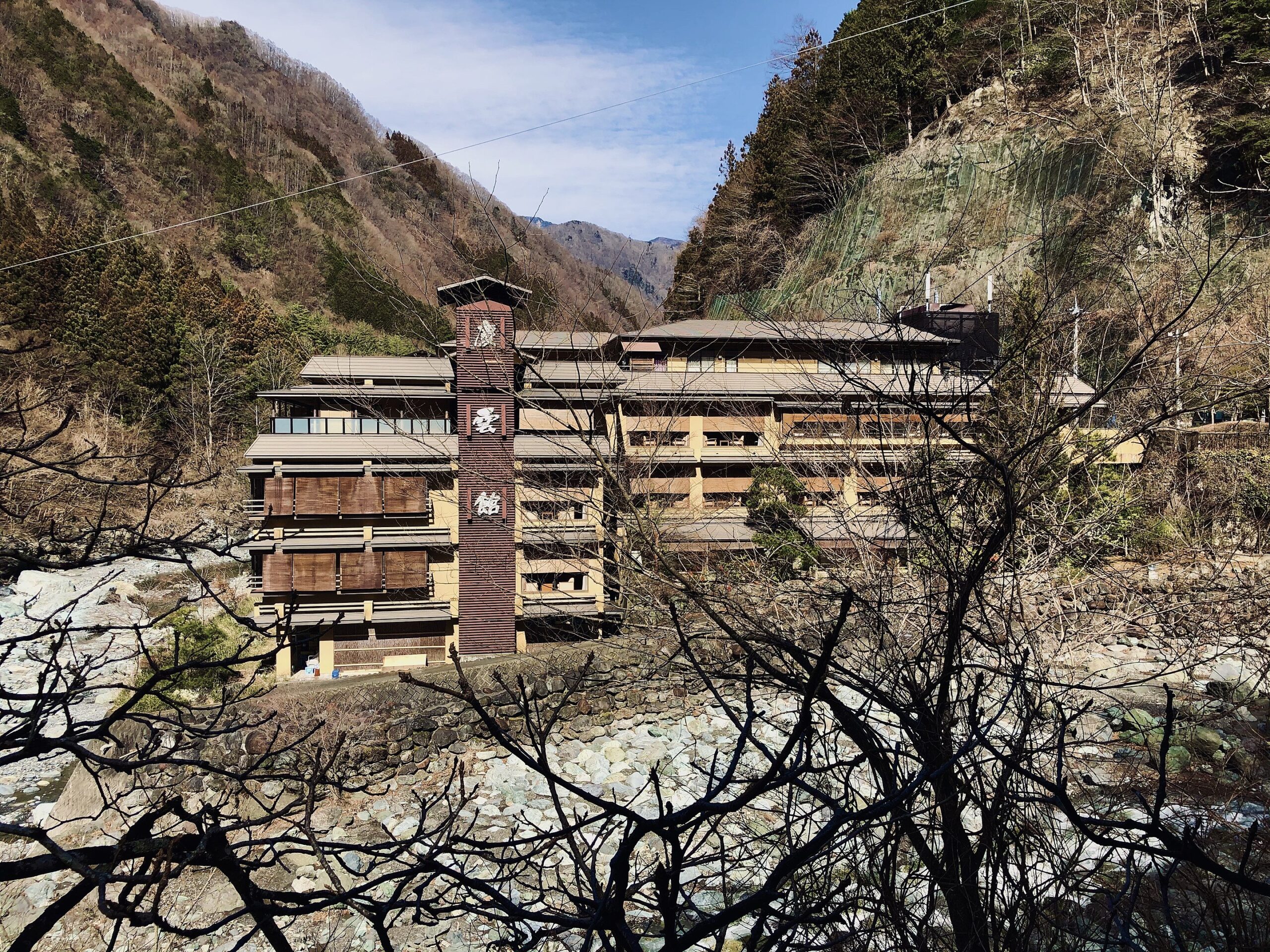 It is 1944. When the Nazis captured Paris a few years earlier, all its grand hotels were seized by the Germans. Hermann Goering, a creator of the Gestapo and commander of the Luftwaffe, encamped in the Imperial Suite of The Ritz Paris, which he adorned with stolen art and bowls of gemstones. Before the war, the Ritz had been the favorite playground of writers like F. Scott Fitzgerald and Ernest Hemingway, who wrote, "When I dream of an afterlife in heaven, the action always takes place at The Ritz Paris."
It was from The Ritz that Hemingway broadcast his eyewitness account of the Americans liberating Paris and where he ordered champagne for everyone from the hotel's cellars. Perhaps apocryphally, Hemingway himself is said to have downed 51 martinis to mark the occasion.
Today, the hotel's Suite Ernest Hemingway displays "seldom-seen photographs of the famed author-adventurer…and, naturally, a carefully stocked library is a central feature."
It was also at The Ritz that Ingrid Bergman, star of the most famous movie of World War II, "Casablanca," met and fell in love with Robert Capa, a Budapest-born photojournalist considered by many to be the greatest combat photographer in history, who later died in a paddy field in Vietnam. The unhappily married actress was in France to entertain U.S. troops.
Other hotels drafted into the military during those war years included The Vinoy (now Vinoy Resort & Golf Club, Autograph Collection) in St. Petersburg, Florida, where more than 100,000 military recruits trained; The Royal Hawaiian Resort Waikiki in Hawaii, which became an R&R facility for Navy personnel at 25 cents a night per room; and The Queen Mary, now a hotel, event space and attraction in Long Beach, California, which served as an Allied troopship.
It is 1991. Three CNN reporters—Bernard Shaw, John Holliman and Peter Arnett—give an exclusive, live, minute-by-minute account of the U.S. bombardment of Baghdad, Iraq, in Operation Desert Storm from their ninth-floor suite of the Al Rasheed (now Hotel Royal Tulip Al Rasheed). Later, they would move to the hotel's Scheherazade Bar. The unforgettable broadcast began with Shaw intoning, "This is—something is happening outside. Peter Arnett, join me here. Let's describe to our viewers what we're seeing. The skies over Baghdad have been illuminated. We're seeing bright flashes going off all over the sky." Shaw later said electricity, water and room service were cut off, yet housekeepers still showed up to make up the beds each morning.
It is 1994. In the center of Sarajevo during its nearly four-year siege in the Bosnian War, staff at the Holiday Inn (now Hotel Holiday) often had to dodge sniper fire on the way to work, and the safest way for journalists to get in and out was to barrel into its underground parking garage at 70 miles per hour. The war scribes knew to insist on a room in the back no higher than the fifth floor—Bosnian snipers used the upper floors. (So recounts famoushotels.org.)
BBC correspondent Martin Bell said about the Holiday Inn Sarajevo, "You didn't go out to the war, the war came in to you." Yet even in the absence of hot water, clean sheets were provided almost daily and tuxedoed waiters manned an elaborate buffet with Dalmatian ham and braised steak.
"Staff at the Holiday Inn Sarajevo often had to dodge sniper fire on the way to work."
Of course, really bad things can also happen in hotels during wars, too. Like at the Palestine Hotel (now International Palestine Hotel) in Baghdad, the choice of many journalists and media personnel dating to the First Gulf War. In April 2003 an American tank fired on the hotel, thinking it housed Iraqi artillery observers, and killed two journalists and wounded others. Even worse was what became known as the Battle of the Hotels, in Beirut, where warring factions in the Lebanese civil war in 1975 fought for control over several luxury hotels, including another Holiday Inn, which remains shell-pocked and abandoned to this day.
War Sanctuary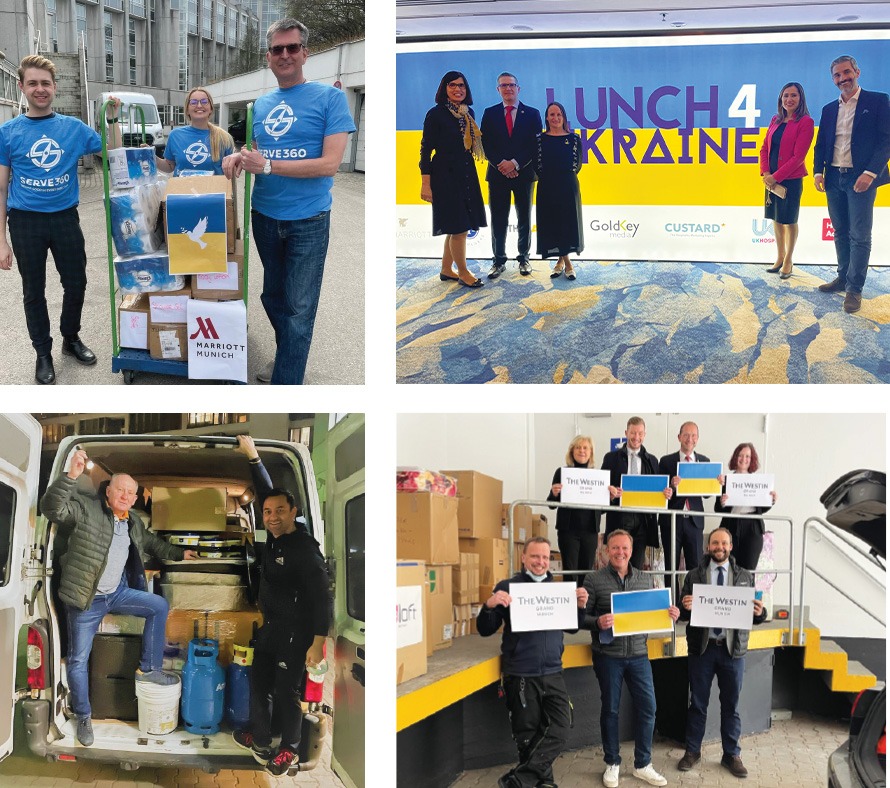 Hotels can be safe havens in times of violence as well. Perhaps best known is Hotel des Mille Collines, which first opened its doors in 1973 as the grandest lodging in the capital of Rwanda, Kigali, in East Africa. During the atrocious genocidal conflict of the 1990s between two ethnic tribes, 1,268 Rwandans were spared by being admitted to sanctuary within its walls. The story of its courageous manager at that time, Paul Rusesabagina, inspired the film Hotel Rwanda in 2004.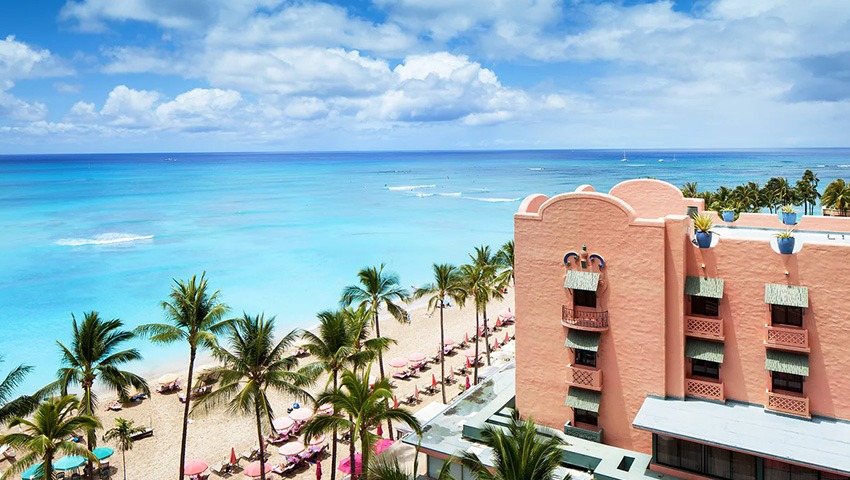 Less well known is the role hotels have played elsewhere as shelter for people fleeing persecution and war. The long-running conflicts in Libya and Syria created a humanitarian crisis when thousands upon thousands of refugees began attempting to flee across the Mediterranean Sea. Hotels like the Captain Elias on the Greek island of Kos became temporary refuge as migrants slept wherever they could find a space, including in makeshift tents made of bedsheets on the roof. Numerous hotels in the Balkans were converted into refugee centers run by the United Nations.
"1,268 Rwandans were spared by being admitted to sanctuary within the walls of Hotel des Mille Collines."
Elsewhere in Europe hotel companies struck deals to help with the influx of Middle East war refugees. In Germany, for instance, Grand City Hotels leased 22 hotels in Berlin to the government as shelters. The invasion of Ukraine in 2022, of course, resulted in a new tsunami of refugees (see sidebar), and hotels across Europe and elsewhere again served as temporary housing for Ukrainians escaping war in their homeland.
Live from Ukraine!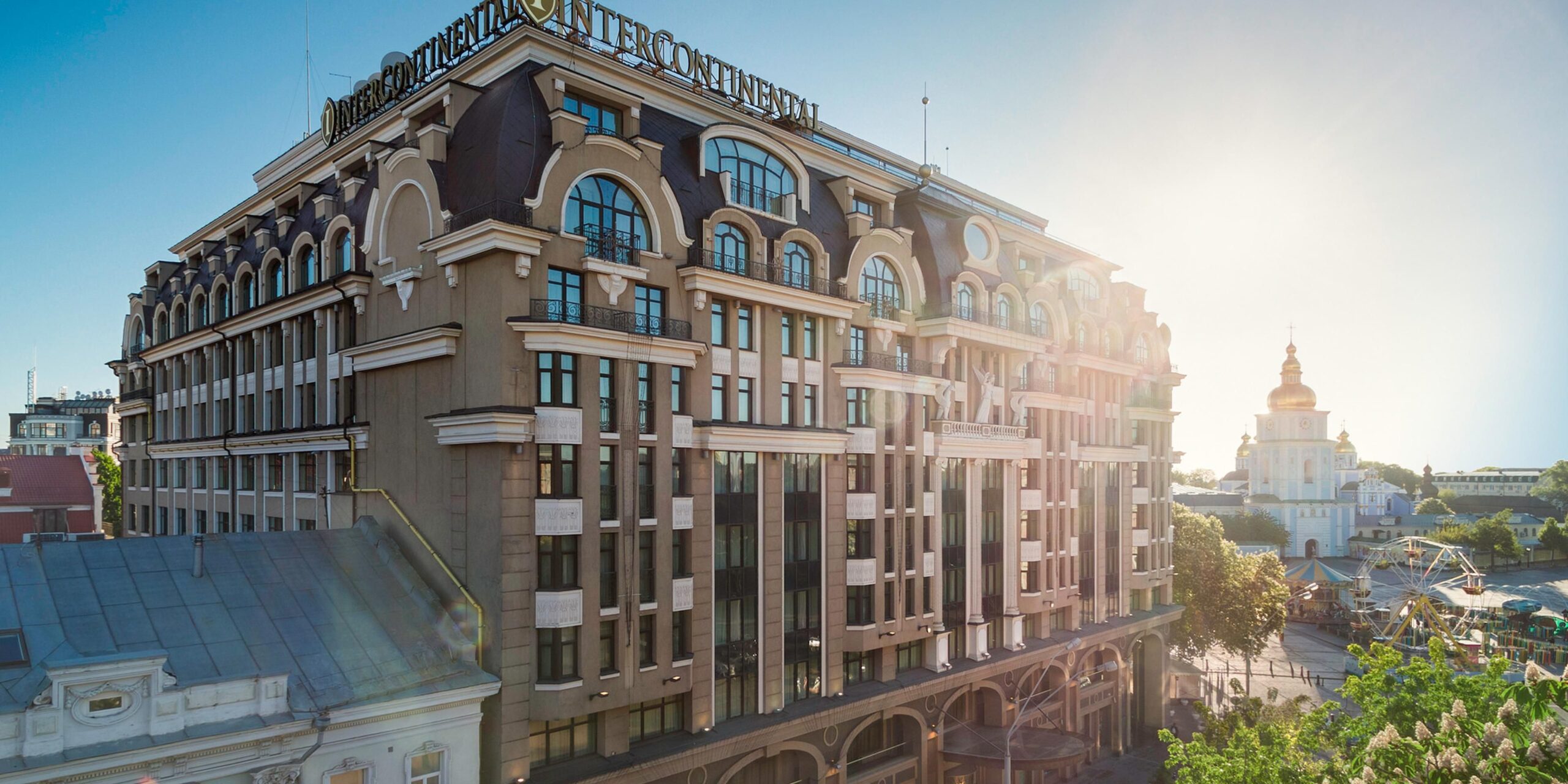 It is 2022. Another war, another war hotel. There are many suitable choices in the capital of war-torn Ukraine. Fairmont Grand Hotel Kyiv. Hilton Kyiv. Hyatt Regency Kyiv. Early in the war, it was common for hotel employees and their families to take up residence at their workplaces, where basement rooms could withstand bombardment. A Voice of America reporter saw typed-paper signs in English and Ukrainian near elevators at one hotel indicating directions to the bomb shelter. Another sign at the restaurant read, "Food is a weapon, don't waste it. Thank you for understanding the ideals of the wartime thriftiness."
As it turned out, the choice of the foreign press in this war has been IHG Hotel & Resort's elegant InterContinental Kyiv "on the doorstep of the historic city," as its website puts it. "The gold-domed St. Michael's Monastery is a short walk away, and you are moments from the upscale stores of Khreschatyk Street." The 11-story, five-star hotel's 272 guest rooms are served by six stylish meeting rooms capped by the 500-capacity Grand Ballroom.
Since late February 2022, when Russia invaded Ukraine, instead of conventioneers, corporate and government meeting attendees and leisure tourists, the InterContinental has been crawling with those covering the war.
"If you've watched CNN over the past six weeks, chances are you've seen a live shot from the InterContinental Kyiv, whose luxury belies the horrors that have unfolded just miles away," wrote Vanity Fair's senior media correspondent Joe Pompeo in April 2022, estimating that some 90% of the hotel's guests were journalists and media personnel.
"Over the past two months, CNN has put up dozens of journalists and other staffers at the InterContinental, which gives you a sense of the organization's footprint in Ukraine, second only to that of the BBC," Pompeo continued. "The network has maintained an on-the-ground workforce of about 80 people, rotating in and out, crisscrossing the country with their 'LiveU unit' backpacks and lightweight Osmo cameras, resorting to dinners of Cheetos and Kinder Eggs."
Back in Kyiv at the InterCon, these risk-weary journalists could recharge with a soothing treatment at the hotel's luxury spa and craft cocktails at b-hush, the rooftop lounge bar. Most likely, CNN anchors passing through, who have included Erin Burnett, Jake Tapper, Don Lemon, Jim Sciutto, Brianna Keilar, John Berman and Anderson Cooper, availed themselves of the cuisine at Comme Il Faut, the hotel's signature restaurant. Despite widespread food insecurity elsewhere in Ukraine, it promises to "compete with the best restaurants of Paris." Based on past war hotels, one can further speculate that in that opulent dining room, they would have rubbed shoulders with other guests comprising the remaining 10% of this latest war hotel's registry—weapons merchants, executives of NGOs offering humanitarian aid to the countryside and a spy or two.
When normal business evaporates suddenly, what can a hotel do? Go to war.
'Peace Hotels': Helping and Hiring Ukrainian Refugees
Several global hotel companies have stepped up to the major humanitarian challenge of creating opportunities for the thousands who had to flee Ukraine because of the war to resettle and build new lives.
Call them peace hotels.
In late June, on World Refugee Day, Marriott International said it would hire more than 1,500 refugees in Europe by 2026. "Across Europe, this has included support for refugees from Ukraine since the start of the war. Our focus on creating job opportunities has already led to over 980 refugees hired across dozens of our hotels in the European region," said CEO Anthony Capuano.
The company cited the case of Lidia Tomshivska, a Ukraine native in her 20s who fled to Germany with her mother and began working at the Leipzig Marriott Hotel. In just over a year, Marriott said, she has become nearly fluent in German and is enrolling in hospitality school. Another refugee named Sasha arrived with only the clothes on her back. The hotel human resources manager bought her a new wardrobe to begin working.
In fact, Marriott, its charitable foundation and employees have done a host of things to assist such refugees, from cash and in-kind donations (such as 8,700 free room nights for relief workers and refugees in Europe) to toiletry kits to resettlement help with items like home furnishings and housewares.
"We want to help those houses become homes," says Apoorva Gandhi, senior vice president for multicultural affairs, who leads the Marriott refugee outreach.  "We trace all this back to our core values of putting people first. We're proud to serve others not just when things are easy, but also when things are tough."
Arne Klehn, general manager of Budapest Marriott Hotel, also leads Marriott's European Business Councils, a network of 20 company locations in Europe (and 106 globally) tasked with promoting company culture and community service. Under its auspices, in-kind donations and services to Ukrainians since the beginning of the war have ranged from Marriott chefs in Poland sending 11,000 free meals to the Ukrainian border, to free meeting spaces and online schooling for refugee kids. A general manager from a Marriott hotel in Berlin personally drove a van to rescue refugees at the Ukrainian border, Klehn says.
"We are the army of goodness, that's what Debbie Marriott calls us," Klehn continues, referring to Deborah Marriott Harrison, daughter of Chairman Emeritus J.W. Marriott Jr. and formerly the company's global officer for Marriott culture and business councils.
Hilton, too, expanded its commitment to Ukrainian refugees in June by pledging to hire 1,500 more of them in Europe. It notes that since 2022 more than 400 refugees have been put to work at 73 of its hotels in the EMEA (Europe, Middle East, Africa) region. "Through partnerships with local refugee organizations, community-based initiatives and dedicated recruitment programs, Hilton also provides refugees with training, mentorship and career advancement opportunities," the company said.
Hospitality Unite is a new platform launched by the Sustainable Hospitality Alliance. Its pilot provides a clearinghouse for hotel brands to post job opportunities for Ukrainian refugees, who can apply online while in transit or looking to leave Ukraine. Participating companies include IHG Hotels & Resorts, Radisson Hotels Group and Accor.
This article appears in the September 2023 issue. You can subscribe to the magazine here.