A comprehensive travel survey recognizes this historic day
World Tourism Day takes place each year on September 27. It was established by the United Nations in 1980 to commemorate the same day in 1970 when the UNWTO (United Nations World Tourism Organization) Statues were adopted.
The annual day of recognition seeks to celebrate the tourism industry's ability to drive economic growth. It is a day to highlight the need for investment in funding gaps to build a more sustainable and resilient tourism sector. It also seeks to promote innovative solutions to bolster economic growth and productivity.
This year, the UN celebrates World Tourism Day under the theme of "tourism and green investment." They released three ways the tourism industry can contribute to the UN's Sustainable Development Goals (SDGs). The industry can anticipate the need for investment in education and skills as their workforce looks towards welcoming millions of graduates and adding 800,000 jobs requiring vocational training by 2030. They can also look to investing in sustainable infrastructure. Reducing emissions brings a $24.7 trillion investment opportunity in the green buildings sector by 2030. Finally, innovation, technology and entrepreneurship are vital to upskill the tourism workforce, especially for young people and women. Programs to support and incentivize entrepreneurship to create opportunities for innovation in tourism are well on their way.
According to the UN, tourism employs 10% of the world's population. The industry can be particularly beneficial for historically disadvantaged groups, such as women, who make up 54% of the tourism workforce.
The Survey Says…
In recognition of World Tourism Day 2023, Casino.org ran a survey of 3,000 U.S. residents between the ages of 18-70 to assess their travel habits.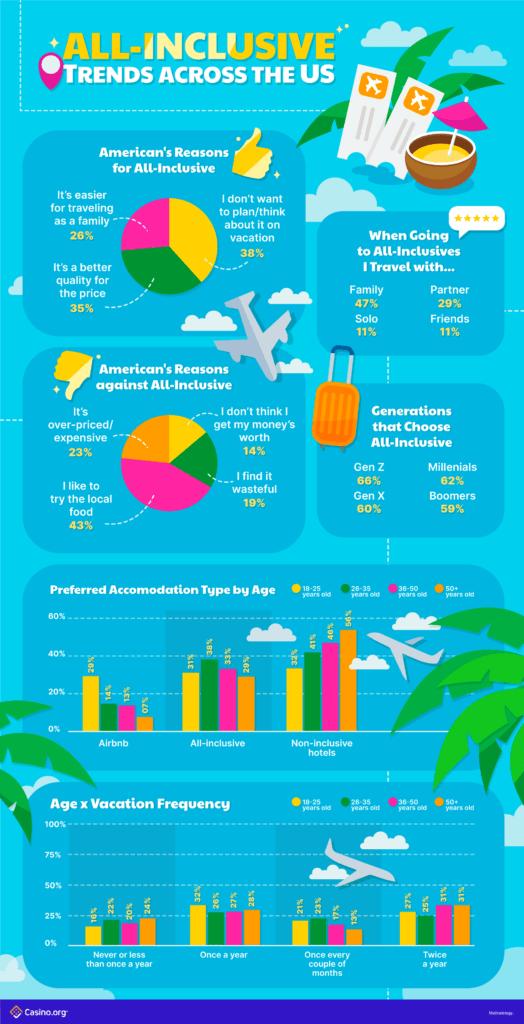 The results showed that only 28% of Americans take a week-long vacation each year—most opt for long weekend trips instead. Americans vacation 2.27 times per year on average. Washington, D.C., sees the least vacations, with citizens taking only 0.5 vacations per year. This means that some D.C. citizens don't vacation even once per year. On the alternative, Mississippi citizens take 4.7 vacations per year.
The survey found that millennials, on average, stay in all-inclusive resorts 23% more than any other generation. However, 23% of millennials also reported that they either never travel or travel less than one time per year.
Many respondents said they opt for other forms of lodging. They express concerns about excess waste, a desire to be more engaged with the local culture of the destination they visit, and the feeling that all-inclusive resorts are too expensive.
However, 35% of respondents stated they would choose to stay at all-inclusive resorts to receive quality hospitality for the price they pay. 25% of respondents also stated that they prefer all-inclusive resorts when traveling with family or groups.
The survey found Baby Boomers to be the largest generation to travel alone, making up 16% of solo travelers. They also take long vacations 46% more than any other generation combined.
Read More: Go. Just Go.
Tourism Makes the World Go Round
Meeting planners are no stranger to tourism and the positive benefits it can have on the economies of the destinations we visit. The COVID-19 pandemic hit the tourism industry hard, but as it's eased in recent years, the industry has seen a healthy resurgence. According to the International Trade Association, in 2023, the U.S. travel and tourism industry generated $1.9 million in economic output. It accounted for 2.9% of U.S. GDP and supported 9.5 million American jobs.
Tourism is a key part of our lives and work. It's also an uncontested way to get a taste of out-of-the-ordinary experiences as we step away from our day-to-day activities.
The tourism industry is one of the world's most important economic sectors, providing livelihood to millions. Meeting planners play a special role in this, as they work to bring attendees to the very best destinations for top-of-the-line meetings and events where they experience all a destination has to offer—and support the local economy along the way.
Read More: The Power of Meetings