Under the boardwalk, we'll be having some fun…so goes the 1964 hit by The Drifters. But just in time for last week's Fourth of July holiday, revelers standing tall not under but on the Atlantic City Boardwalk were having the kind of fun two new hotels can bring. Hard Rock Hotel & Casino Atlantic City and Ocean Resort Casino opened simultaneously last week.
Hard Rock Hotel & Casino Atlantic City
Photo Credit: Corey Perrine/AP Images for Hard Rock Hotel & Casino Atlantic City
Inscribed on the building as guests drive up the entry way of Hard Rock Hotel & Casino Atlantic City are more song lyrics: "Welcome back, my friends, to the show that never ends…" The words were originally sung by rock group Emerson, Lake & Palmer.
In this context, their message is clear: Atlantic City is back with a vengeance, and here to stay.
Just like many musical legends whose memorabilia is on display throughout the lobby, restaurants and casino floor, Hard Rock underwent a major nip and tuck. The building was previously occupied by Trump Taj Mahal. "[We] promised not to just paint it and put a guitar on the wall," said Jim Allen, chairman and CEO of Hard Rock International. The promise was kept to the tune of $500 million.
With 150,000 sq. ft. of meeting space and 2,000 guest rooms, Hard Rock hopes to strike the right chord with the MICE market. According to Shaun Lightbourne, director of hotel sales, the hotel has already booked 3,500 room nights for meetings in 2018, 3,000 room nights for 2019, and with another 5,000 nights in the works.
"When this building was designed, it certainly understood the importance of mid-week business. I think if we look at the amazing success that Harrah's has had with its convention center, I think it demonstrates that you can book business and bring people to Atlantic City not just for the sole purpose of playing a slot machine," Allen said in a press conference held inside Brighton Ballroom.
At its grand opening, Hard Rock rocked the town with the chain's signature Guitar Smash ceremony inside Hard Rock Live at Etess Arena. Actor Michael B. Jordan and Miss America 2018 Cara Mund joined hotel executives and members of the Seminole Tribe of Florida, which owns the Hard Rock brand, on stage for the celebration.
The party continued after the sun set, as VIPs gathered outside on an event terrace connected to another of the hotel's ballrooms. Guests were treated to a spectacular 15-minute presentation in the sky by Fireworks by Grucci, choreographed to hit songs. Some attendees then filtered in to Daer Nightclub for a last hurrah.
This Hard Rock is also home to Howie Mandel Comedy Club, 2,200 slots, 120 game tables and more than 20 restaurants, including Hard Rock Cafe, Council Oak Fish, Kuro and Sugar Factory. The hotel received an influx of more than 50,000 applications, and hired 3,800 enthusiastic employees. The company's star employee, Rita, was flown in from London to show her support. She was Hard Rock's first-ever hire and has worked at the company since 1971.
Ocean Resort Casino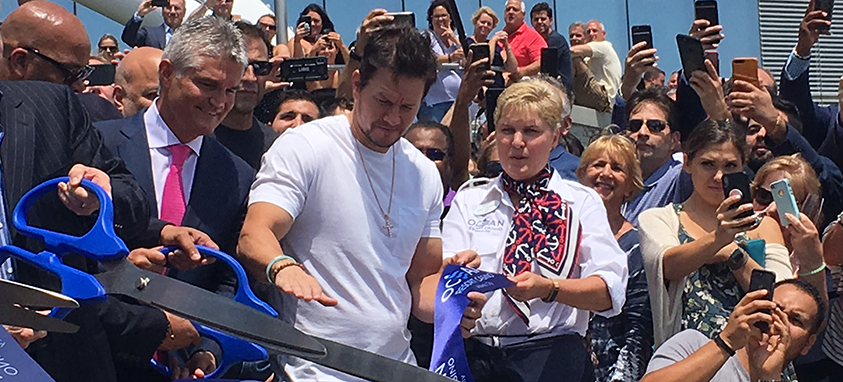 After sitting dark and dormant since 2014, Atlantic City residents are thrilled to see the ball atop Ocean Resort Casino lit once again. The boardwalk is bustling again, too, breathing life into the seaside town, and giving it hope for a prosperous future. During the hotel's grand opening, the sphere on the roof of the building was programmed to appear as a beach ball and then as the sun wearing sunglasses. It can be branded for events occurring at the hotel.
One of Hollywood's biggest stars shone brightly at the ribbon-cutting ceremony on the afternoon of June 28. Mark Wahlberg had the honor of snipping the big scissors and placing the first sports bet. Sports gaming had become legal in New Jersey just days before the hotel's opening. Wahlburgers, the restaurant chain owned by the actor and his brothers, will be opening a location in Atlantic City soon.
The hotel, once known as Revel and very briefly as Ten, houses 160,000 sq. ft. of indoor meeting space and 90,000 sq. ft. of outdoor space. Atypical of most gaming properties, Ocean Resort Casino has a wall of floor-to-ceiling windows facing the ocean that allows sunlight to flood the building. The 1,399 guest-room hotel is part of The Unbound Collection by Hyatt. It features Exhale spa and the world's largest Topgolf Swing Suite, with a virtual putting green and interactive multi-sport games.