Zac Posen at Rosewood Mansion on Turtle Creek
The next time you step into Rosewood Hotels & Resorts for a meeting, you will be putting your best fashion foot forward. Designer Zac Posen has been named a curator for the brand.
Catwalks and trunk shows take Posen all over the world to showcase his latest collections, so he considers himself a bit of a travel expert. He encourages other travelers to take in the museums of a city, which are often great venues to hold events or team building activities.
"I enjoy returning over the years to see how the art collections evolve," he told Peter Schlesinger and Christina Geyer of Paper Magazine. "Stepping into a museum and experiencing the works takes you away for a moment."
Posen is particularly fond of Dallas, which is why he's representing Rosewood Mansion on Turtle Creek in the curator program. He held his first trunk show there 15 years ago.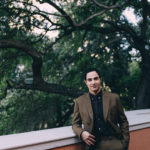 "Dallas has an incredibly distinct style. From the inherent graciousness of the locals to the powerful spectacle of the rodeo and the sophisticated energy of the ever-changing art scene, Dallas is bold, elegant and vibrant," the native New Yorker said in a press release. "The city's powerhouse style and vibrant culture is a constant source of inspiration."
There certainly are parallels between designing clothing and designing events. The fashion and meetings industries are constantly looking for inspiration to be on the cutting edge of what's new and what's next.
"You never know what will be a source of inspiration. So you need to get your head out of your phone and keep your eyes open," Posen said in the interview. "I try to be an open cultural 'receive dish'—from people I meet, different experiences, scents and textures, colors and moods."
The Rosewood Curator program was launched in 2013. Posen is not the first household name from the fashion world to take on this role. Elle editor-in-chief, Project Runway judge and author Nina Garcia infused her influence into the brand too.