This month's ongoing 2017 Cannes Film Festival in France is so much more than screening movies, red carpets, and ballgowns. The experience would not be what it is if not for the exquisite food, drinks, décor, and of course the swag bag.
Swag
Hopefully attendees left spare room in their suitcases to fill up with the $70,000 worth of goodies they collected at the gifting suite. While it's out of reach for most events to give away a $40,000 solar panel system, some of the other items are within reason and practical.
Zumer Sport Backpacks are made from the material used to make tennis balls, soccer balls, baseballs, basketballs, and more. They are valued at $100 and can be customized with a company, brand, or event logo. Zumer also sells wallets, mousepads, eyeglasses cases, and a whole line of products with unique sporting good textures.
At full-day events, attendees often struggle to keep juice in their cell phones when all the power outlets are occupied or they left their charger in their hotel room. Problem solved with the Spyder iPhone extended battery case for a consumer-friendly $100.
When people are at a fun event, they want to document it with the perfect selfie. Give your attendees the gift of the perfectly-lit selfie a la Kim Kardashian. She achieves the shadow-less snapshots with the LuMee iPhone case to brighten up her face for $50.
Party Time

The sky is the limit when it comes to party planning at Cannes International Film Festival.
To kick off festivities on May 18, Chopard celebrated its partnership with popstar Rihanna for the Rihanna ♥ Chopard Haute Joaillerie Collection. The jewelry brand hosted an exclusive rooftop dinner to mark the occasion. Rainbow-colored flowers ran down the center of the beautiful, chic tablescape. Italian interior design firm Flexform created bold and modern lounge areas for guests to mix and mingle.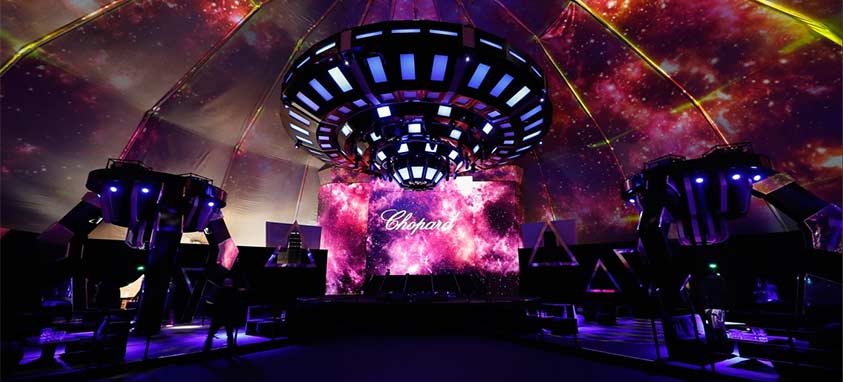 Guests blasted off to Space at Chopard's annual soiree at Port Pierre Canto on May 19. The out of this world event was lit in purple and pink hues with a tad of yellow to bring a galactic feel down to Earth. Guests were served dinner aboard a space shuttle while models strutted by. Bruno Mars took the stage to give an intimate live performance for the crowd.
On May 21, lucky guests were transported via helicopter to a villa accessible only by chopper for a party hosted by David Unger and Champagne Armand de Brignac. Overlooking the Antibes peninsula, attendees were wined and dined with Rosé and Gold Brut poured out of chrome pink and gold bottles and filet mignon, grilled langoustine, and caviar.
Food & Beverage

Movies are known for concessions, but at the Cannes Film Festival, it is not about popcorn, soda, and candy.
The Hollywood elite clinked glasses at the Mouton Cadet Wine Bar atop the roof of the Palais des Festivals overlooking the Cannes Bay at sunset. Parisian decorator Mathias Kiss designed the breathtaking space.
Guests stayed hydrated at the festival compliments of the official water sponsor, S.Pellegrino. The H20 brand also debuted the first in a series of three movies about food, design, and fashion.
Even the stars scream for ice cream! Magnum and Moschino collaborated with Cara Delevingne and Moschino Creative Director Jeremy Scott to release two new flavors – Double Cookies & Cream and Double Chocolate Hazelnut – at an event on May 18. The popsicles looked like pieces of art almost too beautiful to eat with a shimmery outer layer. The theme of the campaign and party were Unleash Your Wild Side and Dare to go Double. This was carried out with fierce style and oversized orange, blue, and purple spherical lights arched above the event space.