After a postponed 2020 annual event for more than 700 people last November, Meeting Professionals International (MPI) brought its World Education Congress (WEC) back to Las Vegas this week with more than 1,200 people live for a series of firsts.
See also: Tales from Las Vegas: Jewelry Trade Shows and LVCC's Comeback Convention
The three-day experience, themed Make the Future, was about half the size of 2019 attendance in Toronto, but was the first major conference in Caesars Forum, the 550,000-square-foot conference center that was completed just as the world shut down. The welcome reception was also the first major industry event on the field at Allegiant Stadium. The President's Dinner was the first major event in the theater at the new Virgin Hotels Las Vegas. The closing reception was planned as the first event on the new pool deck at The Venetian.
After the CDC, the state of Nevada and Clark County Commission updated guidelines that said vaccinated people didn't need to wear masks indoors, MPI changed its duty of care to say that those who are unvaccinated, immunocompromised or uncomfortable should wear a mask. The association continued to require daily self-health affirmations and temperature checks using InHouse Physicians.
Fancams and Live 1:1 video chat connected in-person and streaming audiences for a more robust virtual experience. A daily WEC Today broadcast and virtual-only education optimized the experience for those following along at home or office.
A Challenging Year
"We were right all along; face-to-face is more powerful than a lot of people realized," said Paul Van Deventer, MPI president and CEO, at a Meetings Mean Business board meeting. Unfortunately, it took a global pandemic to test the hypothesis.
Back in the media room, he explained that the devastation that decimated meeting professionals when the events stopped also took a massive toll on the industry that serves them. MPI lost 35 percent of members worldwide.
"We are moving away from a focus on counting members and more on an engaged community," he said. Despite this shift in focus, numbers grew. A record 10,000 people logged in for Global Meetings Industry Day Virtual in 2020 and consumed 40,000 hours of education when the academy was opened up for free for three months. "That will lead to more members down the road as people now understand the value of associations," he said.
Resources were designed to serve the whole planner. More than $1 million from MPI Foundation and partners such as IMEX Group, Visit Canada and Giants Enterprises was spent to help 3,100 members through membership and attendance grants and chapter support. "We offered support for career and mental wellness, that will continue," he said.
Attendees saw a taste of that from stage as panels addressed the issues of diversity, equity and inclusion and women in the industry along with emotional intelligence and creating positive workplaces.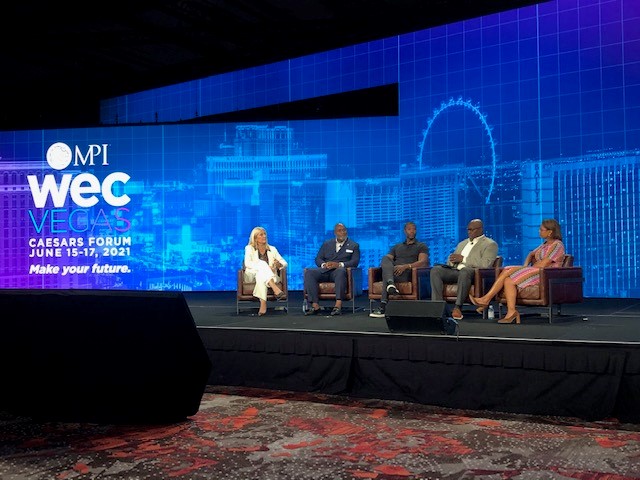 "I don't think a lanyard will be taken for granted ever again," said Don Welsh, president of Destinations International, from the stage. "The silver lining is that there has never been greater collaboration of industry working with cities and local communities. Leisure travel is a good start, but we need business to return for a true recovery."
A Robust Rebound
The event kicked off on the day that California lifted most restrictions and Las Vegas was filled with tourists eager to travel again. Roger Dow, president and CEO of U.S. Travel, was eager to speed up the shift from talking about leisure to business travel. He credited the "Let's Go There" initiative with creating 2 billion impressions and said three-quarters of Americans plan to travel this summer.
Next is a "Let's Meet There" campaign that stresses the unique ability for professional meetings to control the setting and offer safe F&B practices in ways other gatherings cannot. "We need to solve the problem of a patchwork of rules from state to state. We need clear and consistent guidance to bring back the recovery," he said. "We need to build back from a physical health, economic and mental health crisis."
The plan is to lead with data to make a case for support from government leaders and C-suite executives who will decide whether employees can travel. Dow is also eager to see international travel open up again. He shared the adage: "If you are walking the floor of a trade show and don't hear multiple languages, you are yesterday's news."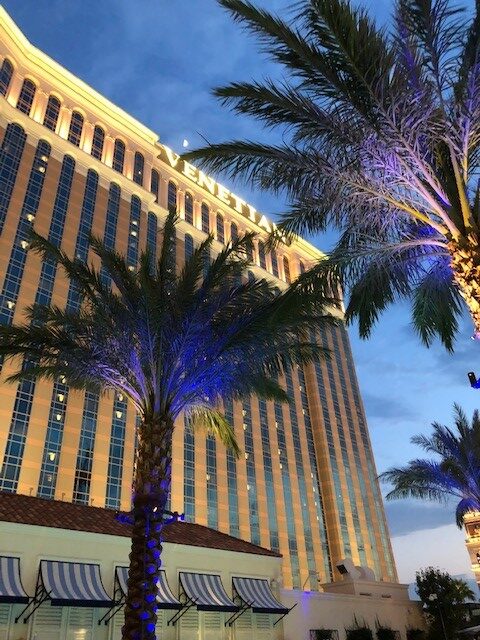 WEC will be in San Francisco June 2022 for its 50th anniversary celebration.