The next time you walk into a hotel, what can you expect? For properties following the guidance of the new Events Industry Council (EIC) Accepted Practices Guide for Hotel Health and Safety, your first glimpse of the lobby will probably include a lot more signage about distancing, new acrylic transmission barriers and masked employees.
The second release from EIC's APEX COVID-19 Business Recovery Task Force brings together the findings from properties all over the world which have created their own guidance, including American Hotel & Lodging Association's Stay Safe program, Global Biorisk Advisory Council STAR facility accreditation and IACC's Critical Pathway to Re-Opening Meeting, Conference and Training Spaces.
A resource guide includes links to all major hotel brand protocols, from Accor's ALLSAFE and Four Seasons Lead with Care to Walt Disney Resort Hotels Know Before You Go and Wynn's Health Plan. It also includes a video library, including details about Hilton's EventReady Program, which combines CleanStay standards with event-specific protocols.
"One of the primary missions of the APEX COVID-19 Business Recovery Task Force is to provide a centralized source of accepted practices, insights, and pathways that leverage the collective body of resources available to inspire confidence that responsible measures have been taken as the industry reopens for business," said EIC CEO Amy Calvert.
Smart Meetings Hygiene Guide with Hotel Cleaning Protocols for 2020 can be found here.
Cultivating Trust
"The pandemic has prompted a renewed commitment in the travel industry to the health and wellness of guests, employees and other visitors," said Hotels Work Group Chair Michael Dominguez, who is also CEO of Associated Luxury Hotels International. "The response from the lodging community has been rapid, fluid and, most importantly, a collaborative endeavor. This work is based on what we know today. We will update as we continue to learn more."
Because rules can be different in different locations and different times as regulations change, many meeting professionals are looking to venues to help them implement the correct procedures for that time and place. "Hotels now have to be experts in local rules, so we can advise planners," said Dan Surette, chief sales officer at Omni Hotels & Resorts.
Listen in on best practices from the APEX Task Force in this on-demand Accelerator webinar.
The report's four key areas are transmission barriers, enhanced sanitation, health screening, and food and beverage guidelines. In addition to calling for commercial-grade cleaning products in all high-touch areas—including parking facilities, elevators and vending machines—look for fewer extras in rooms and more plastic wrap on remote controls and plastic cups. While self-service buffets and coffee breaks may be banned, look for more labeling of meals that meet specific dietary needs on to-go containers and QR codes instead of menus in restaurants.
One suggested question for event planners to ask a hotel is whether a virtual safety-related site inspection can be done to get details about its procedures. You might also want to ask what measures are being taken to reduce landfill waste due to increased use of single-use items.
Learn about Marriott's new meeting guidelines here.
EIC Code of Conduct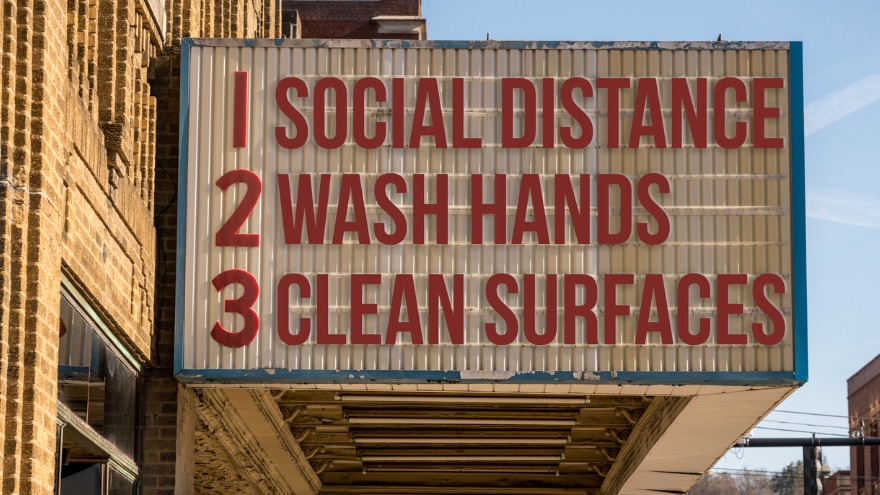 In order to form a more perfect meeting, establish sanitation, ensure domestic sterility, provide for the common defense, promote general event welfare and secure the blessings of health organizations for ourselves and our attendees, EIC established a Meeting and Event Code of Conduct. This collection of rules and regulations includes what is—and what is not—accepted behavior to provide an environment that's as safe as possible.
According to the code, "Responsibility is shared equally among event organizers, the event venues and event attendees—all have a role to play."
Before Leaving Home
Follow relevant guidance provided by World Health Organization (WHO) or local health authority.
Adhere to government-issued travel restrictions and guidance issued by the region you will be traveling to and the region you are traveling from.
Evaluate your own health and that of people you are in close contact with; contact the meeting/event organizers if you have concerns.
Stay home if you feel sick.
On Site During the Event
Follow guidance from the local health authority for everyday preventive actions to help stop the spread of respiratory viruses, including:

Washing hands often with soap and water, or an alcohol-based sanitizer with at least 60 percent alcohol, for at least 20 seconds.
Avoiding touching eyes, nose and mouth with unwashed hands.
Covering your nose and mouth when coughing or sneezing; throw used tissues in the trash.
Cleaning and disinfecting frequently touched objects and surfaces using a regular household cleaning spray or wipe.

Agree to have your temperature taken before entering the meeting/event venue, if required by the event organizers.
Agree to wear a mask or facial covering, if required by the event organizers.
Adhere to social distance protocols put in place by the event organizers and respect others' personal space.
Go to the event first-aid office (or equivalent) if you feel unwell or are experiencing flu-like symptoms.
Post Event
Based on current contact-tracing advice from many health authorities, if you test positive for COVID-19 during the first 14 days after returning home, contact the meeting/event organizers to advise them.