Editor's Note: When special correspondent Kate Patay flew to Las Vegas to "take the temperature" of visitors and staff on The Strip after the first Las Vegas casinos reopened their doors on June 4, she described the overall mood as "excited, but respectful of personal space." The pent-up demand was evident. Following are snapshots of what she saw in her week in the No. 1 convention city in the world.
Las Vegas is back to doing what it does best…hospitality. From airport arrival to settling in to a guest room, the overall experience of traveling to Las Vegas as it reopened was surreal, yet familiar. While there were fewer lines and guests than on trips prior, it was clear that the desert city had stepped up and put its best foot forward.
See also: Las Vegas Strip Planned a Safe Reopening
There was a genuine feeling of camaraderie and excitement from both staff and guests. Team members were excited to welcome back visitors, and guests were clearly happy to be there. Physical distancing was marked in all areas, and masked staff was available to answer questions, provide protective gear and clarify expectations.
Safety measures, such as temperature screenings, were in place at nearly every stop, but each with a slightly different protocol. The first one I encountered was upon entry to Red Rock Casino Resort & Spa. Station Casinos, owner of this property, has entering guests form a queue and stand on designated spots, where scans are done within a couple of seconds.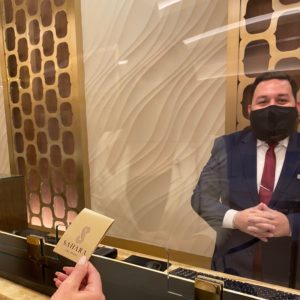 A manual version was done upon arrival at Sahara Las Vegas, which added aesthetically pleasing designs to distancing protocols—smoked glass barriers and matching hardware. The distinction of trailblazing the most discreet screening system goes to Wynn Las Vegas, where many guests strode into the soaring atrium without even realizing they had been thermally scanned.
All employees wore protective gear throughout every property, yet for customers certain areas were "mask required" vs. "mask suggested." At most casinos, the "required" area included the widely spaced table games, a departure from when no face coverings were allowed in gaming areas.
To make complying more fun at Caesars Entertainment properties, celebrities recorded how-to videos demonstrating the practice. Even Real Housewives star Lisa Vanderpump showed off her sequined mask and exclaimed, "This is what we have to do so others feel safe, and we can get back to business!"
For those who don't bring a mask or preferred a fun, logoed fashion accessory rather than the free plain masks offered at check in, a colorful assortment was available at most gift hotel shops.
Wipes and sanitizer were available at every turn, and all the interactions between customers and staff—and among customers—that I observed were remarkably friendly and efficient, even considering the few seconds added for proper sanitizing after each transaction.
At Sahara, rooftop pool areas were popular for their fresh air and lounge chairs positioned at a safe distance. Inside, surfaces such as elevator buttons were coated with BioProtect antimicrobial coatings for added safety. Rooms were stocked with packets of masks, gloves, pen, paper and the Sahara promise.
Grand Reopenings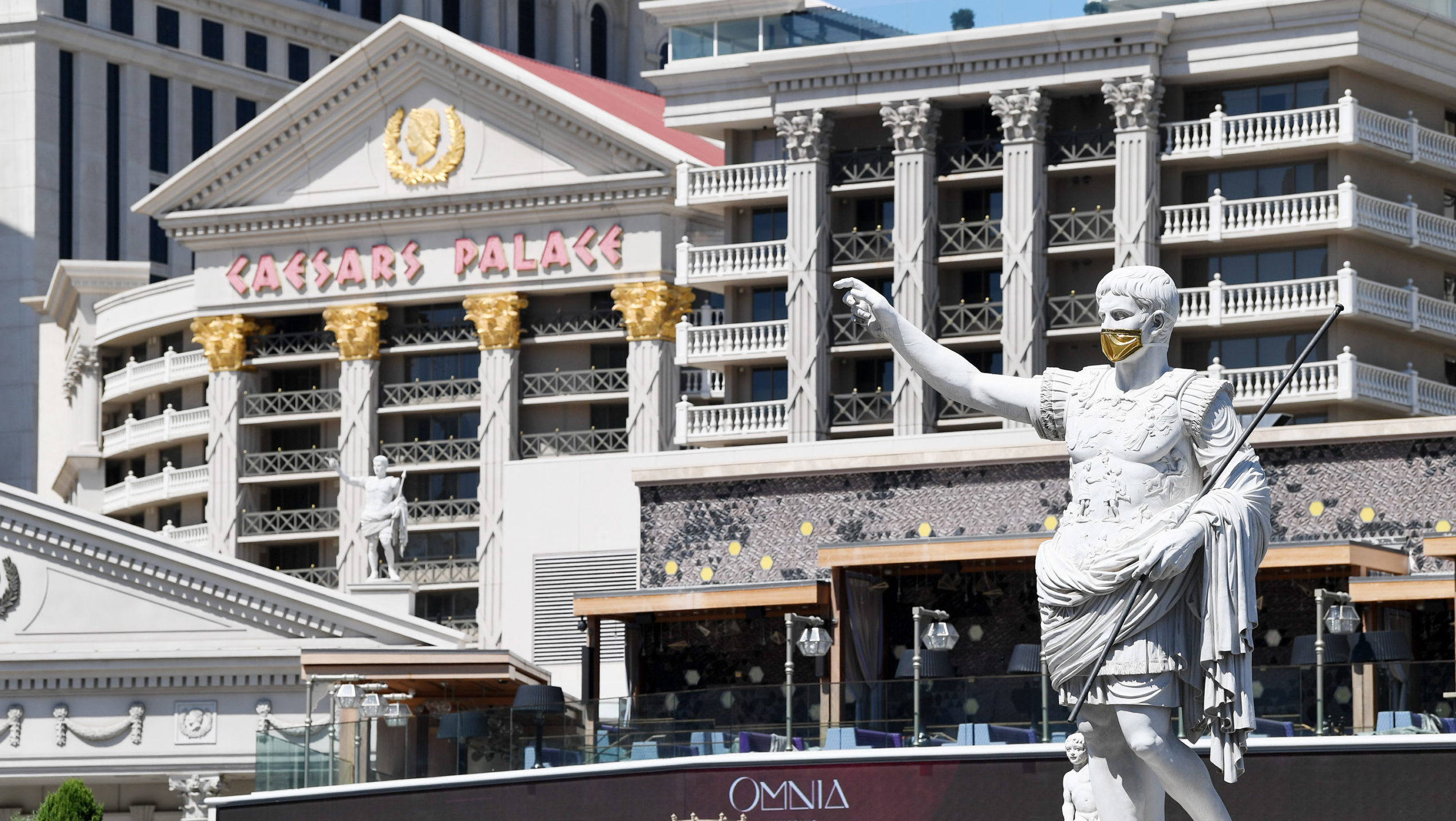 Caesars Entertainment CEO Tony Rodio reopened Caesars Palace with an assist from a tuxedoed Wayne "Mr. Las Vegas" Newton. Bookings were limited to 75 percent of the resort's 4,200 rooms and were completely sold out. Caesars Entertainment also opened The Linq Promenade (including High Roller Observation Wheel) with a similar reception. Harrah's Las Vegas followed with the debut of a new, $200 million transformation of guest rooms, the casino floor and Ruth's Chris Steak House.
Open signs were also hung at The Cosmopolitan of Las Vegas; The Venetian Las Vegas; Bellagio; New York-New York; MGM Grand Las Vegas; The Flamingo; Treasure Island; The Linq; The STRAT Hotel, Casino & SkyPod; Plaza Hotel & Casino; and a number of downtown properties, including Golden Nugget Hotel & Casino, Downtown Grand, The D Las Vegas Hotel & Casino and Golden Gate Hotel & Casino.
Parts of Paris Las Vegas, Luxor, Aria, Mandalay Bay and Four Seasons Las Vegas were scheduled to follow.
In a surprise announcement this week, Circa Resort & Casino unveiled that its grand opening would be the end of October, a full two months before the planned opening thanks to some creative construction rescheduling that focused on public spaces, leaving the guest room towers to the end of the year. The downtown property will include what is billed as the world's largest sportsbook, a special event pool amphitheater with super cabanas that can hold up to 50 people, a two-story casino and signature restaurants.
June 4 was an emotional day for Stephanie Glanzer, chief sales officer and senior vice president at MGM Resorts International. After 78 days of closed doors at iconic properties that previously never slept, the feeling of welcoming employees and guests back was over the top. "I have been with company 22 years and experienced many grand openings; this had the same overwhelming feeling," she said.
Her team went through numerous scenarios as they prepared for reopening after working from home for more than two months. "It is not just like flicking a switch," she explained with a laugh. Furloughed workers are learning new ways to serve that will protect everyone.
That reopening included a Seven-Point Safety Plan with employee temperature checks and COVID-19 testing, a mix of required and strongly suggested masks, handwashing stations on the casino floors, contactless check-in, digital menus and a special email address for guests who test positive after visiting an MGM property.
More: The Hygiene Guide: Hotel Cleaning Protocols for 2020 Reopenings
"We have all been through this together as a world and now, finally, we are starting to see some sort of normalcy," she said, looking back on the day she spent greeting people at Bellagio. The No. 1 goal was to allow people to still experience Vegas, but in a safe, healthy manner with the help of medical consultants and guidelines. "Guests were happy, but respectful as they entered," she reported.
Glanzer admitted that no one had a crystal ball in this scenario, but demand exceeded expectations and that led to announcements that openings of other properties would happen faster than anticipated initially.
"This has to be done right the first time to be successful for the long-term plan, which includes group business," she said. Glanzer has reservations for small groups that fit the guidelines of under 50 people starting June 26. Larger groups with programs in place for August and September are waiting to see if they will be allowed and how the opening with transient visitors goes. By the fall, she thinks her team will be hosting larger groups with new requirements for cleaning, F&B and signage. "It is definitely more logistics now, but we have been in constant communication and are so appreciative that we can get back to work," she said.
At the end of that long reopening day, Glanzer's family showed up to watch the Bellagio fountain show with her and make sure she got home safe. She took a selfie there, with the explosion of Chihuly glass in the background so she would always remember that feeling of relief.
Meetings Indicators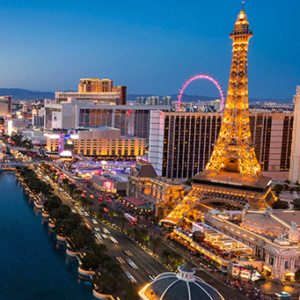 Lisa Messina, Caesars vice president of sales, described the mood as "pure excitement" on the part of not only guests, but also employees, in a city where the hospitality workforce accounts for 60 percent of jobs. "People want to dress up and see if they can still find their fancy shoes," she said.
Messina saw the positive response from vacationers as a good sign for meetings. "Leisure travelers are going to set the confidence meter for meeting attendees to travel again," she said. "When event organizers see that people are ready to travel, they will feel better about moving ahead with events."
Caesars already has some small groups planning meetings for June, plus a few more sizeable gatherings in July that would fill 800 rooms each with 1,200-1,500 people. Past Labor Day almost all previously scheduled bookings remain intact. Messina said she is particularly excited to welcome groups to the massive new Caesars Forum, which was set to open just as restrictions went into place in March. "It was devastating," she said. "It is this beautiful diamond, and we can't wait to show it off."
The MPI Foundation board member saw Las Vegas as the perfect place to pioneer the return to meetings. The new Forum boasts spaces large enough to socially distance 2,000 people, while still complying with all the regulations and guidelines. "We can work with customers to determine their tolerance for risk and their goals, diagram a solution in the largest pillarless ballroom, and learn what works best together," Messina said.
Ready for Business
A tour of an empty Las Vegas Convention Center central hall with John Schreiber, vice president of business with Las Vegas Convention and Visitors Authority (LVCVA), had an expectant feel. Next door, construction is continuing on a 1.4 million-square-foot expansion. The second tunnel of an underground system being constructed by Elon Musk's The Boring Company was completed during the slowdown, with Wynn Las Vegas and the emerging Resorts World Las Vegas expressing interest to expand the system beyond the convention center.
"The lights are on, and we are ready for business," Schreiber said. LVCVA is promoting a Vegas Smart reminder for visitors and convention attendees to remember protocols and physical distancing measures. "It is safe to come, and we want you to have a great time, but it is important to do these things," he said.
Many properties in Las Vegas were bringing back their sales team to prepare for returning groups. Maureen Robinson, director of sales at South Point Hotel Casino and Spa, described seeing her staff back in the office (masked, of course) and getting her first inquiry for a group event as nothing short of "exhilarating."
She commended groups that are going ahead with modified programs that lean more toward education and less on expo format. "They are leading by example," she said. "We just need to build up that comfort zone for face-to-face because the enthusiasm of locals shows people are ready to get out."
Chris Flatt, longtime executive vice president of sales and marketing at Wynn Las Vegas was open about how devastating the closure was to her, personally. "It's a small town. It has been so sad to watch all of this happen. This town is meant to be fun. It is supposed to be a place where you let your hair down and forget everything else. To see it shut down and dark with no people was heartbreaking," she said as she described how fast it all happened. "I didn't think anything like this could happen here," she said with a shake of her head.
Watching business that took years to put in place unravel in a flash was even more tear-inducing because Wynn had just opened a major new expansion of 430,000 sq. ft. of meeting space—doubling the available square footage. "Convention and meeting business is our life blood. It is the stabilizer that allows these big buildings to operate. It was an emotional thing to lock the door and walk away," she said.
But that time away was not lost. The sales team worked from home and stayed in contact with customers. "We really are like a family here and after all this time of meeting on Zoom calls, we are even closer," said Flatt, who serves on the U.S. Travel board, which advocated for helping the hospitality industry get through this devastating time.
After lot of false starts, when the team finally got the date from the governor that they could open, everyone scrambled to put all the safety measures in place so they could provide a warm, but safe experience.
The first weekend, demand was strong, but everyone was understanding, she found. People came back without hesitation. They valet-parked their cars and made reservations for the pool deck and tried out the new Mexican restaurant Elio. "It was so uplifting to see," she said of the experience of watching the banquet and services team come back, prepared to take care of a small group planned for the following week—with safety precautions in place. "This is what we do," she said with a wide grin visible in her eyes, even if she was wearing a mask.
Flatt compared the whole experience to a roller coaster. The upside is that so many customers stayed with them for the ride and are still booking business for '21 and '22 and beyond. "We know we will get back and Las Vegas will make a complete recovery. It will just take time."