Editor's Note: On April 28, MPI announced that it was postponing its largest annual event, World Education Congress in Grapevine, Texas, to November 3-6 as a hybrid meeting "in order to accommodate travel guidelines and attendee safety." MPI President and CEO Paul Van Deventer said the experience will be "a rallying cry for our meeting and event community to reunite for recovery." Registration will include a ticket to MPI Foundation's Rendezvous and is billed as risk-free because attendees can get a refund or apply to WEC Las Vegas in 2021. 
When it became clear that to flatten the curve and slow the spread of coronavirus no gatherings would be possible for months, the call came to #postponedontcancel. The reality is, that may not be possible in all instances, as there will only be so many days and venues available in the fall and winter—and no one knows exactly when it will be safe to meet again and under what circumstances.
However, companies are now coming out with new dates and creative solutions to keep people safe when they do meet. After working with the venue partners, Smart Meetings announced last week that Mid-America Event Experience will be moved to Monday, Sept. 28, at The Ritz-Carlton Denver, followed the next day by an enhanced Smart Woman Summit on Sept. 29. And the National 3-Day Experience will be June 21-23 at Omni Rancho Las Palmas Resort & Spa. "We will come together again to celebrate the power of meetings and the women who inspire us," said Marin Bright in announcing the new dates.
Welcome news for The Strip came from organizers of National Hardware Show, which was scheduled to take place in May and has been rescheduled for Sept. 1-3 at Las Vegas Convention Center. Now in its 75th year, the show garners more than 30,000 hardware industry professionals looking to expand inventory and source new products.
Visit Anaheim successfully rescheduled two shows while also securing eight future bookings for the Anaheim Convention Center. Diversified Communications and International Society for Technology in Education will take place in 2020, as will NAMM, The Foursquare Church, Future Business Leaders of America and IPC. Combined, these 10 shows represent more than $475 million in local economic impact and will generate an estimated $9.2 million in tourism occupancy tax revenue for the city.
In Asheville, North Carolina, The Foundry Hotel has seen roughly 80 percent of the property's April and May corporate bookings confirm rescheduled dates through the first quarter of 2021. Seven of eight groups that cancelled at Curacao Marriott Beach Resort are rescheduling for late 2020 or early 2021. And 15 groups scheduled to meet at newly opened Lexington Marriott City Center in spring have rebooked for late 2020 and early 2021.
Those were by no means the only ones to quickly find alternative dates. Read on for more "postpone, don't cancel" lessons learned.
Virtual is a Nonstarter for Incentives
Julie Blank, director of strategic accounts with Brightspot Incentives & Events, based in Dallas, Texas, had 18 incentive events affected, and although a majority wanted to rebook, only about 25 percent were able to make it happen this year. "People have worked for a solid year to earn these trips, and rewarding them isn't something that can be done online," she said.
In determining how to move forward, she had to consider the perception of both going and of cancelling, as she didn't want anyone to think the company was moving too quickly or trying to get out of spending the money.
Blank found that venues were very understanding. In the end, all agreed to rebook in September, October and November with no penalties. The biggest challenge was getting companies to pull the trigger quickly because fall dates were filling up fast. "They wanted to take a wait-and-see approach, but we just didn't have the luxury," she explained.
The tone in communications with potential attendees depended on the industry. For tech companies, she was able to have more fun and used language such as, "Coronavirus may slow us down, but it won't stop us from celebrating. We may not be on the beach in May but pick a pair of sunglasses until we meet in 2021." For others, the emails took a more serious tone: "Your health is our priority, and we are making decisions based on the best information possible."
The enthusiasm to be out in the world has been almost universal. When registration opened, 95 percent said they were ready to go. Only a couple said they would like to hold off on travel for now. "People look forward to this all year. They want to get out and enjoy once it is safe," she said.
One post-coronavirus difference she expects is that contractual language for sourcing companies and venues will be tightened up, and force majeure agreements will be longer. "You don't expect this to happen, but now it is real, and you have to have yourself covered. We will be getting more things in writing," Blank said.
Quick-Change Artists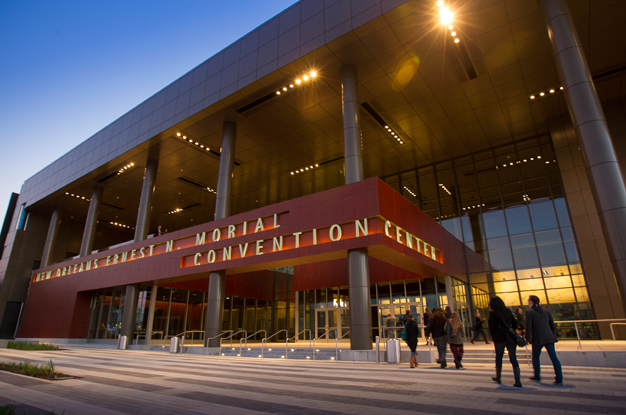 New Orleans Ernest N. Morial Convention Center announced that it had successfully found alternate dates for 10 shows originally scheduled for the peak of the coronavirus crisis. These shows represent more than $160 million in economic impact for the city of New Orleans.
The secret to the quick re-calendaring? Communication. To retain these events, the convention center's sales team, in partnership with New Orleans & Company, stayed in constant contact with clients from all over the world. "This will be critical in helping the New Orleans tourism and hospitality industry get back on its feet after restaurants and businesses were forced to alter their operations to comply with the new state guidelines in the face of the coronavirus," read a statement.
The convention center is currently working with the governor's Office of Homeland Security and Emergency Preparedness and the Louisiana Department of Health to serve as a medical monitoring facility for those recovering from COVID-19. It will be completely sanitized and restored before returning to its primary role of hosting events.