"I would like to be remembered as an Olympic and world champion who loved the sport of skiing from childhood on, with good friendships, love for nature and a love for life."
-Stein Eriksen, 1927-2015
Smart Meetings reached out to Stein Eriksen earlier this month for an exclusive interview, which will appear in our January 2016 issue. The Olympic gold medalist, who was born in Oslo in 1927, passed away on Dec. 27 in Park City, Utah, at the age of 88. He served as director of skiing for Deer Valley Resort, which includes Stein Eriksen Lodge, named in his honor.
Family: Married with five children; father competed in gymnastics at 1912 Olympics
Career: Won Olympic gold and silver medals in the giant slalom and slalom, respectively, during the 1952 Winter Games in his hometown of Oslo; competed in the 1948 Olympics at age 20, but did not medal; claimed three gold medals at the 1954 World Championships in Are, Sweden, in slalom, giant slalom and combined races, becoming the first alpine skier to win triple gold at the event; professional ski racer for eight years; director of ski schools for 19 years; helped revolutionize skiing by introducing gymnastic-inspired aerial jumps; considered the grandfather of freestyle skiing; awarded the Knight First Class honor by His Majesty the King of Norway in 1997.
---
Q&A
Why did you settle in Utah?
The first time I came to Utah, I liked the people and the welcomed feeling Utah gave me. Mr. Edgar Stern, founder of Deer Valley Resort, provided me with a lifetime contract with him and Deer Valley.
Stein Eriksen Lodge has been named the World's Best Ski Hotel by the World Ski Awards for the second consecutive year. What sets it apart from other resorts?
We are a true iconic ski hotel. Anybody can build a great structure, a wonderful hotel. However, it is the flawless service we provide to our guests that sets us apart from the competition. While you will find many ski hotels that are newer, bigger, glitzier and more modern, they do not offer you the level of service that Stein Eriksen Lodge has been known for for over 30 years.
What about the lodge are you most proud of?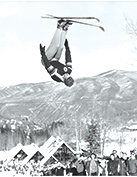 I am very proud of the mountain atmosphere we have been able to create with the design of the lodge over the past 34 years. Stein Eriksen Lodge became the first Forbes Five Star, AAA Five Diamond hotel in Utah and has just received the award of World's Best Ski Hotel. It doesn't get any better than that.
Does Stein Eriksen Lodge borrow any inspiration from European resorts you skied at before moving to the United States?
Yes. Throughout my racing career in Europe, I visited many attractive resorts. That gave me some ideas that I have summarized in this charming Norwegian-themed hotel.
What has been the key to combining your passions in order to help create such a dynamic and respected ski resort?
I had a good foundation of experience and travel that exposed me to many styles over the years. As a world champion ski racer, I always pushed to do my very best, to finish ahead of the competition and be recognized as the standard that all others would strive to be compared with. I also always had a vision to create a unique, one-of-a-kind, true ski lodge, a place where individuals feel comfortable and at home, and that offers world-class service, a flawless experience and memories that last a lifetime. This vision was realized when Stein Eriksen Lodge came to be. Like a world-class athlete, we train constantly to remain on the top of the medal podium. We have achieved that, as evidenced by our awards and recognitions. The most exciting thing for me has been to introduce people to the atmosphere in the lodge, combined with the atmosphere of nature that surrounds it.
What did you learn from participating in the Olympics and
World Championships that has helped you in your business?
I learned to handle skiing victories with grace and appreciation, and then apply this to all the generous accolades we have received over the past several years at the lodge. Also, [I learned] how much my career has meant to better young people being introduced to nature and a sport that has given them more values in life than they would otherwise be exposed to.
Do you consider yourself more of a world-class skier who is in the hotel business or a hotelier who has an Olympic gold medal?
First, I'm a skier who had the opportunity to share his vision of what a world-class ski experience should be with the rest of the world. My experiences definitely shaped my perception of what a ski hotel should offer its guests. But had it not been for the visionary, Edger Stern, who gave me the opportunity to create it, I don't think I would have been involved in the hospitality industry.