Exciting yet challenging times follow $12.2 billion purchase
The hottest worldwide news in the hotel industry recently was Marriott International's $12.2 billion acquisition of Starwood Hotels and Resorts Worldwide in November. It will have a huge impact on meeting planners and participants, affecting brands and loyalty programs, among other things.
"I can't quite imagine what my parents would have thought today," wrote Bill Marriott, executive chairman of the board of Marriott International, in his blog on the day of the purchase. "A business they started as a root beer stand is about to merge with Starwood and is about to become the largest hotel company in the world. Well, I can guess one thing that my dad would have said: 'Bill, don't think you did this alone.'"
He went on to laud the contributions of Marriott's associates and their dedicated teamwork.
Marriott and Starwood still are operating separately because Marriott's purchase is subject to regulatory approval, which is expected in mid-2016. Marriott then will have more than 5,500 hotels, the most in the world, and 1.1 million guest rooms.
"The driving force behind this transaction is growth," said Arne Sorenson, president and CEO of Marriott International, immediately after the purchase. "This is an opportunity to create value by combining the distribution and strengths of Marriott and Starwood, enhancing our competitiveness in a quickly evolving marketplace."
At the time of the purchase in November, stock prices of both companies had declined by at least 9 percent since spring 2015, and competition from room-sharing start-ups such as Airbnb made the consolidation attractive.
Major Challenges Loom
Marriott will face many difficult challenges while redesigning the company. It likes Starwood's lifestyle brands, which generally appeal to younger groups and will be able to reshape Marriott's image. But together the companies have a whopping 27 brands (Marriott 16, Starwood 11). It's likely that some Starwood brands will simply be added to Marriott's collection, while others are merged with a Marriott brand or eliminated due to duplication or low income generation.
The company also will need to determine whether to consolidate the Marriott and Starwood rewards programs or keep them separate, and decide which credit-card issues and payment network to use for its cobranded credit card to replace the Starwood Preferred Guest (SPG) credit card from American Express.
Perhaps the major challenge will be to keep the current SPG members happy. This loyalty program has 21 million members, and Marriott Rewards, with 54 million members, doesn't offer some of the same attractive perks.
Starwood Loyalty Program a Favorite
SPG offers the most valuable rewards points of any hotel chain, according to NerdWallet. SPG members get an average value of 2.3 cents per Starpoint when redeeming free night stays, with a range of 1 to 4 cents per Starpoint. Marriott Rewards points give members 1 cent per point, with a range of 0.5 to 1.7 cents per point.
Based on NerdWallet's assessment, 100,000 Starpoints are worth $1,000 to $4,000, depending on how they're redeemed. If these Starpoints are converted into Marriott Rewards points, they're worth $500 to $1,700.
Also, SPG offers some superior perks. Platinum members and those with lifetime Gold and Platinum status are granted a 4 p.m. late checkout, a guaranteed free upgrade to the best room available and complimentary health-club, club-level and executive-level access. Marriott offers complimentary room upgrades and late checkout to Gold Elite and Platinum Elite members, but doesn't provide any guarantees.
Sorenson says that Marriott will spend a lot of time in the coming months meeting with principal players, including customers, to develop a strategy.
Moving Boldly but Carefully Forward
Marriott continues to open and renovate properties at a rapid clip, and the purchase of Starwood is instigating a flurry of activity. But the purchase is so huge in every way that Starwood executives have made it clear that they intend to take a close, careful look at everything—including brands, rewards programs and meeting spaces—before implementing changes. For, the foundation that is ultimately established will likely determine the success of Marriott's big move.
---
Marriott Property Updates
The Starwood purchase dwarfs other recent Marriott developments, but here's a rundown of some of the key properties that have opened or been renovated within the past year.
Meeting Space Galore
Renaissance Hotel Chicago reopened in June after a $22 million "Wanderlust" design transformation that encourages guests to discover the neighborhood, as well as enjoy the lobby, Marriott Rewards Elite Club Lounge, The Artist Studio, Staytion Marker and The Library. Situated on the banks of the Chicago River, the hotel has 560 guest rooms and 34,800 sq. ft. of meeting space.
JW Marriott Austin
Unveiled in February 2015, JW Marriott Austin (pictured) features oversized guest rooms and suites, an outdoor pool and three restaurants, including a walk-up food truck-style window. This Texas property has 1,012 guest rooms and more than 112,000 sq. ft. of meeting space divided among 42 rooms.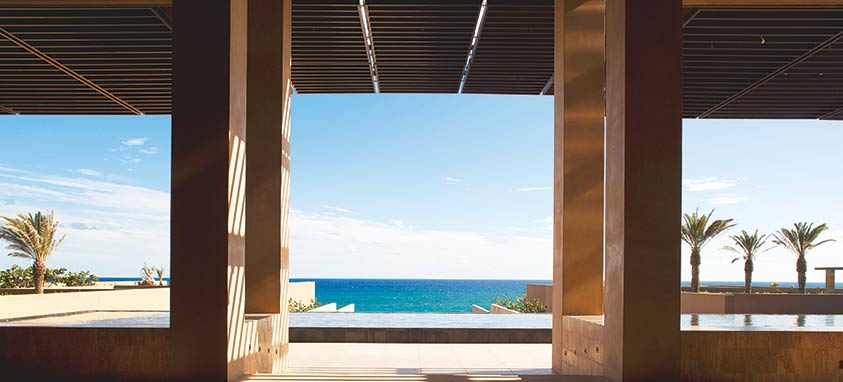 JW Marriott Los Cabos Beach Resort, Mexico
One of JW Marriott's newest properties is JW Marriott Los Cabos Beach Resort & Spa, located within the dunes of the Baja Peninsula where the desert meets the Pacific Ocean and Sea of Cortez. This five-star Mexican resort, which opened in November, offers 299 guest rooms and more than 37,000 sq. ft. of meeting space, including the 7,950-square-foot Mila Ballroom.
Immersed in History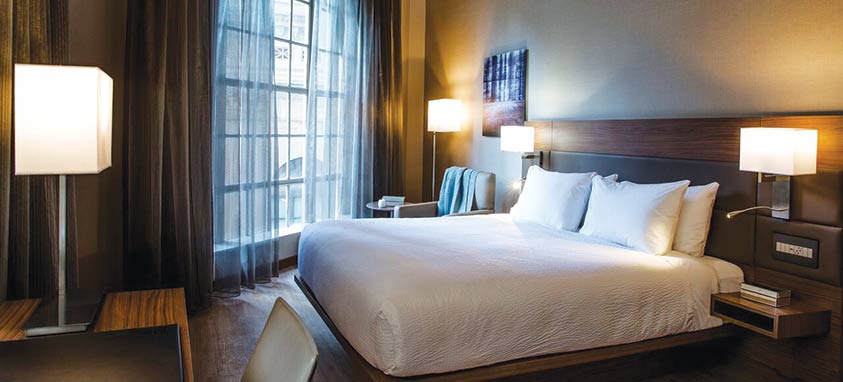 AC Hotel New Orleans Bourbon/French Quarter Area
AC Hotel New Orleans Bourbon/French Quarter Area, situated in a historic downtown building in the Central Business District, provides 220 guest rooms, some of which feature sweeping city views. Stylish event spaces offer 3,000 sq. ft. and are ideal for hosting everything from an intimate get-together to a banquet.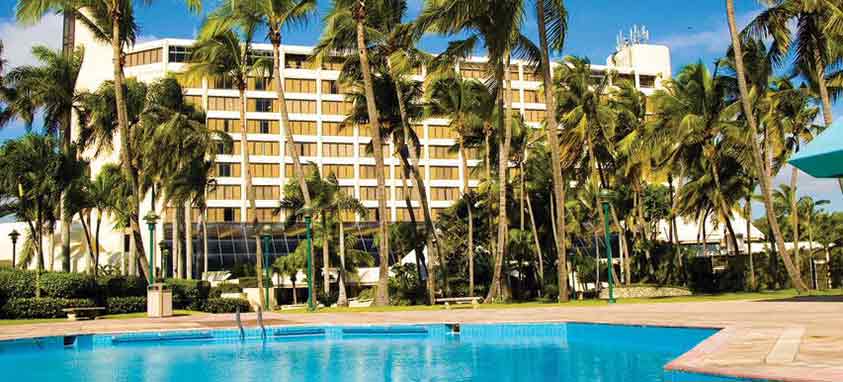 Renaissance Santo Domingo Jaragua Hotel & Casino, Dominican Republic
The Dominican Republic's Renaissance Santo Domingo Jaragua Hotel & Casino also features Wanderlust design. The 300-room property, which opened in October, was built in 1942 and is an important Dominican landmark. The redesign of the space attempts to capture the spirit and culture that has made the hotel an icon. The property provides 23,600 sq. ft. of meeting space divided among 13 rooms.
Unique F&B Options
AC Hotel Chicago Downtown, which opened in May, is a boutique property in the city's popular River North district. Located just steps from the Magnificent Mile and close to top restaurants, shopping and entertainment, it offers 226 guest rooms and 3,000 sq. ft. of meeting space. Two onsite restaurants, AC Lounge and AC Kitchen, offer European-inspired cuisine served in an inviting setting.
Grand Bohemian Hotel Mountain Brook in Birmingham, Alabama, which opened in October, has 100 guest rooms and 12,630 sq. ft. of meeting space. The property's Grand Bohemian Art Gallery showcases works by local, regional and international artists, and is designed to inspire the collector in each guest. Another interesting feature of the hotel is winemaking sessions led by a team of expert sommeliers.
Eye-Popping Design
Located on the Potomac River, AC Hotel National Harbor Washington, DC Area features contemporary European-inspired designs, along with 192 guest rooms and 3,700 sq. ft. of meeting space. Indoor areas offer productive space with integrated technologies, collaborative layouts and ergonomic seating, while the unique outdoor spaces provide breathtaking views.
The Camby Hotel in Phoenix, which opened Dec. 16, draws upon the local setting and Arizona's "five C's"—cotton, cattle, citrus, climate and copper—to inspire guests. The design was influenced by the state's colors and stunning landscape: Copper and turquoise are featured throughout the property, which provides 277 guest rooms and 20,000 sq. ft. of meeting space.