Meeting on the beach
Walt Disney World Swan and Dolphin Resort creates unforgettable events
During a recent tour of the Walt Disney World Swan and Dolphin Resort, located in Lake Buena Vista, Florida, just outside Walt Disney World, a number of meeting groups had taken over the property. Meeting rooms, restaurants and even an outdoor beach were all in various phases of accommodating an event.
In the Dolphin wing, a ballroom was decorated in company colors for a full opening reception and flat-screen displays flashed its logo in the hallways. Another lively group was gathered downstairs in one of the hotel's most popular restaurants, Il Mulino New York Trattoria, which has been modeled after the original Italian eatery in New York City. Outside, white chairs and tables with neon table cloths were set up on a white sand beach overlooking the waterway that separates the Swan from the Dolphin.
Resort Refresh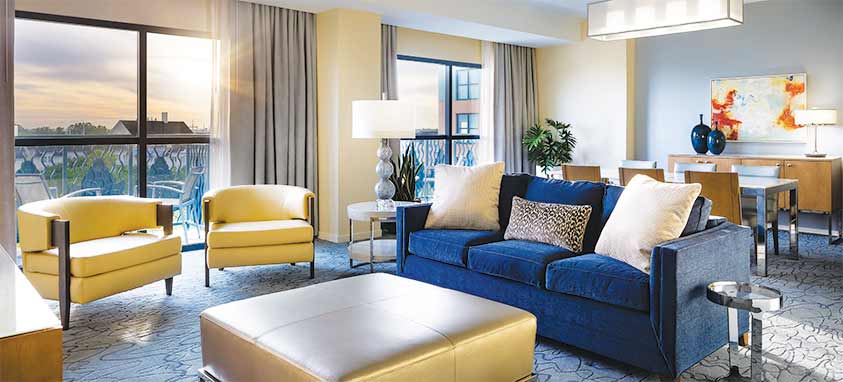 Grand suite with balcony
The number of meeting groups being hosted is impressive, considering that Walt Disney World Swan and Dolphin Resort is in the midst of a $125 million makeover, the largest in its history. The first phase has been completed in the Swan building, with an extensive redesign of 758 guest rooms. The rooms now reflect an aquatic ambience with serene shades of pale green and blue, updated furniture and the superbly comfortable Westin Heavenly Bed—as the property is operated by Starwood Hotels and Resorts.
At the Dolphin, updates to 1,509 guest rooms are underway and scheduled for completion by the end of 2017. Some of the public spaces have rolled out soft updates, such as new carpet in some of the meeting rooms. Wi-Fi in the exhibit halls includes the latest high-density technology, which can provide strong, fast and reliable Internet for more than 15,000 attendees.
Together, the two buildings offer more than 329,000 sq. ft. of meeting space across 84 meeting rooms, including two executive board rooms, four ballrooms, outdoor function areas and 110,500 sq. ft. of exhibit space. More extensive renovations to lobby areas, restaurants, meeting space and recreational areas will take place in several phases.
Five-Star Dining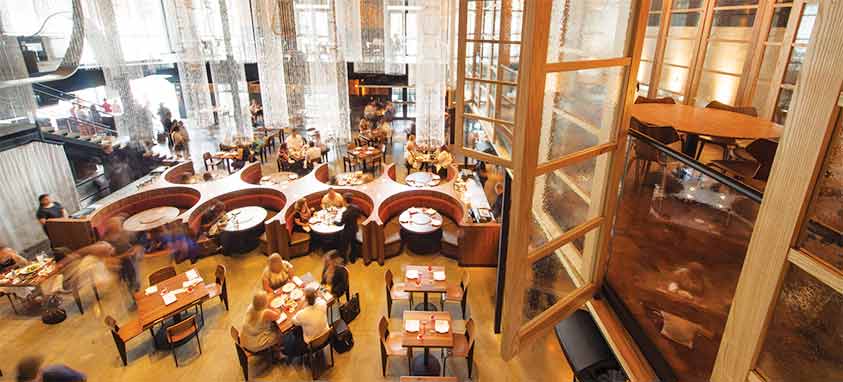 Morimoto Asia, Disney Springs
During the holidays, executive pastry chef Laurent Branlard creates a 2,000-pound chocolate holiday display, complete with Santa, a Christmas tree, a toy train and a 7-foot-tall nutcracker. He also transfigures edible pulled-sugar to mirror blown glass for all to admire.
Branlard is a two-time winner of the World Pastry Team Championship and is one-half of the genius culinary team at Walt Disney World Swan and Dolphin Resort. Executive chef Robert Ciborowski creates spectacular banquet menus featuring gastronomic delicacies made with quality ingredients.
For an unexpected setting, Tony Porcellini, director of food and beverage, has taken standard dining out of the banquet hall for a behind-the-scenes experience right in the kitchen, and even inside back hallways and giant freezers. For a unique cocktail reception, the resort sets up raw bars, martini bars and caviar served on ice inside the frigid room. Larger groups sit front and center, watching as the kitchen staff prepares a memorable group dining experience.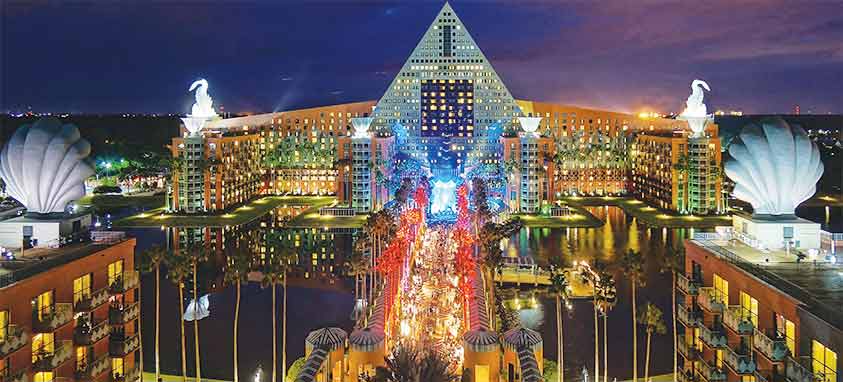 Food & Wine Classic
With food and beverage being a main focus at the hotel, Porcellini found a brilliant way to showcase his talented culinary team with a celebration of food and wine from around the world. The annual Food & Wine Classic takes over Walt Disney World Swan and Dolphin Resort with more than 40 food and wine stations, 10 food and wine seminars, and opportunities to meet the award-winning chefs behind each dish.
"This event is a way for us to celebrate our love of food, wine and beverage with others who share that same passion," Porcellini says. "What continues to bring back people year after year is the one-of-a-kind, fun, street-party atmosphere our guests enjoy."
Already in its seventh year, the festival takes place over Halloween weekend, featuring live entertainment and lots of spooky fun. During other times of the year, Porcellini has arranged mini-versions of the Food & Wine Classic for meeting groups with similar hands-on educational experiences. Past festivals have included food truck areas, samples from the hotel's signature restaurants and mixology classes.
Feature Attractions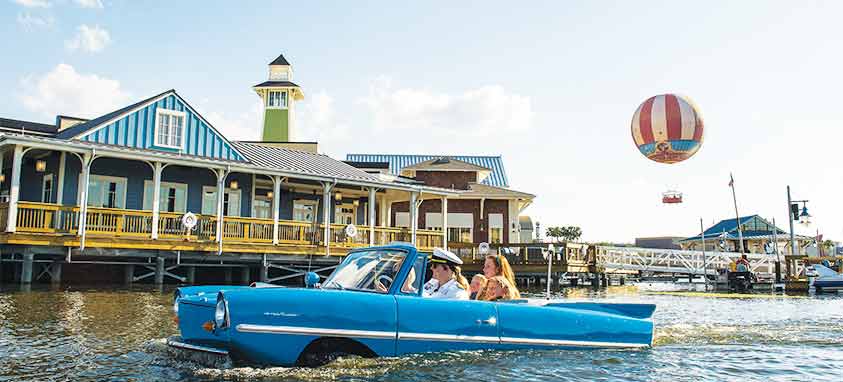 Amphicar tours by The Boathouse
Walt Disney World Swan and Dolphin Resort was one of the first properties to join the Walt Disney World campus, and is located near its world-renowned attractions and theme parks. The entire park complex—which includes Epcot, Hollywood Studios, Animal Kingdom and Magic Kingdom—is roughly the size of San Francisco. Thankfully, transportation from the resort to various offsites within the parks is a breeze with complimentary water taxi service.
Meeting planners interested in offering unique citywide experiences can take advantage of Walt Disney World Swan and Dolphin Resort's partnership with two more Disney-owned resorts to host up to 11,000 attendees. Disney's Yacht & Beach Club Resorts and Disney's Boardwalk Inn and Villas are located farther down the canal along the shores of Crescent Lake. The three resorts offer a combined total of 422,000 sq. ft. of indoor function space and more than 40 themed restaurants.
Last fall, Downtown Disney officially changed its name to Disney Springs, the newest shopping, dining and entertainment district, with free admission to the public. Meeting groups can look forward to new private-event venues and restaurants opening throughout 2016. Morimoto Asia, which opened in September, draws sushi-loving crowds to its two-level restaurant with views of the spring pools. The Boathouse is another popular venue with waterfront dining space, and is the only place to offer vintage amphicar tours.