Park Hyatt New York
The meetings-friendly brand has just opened 10 new hotels
Hyatt Hotels Corp. has continued its rapid development during the past year by introducing a new brand and opening significant new properties, many of them Hyatt Regency hotels, in strategic locations around the world.
"We want to be the most loved and preferred brand throughout the world," says Sandra Micek, Hyatt's senior vice president for global brands. "Growing in the right places, where our guests are traveling, will help us to achieve this goal."
Many Hyatt brands had key openings during the past year. New properties include the flagship Park Hyatt New York in New York City, Hyatt Place Chicago/Downtown, Grand Hyatt Dalian in China, Hyatt Regency Istanbul and the first two Hyatt Centric hotels, in Miami and Chicago.
The new Hyatt Centric brand features full-service hotels with destination restaurants owned by established hospitality partners. For room service, the brand's signature "knock 'n drop" system delivers meals in to-go packaging to guests at their door.
Another brand, Hyatt Regency, has been rapidly expanding its portfolio and services.
"The Hyatt Regency brand is growing its footprint and its guest experience," Micek says. "We have focused on creating experiences that foster connections.
"For example, we have been testing the ability for guests to text their hotel requests in a number of Hyatt Regency hotels, as well as the ability to make room service orders online and from their phone. As we see how guests use these types of services, we will look to expand them more broadly."
Hotel spaces make it easy for guests to exchange ideas with colleagues through quick coffee dates, shared culinary experiences, meetings and special events.
One of Hyatt's most popular brands among meeting groups, Hyatt Regency has 153 properties worldwide and has been busy adding to its portfolio. The brand has opened 10 properties since 2014, including five this year, and done extensive renovations on several major properties.
Properties That Opened in 2014
The brand opened three properties in China, one in India and one in Russia in 2014. Hyatt Regency Chongming, the first upscale resort on Chongming Island, provides 235 guest rooms, a 15,000-square-foot learning and social center called The Campus, and a 6,700-square-foot ballroom.
Situated in a coastal city neighboring Beijing in Northern China, Hyatt Regency Tianjin East features contemporary decor, 306 spacious guest rooms, excellent restaurants and 21,500 sq. ft. of meeting and event facilities. The original Hyatt Regency Tianjin opened in 1986 as the first hotel in China under a Hyatt brand and one of the first international hotels in mainland China.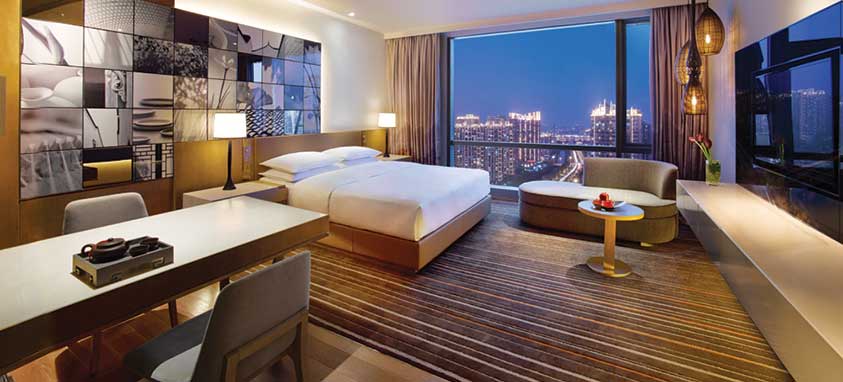 Hyatt Regency Suzhou
Hyatt Regency Suzhou is located in one of the most important economic, cultural and historic cities of Eastern China. Suzhou, known as "the Venice of China," neighbors Shanghai and is known worldwide for its ancient canals, stone bridges and UNESCO World Heritage gardens. The new hotel offers 355 guest rooms and more than 15,000 sq. ft.
Hyatt Regency Ludhiana, the first international five-star hotel in the India city, provides 168 guest rooms and 6,600 sq. ft. of meeting space. It's adjacent to Wave Mall, which houses a four-screen, state-of-the-art movie theater and shops.
The third Hyatt-branded hotel in Russia, Hyatt Regency Sochi opened in September. It offers stunning panoramic city and sea views, and caters to business and leisure guests. The property provides 198 guest rooms and more than 16,200 sq. ft. of sophisticated, stylish, multipurpose convention space.
Properties That Opened in 2015
This year, Hyatt Regency has unveiled properties in five different countries. The upscale Hyatt Regency Tysons Corner Center, which debuted in March in Virginia, is the first new-build, full-service hotel in Tysons Corner to open in more than 20 years. The 18-story, 300-room property is located in the trendy downtown area and features rich design, modern guest rooms and 15,000 sq. ft. of meeting space.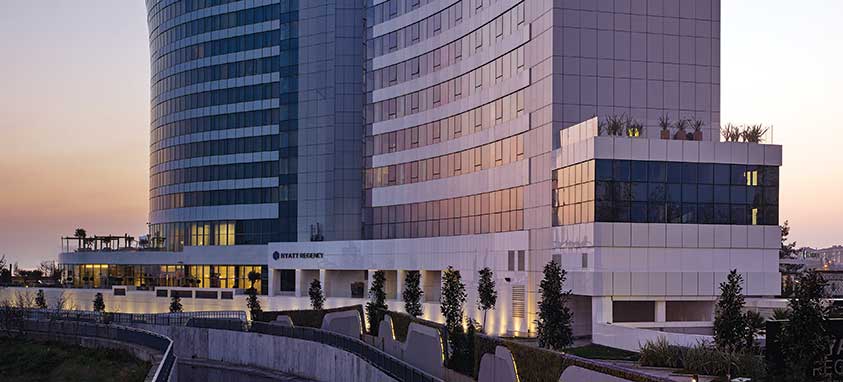 Hyatt Regency Istanbul Atakoy
The five-star Hyatt Regency Istanbul Atakoy is the third Hyatt property to open in the city. Located in a high-end residential area, the property offers easy access to Istanbul Ataturk Airport (IST) and to the city's dynamic center, Taksim Square, famous for its restaurants, shops and hotels. The hotel offers 284 guest rooms and 37,500 sq. ft.
Strategically located in the city center, the 210-room Hyatt Regency Ahmedabad in India is within walking distance of the Sabarmati riverfront. It provides more than 14,000 sq. ft., including a 6,045-square-foot ballroom with a 20-foot ceiling.
In the United Arab Emirates, Hyatt Regency Dubai Creek Heights boasts two iconic 538-foot high-rise towers. Located next to the resurgent Dubai Creek, it provides elaborate views across the water and stunning city skyline. The property has 464 guest rooms and 10,500 sq. ft., including two ballrooms.
Hyatt Regency Makkah is the first Hyatt hotel to open in the holy city and the first Hyatt Regency-branded hotel to open in Saudi Arabia. The property, which features 338 guest rooms, is a one-minute walk to the holiest shrine of Islam—Al Masjid Al Haram, or the Sacred Mosque.
Renovated Properties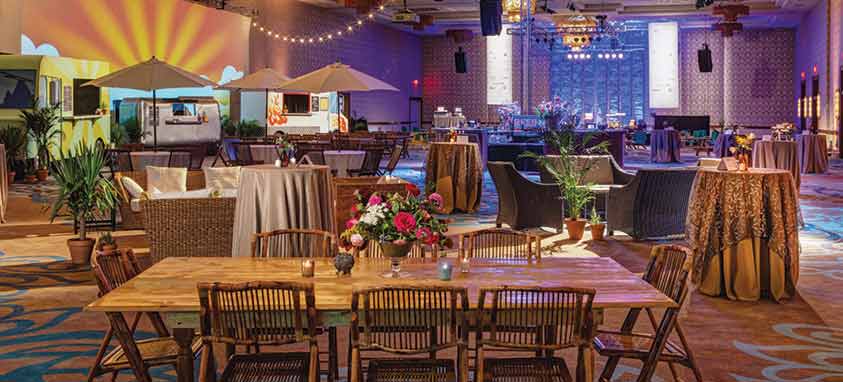 Hyatt Regency Austin
Hyatt Regency Austin in Texas (448 guest rooms, 45,000 sq. ft.) completed a $20 million renovation and expansion of its 14,138-square-foot Zilker Ballroom and parking garage last fall, and now is undergoing a revamp of its guest rooms that is expected to be completed by the end of the year.
In May, Hyatt Regency Waikiki Resort & Spa finished a $100 million renovation of its 1,230 guest rooms with upgrades, including 55-inch TVs and surfboard-inspired desks. The Honolulu property has 18,000 sq. ft. of meeting space.
Also in the spring, Hyatt Regency Savannah completed a renovation of its 351 guest rooms, bathrooms and corridors, including equipping doors with RFID technology. The Georgia property offers 33,000 sq. ft. of meeting space.
Hyatt Regency Boston completed a $13 million renovation of its 502 guest rooms and suites in June. Guest entrances, the lobby, Avenue One restaurant and 21 meeting and event spaces, which total 30,000 sq. ft., were overhauled in 2013.
Hyatt Regency Buffalo (396 guest rooms, 21,352 sq. ft.) in New York has begun a $3 million upgrade of its lobby, main entrance and atrium restaurant and bar. The renovations are slated to be finished in early 2016.
A multimillion-dollar renovation of Hyatt Regency Jacksonville Riverfront—including the 963 guest rooms, corridors, rooftop fitness center and Regency Club lounge—is scheduled to be completed this fall. The Florida property has 110,000 sq. ft. of meeting space.
Renovations to the former rotating rooftop restaurant at Hyatt Regency Milwaukee (481 guest rooms, 29,517 sq. ft.) have begun, and the space is expected to reopen for private events next year.
Moving Forward
Critical to Hyatt Hotel Corp.'s success has been staying attuned to the needs of meeting groups and other guests.
"At our core is caring for people so they can do their best, and we'll do that by bettering our listening skills every day and treating each of our guests as individual people," Micek says. "We like to say that it's hotels that are the 'guests' in people's lives, and not the other way around."