John Hendricks' inquisitiveness has generated staggering accomplishments
---
John Samuel Hendricks
Birthplace: Matewan, West Virginia
Education: Bachelor of Arts degree in history from University of Maryland; honorary doctorate from University of Alabama in Huntsville
Occupation: Business leader
Career Highlights: Founder and former chairman of Discovery Communications, and creator of Discovery Channel; creator of Gateway Canyons Resort & Spa; founder and chairman of CuriosityStream
---
Looking back on his childhood in Huntsville, Alabama, John Hendricks recalls having a burning curiosity about everything.
"I read a lot, and asked my parents so many questions that I probably annoyed them," he says. "I was curious about how we found ourselves in this universe—and that has stayed with me all of my life."
Hendricks' curiosity has spawned a highly successful business career highlighted by founding Discovery Communications, which now generates $6.4 billion in revenue annually and includes the groundbreaking, world-renowned Discovery Channel, and Animal Planet. He also created Gateway Canyons Resort & Spa in Gateway, Colorado, and serves as chairman and managing member of Hendricks Investment Holdings LLC.
Hendricks retired from the Discovery Communications board in 2014 to focus on a new venture—CuriosityStream, the world's first nonfiction streaming service.
"I loved my work with Discovery Communications and the people there—I'm still a shareholder," he says. "But I want to devote my full attention to CuriosityStream, part of the third revolution in TV. It's hard to develop new services if you have legacy business entanglements."
The other revolutions were broadcast television and cable television. Each of the three revolutions has allowed consumers to dictate to a greater degree what they watch, and when and how they watch it.
Launched in March 2015, CuriosityStream is the first ad-free subscription video on-demand service to exclusively deliver quality documentaries and series in science, technology, history and nature. Curiositystream.com is available on iOS and Android mobile applications in 196 countries.
Additional programming on CuriosityStream is generated by the annual Curiosity Retreats. Overseen by Hendricks' daughter, Elizabeth Hendricks North, the events are offered at Gateway Canyons and dive deeply into compelling issues (see sidebar).
Gateway Canyons
Gateway Canyons is an ideal setting for the retreats. It's located in Unaweep Canyon, one of the most unique red rock canyons in the world—an area that boasts a long, rich history. The walls display layers of earth dating back 300 million years. The Fremont, Anasazi and Ute Native American tribes once called it home, and dinosaur tracks can be seen near the property.
It's one of the most spectacular settings in the world.
"When I was growing up, my father always told me stories about the Gateway Canyons area," Hendricks says. "The first time I visited it, I fell in love with it."
That visit, in 1995, left a lasting impression on Hendricks. He eventually bought a ranch in the unincorporated community of Gateway, and began holding executive retreats there. He subsequently decided to open Gateway Canyons, a small, luxurious resort surrounded by the magnificent landscape, to introduce others to the area.
Central to the resort is its environmental focus: Hendricks recognizes the importance of preserving open spaces, landscapes and critical wildlife habitats. The restaurants use as much local produce as possible; the adobe-style buildings utilize a variety of alternative and sustainable energy sources; and the pool, hot tub and spa rely on solar water heating and a nonchemical saline purification water system.
The resort recently underwent a $20 million renovation that included refurbishing and redecorating the 58 guest rooms to reflect the area's Southwestern aesthetic, and creating 14 casitas. Gateway Canyons also has 11,778 sq. ft. of meeting space.
"It's ideal for high-end retreats and small gatherings, like board of directors meetings," Hendricks says. "The landscape helps stimulate innovative ideas."
The resort has won a host of prestigious awards, including No. 3 Best Resort in the United States and No. 12 Best Resort in the World from Conde Nast Traveler in 2014, and Best Resort in the Western United States from Travel & Leisure in 2016.
For a small resort, it offers a very wide array of activities, including helicopter tours, horseback riding, sport shooting, hiking, biking, a deluxe spa, UTV adventures and an auto museum featuring Hendricks' private collection of 60 spectacular cars.
Family members play a big role. Andrew Hendricks, his son, is a former Grand Am driver who runs the resort's Driven Experiences, a driving school that also offers a high-adrenalin ride on a Pro-Baja truck. The elder Hendricks' wife, Maureen, is a fabric artist who organizes Alegre Retreats, annual conferences on quilt art, at the resort.
Stimulating Upbringing
Throughout his life, family has been vitally important to Hendricks. He was born in Matewan, West Virginia, the youngest of three children. His father, John, built homes while his mother, Pauline, raised the kids.
"They were very honest and hard-working," he says. "My father had to go from building contract to building contract, which required faith and perseverance. I inherited his stick-to-it-iveness.
"My parents also were big believers that you can be whatever you want to be."
This attitude inspired their children, and Hendricks drew from another major inspiration.
"Huntsville was growing by leaps and bounds, mainly because it—along with Camp Canaveral in Florida, and Houston—was one of the three NASA sites at the time," he says. "It was the space age, and I could hear rockets being tested. Huntsville became a place of possibilities, and this was exciting and exhilarating to me.
"It was a place to dream."
Hendricks' dream was to focus on some of life's bigger questions, and this led him to concentrate on history. He received a bachelor's degree in the subject from the University of Maryland in 1974, but his father died during his time there. Hendricks, who was 20, lost his mother nine years later.
"It was difficult to lose them, because parents are important in how you define yourself," he says. "Losing my sister at the age of 37 was very tough, as well. Their deaths created an awareness in me of how precious life is. It taught me to take advantage of each moment.
"We're not here for very long, so we need to make the most of our lives while we're here."
Making His Mark
Hendricks took this teaching to heart. The mid-'70s to the early-'80s were a busy, highly productive time for him. He served as director of community and government relations at the University of Alabama in Huntsville, director of corporate and foundation relations at the University of Maryland and co-founded American Association of University Consultants.
"I had good writing skills and could communicate ideas," he says. "The first thing I tell young people is to become an expert in your field; this requires hard work and research. You need to know more about your topic than anyone you talk to, and need to develop a skill set to communicate ideas. And you need to be confident you can make things happen."
Hendricks soon made things happen in a big way. As a work-study student in the audiovisual department at University of Maryland, he had thought that a TV channel focusing on documentaries should be created.
In the early '80s, he called CBS news anchorman Walter Cronkite—who shared Hendricks' interest in space travel and documentaries—for advice on how to create such a channel. Cronkite invited Hendricks to New York City for a chat, and later agreed to introduce him to some influential people.
Eventually, Hendricks made pitches to Allen & Co. investment firm and cable pioneer John C. Malone, who agreed to back the project. Hendricks founded the Discovery Channel, focusing on documentaries and other nonfiction programming, in 1982, and it became a major success.
"From the time it launched, people were sending letters to cable operators," Hendricks says. "We focused on penetrating the U.S. market, but didn't anticipate that cable would sweep the planet."
The Discovery Channel is the flagship entity of Discovery Communications, which consists of more than 50 other network entertainment brands and also includes Animal Planet, TLC, Investigation Discovery, OWN: Oprah Winfrey Network, Science Channel and its web-native Discovery Digital Networks business, led by Seeker and SourceFed.
One year before he retired from Discovery Communications, Hendricks' business memoir, A Curious Discovery: An Entrepreneur's Story, was published by Harper Collins. But don't think for a minute that it's an indication that he's winding down his career: He remains as curious as ever.
"Curiosity is an engine that powers civilization," he says. "I haven't been this excited since the mid-'80s."
---
Curiosity Retreats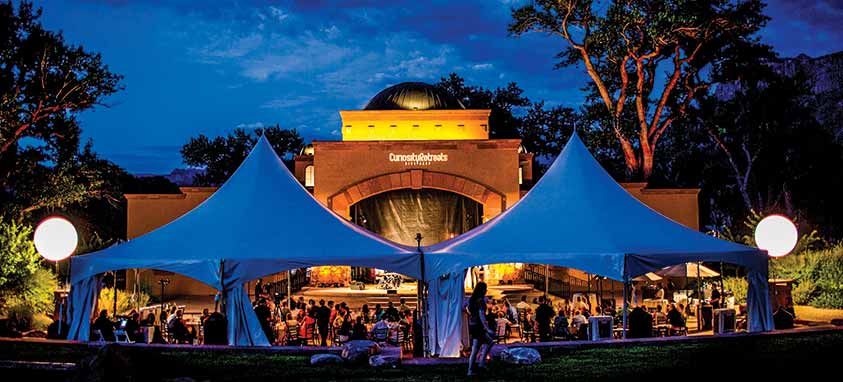 Gateway Canyons' Curiosity Retreats bring together leading visionaries, scholars and trendsetters to focus on science, technology, civilization and the human spirit. Speakers inspire one another and participants on topics ranging from the mysteries of the universe to the future of technology.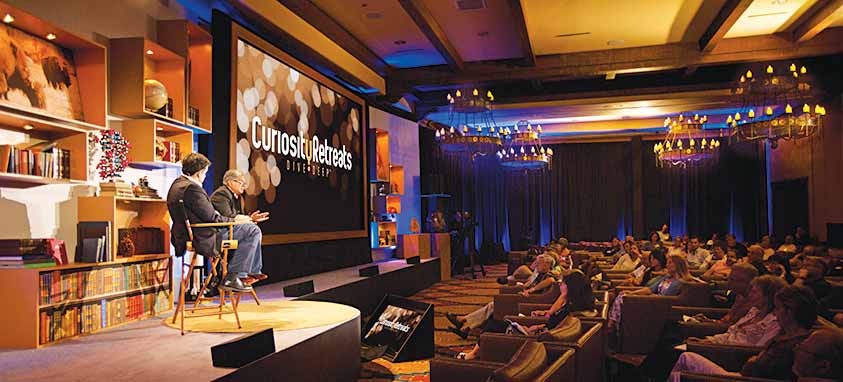 Speakers have included Dr. Deepak Chopra (pictured, above), filmmaker Jason Silva (pictured, below) and physicist Dr. Michio Kaku. The next retreat will be held Oct. 2–7, and speakers will include Pulitzer Prize winner Doris Kearns Goodwin and Nonny de la Pena, known as "The Godmother of Virtual Reality."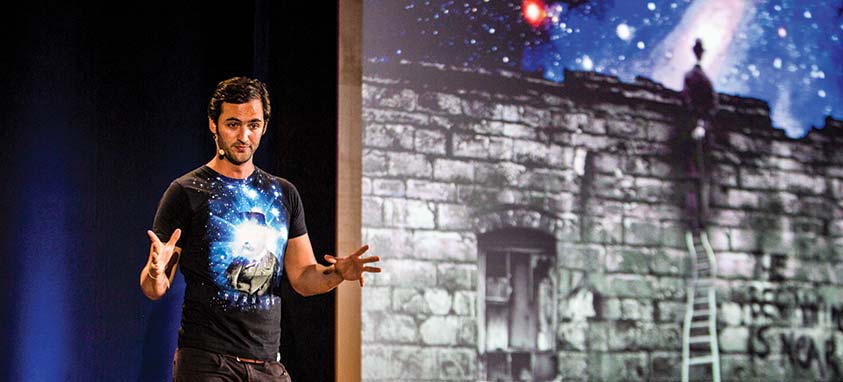 Plans are in the works for a virtual reality summit in late 2017 that would include leading experts in different fields, along with 30 to 40 other participants.