Balcony at Level Furnished Living
Downtown Los Angeles has the makings of a construction zone. Towering skyscrapers in the financial district intersperse with cranes that are actively erecting the next tallest building. The U.S. Bank Tower, the tallest on the West Coast, is soon to be superseded by Wilshire Grand Tower, a 900-room InterContinental hotel and office project that, when complete in 2017, will stand 1,100 feet tall.
But that's only one part of L.A.'s story. Around 9,200 hotel rooms in various phases of development, with more than 3,100 rooms slotted for downtown, are completely transforming the city skyline.
"If you haven't been to Downtown L.A. in a while, you may not recognize it," says Darren Green, senior vice president of sales at Los Angeles Tourism & Convention Board. "Downtown's recent renaissance has created a walkable urban center featuring scores of new and refreshed hotels, from luxury and historic to boutique and value."
Scaffolded structures mingle with condominium buildings, incredible restaurants and hipster bars along the Ninth Street corridor, dubbed Restaurant Row, one of the hottest dining spots in the city. There is a breath of fresh air blowing through once-empty streets and semi-vacant office buildings in the historic Old Bank District, Gallery Row and Jewelry District. Older Art Deco buildings and Beaux-Arts facades that were largely neglected have been given a second chance during an unprecedented wave of adaptive reuse and repurposed construction.
In the last few years, Downtown L.A. has begun to see the light at the end of the tunnel. What was once a drive-in, drive-out destination is earnestly working to improve its walkability. When Whole Foods opened its first grocery store downtown last fall, it was considered a major coup for the neighborhood, which has seen its population increase five-fold in the last decade, to 50,000. The city's Metro rail system is also undergoing a series of light rail improvements. The newly opened Expo line links downtown to Santa Monica in just 45 minutes, and the Purple line subway extension will eventually connect downtown to West Los Angeles.
City Living at Its Best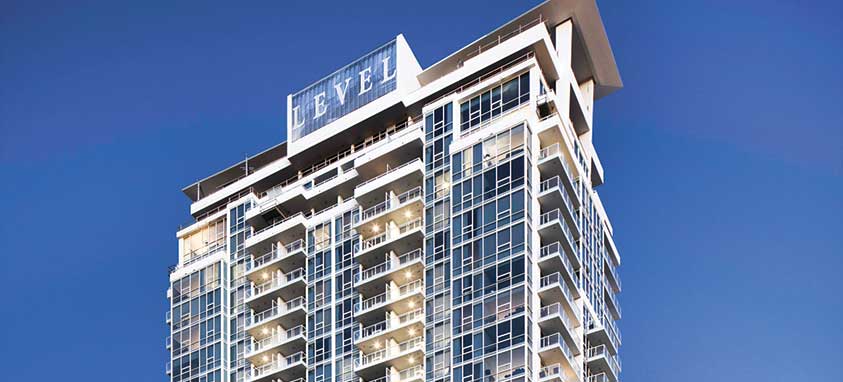 Amenities such as these have given rise to new living concepts that bridge downtown residential living with luxury hotel services suited for the long-term visitor, as well as the traveling professional. Level Furnished Living in downtown's South Park District is located one block from the Financial District and is a 10-minute walk from L.A. Live, the spectacular downtown complex that houses several meeting and entertainment venues, including Los Angeles Convention Center, Staples Center, Microsoft Theater and Club Nokia.
Despite having a robust convention center campus, Los Angeles has lacked sufficient hotel infrastructure to attract large conferences and conventions that have inevitably gone to other cities. Now more than ever, it has become imperative that Los Angeles increases its room inventory in order to remain competitive in the meetings and convention sector.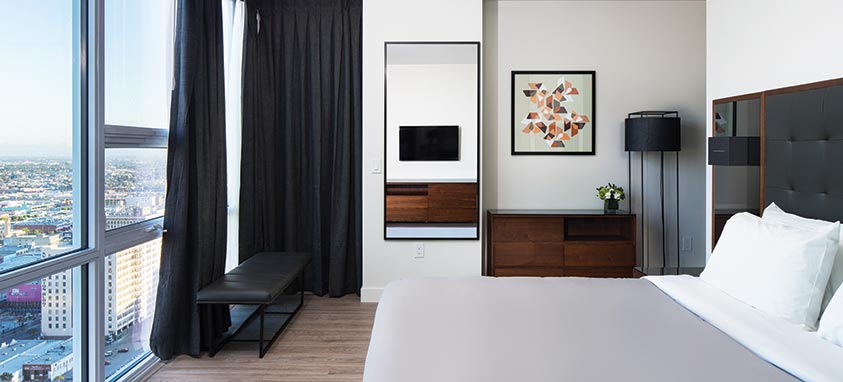 Three bedroom suite
That's where Level L.A. comes in. For visitors staying more than a few nights, it offers unparalleled accommodations with spacious contemporary living spaces that have separate bedroom, dining and work areas. With floor-to-ceiling windows and luxury amenities, including a full kitchen, in-suite laundry and high-end appliances, the 33-story building offers 303 one-, two- and three-bedroom fully furnished suites.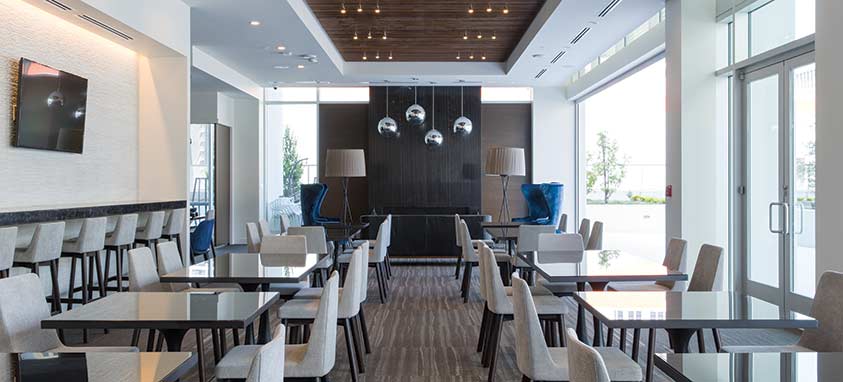 Lounge and dining area
"When people are traveling for longer than five nights, a new set of needs arise," says Javier Cepeda, regional vice president of Level Furnished Living, based in Vancouver. "The in-suite laundry, full-size kitchen and large spaces come quite in handy and take that living-out-of-a-suitcase feeling out of the equation. Level is the perfect home away from home."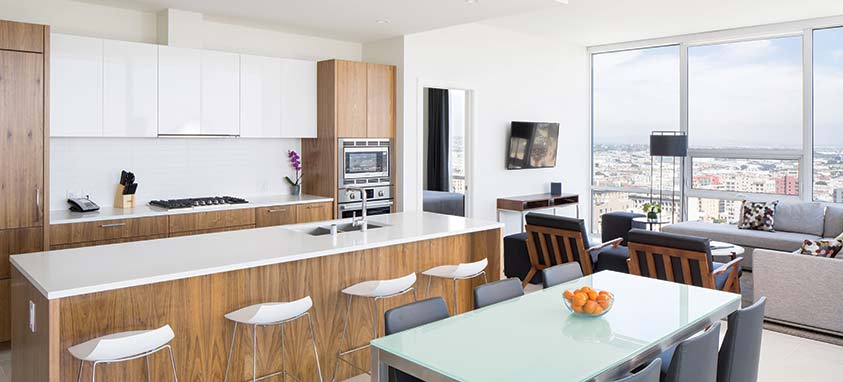 Kitchen
Because of Level L.A.'s ability to accommodate a variety of guests' needs, it is uniquely positioned to supply rooms during periods when other hotels are booked in advance. Level L.A. has hosted several events, including luxury automotive car launches and private parties. Because a portion of rooms are reserved for long-term residents, Level L.A. is unable to contract groups very far in advance. Room blocks can be reserved at the property within a 90-day window, during some parts of the year.
"We maintain a close relationship with [Los Angeles Tourism & Convention Board] and convention center, and have been able to offer a helping hand on various occasions—whether it's offering overflow suites when hotels are sold out or booking short-term group business," Cepeda says.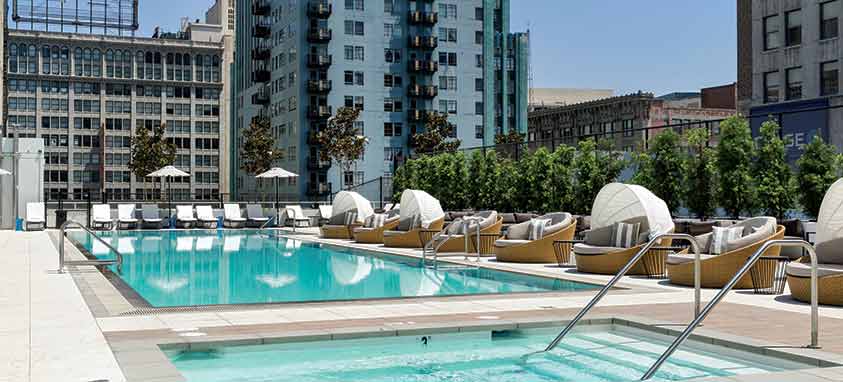 Pool area
The extended-stay building opened last year and has already become a popular choice among corporate groups interested in condominium-style living. All residents have access to 24-hour concierge service and L Club, a 37,000-square-foot indoor and outdoor center that offers lounge areas, and a spacious fitness center, basketball court, steam room, sauna pavilion, heated pool and hot tub. The property also has 5,000 sq. ft. of meeting space that can be extended outdoors.
Coming soon to the building's street-level spaces are three brand-new, highly anticipated retail facilities and restaurants. SoulCycle will soon have its first outpost in Downtown L.A., offering curated spin classes for indoor cycling buffs. Sakana Sushi and Cognoscenti Coffee will also open their doors later this year.
Promising Future
Downtown L.A. is positively thriving and on the verge of becoming one of the hottest destinations in the country. A surge of new hotel developments, including the 350-room Hotel Indigo Downtown Los Angeles, 220-room Thompson Hollywood Hotel and 755-room addition at JW Marriott Los Angeles L.A. Live, will join Level L.A. in the next few years, once again making the city a strong contender in the meetings sphere.
Access from Los Angeles International Airport (LAX), the third-busiest airport in the country, has never been easier as its facilities receive a multibillion-dollar infrastructure upgrade, reflecting L.A.'s status as a 21st-century city.