Greater Columbus Convention Center rendering
Columbus, Ohio, goes deep with major expansion and artistic flair
There is no question that meetings business is important to Columbus, Ohio. Once in the shadow of Ohio State University and the Buckeyes' college football team, the Midwestern city was not known for much else. Tailgating at Ohio Stadium (also known as the Horseshoe) is still a big deal, drawing upward of 100,000 red-and-white-clad spectators roaring in the stands.
Today, however, it's a slightly different story. Columbus is filled with construction signs and cranes, signaling new things to come. Modern restaurants, artisan cafes and local boutiques are cropping up around neighborhoods such as the Short North, named for its location north of downtown and just short of the college campus.
A creative streak runs through the city's core in the form of independent art galleries and a budding fashion scene. Columbus is the headquarters of L Brands Inc., a fashion conglomerate that operates brands including Victoria's Secret, Bath & Body Works, Lane Bryant and Abercrombie & Fitch.
"Columbus is a city on the rise with new developments, properties and experiences that are catching the eye of national meeting planners," says Dan Williams, vice president of convention sales for Experience Columbus. "Columbus is easily accessible for all, and once here, groups will love exploring a place that is fast becoming known as one of the nation's most creative, forward-thinking and exciting cities."

Meet
For meetings, the center of the city's transformation is Greater Columbus Convention Center (GCCC), currently undergoing a $125 million renovation and expansion to be completed by July 2017. Its exhibit halls host hundreds of conferences and conventions including the annual Arnold Classic, the largest multisport festival in the nation, with 18,000 athletes competing in various events across Columbus.
The convention center has stayed open throughout the entire construction phase. The project includes the addition of 373,000 sq. ft. of contiguous exhibit space, which will rank GCCC as one of the largest convention centers in the country, with a total of 1.8 million sq. ft. Nine new meeting rooms and a two-level atrium will flood the north end of the building with natural light. The atrium will also be used as prefunction space for the updated Short North Ballroom, while Arnold Plaza will be enlarged with 10,000 sq. ft. of space for outdoor events.
With new show offices overlooking the exhibit floor and extensive upgrades throughout, the attendee experience will be boosted with hotel-grade finishes, local food and beverage concepts, and more than 150 pieces of local art showcased within interior and exterior spaces, including the parking garage.
Groups already enjoy restaurant-quality banquet and catering services by Levy Restaurants. The in-house group works in partnership with Cameron Mitchell Restaurants, one of Columbus' most respected restaurateurs, noted for sourcing 85 percent of its foods from a network of local suppliers.
Once finished, GCCC will become a LEED Silver-certified facility. In order for the existing building to achieve the designation, greener operational standards are being implemented across the board. This includes a single-stream recycling process to repurpose disposable materials such as brochures, badges and display signs after the culmination of an event. Lighting, and heating and cooling systems will be made energy-efficient, contributing to a lower carbon footprint. Strides such as these are not going unnoticed.
"The LEED certification being obtained by the Greater Columbus Convention Center has allowed us to show our commitment to green meetings and helped bolster our bids for groups for whom this is a major priority," Williams says. "Anecdotally, we have heard from many of our existing clients how thrilled they are that the center is taking this important step and keeping the environment in mind while going through this renovation."
The convention center's bright future is helping it to garner more meetings business than ever, including the American Society of Association Executives (ASAE) annual conference in 2019.

Stay
Hilton Columbus Downtown is connected to GCCC by an enclosed sky bridge. Like the convention center, the business hotel incorporates modern works from Columbus' most notable artists. Throughout the marble lobby, meeting spaces and guest rooms, contemporary paintings line the walls and ceilings. The LEED Gold building has 532 guest rooms and more than 32,000 sq. ft. of event space.
Le Meridien Columbus, The Joseph
There is no end to the dearth of art displayed at Le Meridien Columbus, The Joseph. Pop art from the Pizzuti Collection enlivens 135 guest rooms, 2,686 sq. ft. of meeting space and public areas throughout the hotel. Guests can feel inspired to gallery hop in the Short North with free passes provided by Unlock partnership and a complimentary bike program. The partnership is designed to foster cultural exchange and educational understanding.
One of the tallest points in Columbus is the 1927 American Insurance Union Citadel designed by architect Charles Howard Crane. What was once the fifthtallest building in the world later became known as LeVeque Tower, and will open next year as Hotel LeVeque. The boutique property is part of The Autograph Collection by Marriott and is expected to have 149 guest rooms and 1,975 sq. ft. of unique meeting space. Decor will take cues from its storied past, involving art deco and celestial themes alongside restored elements.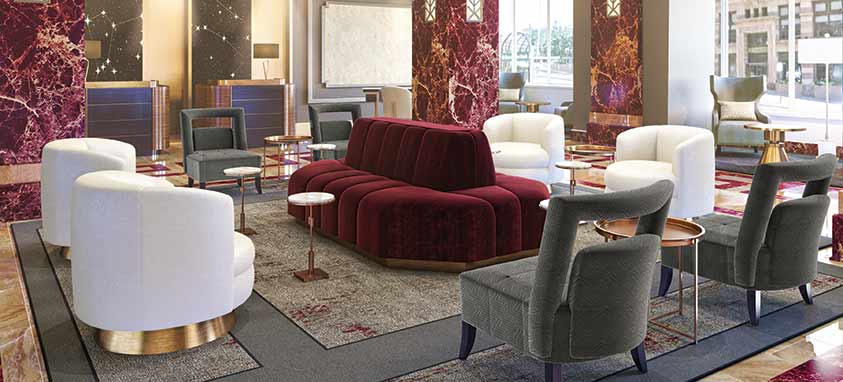 Hotel LeVeque
Eat
A convenient and economical way to visit some of Columbus' best restaurants is via Cbus, the city's downtown circulator. The free mode of transportation travels in a loop from the Brewery District through downtown and the Short North. Many of the best places to eat are also steps from the convention center.
North Market
North Market is a popular stop for dine-arounds and can even accommodate buyouts for large groups. The historic eatery was one of four public markets founded in 1850; it shared the building with city hall until 1872. The original East, West, Central and North markets were lost to fires or demolition in the 1940s.
Today, the rebuilt North Market is filled with more than 30 merchants serving fresh, local and authentic foods, including organic produce, grass-fed meats and specialty items. One of the highlights is Jeni's, a local ice cream parlor that scoops a range of outrageous flavors, from Thai Curry Pumpkin to Middle West Whiskey & Pecans.
The participatory culinary experience continues at The Kitchen in German Village, where patrons can become chefs for the day. For groups of up to 45, The Kitchen staff facilitates hands-on dining parties where participants are encouraged to roll up their sleeves and cook together with professional tools and the finest ingredients in a collaborative space. The finished results are paired with regional wines and lots of camaraderie.