All photographs courtesy of Marriott International
Starwood Purchase is Big, but Just One Highlight of Bill Marriott's Highly Influential Career
Hometown: Washington, DC
Occupation: Executive chairman and chairman of the board for Marriott International; served as CEO for 40 years
Family: Wife, Donna; four children; 15 grandchildren; 18 great-grandchildren
Education: Bachelor of Science degree in banking and finance from the University of Utah in Salt Lake City; honorary doctorate degree in humanities from Weber State University in Ogden, Utah
---
Some people assume that Bill Marriott, now 84, must be taking it easy since resigning from his post as CEO of Marriott International in 2012. Think again.
Marriott not only serves as executive chairman and chairman of the board for Marriott International: He also still goes to his office when in the Washington, DC, area, visited 320 company properties as recently as three years ago and will stop by 120 this year.
"I enjoy it," he says. "I love to meet and talk with people. From the time we opened our first hotel, it has always put a smile on my face."
During his 60 years with Marriott, the company has grown by leaps and bounds. After acquiring Starwood Hotels & Resorts this year, Marriott International is the largest hotel company in the world, and will have more than 6,000 properties by the end of 2016 (see sidebar).
Throughout his long career, Marriott has learned from his experiences as he and his company have helped set the tone and tenor of the hospitality industry.
Family Background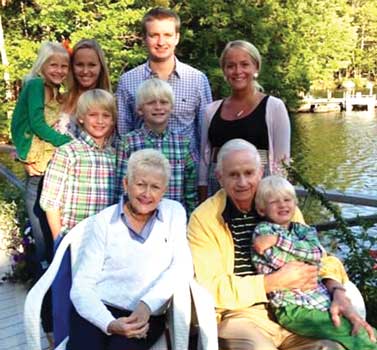 Bill Marriott with wife Donna and other family members
He was born in 1932 in Washington, DC, where his parents, John Willard and Alice Sheets Marriott, had opened a root beer stand in 1927. The successful shop led to the founding of Hot Shoppes restaurant chain, where Marriott worked while attending high school and University of Utah in Salt Lake City, earning a Bachelor of Science degree in banking and finance.
Marriott's approach to his personal life and work has been heavily influenced by his lifelong involvement with the Church of Jesus Christ of Latter-day Saints, which he has served in leadership roles. Integrity and fidelity are of paramount importance to him, along with family unity.
"I've been successful in business because I've been successful at home," he says. "My wife, Donna, and I have been happily married for 61 years, and we have a closely knit family. They've been a great source of support."
Marriott Corporation opened its first hotel, Twin Bridges Motor Hotel, in Arlington County, Virginia, in 1957, and Marriott began managing it. Like his late father, Marriott is curious by nature, and this helped them gather an abundance of facts and opinions before making major decisions.
"It's important to ask yourself the question, 'Why?'" he says. "But in my early days, I sometimes was sarcastic, and I have been impatient at times. Sometimes, people say things they don't mean, so it's important to stop yourself first and ask 'why.' I've found that this provides an opportunity to reflect, and you often come up with an answer you don't expect."
Expanding the Company
Marriott was elected executive vice president and a member of the board of directors of Marriott Corporation in 1964, became CEO in 1972 and chairman of the board in 1985. Eight years later, Marriott Corporation was split into Marriott International, a hotel management and franchising company led by Bill Marriott, and Host Marriott International, a hotel ownership company chaired by his brother, Richard Marriott.
When Bill Marriott began his career, major hotel companies generally owned the properties they managed. Under his leadership, Marriott Corporation switched from hotel ownership to property management and franchising, thereby facilitating its growth. He also introduced the concept of Revenue Management to the industry.
His company progressed from being somewhat insular, bent on doing things strictly "the Marriott way," to one that is more expansive, more willing to reach out to establish partnerships and acquire other companies, despite risks.
One decision Bill Marriott regrets is not agreeing for Marriott to manage a 22-story, sky-lit atrium and high-speed, glass-cabbed elevators hotel that was being built in the mid-'60s on Peachtree Street in Atlanta. Architect John Portman was creating the property, with 800 rooms and large convention facilities—but it had no brand affiliation.
Contrary to typical hotels of the period, which were created only with guests' physical needs in mind, the property offered exciting experiences and modern facilities.
"I could have opened it," Marriott says. "I went down to see it, and found that it was a beautiful hotel with a beautiful atrium. But I decided that it wouldn't work for us, and we decided not to pursue it."
A small chain of West Coast motels called Hyatt House Corporation then bought it, and the property, Hyatt Regency Atlanta, was so successful that the company started building hotels with atriums all over the country.
"I could have stopped what became a very successful competitor," Marriott says.
The Art of Receptivity
Marriott has earned the reputation of a hands-on leader who emphasizes building strong relationships and cohesive leadership teams. In doing so, he has set an example for other industry leaders by breaking down traditional barriers.
"I always try to be inclusive—it's very important in leadership, which is all about building teams and working together," he says.
Marriott feels that leaders need to welcome expertise that surpasses their own.
"Leaders shouldn't believe they have all the answers," he says. "I learned 40 years ago the importance of surrounding yourself with people who are smarter than you. Sometimes, they can be too smart, though: Some people think they have all the answers, but it's also necessary to develop people skills."
He contends that company leaders need to make a point of circulating around the workplace to remain connected with employees and their work. He refers to it as MBWA (management by walking around), which became popular in the 1980s and has been experiencing a resurgence.
But active interaction with employees is key. He recalled a time he was walking around the floor with the CEO of another company.
"No one spoke with him," Marriott says. "You don't learn anything that way."
Marriott says that sometimes, receptive leaders have trouble obtaining honest feedback, though.
"The trouble is, no one wants to tell CEOs the truth; everyone tells them what they want to hear," he says. "Some people have popped up and offered suggestions to me. Some I've incorporated, and others I haven't, but I've appreciated all of them."
The roots of Marriott's approach can be traced to an experience he had as a young man, when he had come home on leave while serving in the U.S. Navy Supply Corps. Former U.S. President Dwight D. Eisenhower had come to his family's farm in Virginia for the Christmas holiday. Marriott's father had met Eisenhower through Ezra Taft Benson, who served as U.S. Secretary of Agriculture under Eisenhower and was the elder Marriott's best friend during the 1940s and 1950s.
A quail hunting excursion had been planned, but it was very chilly outside. As people deliberated over what to do in the home, Eisenhower went up to Marriott and as they stood by a fire, said, "Bill, what do you think we should do? Should we hunt or stay inside by the fire?" Marriott was surprised that Eisenhower, who had made many critical decisions as a president and army general, had sought his advice. "Sit by the fire," Marriott said.
"Here I was, an ensign, and he was asking my advice," Marriott says. "This experience stayed with me, and caused me to think about him. I realized that he had been successful because he sought out the opinions of others, even when dealing with many self-centered leaders."
Major Changes
During his career, Marriott also learned to better balance his life. After suffering three heart attacks over the course of a few weeks in 1989, he made four major changes: have a weekly date night with his wife, politely say "no" to many invitations, do Pilates at least twice weekly and exercise on a treadmill five days per week.
Marriott's current busy schedule suggests that he still has plenty of energy, but four years ago, when he reached the age of 80, he decided to step down as the company's CEO.
"It wasn't a difficult decision," he says. "I had been at it for 40 years, and I didn't have the skills or understanding that I needed in the technology area. I thought it was best to get out of the way and let a younger man do the job—and it's the best decision I ever made."
He raves about his successor, Arne Sorenson.
"We think a lot alike, and he has a wonderful relationship with the owners and franchisees," Marriott says. "I like that he's out of his office about 75 percent of the time, visiting people in hotels. That way, he's able to talk with people and find out what's up in their lives."
Moving Forward
Marriott maintains his own intimate connection to company developments and the hospitality industry in general through his travels and participation in board meetings. He regards the influence of millennials as particularly significant.
"That age group always has provided at least 30 percent of our business," he says. "Millennials are very important and very powerful."
He says that despite the fact that millennials and other clients are emphasizing technological communication, they also feel a need to relate with each other face to face.
"When you get right down to it, when millennials put down their iPhones, they want to interact. The most important thing we do is bring people together," he says, noting that lobbies are becoming increasingly active social areas.
Marriott attributes the company's success partly to its cohesiveness. Fifty percent of the general managers first served the company as hourly employees and have been with the company for 25 years or more.
"The more profitable our hotels become, the more people want to be part of our system," he says. "It's one of the key drivers."
He says that as Marriott International moves forward, it will continue to emphasize company values and provide opportunities for people to "move the ball ahead."
When he's not traveling to properties, Marriott divides his time between Washington, DC, Florida and New Hampshire. Aside from working, he enjoys driving his collection of old sports cars around New Hampshire and reading at 10:30 each night before bedtime.
"Unfortunately, I don't read anything very light…mainly murder mysteries," he says.
Marriott doesn't seem to have many regrets, but not learning to play golf is one of them.
"I just never had the time," he says.
---
Starwood Joins the Portfolio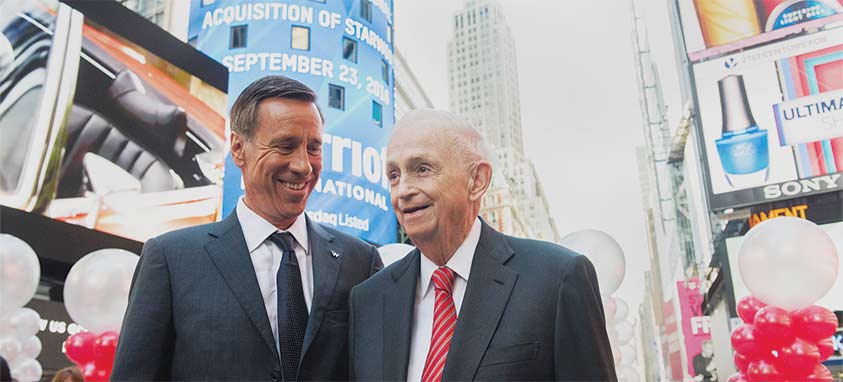 Arne Sorenson and Bill Marriott in New York City on the day Starwood was officially acquired
When Marriott Resorts International began deliberating over purchasing Starwood Hotels & Resorts, Bill Marriott wondered if it was really necessary—for a little while.
"I said to myself, 'Why do it?'" he says. "We're making a lot of money, our boards are happy and our shareholders are happy. Why take the risk?"
After browsing through some of his speeches for the company, he found his answer.
"In some of them, I talked about the importance of not being complacent," he says. "I thought about it a little bit, and the purchase made a heck of a lot of sense. We would be taking on more debt, but Starwood has had a strong cash flow. I think it was the right decision."
The acquisition could enable Marriott to expand its scope while deploying its larger scale to realize cost efficiencies in its corporate and property operations.
Marriott finalized the $12.2 billion purchase of Starwood in September after Chinese regulators granted antitrust approval. Regulators in dozens of other countries and jurisdictions around the world, including the United States and the European Union, had already given their approval.
Marriott will operate or franchise nearly 6,000 properties (including some 1,300 from Starwood's portfolio) and more than 1.1 million rooms in more than 110 countries. The company now has 30 brands—11 from Starwood—and plans to keep all of them, at least for the time being.
The Marriott Rewards and Starwood Preferred Guest loyalty programs also will remain intact and members can link their accounts to both programs to achieve immediate matching and point transfers, with three Marriott Rewards points equivalent to one Starpoint.
Plans call for Marriott to eventually integrate Marriott Rewards and Starwood Preferred Guest into one program.
"It will take a little over a year to do it," Marriott says.
---
F&B Incubator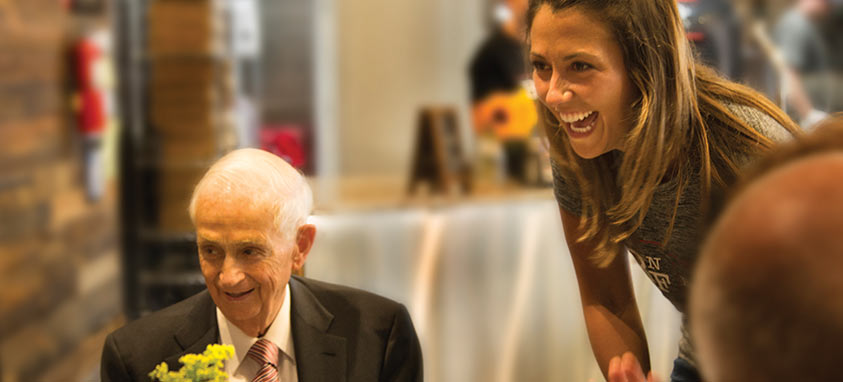 Marriott International launched Canvas, a restaurant incubator competition, in December 2014 in an effort to involve food and beverage entrepreneurs around the world in bringing a new level of cool to its hotels. It's part of Marriott's larger effort to attract millennials.
Dubbed a "global concept lab for food and beverage ideas," Canvas holds competitions for restaurant and bar concepts, and provides winners with startup funds. The name "Canvas" was chosen because it conjures up the idea of artists creating masterpieces by starting with a blank canvas.
BricknFire Pizza Co., a popular mobile pizza oven operating in the Greater Baltimore area, won a $75,000 grant to open a new space in Baltimore Marriott Inner Harbor at Camden Yards. The restaurant—which features fresh, locally sourced ingredients—opened in July in a 500-square-foot space adjacent to the hotel's lobby.
The restaurant features an industrial rustic design concept, with stainless steel appliances and slate serving boards. Customers are seated inside the restaurant and in the hotel's Greatroom, which is across from a wall stocked with local craft brews.
"The opportunity to grow my business through the Marriott Canvas program has been an absolute dream come true," says Megan Lanasa (pictured, with Bill Marriott), owner of BricknFire Pizza Co. "It has given me the opportunity and freedom to develop both creatively and professionally by lending my expertise and resources as I work to execute my concept."