Resilient, fun-loving New Orleans gets serious about business 
There are many reasons why New Orleans is one of America's favorite cities. Historic, colorful and loaded with personality, it is a mecca for music and food. Festivals abound in the Crescent City, and fun-loving locals will break out the beads and booze to celebrate just about anything. However, the city that loves to party wants planners to know that it also is serious about business.
A decade after Hurricane Katrina, the Big Easy has rebounded with a vengeance. In 2015, 9.78 million tourists came to the city, a 2.7 percent increase compared to 2014, and they spent $7.05 billion, a 3.5 percent increase compared to the visitor spending record set in 2014.
The exciting resurgence in New Orleans is being driven by spirited entrepreneurs committed to rebuilding their beloved city. New hotels and restaurants are opening, the transportation system is expanding, construction is underway at the airport and city officials are actively pursuing riverfront redevelopment projects.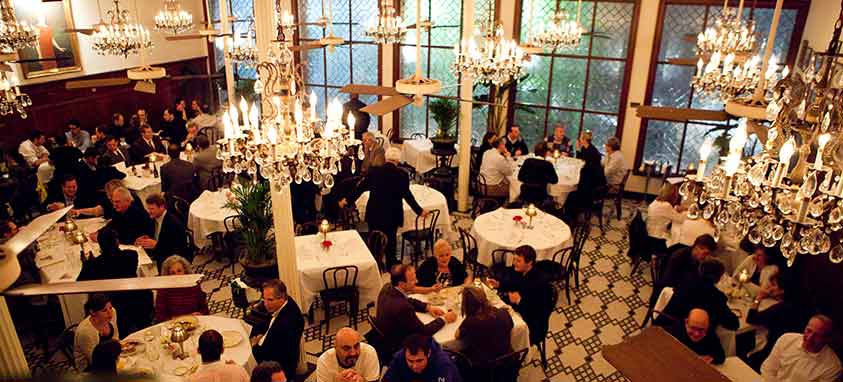 Arnaud's 
Bullish on Business
New Orleans may be famous for Bourbon Street, but there are thriving neighborhoods where the emphasis is on biotech rather than bars. The LEED Gold certified New Orleans BioInnovation Center is in the city's burgeoning biomedical corridor, near Tulane University. Innovative startups are spearheading cutting-edge scientific and environmental research in the state-of-the-art facility.
New Orleans Convention & Visitors Bureau is focused on attracting high-tech business. Collision, a global conference targeting millennials, was staged in New Orleans in April. The mega event drew 11,000 attendees. Impressed with the host city, organizer Sinead Murphy has rebooked for the next two years. She notes the city's many offsite venues offer interesting options for relaxed networking.
"When you bring your meeting to New Orleans, your ideas loosen up, along with the rest of you," says Cara Banasch, senior vice president of business development and strategy for New Orleans CVB. She points out that the city's music, food and culture of celebration pair well with business, adding, "New Orleans is a leading destination for organizations in business that know the meeting environment is as important as the agenda."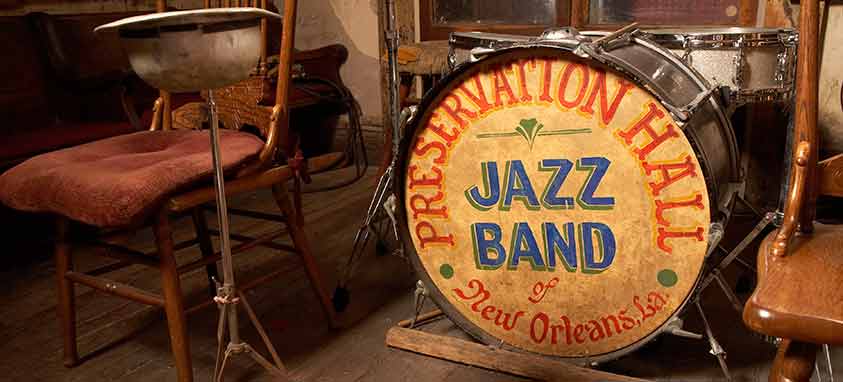 Preservation Hall
Prepping for the Tricentennial
In 2018, New Orleans will celebrate its 300th birthday, and it is preparing to handle an onslaught of visitors. Construction began in January on a new terminal at Louis Armstrong New Orleans International Airport (MSY), which served a record-breaking 10,673,301 passengers in 2015. This represents a traffic increase of 9.1 percent over 2014, and a rise of 37 percent since 2010. The $950 million project will include a $17 million yet-to-be-named hotel. Walter Krygowski, deputy director and chief operating officer of New Orleans Aviation Board, says the fully funded project is on track to debut in October 2018.
Speaking of tracks, the city is investing a considerable amount of money to expand and improve its public transportation system. In service since 1923, the romantic St. Charles Avenue streetcar is the oldest operating streetcar in the world. The refurbishment of New Orleans' historic streetcars, as well as modern light rail extensions, benefit tourists and locals alike.
Finally, an ambitious riverfront development plan nicknamed C2D2 (for Convention Center District Development) will revitalize the neighborhood around Ernest N. Morial Convention Center. According to Tim Hemphill, vice president of sales and marketing for the convention center, the 47-acre mixed-use project will include housing, retail and a 1,200-room anchor hotel near Hilton New Orleans Riverside. City officials have identified a developer for the $1 billion project and negotiations are underway. It is not expected to debut until 2021.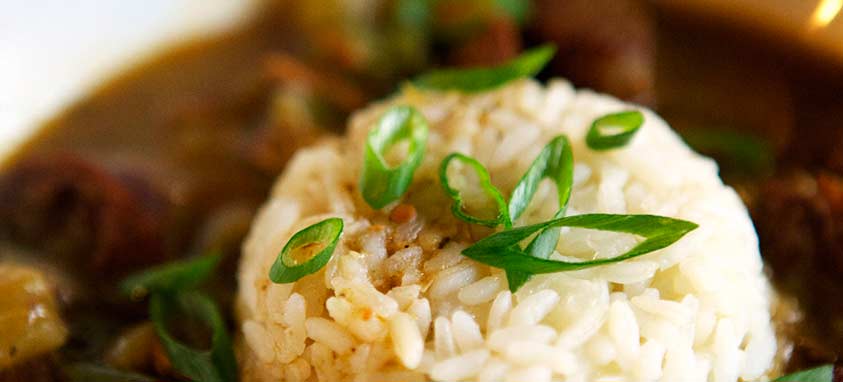 Gumbo at Manning's, with chef Michael Brewer
Food, Glorious Food
Dining is an important and popular pastime in New Orleans. The city boasts a rich culinary history, and its proximity to the Gulf Coast ensures that fresh seafood is highlighted on almost every menu. Fast-food chain restaurants are few and far between. In addition to independent cafes and eateries owned by New Orleans family dynasties, every hotel has an often-noteworthy signature restaurant.
Start the day with coffee and beignets (New Orleans' take on a doughnut) at Cafe Adelaide, located inside Loews New Orleans Hotel in the trendy Warehouse District. For lunch, wait in line for a hefty meat, cheese and olive paste-filled muffaletta at Central Grocery, where the iconic sandwich was invented.
Dinner offers myriad options. Celebrity chef Emeril Lagasse has three restaurants and is opening a fourth in the Warehouse District later this year. Muriel's Jackson Square boasts local specialties and a resident ghost. Private events can be held upstairs in the seductive, jewel-toned Seance Lounge.
For a spectacular dining experience, visit Arnaud's in the heart of the French Quarter. This historic restaurant, originally opened by a colorful New Orleans character and owned for the past four decades by the Casbarian family, has been dishing up traditional Creole specialties since 1918. It boasts numerous interesting spaces that can be bought out for events, as well as a museum with vintage Mardi Gras costumes and memorabilia.
Harrah's New Orleans, within walking distance of the convention center, has several appetizing choices. Manning's is named in honor of Archie Manning, who played for the hometown NFL New Orleans Saints. But what people really cheer about is executive chef Michael Brewer's food. His creations include tempura-fried lobster and duck confit po' boys, and Louisiana alligator sausage, grilled and topped with pickled okra chow chow. End the meal with apple bourbon bread pudding with bourbon caramel cream. Grand Isle Seafood Restaurant, also part of Harrah's, features baked oysters with roasted jalapenos and Havarti cheese, fried shrimp po' boys, and huge, succulent grilled prawns served with grits.
Oyster lovers should visit Desire Oyster Bar, attached to the Royal Sonesta New Orleans on Bourbon Street, which has just reopened after a major renovation. For award-winning sushi, sample the spectacular cherry blossom roll at Vitascope Hall, one of the many excellent dining options in Hyatt Regency New Orleans. New Orleans is famous for its cocktails. Depending on your mood, try a classy, rye-based Sazerac or a neon-colored frozen Hurricane.
Maison Bourbon Jazz Club
Entertainment Options to Explore
Many are surprised to discover that The National WWII Museum is New Orleans' most popular attraction. An incredible treasure, it tells the story of the war that changed the world. Many of the fascinating spaces on the expansive campus can be bought out for events. Don't miss the immersive Beyond All Boundaries, a powerful 4-D experience produced and narrated by actor Tom Hanks.
New Orleans is delightfully walkable. Browse the many art galleries and boutique shops, or catch a game with local fans at a sports bar. Dave & Busters has broken ground on a new a location near Mercedes-Benz Superdome in the Central Business District.
Music is the heartbeat of New Orleans. Hear live jazz nightly at iconic Preservation Hall, a no-frills establishment in the French Quarter that is available for private events. Other swinging venues include Irvin Mayfield's Jazz Playhouse and Maison Bourbon Jazz Club. Blues, rock, big band and Zydeco music emanate from practically every doorway on charming Frenchmen Street, where locals and visitors happily mingle until late in the night.
Hotel Updates
Exciting new openings include Moxy, a Marriott lifestyle brand hotel targeted to millennials, and Ace Hotel New Orleans, located in a historic 1928 Art Deco building near Lafayette Square. The uber-hip Ace has several unconventional event spaces, including a rooftop with a bar that can accommodate 150.
Hyatt Regency New Orleans is a great choice for large groups. Heavily damaged after Hurricane Katrina, the 1,193-room hotel in the Central Business District was closed for six years, reopening in 2011. The $285 million renovation was specifically designed with meeting planners in mind. The 32-story building features 200,000 total sq. ft. of flexible meeting space, including 80,000 sq. ft. of exhibition space, two 25,000-square-foot ballrooms and 96 breakout rooms. Planners can take advantage of the connected Hyatt House New Orleans/Downtown, which opened in November and features an additional 194 guest rooms.
Let the Good Times Roll
For the third consecutive year, New Orleans was ranked No. 2 by Travel + Leisure readers in its Best Cities in North America survey. The Big Easy is clearly a popular leisure destination, but it also a prime choice for meetings.