Ahuena Heiau, Kailua-Kona
Hawaii Island is the youngest island in the Hawaiian chain, and twice as big as all the others combined. All but two of the world's climatic zones can be found here, and the terrain varies tremendously—from the green rainforests of the Hamakua Coast to the jet-black sands of Punaluu Beach, and from the molten magma at Hawaii Volcanoes National Park to the snowcapped heights of Mauna Kea.
"An island of unexpected wonders and inspiring landscapes, Hawaii Island is a great choice for groups that want to motivate attendees to think big and outside of the box," says Debbie Hogan, director of sales for the Big Island Visitors Bureau. "Add to this a premier selection of hotels and accommodations, a great mix of traditional and nontraditional meeting facilities and function space, and endless possibilities for fun, and you have all the ingredients to deliver a successful, productive and rewarding meeting experience."
Hogan says that many hotels, restaurants, shops and other businesses on the island emphasize Hawaiian traditions. "Our partners realize that Hawaiian culture is what makes us unique," she says. "They all try to incorporate this as part of their story."
Cultural Treasure Troves
The Smithsonian-affiliated Lyman Museum & Mission House in Hilo tells the story of Hawaii's islands through its exhibits on the islands' volcanic origins, flora and fauna; Hawaiian culture; and other ethnic groups that have shaped the unique society of the state. It contains an outstanding collection of artifacts, fine art and natural history exhibits, along with archives and special exhibitions. Group tours are offered.
One of the most intriguing historical attractions in Kailua-Kona, the reconstructed Ahuena Heiau, was King Kamehameha I's retreat and where he mentored his successor, Liholiho (King Kamehameha II).
There are three main structures on the paepae—Hale Mana, Hale Pahu and Anuu. Hale Mana (house of spiritual power), which was thatched with ti leaves and trimmed with fern, was where the king met with his advisers, tutored Liholiho and held prayers. Hale Pahu (drum house) contained a large ceremonial drum and a large white tower, while Anuu (oracle tower) was where the high priest received and proclaimed answers he elicited from the gods.
Ahuena Heiau is located on the grounds of the Courtyard King Kamehemeha's Kona Beach Hotel, but the public may visit the site during the day. Guided tours can be arranged.
Situated on the coast of Honaunau Bay in south Kona, Puuhonua o Honaunau National Historical Park immerses groups in Hawaiian culture. This 180-acre national historic park was a sacred worship site for Native Hawaiians and a refuge for ancient Hawaiian lawbreakers. Puuhonua o Honaunau remains one of Hawaii's most sacred historic places.
A wide assortment of activities is available, including walking tours and demonstrations of Hawaiian craft making. Guided group tours are available, but planners need to make arrangements at least one week in advance.
Learning the Ways
Groups visiting Hawaii Island have been showing more interest in including corporate social responsibility into their trip.
"One program that has really taken off is the Hawaiian Legacy Restoration Initiative, which utilizes volunteers to help restore a native forest on the slopes of Maunakea," Hogan says. "The historic site was once a majestic koa forest and the personal property of King Kamehameha I before being cleared for farming and ranching nearly a century ago."
Groups can participate in the restoration project by contacting the program.
Attendees wanting a taste of the paniolo tradition can visit the 8,500-acre Kahua Ranch in Waimea. Located on the western slope of the Kohala Mountains, this working ranch offers ATV adventures, horseback riding and an evening barbecue dinner. Groups are welcome and can customize their visit.
Kaupulehu Cultural Center, located below Hualalai Grille at Four Seasons Resort Hualalai at Historic Kaupulehu, offers interactive programs and interpretive resources and displays to create a living picture of Hawaiian environment, culture, history, traditions and arts. The center also offers programs focusing on star navigation, hula, Hawaiian language and kupuna teachings. Classes may include Hawaiian quilting, feather art, lei making, weaving, shell crafts and ancient Hawaiian games.
Sheraton Kona Resort & Spa at Keauhou Bay offers a trip aboard a Hawaiian sailing canoe, during which groups learn about native traditions, myths and legends. Resort provides lei making, ukulele and hula lessons, and a Monday luau.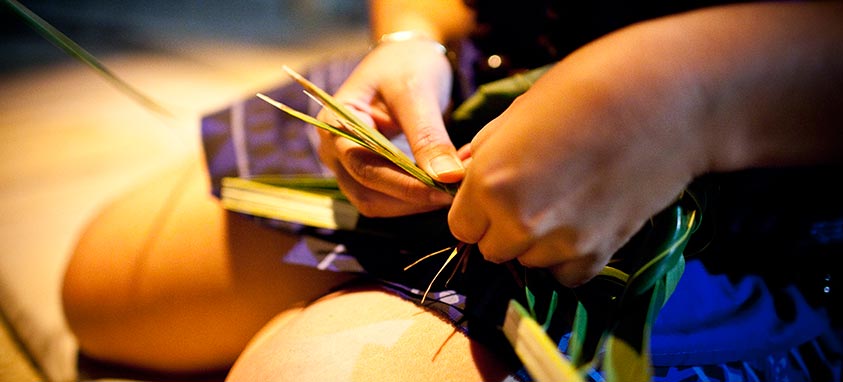 Coconut frond weaving, The Fairmont Orchid, Hawaii
The Fairmont Orchid, Hawaii offers classes on Hawaiian traditions and cultural techniques including coconut frond weaving, ukulele songs and hula lessons. A hui holokai ambassador takes groups to explore historic fishponds, shelter caves and petroglyph fields. The Fairmont Orchid also features daily torch lighting and a Saturday luau.
Mauna Lani Bay Hotel & Bungalows offers a hike through Hawaii's largest petroglyph field, as well as ukulele, coconut frond basket weaving and hula classes.
Brimming With Tradition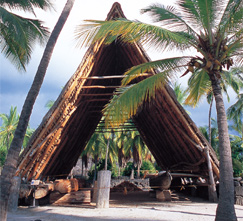 Puukohola Heiau Historic Site, just north of the resorts on the Kohala Coast, is home to one of the largest restored heiau in Hawaii. Built to fulfill a prophecy, it is one of the last major Hawaiian temples constructed in the islands.
The visitor center contains exhibits and displays, including a traditional koa wood spear display. The center also offers crafts demonstrations and hands-on activities. The park's museum includes a traditional weapons display, archaeology display and original paintings by renowned artist and historian Herb Kane. Park rangers offer guided tours.