Let's be real: Seattle's beloved Alaskan Way Viaduct is—was—no doubt iconic, but also an incredible eyesore. After 66 years on the waterfront, it is now being dismantled piece by piece, with chunks of the raised roadway being incorporated into nostalgic memorabilia by the craftspeople of Pike Place Market and its absence revealing remarkable new views of Elliot Bay and glimmering downtown (depending on which way you look).
The full waterfront revitalization program, which started earlier this year, will connect downtown and the highly anticipated Washington State Convention Center (WSCC) Summit building to 20 acres of improved parks, public spaces and pedestrian walkways by 2024. A win-win. And that's just the beginning.
More: How to Eat Your Way Through Seattle Meetings
New views are popping up all over Emerald City, from the Space Needle's revolving glass floor and its never-before-seen downward view over Seattle to the recently opened, 45-story Hyatt Regency Seattle and its 360 take on the city and its meeting spaces. Our advice: Check "happy attendees" and "conquering fear of heights" off your to-do list and get high on the action rising in this premier Pacific Northwestern meetings destination.
Need to Know
570,290 sq. ft. of total event space coming to WSCC Summit in spring 2022
2,000+ guest rooms available at three Hyatt properties on Hyatt Row
20 acres of improved parks and pedestrian walkways on the Seattle Waterfront by 2024
Meet and Sleep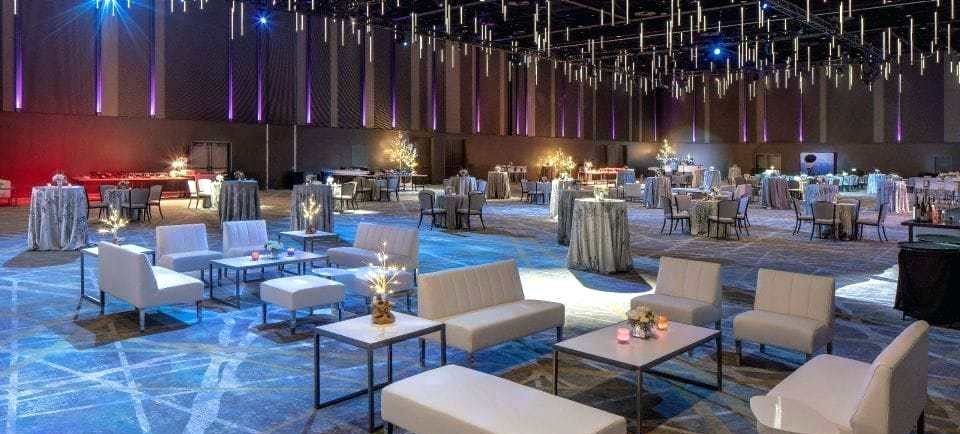 Seattle's largest hotel, the LEED Gold-certified Hyatt Regency Seattle, opened in December 2018 with 1,260 guest rooms and 103,000 sq. ft. of meeting space—and it still has that "new car" smell. Its high-ceiling lobby is pristine and flooded with natural light and cityscapes from floor-to-ceiling windows; its Regency Ballroom, one of two meeting rooms with more than 19,000 sq. ft., features customizable icicle lighting, earning its nickname as the "Harry Potter Ballroom." Its northeast side overlooks what will soon be the bustling Summit center.
Other perks (and views) include the Regency Club's wraparound outdoor terrace on the eighth floor, a very VIP-worthy presidential suite experience on the 45th floor and an app that allows meeting planners to make requests during an event—plus three distinct on-site dining options.
Summit, the additional facility at WSCC, (open for business in Spring 2022) will double the city's convention capacity, with 570,290 sq. ft. of total event space, 59 meeting rooms and 248,450 sq. ft. of total exhibition space—plus, a cascading wooden staircase with seating areas and amazing views over Pike Place Market and Puget Sound. The 58,000-square-foot main ballroom will feature a wall of windows looking over the city and an outdoor terrace for receptions.
For alternative accommodations, the affectionately named Hyatt Row near the convention center contains the 346-room Hyatt Olive 8—and spa—for a hipper, more casual crowd, as well as Grand Hyatt Seattle, with 457 guest rooms, nearly 25,000 sq. ft. of event space, a Ruth's Chris Steakhouse and a generally swanky air. Between all three Hyatts, planners can work with more than 2,000 guest rooms within two blocks of each other and Summit.
Eat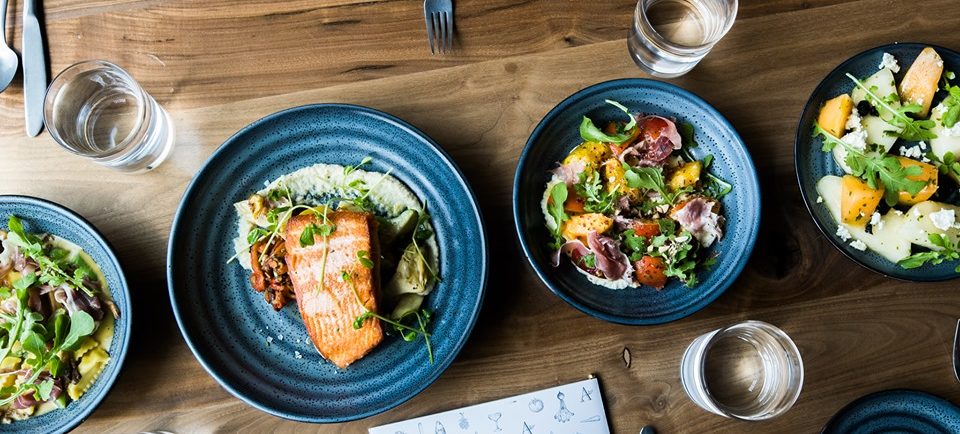 The seasonal and hyper-locally sourced Aerlume sits on Seattle's central waterfront and opened with the viaduct's removal in mind. It's windowed west wall now features unadulterated views of Elliot Bay, as well as two private dining rooms overlooking Puget Sound, accommodating groups from 16 to 250. Smart tip: Order twice as many plates of crispy cauliflower as you think your group needs, let the bartenders craft personalized attendee cocktails and arrive at sunset for dinner with a show.
Andare Kitchen and Bar, located inside the Hyatt Regency Seattle, not only serves pizza that tastes like you're in Italy, but also accommodates small group pizza-making lessons on the other side of the open kitchen.
Do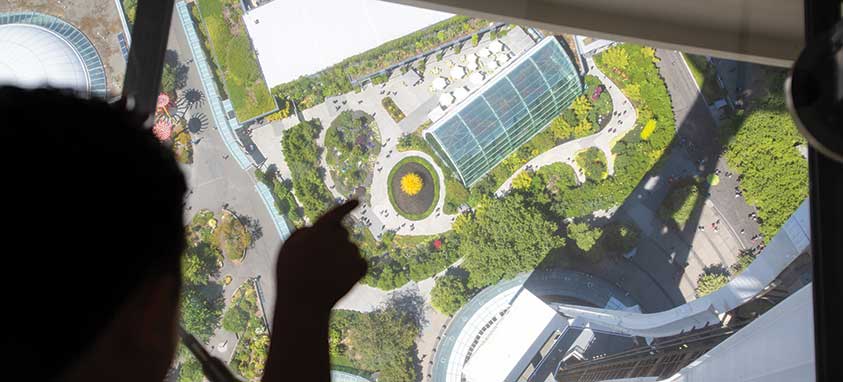 Visit the new and renovated Space Needle's revolving glass-floored level—or rent it out (complete with rotating bartender.) for your event. Or consider hosting a reception below at Chihuly's Garden and Glass, which offers its glass house and outdoor terrace for buyouts, seating up to 1,500 people.
You can also take your attendees for a ride on Seattle's Great Wheel at the downtown waterfront, with VIP carriages and the best opportunities for portrait-mode photos in the city. The wheel is covered in more than 500,000 LED lights. Colorful light show displays usually run every Friday, Saturday and Sunday night.