The least commercial of the Hawaiian Islands, Kauai is famous worldwide as "The Garden Isle" due to the tropical rainforest covering much of its surface. But this is only one of the island's many attractions.
"Kauai is known for its amazing natural beauty and diversity of activities that offer meeting attendees a variety of experiences that will rejuvenate and inspire them," says Lisa Nakamasu, director of sales for the Kauai Visitors Bureau. "Every island has its iconic scenery, and Kauai has the Napali coastline, Waimea Canyon [nicknamed the Grand Canyon of the Pacific] and the only navigable rivers in the state, to name a few."
Geologically the oldest of the Hawaiian Islands, Kauai boasts some exciting ways to experience traditional Hawaiian culture.
Cultural Treasure Troves
Kauai Museum in Lihue is filled with fascinating Hawaiian artifacts and offers attendees opportunities to become involved in enjoyable daily Hawaiian cultural activities. The museum offers free guided tours; reservations are required for large groups.
Alekoko Menehune Fishpond, a few minutes' drive from Lihue, was built nearly 1,000 years ago and is on the National Register of Historic Places. These types of ponds were built to catch fish, and Alekoko Menehune Fishpond is one of the best examples of this type of ancient Hawaiian aquaculture.
According to legend, the pond was built in one night by Menehune—mysterious and sometimes mischievous little people who lived in the forest and accomplished legendary engineering feats. They purportedly accomplished this amazing task by lining up from the village of Makaweli (now known as Kaumakani) for 25 miles, passing stones hand to hand to build the pond.
An altar dedicated to Laka, the goddess of hula, stands on a platform at a temple, Ka Ulu o Laka Heiau, above the boulders of Kee Beach on Kauai's north shore. The altar often is draped with flower lei and ti-leaf offerings. This may seem like a primal relic from the days of idols, but it's still a very popular attraction. Often male and female dancers from Hawaii's hula halau (see glossary on p. 16 for translation of italicized terms) climb the cliff, bearing gifts of flowers.
Learning the Ways
Grand Hyatt Kauai Resort & Spa, located in Koloa, features local crafters daily in the atrium courtyard, as well as lessons on palm frond weaving, lei making, ukulele playing and hula. Also, Aunty Janet Kahalekomo educates guests on laau lapaau and salt making.
Guests at The Westin Princeville Ocean Resort Villas are invited to a lei-making lesson and then are able to experience a Hawaiian lei ceremony. It begins with an introduction, a lei exchange and honi, and ends with a Kauai mele that has been passed down for several generations.
---
Luau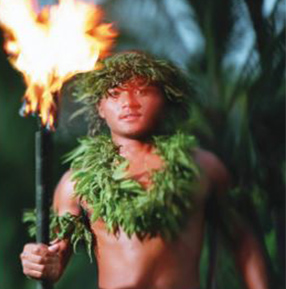 Luaus are popular throughout the Hawaiian Islands, and The Garden Isle offers some of the very best. The Family Garden Luau at Smith's Tropical Paradise in Kapaa (pictured) features outstanding mele. The luau—which is offered on different weekdays, depending on the season—celebrates Hawaiian traditions, as well as the songs and dances from other cultures.
Kilohana's Luau Kalamaku, offered at KiloHana Plantation in Lihue on Tuesdays and Fridays, features nifa avi, hula, traditional Hawaiian food and a show that tells about the epic, amazing voyage between Hawaii and Tahiti along one of Polynesia's longest sea roads. Private luaus can be arranged for groups.