Inspired Ideas for Your Next Meeting
It may not be on your radar (yet), but MomoCon is an annual animation, gaming and comics convention that attracts around 30,000 attendees, mostly dressed as their favorite characters and superheroes. This lively gathering is held not in Los Angeles, Las Vegas, or some other famously showy city, but in Atlanta's Georgia World Congress Center, fourth-largest convention center in the United States.
"From a national perspective, a lot of people would think that Atlanta is a very typical southern, conservative, traditional city—and it's very much not," says Jessica Merriman, one of the founders of MomoCon. "Atlanta is very progressive and very modern, and it has a lot of amenities, including walkability and hotel density, which is important for larger meetings. It also has multiple convention centers in different parts of the city."
Some 53 million people visit A-Town (as it's known by locals) each year, according to Atlanta Convention & Visitors Bureau (ACVB). Many of them come to enjoy the city's thriving restaurant scene, nightclubs, high-end shopping, as well as tourist attractions such as the 20-story SkyView Ferris Wheel and World of Coca-Cola, a museum-like exhibition hall dedicated to a certain fizzy beverage maker. It helps that Atlanta is one of the most accessible cities in the country, thanks in part to Hartsfield–Jackson Atlanta International Airport (ATL), the busiest airport in the world.
Meeting planners who flex their creative muscles can take advantage of Atlanta's many unique offerings to create memorable moments. From puppet classes and film tours to the birth home of Martin Luther King Jr., here are ideas for giving your attendees a taste of Atlanta's one-of-a-kind offerings.
1. Film and TV Magic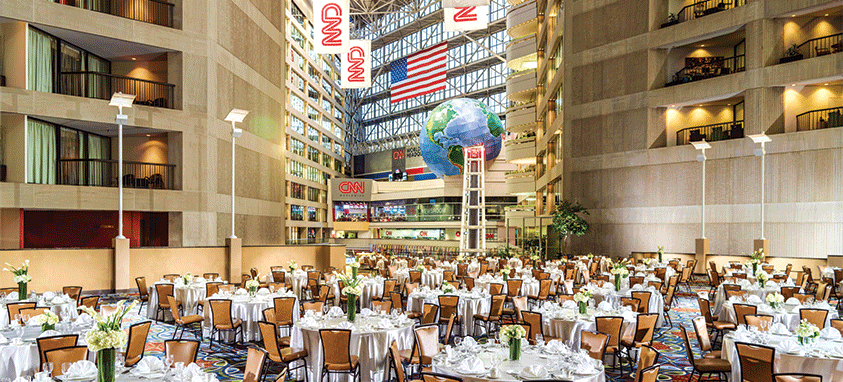 Thanks to a tax-incentive program and relatively mild weather, Atlanta has become one of the nation's leading centers for film and television production. With Atlanta Movie Tours, fans can see shooting locations for iconic productions such as The Walking Dead, Captain America, and Black Panther. In addition to tours (including three different Big Zombie Tours), the company has a long list of celebrity impersonators who can spice up your event.
Atlanta is also home to world headquarters for Cable News Network—better known as CNN. Guests can take a 50-minute walking tour through CNN Center, for a behind-the-scenes look at the global broadcast hub and possibly a familiar face or two. The VIP tour includes expanded access into live newsrooms and a state-of-the-art studio.
2. Foodies' Delight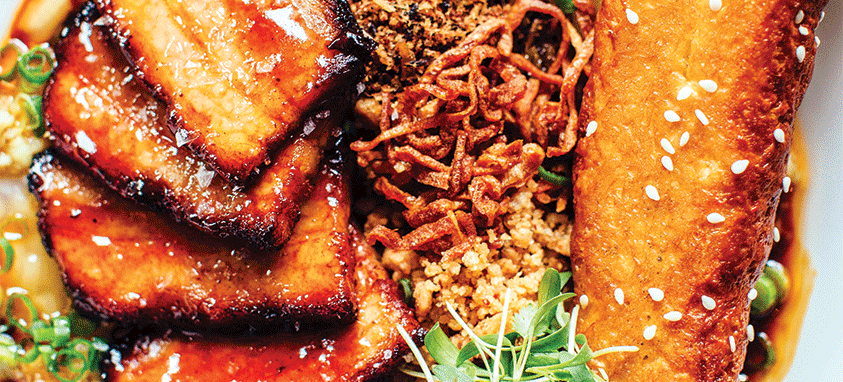 Zagat recently ranked Atlanta 9th among the country's most exciting food cities, and it's chockablock with surprising culinary offerings. Whether serving up Korean kimchi or southern-style barbecue, Atlanta's chefs are known for melding flavors from around the world. "Atlanta is very cutting edge, with fusion food that is not available in a lot of areas," says Merriman.
Top Chef Kevin Gillespie's Gunshow, in Atlanta's Glenwood Park neighborhood, mixes Brazilian churrascaria-style dining and Chinese dim sum; the open kitchen lets diners watch all the action. For a classic Atlanta experience, R. Thomas' Deluxe Grill is locally revered for its resident parrots, as well as its burgers, juices, and vegetarian and vegan menu.
If you're looking to combine a gathering with some after-work fun, the newly opened Painted Duck, inside an old gaming parlor, features small-plate dining and cocktails along with duckpin bowling and shuffleboard. The Ponce City Market, inside an old Sears & Roebuck distribution building along the new Atlanta BeltLine, has a rooftop area called Skyline Park Atlanta where visitors play skeeball and putt-putt golf while enjoying views of downtown.
3. Check Out the 'Burbs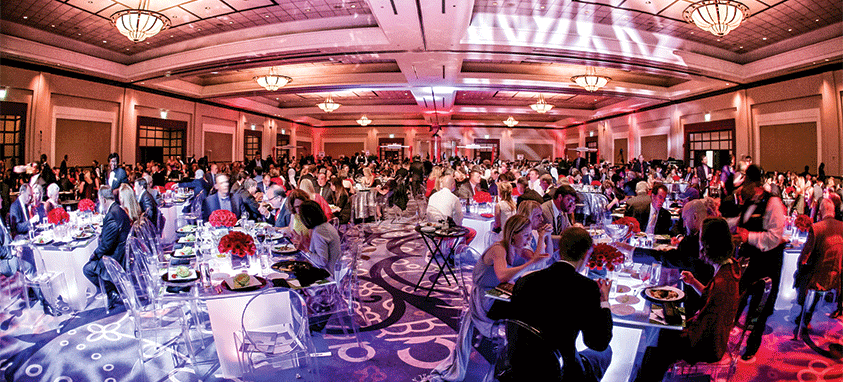 Georgia World Congress Center is the king-daddy of Atlanta's convention centers, but many of the city's suburbs have attractive venues that offer value as well as convenience. Sandy Springs Performing Arts Center, a new venue slated to open later this year, will offer a 1,070-seat theater and a 400-seat studio theater, in addition to a conference center and a rooftop event space. Cobb Galleria Centre, just 20 miles from the airport, has a 144,000-square-foot exhibit hall and 20 meeting rooms, and is adjacent to 522-room Renaissance Atlanta Waverly Hotel.
Atlanta's Buckhead area, meanwhile, is famed for its high-end shopping and bustling nightlife. "Buckhead is more Beverly Hills, with high-end hotels, high-end restaurants and a thriving business community," says Mark Vaughan, executive vice president and chief sales officer for ACVB. "It looks like a city unto itself, with the skyline that it has."
4. A Taste of Nature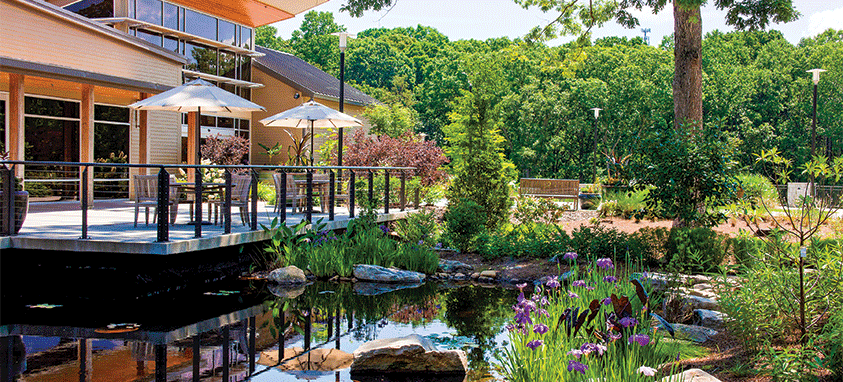 Ranked as one of the top ten botanical gardens in the country by USA Today, Atlanta Botanical Gardens boasts multiple areas for private events, including Day Hall—an airy event space with capacity of up to 500 for a standing reception—and Rose Garden, which can handle 200 seated. There's also an Edible Garden Outdoor Kitchen, where you can host meals for up to 70 seated.
Fernbank Museum of Natural History, in the northeast part of town, has opened a 75-acre expansion called WildWoods that includes winding footpaths and trails, tree pods, sensory stations and trails through the trees. Visitors can explore Fernbank Forest, one of America's largest old-growth, urban forests.
About 30 minutes east of Atlanta, Stone Mountain, a stone dome more than five miles in circumference, is surrounded by a 3,200-acre park. Groups can visit to enjoy hiking along 15 miles of nature trails or team-building options such as a ropes course and scavenger hunt. On select nights, the mountain comes alive with a Lasershow Spectacular, and a private terrace is available for groups. On-site accommodations are available at Atlanta Evergreen Marriott Conference Resort, which offers 40,000 sq. ft. of event space.
5. Sports Galore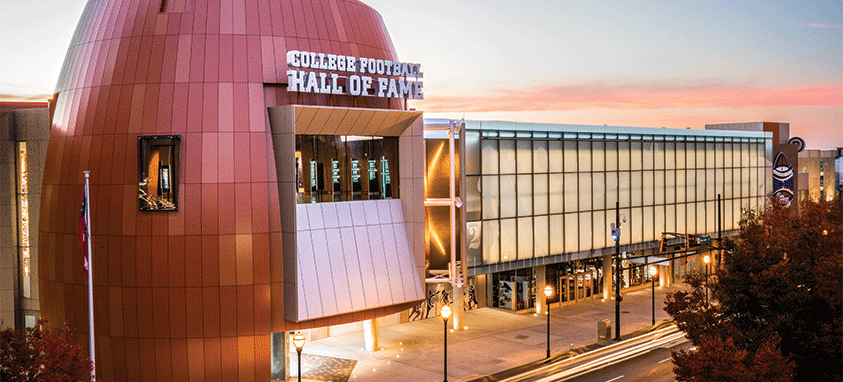 Atlanta is one of America's great professional sports cities, as it is home to the MLB Braves, NBA Hawks, NFL Falcons, Women's NBA Dream and MLS Atlanta United FC. If attending a game isn't on the agenda, consider organizing an event at Mercedes Benz Stadium, which opened last year and is slated to host Super Bowl LIII in 2019. The $1.6-billion, retractable roof stadium has more than 15 different rooms for corporate events; VIP guided tours are also available.
Another option for sports fans is College Football Hall of Fame, which features 30,000-square-feet of exhibit space (including artifacts), as well as a 45-yard, indoor football field that can be used for corporate events, field-goal kicking contests and other challenging fun.
6. Unleash Those Inner Artists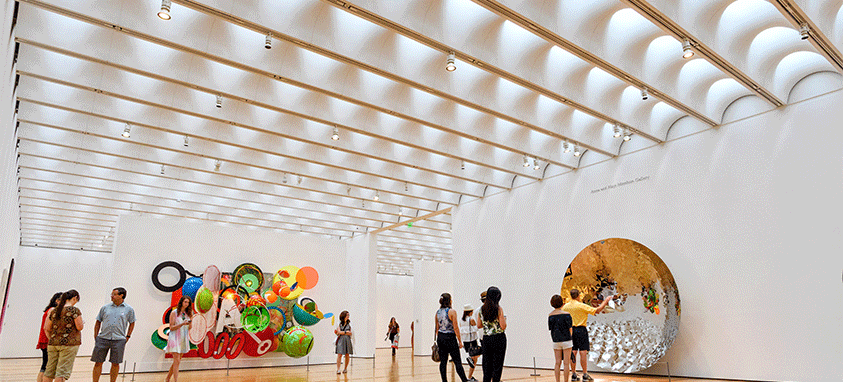 With multiple high-end hotels, Atlanta's Midtown is home to Woodruff Arts Center, a "village for the arts" comprised of Alliance Theatre, Atlanta Symphony Orchestra and High Museum of Art, the Southeast's leading art museum. The High features more than 16,000 artworks and has major collections of American fine and decorative arts, folk art and African art. Woodruff Arts Center is celebrating its 50th anniversary; it features more than 34,000-square-feet of indoor and outdoor space for private events.
For a more hands-on artistic exploration, Center for Puppetry Arts features performances, workshops and The Worlds of Puppetry Museum. Groups can take a behind-the-scenes tour or make puppets as a team-building experience. Actor into Puppeteer exercises can be customized as a trust and communication workshop for corporate groups.
7. A Taste of History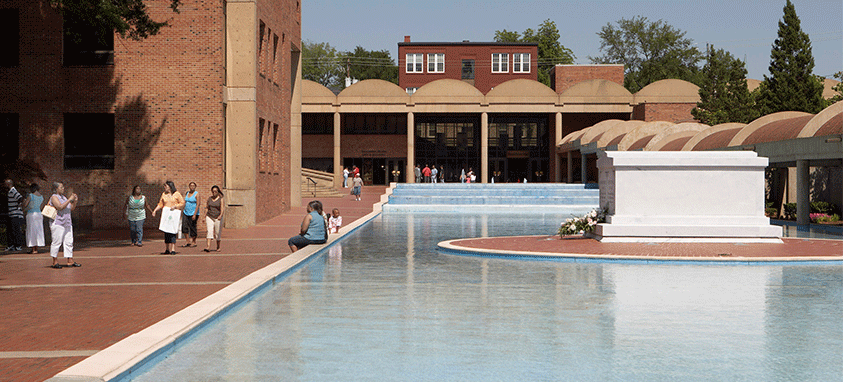 Atlanta played a decisive role in the civil rights struggles of the 20th century, and it was the birthplace of Martin Luther King Jr., whose legacy is preserved at Martin Luther King Jr. Center for Nonviolent Social Change. Designed to serve as a living memorial to Dr. King's legacy, the King Center features exhibits with images and artifacts (including his Presidential Medal of Freedom), and special exhibits are dedicated to Rosa Parks and Mohandas Gandhi. Groups can also visit Dr. and Mrs. King's crypt, an eternal flame and Freedom Hall (used for special events and programs). Dr. King's birth home can be visited on a National Park Service-led tour.
Atlanta History Center is a 33-acre destination in the Midtown area that encompasses the Atlanta History Museum, one of the Southeast's largest history museums; two historic houses; Centennial Olympic Games Museum; and Grand Overlook event space, in addition to other venues. The Center also operates Margaret Mitchell House, where Gone with the Wind was penned; and it's also the new home of Cyclorama, a massive painting depicting the Battle of Atlanta. "Atlanta History Center has reinvented itself over the last couple years," says Vaughan. "It's one of the must-sees here in Atlanta."
For a different kind of history, Delta Airlines maintains its headquarters in Atlanta, and Delta Flight Museum is a 68,000-square-foot attraction located inside Delta's original 1940s-era aircraft hangars. Guests can walk on the wing of the original Boeing 747 or fly a flight simulator of a 737.
8. Get Fast
For groups with a need for speed, Porsche Experience Center is a test-drive track for the famous German sports cars. Planners can arrange for a mini driving school to give small groups a taste of high-velocity fun.
Atlanta Motor Speedway is located 30 minutes from downtown Atlanta. This huge track includes an array of options for events and meetings, including a clubhouse and media center. Groups can gather on pit row, and take turns circling the track in a NASCAR-style car.
If you feel like you've been there and done that in Atlanta, rest assured: This city is constantly evolving. "There are a multitude of new dining options, hotels, event venues and attractions," says Vaughan. "2018 will see the expansion of Atlanta's hotel portfolio and the continued transformation of the city's convention and entertainment district. When guests arrive in Atlanta, they are surprised how much the city has transformed."
Case Study: Truckin' to Atlanta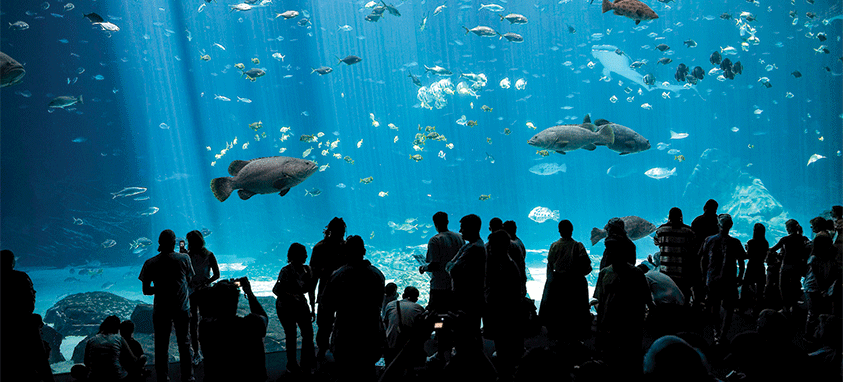 When Larry Turner, CEO of Hannover Fairs USA, Inc., was looking for a site for a commercial trucking-industry trade show, his top priority was to find somewhere conveniently located. "At first, we thought, 'Atlanta's not very central,'" says Turner. "But when you look at the map, it's within a couple hour's flight of the vast majority of the U.S. population, and it's easy to get to internationally."
The more he visited, the more impressed he became with options for groups in the downtown area, particularly around Georgia World Congress Center. "I have been amazed by all the development and attractions that have been put in place," says Turner. "We were looking for a city where the exhibitors would have a wide range of entertainment options, and Atlanta really does that."
Vendors at the trade show took advantage of venues available at Pemberton Place, a 20-acre complex across from Centennial Olympic Park, including the World of Coca-Cola, where visitors can learn about the world's most iconic beverage brand. Options for private events there include Taste It, an exhibit where guests can sample more than 100 brands, and the Bottle Cap Suite, a private event space for groups of up to 40.
One vendor at Turner's trade show held a client event at Center for Civil and Human Rights, a 42,000-square-foot facility with galleries combining images, artifacts and storytelling, all as part of a mission "to empower people to take the protection of every human's rights personally."
Yet another used Georgia Aquarium, which has more than 10 million gallons of water packed with sea creatures, and event venues that include a 23,000-square-foot ballroom with views into the aquarium. Special experiences include encounters with dolphins, penguins and beluga whales, as well as "behind the seas" tours.
"There are so many different options," says Turner. "In downtown, midtown—or if you want to go further out, to Buckhead—the options for food and entertaining are phenomenal."