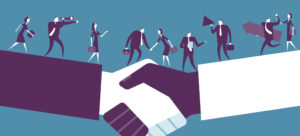 In March, Visit Dallas invited a locally based company known for making people feel welcome 3,000 miles in the air—Southwest Airlines—to talk to the destination team on the ground about how to engage visitors in new ways. The program, tellingly called It's Hospitality Y'All, has lessons that can help planners focused on improving event experiences anywhere in the world.
Empower Employees to Smile
The foundation of hospitality is making people feel cared for. Steve Goldberg, senior vice president of operations and hospitality at Southwest Airlines, says doing that is not difficult, but it also can't be assumed that employees know how to do so. Employers have to empower them to engage—smile, look people in the eye and do what is right. "Genuine hospitality is not transactional. It is conversational," he says.
In a world that moves so quickly, an interaction may be brief, so taking a moment to be present when talking to someone can make all the difference, he says. "Listening is a dying art, but really hearing a customer or a co-worker creates an environment where people feel welcome." People remember when you connect with them, he says.
Tell Stories
Your staff is your best weapon in the battle to connect with people at an event. Sharing their stories creates a personal link with attendees, and makes the people registering them and helping them find their way to the restroom feel that what they do matters. Brooks Thomas, social business advisor at Southwest Airlines and a former broadcast journalist, says giving a human face to the organization is a great way to engage. "There is a distinct emotional and physical dynamic associated with a conference, and it is important to set the right tone," he says.
Thomas does this on the airlines' website through video and stories. It can also be done at the event, from the main stage and in an app. Digital can be an important part of enhancing in-person experience. Like a Disney parade, which is just a well-organized way of moving people from one part of the park to another, Brooks suggests orchestrating events the same way: Create a sense of excitement to keep people engaged and foster relationships.
"Connecting on social media requires more than just using a hashtag," he says. It requires having speakers address the digital audience as part of presentations, translating on-the-ground events beyond the conference room.
Connect Before, During and After an Event
"Think about all the phases," Brooks suggests. An app can include layers of engagement that start at registration by gathering information and telling stories using testimonials, and connecting them with fellow travelers who will be on the event journey. On the day of the event, let the attendees own the experience by giving them choices about where they go and how they want to interact.
Just as you would on-board a new employee, Brooks suggests treating the first interaction at an event the way you would the first day of welcoming a team member—what Southwest calls flight class. To ensure that people preserve the sense of wonderment, you should guide them through the experience, rather than just giving them an agenda and letting them find their own way. That is where a little hospitality can make all the difference.
Then, use technology to keep the community together post-conference by delivering bonus content and sizzle reels. "That will make events more than a one-hit wonder," Brooks concludes.