Meeting planners might not always think of Walt Disney World as a venue for clients with serious business in mind, but the "House the Mouse Built" is continually evolving to offer new options for incentive trips, conferences and other corporate gatherings.
"We do incentives for anywhere from 10 people up to hundreds of families," says Leigh Keating, sales director for Walt Disney World Resort, which comprises five major convention hotels (out of 26 resort hotels total) in addition to four world-class theme parks, all within a short drive of the Orlando International Airport (MCO).
Pandora – The World of Avatar
Floating mountains grace the skyline while exotic plants fill the colorful landscape inside Pandora – The World of Avatar at Disney's Animal Kingdom at Walt Disney World Resort in Lake Buena Vista, Fla. (Kent Phillips, photographer)
The past year saw the opening of the stunning Pandora—World of Avatar at Animal Kingdom, not to mention a new fireworks show and the addition of animatronic Donald Trump to the Hall of Presidents. This summer is set to see the opening of Toy Story Land, and 2019 will bring Star Wars: Galaxy's Edge at Disney's Hollywood Studios (with an adjacent themed hotel to come).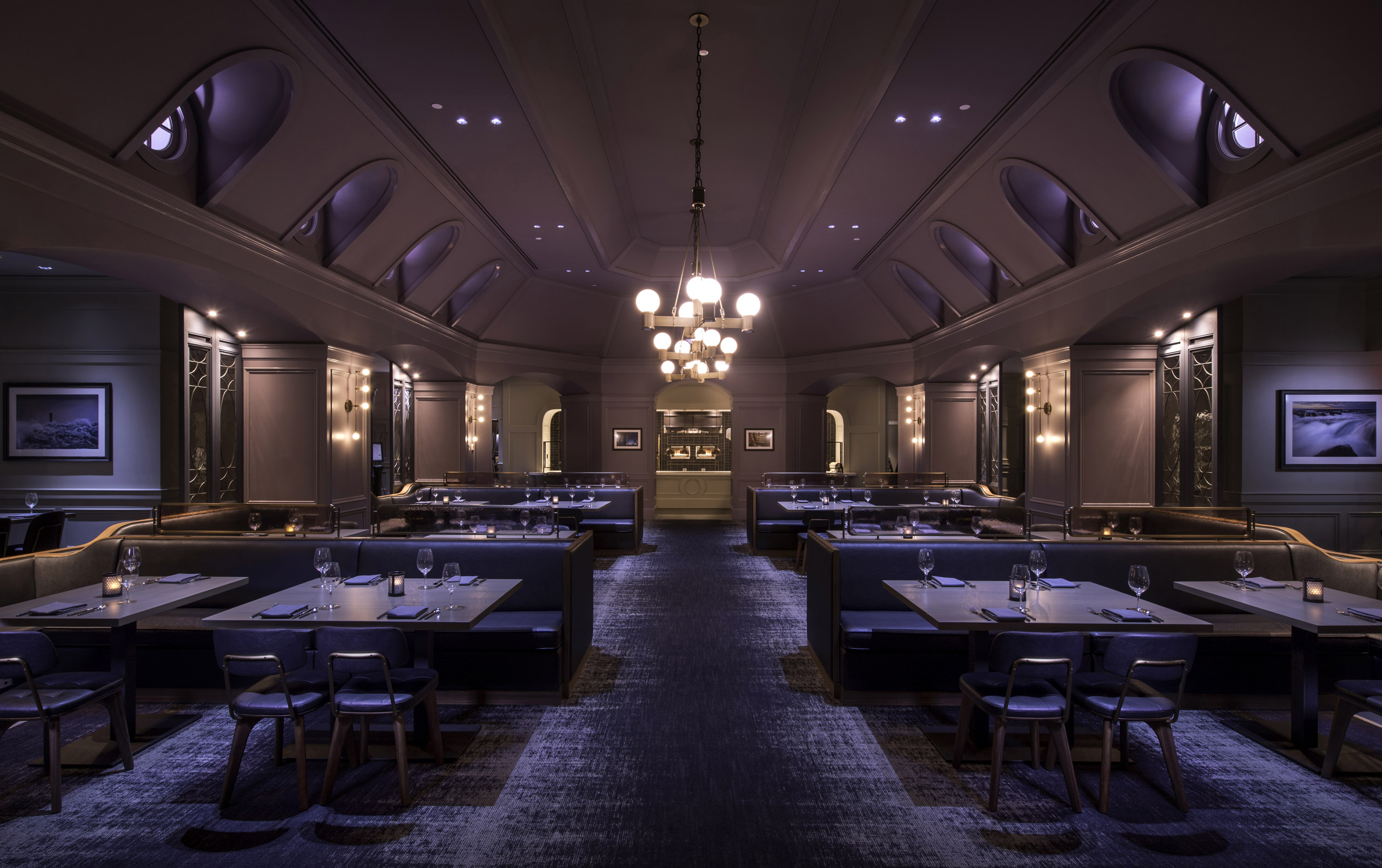 Ale & Compass (restaurant and lounge)
Photo courtesy Disney
Meanwhile, many of Walt Disney World Resort's hotels and meeting spaces are getting upgrades and expansions. Disney's Yacht Club Resort, for example, has a stylish new lounge for after-hours business, an elegant new restaurant (Ale & Compass) and 28,000 sq. ft. of new meeting space—including a 16,000-square-foot ballroom—bringing the total to more than 100,000 sq. ft. With 1,190 guest rooms, Yacht and Beach Club Resorts has an upscale Cape Cod vibe well-suited for business; were it not for all the people in mouse ears, you would never guess you're a short walk or boat ride from Epcot Theme Park and Disney's Hollywood Studios.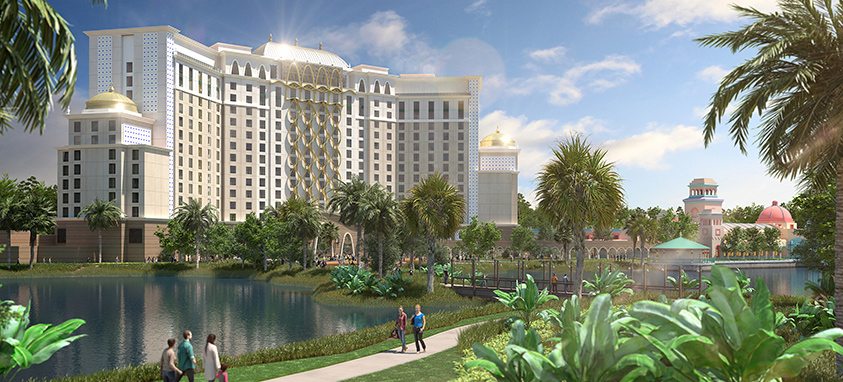 Disney's Coronado Springs Resort
New Tower exterior – Artist Concept only
Other new developments include Disney's Coronado Springs Resort, which when completed in 2019, will have a new 15-story tower, 545 new guest rooms and a new rooftop restaurant and lounge, not to mention a new boardroom, an event lawn and two multipurpose meeting rooms, adding to 220,000 sq. ft. of existing space.
As a one-stop option for a dine-around or another fun group outing, Disney Springs is a dining, retail and entertainment area that, in keeping with Disney's knack for storytelling, has a rich, albeit fictional, history as a Florida waterfront town. In 2018, eight new dining concepts will be debuting at Disney Springs, nearly all with private dining options. Maria & Enzo's is an Italian trattoria designed to resemble an air terminal from the 1930s. The property has 50-foot ceilings and views of Lake Buena Vista, and is directly above Enzo's Hideaway, a speakeasy bar located in an underground tunnel that, according to legend, was used for rum running during the Prohibition.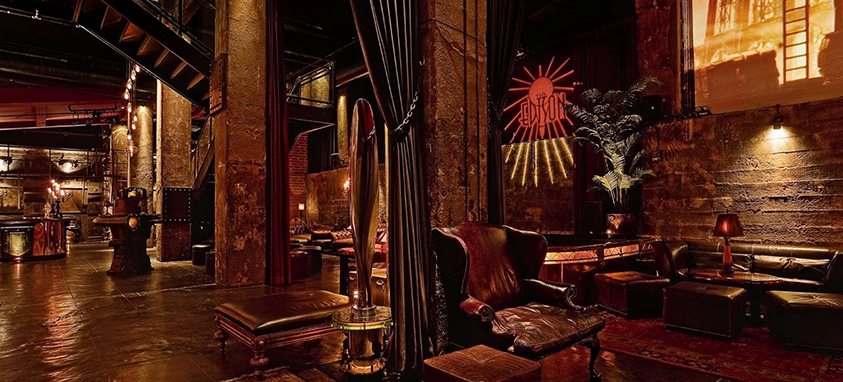 The Edison, photo credit: Disney
Lest you think Disney is just for kids, the start of this year saw the opening of The Edison, a stylish new "industrial gothic" bar and nightclub modeled after a popular Los Angeles venue. Other venues at Disney Springs include Morimoto Asia, a dazzling two-story Pan-Asian restaurant with a capacity of 600, and House of Blues Restaurant & Bar, a 57,000-square-foot venue with indoor and outdoor space. For the budding Jedis in your group, Disney Springs has a new Star Wars-themed virtual reality experience that small groups can use for team building.
One word of advice: No matter how much business you have, make sure to give your group at least a taste of the magic of the parks themselves. Discounted tickets—and special late-afternoon passes—are available for meetings groups, and there are countless in-park venues that can be used to hold memorable private events.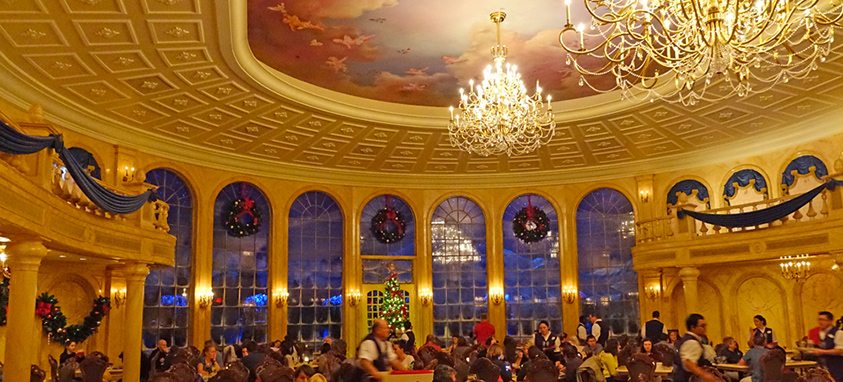 Grand Ballroom at Be Our Guest Dining Room, photo credit: Disney
Of course, for those nights when you need to stay close to the hotel, Disney's event planners have their own stash of pixie dust, and can transform any ballroom with a theme, such as Pirates of the Caribbean or Frozen.
"Groups often have to dedicate a pretty significant portion of their budgets to creating a special environment," Keating says. "Here, the environment is amazing—and it's right there. We have fireworks at least once per night, sometimes more. All you really need to do is provide access to that, along with a little food and beverage, and maybe a little other entertainment. It's an unforgettable experience."